Review of the Alfa Romeo Giulia Diesel Saloon
The new Alfa Romeo Giulia Diesel Saloon is a drop dead gorgeous, larger version of the Giulia Hatchback. Here to take on the exec German saloons, it's got heaps of luxury and is fun to drive.
For the brand, this is a key car. For fans of the brand, it's also a key car as Alfa Romeo haven't put together an exec saloon for six years. Has it been worth the wait? OSV finds out with our 2018 Alfa Romeo Giulia Diesel Saloon review.
To achieve as pure a driving experience as possible, Alfa Romeo has gone for a rear-engined layout here. This means that the front wheels don't need to provide any extra power but can instead just steer the Giulia. It works perfectly and it's immaculate to drive, no matter what the conditions are.
Moreover, the decision to forge the car from aluminium has also been proven to be a wise one, as it means the Alfa Romeo is nice and light. This boosts its agility while keeping running costs down.
However, there is a major caveat, which is that there's no manual gearbox. Instead, buyers have to settle for an 8-speed automatic. Hopefully, even keener enthusiasts won't be too put off by this, as aluminium paddles are optional if you want to get involved yourself. Other than that, the gearbox is smooth and makes quick changes.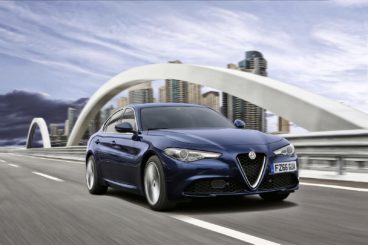 The car's steering is accurate but the sheer speed of the car means it might take you a bit of time to get a firm handle on taking corners. Body lean is kept to a minimum due to the firm suspension, but the trade-off here is discomfort over harsher surfaces. If you're willing to pay an extra £2,000 for the Performance Pack, you'll get an adjustable suspension as well as those gearbox paddles.
In terms of its engines, there's only one diesel unit available but it comes in two separate power guises. The smaller 148bhp variant takes 8.2 seconds to complete the 0-62 dash, which is brisk. But the bigger 178bhp variant returns the exact same fuel economy and can get you from a standstill to 62mph in 7.1 seconds. It also feels a lot meatier and is our top pick.
Interior, Design, and Build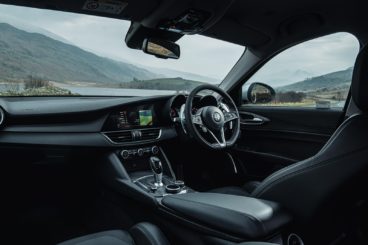 A luxurious interior is the order of the day here, with Alfa Romeo doing their best to make sure the driver feels right at home. They do this with controls that are tilted towards the driver, as well as an easy to use 6.5" central display.
From the way it's been designed, it's clear that Alfa Romeo wanted to keep things as tasteful and simple as possible. The dashboard is clutter-free, a rotary control knob takes care of a lot of the various settings, while a huge 8.8" infotainment screen not only looks great, it also brings the higher trimmed cars in line with the sort of class offered by its German executive rivals.
Overall, the interior is comfortable and sophisticated, but it's a shame that only the higher trims get leather seats.
In terms of how practical it is, there's plenty of room for all, thanks largely to the fact that the car has the longest wheelbase in this sector. Four adults can sit in genuine comfort, with plenty of room to stretch out and actually enjoy long distance trips.
The boot, meanwhile, measures a very competitive 480-litres. The lip is high, however, this is common on most cars of this type. Build quality is also excellent, and the Giulia is a super luxurious and usable car.
Standard kit is good across all four trim levels, with the entry-level model getting the likes of a 6.5" infotainment screen, cruise control, air conditioning, daytime running lights and 16" alloys included in the purchase price.
The Supermodel adds bigger 17" alloys, steering-wheel shift paddles, an 8.8" infotainment screen, sat nav and part-leather seats. The Speciale model gets a 7" TFT instrument cluster, 18" alloys and a sports pack, while the Giulia Veloce model comes with twin exhausts, xenon headlights and black brake callipers.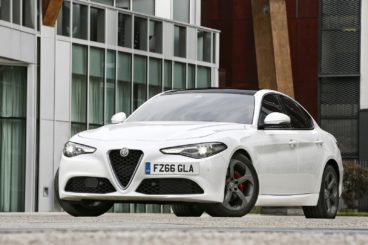 Is the Alfa Romeo Giulia Diesel Saloon safe? It scored 5/5 when crash-tested by Euro NCAP, while its standard safety kit across the range includes lane-departure warning, forward collision warning, electronic stability control, a blind-spot monitoring system and emergency autonomous braking.
Costs of the Alfa Romeo Giulia Diesel Saloon
Prices for the new car start out from £29,875 and rise to £61,595. If you prefer to lease, you can pick up a deal from £269 + VAT per month. For more information on our leasing deals, check out our page here.
In terms of running costs, the 2.2-litre diesel engines fare well. Both the 148 and the bigger 178bhp variants return 67mpg economy and emit 109g/km of CO2. That's pretty good, and it means the car sits in the 23% BiK band.
Where insurance is concerned, the diesels occupy groups 22 – 28, which is about average for a car of this type.
Pros and Cons of the Alfa Romeo Giulia Diesel Saloon
Sharp Handling
It's fun on the road, with its engines backing things up with pace and performance.
Looks Great
There's a classic Italian glint in its eye, with the Giulia one of the most suited and booted cars in this class.
Solid Engines
The diesels are characterful, economical and quick.
Harsh Ride
The suspension setup won't appeal to everyone.
No Manual Gearbox
This will be a source of frustration for some buyers.
Alfa Romeo Giulia Diesel Saloon vs BMW 3 Series Diesel Saloon vs Jaguar XE Diesel Saloon
Let's see how the car fares against its rivals in the comparison section of our 2018 Alfa Romeo Giulia Diesel Saloon review.
Alfa Romeo Giulia Diesel Saloon vs BMW 3 Series Diesel Saloon
The new BMW 3 Series Diesel Saloon is the yardstick against which all others are measured in this sector. With each generation, it's got better and better and is a triumph to BMW's remarkable engineering capabilities.
On the road, it's fun to drive, with nicely weighted steering, stiff suspension and lots of grip being the order of the day. The steering has a bit of a dead spot on the motorway which won't suit all buyers, but for the most part, this is an engaging machine that's a strong rival to the Alfa Romeo.
Adaptive dampers are optional, and if you can extend your budget far enough we whole-heartedly recommend them.
In terms of its diesel engines, they're almost as quick as the petrols. The 320d can race away from rest to 62mph in just 7.5 seconds, yet despite its speed it's also frugal. It's our top pick and feels responsive and smooth on the move. It also benefits from a softer suspension setup than the petrols and the steering feels more natural.
In terms of its running costs, the 320d benefits from some smart aerodynamics to return as much as 74.3mpg if you go for the 161bhp variant. There's also the option of a slower and cheaper 318d and 316d model, but all diesels share a 2.0-litre engine.
There's a bigger 330d diesel available which is fast but returns 56.6mpg at best, while an M Sport 335d diesel is good for 51.4mpg.
Inside, you can expect the same high-quality interior as usual from BMW. The layout is logical, the design classy and comfort is assured despite the stiff suspension.
Like the Alfa Romeo, the dashboard is very driver-focused, with the dials and controls angled towards you. The centre console is elevated and everything is easy to use, such as the dash-mounted colour screen.
The car is hardly lacking in standard kit, with all models gutting air conditioning and a three-spoke leather steering wheel that's suitably chunky.
Is the BMW 3 Series Diesel Saloon practical? Its boot measures 480-litres, which is the same as the Alfa Romeo. However, it's easier to use and has a smaller lip. Other than that, it's worth pointing out that this is the largest 3 Series yet, with a high transmission tunnel being the only serious issue. That said, it's not the most spacious saloon inside.
On the other hand, there are plenty of handy storage spaces, including two cup-holders, some reasonably sized door bins and a big glovebox.
Prices:
Alfa Romeo – £29,875 – £61,595
BMW – £26,790 – £44,020
Alfa Romeo Giulia Diesel Saloon vs Jaguar XE Diesel Saloon
The new Jaguar XE Diesel Saloon is another assured offering that will make you think twice about the Alfa Romeo.
The way the car drives will suit enthusiasts, with the Jaguar keeping up with both the Giulia and the BMW on this count. It's fun but comfortable, although we would say that the Giulia ultimately edges it for being more driver-focused.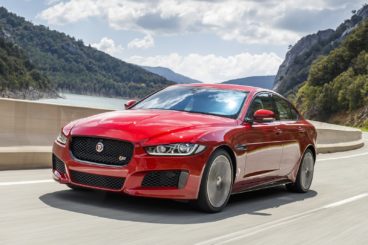 Still, the XE can offer sharp, precise and well-weighted steering, and it feels super agile. Unlike the Alfa Romeo, it also offers the option of a 6-speed manual gearbox, which is actually standard. With that in mind, the 8-speed auto 'box changes gears smoother and most buyers will likely go for it.
In terms of its engines, there is a pair of diesels to choose from. The 2.0-litre engine is available in two separate power guises, starting out with a 161bhp variant that will cover the 0-62 dash in 8.4 seconds if you stick to the manual 'box and 8.2 seconds if you add the automatic transmission.
The 178bhp variant does 0-62 in 7.8 seconds no matter which gearbox you go for, but if you add four-wheel drive you'll see that time pegged back a little. Rounding off the range is a 25d model that develops 237bhp, and which can do 0-62 in 6.1 seconds.
Where running costs are concerned, the 2.0-litre 161bhp diesel returns an impressive 75mpg and emits less than 99g/km of CO2. The bigger 178bhp variant is good for 67.3mpg at best and emits just 109g/km of the old CO2, but you will slightly dent those figures if you opt for the automatic gearbox. Adding four-wheel-drive will also negatively affect them a little.
Inside, there's a real sense of occasion that buyers will warm to. It's taken as much as it can from the bigger Jaguar XF and distilled it into its more compact cabin. The rotary automatic gear selector has made it over from the XF, while fit and finish is hard to argue with. We also reckon drivers will love the sporty driving position and the wraparound dash.
There's scope for a bit of personalisation too, with Jaguar offering various upholstery choices. The centre console is a bit wide in what is a minor criticism, but the blue ambient lighting adds a touch of class.
Is the Jaguar XE Diesel Saloon practical? It isn't the car's strongest suit and we'd probably have to say it's average. There's no shortage of space upfront, but rear seated passengers will feel a bit cramped. There is room for five adults but the one sat in the middle will struggle for foot room.
The boot, meanwhile, measures 455-litres and comes with a relatively small lip.
Prices:
Alfa Romeo – £29,875 – £61,595
Jaguar XE Saloon – £27,000 – £45,000
Verdict of our 2018 Alfa Romeo Giulia Diesel Saloon
If you're on the lookout for a classy compact exec saloon, it's hard to look beyond this one. It boasts sharp looks, sharp handling and chucks in affordable running costs for good measure.
However, we reckon buyers who want something different to the usual German fare will be torn between this and the Jaguar. Both offer something different, but if it's the fiery Italian character you're after, the Alfa Romeo Giulia Diesel Saloon just edges it.
Looking for a price?
Fill out the form below with your details, including whether you're looking to lease or buy and we'll give you a quote within 24 hours.
When you lease a car with OSV there are no hidden costs, request a call back and we'll find you a finance, lease or purchasing deal designed just for you.