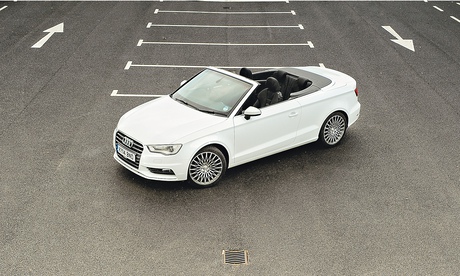 Not the quickest, in fact it's the least powerful in the A3 Cabriolet range, but has an elegance that would appeal to our Kate, William take note…
'If Kate Middleton were a car, she might be an Audi A3 Cabriolet', says Sam Wollaston
More elegant than the model it replaces, it's very pretty, in a classy, posh kind of way (if Kate Middleton were a car, she might be an Audi A3 Cabriolet  no jokes about wanting a ride or getting the top off, please, MrScudamore). Cute enough to turn heads, but not so brash or flash that people will either get envy-anger or try to buy drugs from you.
The top can come off on the hoof at up to 31mph though I think it's more dignified to pull over, and this car is bringing out my dignified side.
Price From £26,370Top speed 134mph
Acceleration 0-60mph in 9.1 seconds
Combined fuel consumption 56.5mpg
CO2 emissions 114g/km
Eco rating 7/10
Cool rating 8/10
See full story on theguardian.com
Image courtesy of theguardian.com

Andrew enjoys: Movies and travelling to new cities to explore different cultures.

Andrew has been in the motor trade for over 20 years. What he enjoys most about his job is the team spirit and the dedication of his work colleagues. He also appreciates the teams input in the improvement of the company.

Latest posts by Andrew Kirkley (see all)