Review of the Audi A3 Sportback
The Audi A3 Sportback is back in its third – and arguably best – guise. Bigger than its predecessor, it now employs a totally different chassis than last time around. It also benefits from deft execution that treats you to a contemporary look and feel, while offering comfort and class by the bag load. To some of you, it's going to feel just right; to others, it's going to have a few caveats.
There is little doubt that this is a luxurious family hatch that's easy to recommend, but it does command a high price tag that might edge it off your shopping list, while rivals in this sector can offer more space and comfort.
OSV takes a closer look at what it's all about with our Audi A3 Sportback review, including pricing and comparisons.
Audi A3 Sportback Test Drive
The same problems that plague the spine of the A3 range catch up with the Sportback hatch – it's a decent handler and offers you lots of security and confidence behind the wheel, but it lacks frivolity and engagement. It's just all a bit predictable. Whether that's a bad thing, of course, will come down to personal discretion. After all, few consumers snap up spacious, luxurious hatchback's because they drive like the wind.
So, there is little punch. The good news, though, is that the engine range is full to bursting with quality.
It's highly likely that buyers of this car will choose to pair up one of the diesel engines with the Quattro 4WD or a front wheel drive system. The diesel engines of choice are a biting Audi A3 2.0 TDI, and a more serene but equally satisfying 1.6-litre TDI unit that develops 110PS and can get from rest to 62mph in around 10.7 seconds before maxing out at 124mph.
The Audi A3 2.0 TDI is going to be the most popular or the two, however, and is offered in 150PS and 184PS form, the latter of which can rocket itself from rest to 62mph in 7.4 seconds. Alternatively, there is also a 1.4 TFSI petrol power plant on offer that develops 122PS and gets from rest to 62mph in 9.3 seconds before maxing out at 126mph. This 1.4 TFSI unit comes in either 122PS or 140PS form, with the latter featuring cylinder on demand (CoD) technology that means your engine will only run 2 of its 4 pots whenever possible.
There is also a base-level 1.0-litre petrol unit on offer that develops 105PS. Other options in the range include a zippy 2.0 TFSI petrol variant which develops 180PS and can propel itself from 0 – 62mph in an impressive 7.2 seconds.
Whatever plant you plump for, optional is a drive select system that gives you the chance to vary the transmission shift points, steering weighting and throttle response. It adds for a more fluid, customised and therefore enjoyable ride.
Interior,
Design And Build of the Audi A3 Sportback
Upon the most casual of glances, the Audi A3 Sportback looks a lot like the original Audi A4 Avant, mostly because the basic proportions are very similar. The new Audi A3 S-line is actually just 178mm shorter than the A4 Avant, but buyers do at least benefit from an extended wheelbase that has created more space for those up front and those in the rear.
Despite a moderate but noticeable increase in size, the Sportback has at least been able to counter this by losing some weight, so that it now tips the scales at 1,200kg. This takes a little bit of meat off the car that allows for better steering, braking and starting – as well as running costs. The credit for all of this must go to the MQB platform that Audi has implemented, a structure that saves money and weight.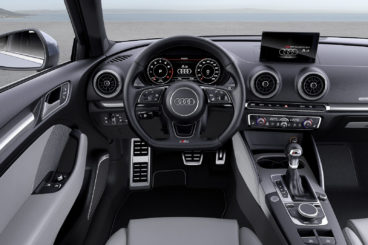 Aesthetically, beauty really is in the eye of the beholder here, but there is little doubt that the new Audi A3 Sportback benefits from a cleaner and leaner look this time around. Inside, everything is pretty much as you'd expect, although the classy pop up sat nav screen certainly adds a welcome touch of "newness" to the proceedings. Boot-space, meanwhile, is decent and offers 380-litres of room with all the seats down, which extends to 1,220 when you fold the seats up.
Equipment in the A3 Sportback
There are four trim levels available:
SE

SE Technik

Sport Nav

S line
Standard equipment across the range helps to explain the price, with even base-level models getting air conditioning, alloys, aluminium detailing, leather trim and an infotainment screen. The SE Technik benefits from smooth 16" alloys, while the Sport and S line get firmer sports seats – and not much else to brag about except firmer suspension setups that impinge on ride comfort.
Optional extras will also bump up the price, too, and there are some tasty ones on offer here: Panoramic glass sunroof, LED interior lighting package, advanced keyless access and adaptive lighting system that are all attractive options that will really boost the charm of the Audi A3 Sportback.
Cost, Pricing & Leasing Rates of the Audi A3 Sportback
Prices for the new Audi A3 Sportback start out from as little as £22,000 and rise to around £35,000 for the range-topper.
It's generally snapped up by both individual consumers and businesses looking for a new fleet. Audi does quarterly offers, and you can generally get a sweet 8% discount at dealers on PCP or contract hire.
If you're looking to lease the car, prices start out from an attractive £140 + VAT and rise to £440 + VAT.
The Pros and Cons of the Audi A3 Sportback
Pros
Super Spacious
The new Sportback is actually the most spacious in its class, and it's something you really feel swathed in once you sit inside. The car is just slightly shorter than the Avant, but comes with an extended wheelbase that improves space both upfront and in the rear.
There is room for a third passenger in the back, but it's really built for two; four adults can sit in total comfort, even on longer journeys. A child seat can easily be installed thanks to wide-opening back doors, and two of the seats come with child-seat fixings.
Top Quality Interior
Smart, luxurious interiors are Audi's byword at the moment, and the A3 Sportback gets the plush treatment, too. Make no mistake, this is an expensive car, but the high-quality interior goes some way to justify that hefty price tag. The styling is restrained and tasteful, the dash is logically arranged, while the standard kit across the range is impressive.
Solid Range Of Engines
There really is no weak engine in the A3 Sportback lineup, with all of them capable of smooth, punchy delivery. Indeed, what might sway your decision one way or the other is their respective emissions and economy figures.
In terms of running costs, Audi's team of engineers have done yet another sterling job at improving efficiency and Audi A3 S-Line now easily rivals its competitors for residual values. The 2.0-litre TFSI unit returns numbers of 50.4mpg and 130 g/km of CO2, while the 1.4 TFSI return 53.3mpg while emitting just 123g/km of CO2.
The most impressive of the lot, though, is the frugal 1.6 TDI that returns numbers of 83.1mph and just 89g/km of CO2. Extraordinary.
Cons
Lack of Front Seat Support
There aren't too many things wrong with this car, but an obvious sore point is a firm, flat front seats that might leave you a bit achy and, um, sore after a particularly lengthy commute.
It all comes down to your body size, but if you're slim you're going to find that these seats offer zero lateral support. Approaching hard turns could even see you slipping down the seat.
Relatively Small Boot
The new Sportback is bigger than its predecessor, but although it comes with more front and rear seat space, it also has one of the smallest boot sizes in its class – though it is tied with a few other miserly rivals, such as the Mercedes A-Class and the BMW 1 Series.
Its 380-litre capacity is slightly bigger than last time around, but the number falls well short of what the Skoda Octavia can offer – 610-litres with the rear seats up.
If you opt for a four-wheel drive variant or an e-tron hybrid Sportback, boot space is even further reduced.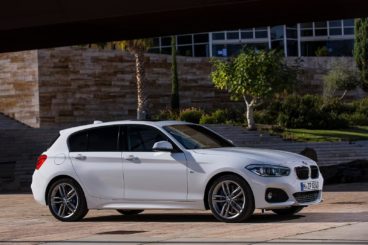 The BMW 1 Series didn't look so pretty the first time around; it looked as though it had fallen out of the ugly tree and struck every single branch on the way down. The second time around,  it's a much prettier proposition that should appeal to more hatchback buyers.
It can't compete with Audi's restrained elegance, though, and looks more coupe-like than the traditional hatchback.
But it's behind the wheel where the 1 Series really comes into its own, and it's easily the best car to drive in its class. The MK1 variant was rear-wheel drive only, but the good folk at Munich have seen a reason to introduce their xDrive system, pairing it up with the 120d diesel unit so that power is distributed between all 4 wheels. when the car senses there has been a loss of grip.
Both the Audi and the BMW fare well when it comes to emissions, with both brands working hard to reduce their pollution levels. Both have engines that are capable of emitting less than 100g/km of CO2, which is super impressive.
If a car's interior means a lot to you, the Audi Sportback edges it. While BMW has improved the 1 Series hatchback's interior immeasurably (it was a messy, downmarket affair last time around), it still doesn't scale Audi's heights just yet. Everything is well laid out and robust, but you get the feeling BMW were scraping together the remaining pennies from their budget when they started work on the cabin.
And since we tore apart the Sportback's boot size, it's worth mentioning that the BMW 1 Series' boot offers 20-litres less space.
Prices:
Audi: £22,000 – £35,000
BMW: £21,000 – £32,000
Audi A3 Sportback vs Lexus CT
If you're looking for something a bit more affordable but which still looks the business, the Lexus CT presents itself as an interesting proposition. The brand themselves have referred to this hatch as "the world's first compact premium hybrid" and one thing it's certainly not going for it is impressive running costs.
If you pick up a Lexus CT, you'll be exempt from road tax, though you won't have to weigh up alternative options because there is only one engine available, an underwhelming 1.8-litre petrol that is married to an electric motor.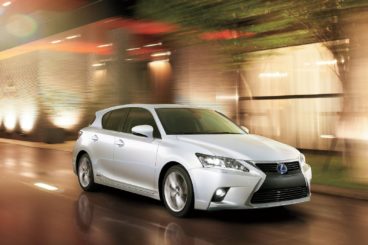 The fact that it has these impressive running costs is only half the story: Lexus' hybrid technology is now starting to look its age, and has seen its numbers bettered by innovative diesel alternatives already. Moreover, the engine just doesn't offer the kind of athletic performance that we associate with Lexus. The car is slower out of the traps than the Sportback – it takes over 10 seconds to get from rest to 62mph – and is further held back by poor steering that lacks feedback.
In short, the Audi is better out on the road.
The positioning of the hybrid batteries in the CT infringe on head and legroom in the back, though the driver and front seat passenger benefit from a lot more comfort. The 375-litre boot is just 5-litres shy of the Audi's, but both are miles away from being the best in the class.
The luxurious interior of the Lexus CT gets top marks, though. High-quality materials abound and its build quality can certainly rival the Sportback, even bettering it when it comes to lack of exterior noise at slower speeds. Standard equipment is very generous across the range, with even the base-level models getting treated to 15" alloys, LED daytime running lights, a 7" infotainment screen and twin-zone climate control.
Prices:
Audi: £22,000 – £35,000
Lexus: £21,000 – £29,700
Verdict on the Audi A3 Sportback
To sum up, the new Audi A3 Sportback review, whereas its stablemate the Audi A3 saloon hasn't changed much at all, the new Sportback continues to move relentlessly forward. In its third guise, it is bigger than before, leaner, faster, cleaner and safer. It's also more frugal and easier on the eye.
If it's a sportier ride you're looking for, you might want to look elsewhere. There are also definitely cheaper cars in the class. But in terms of out-and-out quality, the Audi A3 Sportback continues to shine.
Get in touch with a Vehicle Specialist
Fill out the form below with your details, and one of our highly qualified specialists will be in contact within 24 hours.
When you lease a car with OSV there are no hidden costs, request a call back and we'll find you a finance, lease or purchasing deal designed just for you.