Review Of The Audi A5 Cabriolet
Looking for an objective review of the Audi A5 Cabriolet? We've got you covered, from engines to lease deals.
The brand new Audi A5 Cabriolet might be cool, low-slung and roofless half the time, but it's still a practical car that proves useful in everyday life on the road. It's suave, stylish and delivers a luxurious interior that's every bit as plush as many an Audi cabin is these days. If it's a relaxing driving experience you want from a convertible, this ticks a lot of boxes.
And if you buy your cars according to the image that they have and the one they project, the A5 cab is an attractive proposition. The badge appeal here is immense, while its sporty looks give it an edge over its rivals.
And whereas previously, it was the perfect companion for those lazy Sunday days as you weaved through winding country roads without a care in the world, Audi have injected it with a bit more devil this time around so that it's more of a driver's car.
OSV takes a look at what it's all about with our 2017 Audi A5 Cabriolet review.
"Driving without a care in the world" would probably sum up the driving experience of the previous A5 convertible. However, Audi wanted it to appeal to driving enthusiasts this time around. It now has more character, thanks to better body control and a new structure that firms up the suspension.
Its new platform has helped to trim 40kg from its kerb weight. As a result, you'd find it hard to tell it apart from the Coupe variant once you fire it up. With that said, it suffers from the same flaw as the Coupe – lifeless steering.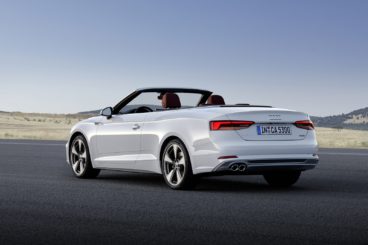 On the other hand, the steering is accurate, and you can bomb into corners without having to worry about body lean. Meanwhile, grip is available on tap – especially if you get it with quattro four-wheel-drive.
Audi's are notorious for their stiff ride, but we'd argue that, despite the stiffer suspension setup here, the A5 Cab still isn't firm enough at times. This is especially true when you tackle trickier bends and end up wishing you were in the coupe as the body judders.
In terms of the engines, the range is armed with plenty of power. The base-level 2.0-litre TDI diesel engine delivers up to 187bhp, which is enough to rocket you from rest to 62mph in 7.8 seconds. It packs four-cylinders, which can be a bit of a nuisance on colder days as they rattle like a tin can. Not exactly the kind of noise you want when you're cruising.
If you opt for the 3.0-litre TDI diesel engine you get an extra pair of cylinders, which gets rid of most of that noise while adding a thunderous exhaust note. It delivers up to 215bhp, which is enough to rocket you from a standstill to 62mph in 6.8 seconds.
Petrol heads get the option of an economical 2.0-litre engine that delivers 187bhp, comes paired with an S tronic automatic gearbox, and can get you from 0-62mph in just under 8.0 seconds. There is also a 249bhp variant of the 2.0-litre engine available, and it comes with quattro. This bolsters the car up, and the engine covers the 0-62 dash in just 6.3 seconds.
However, if that doesn't sound urgent enough, how about the crackling S5 model? Powered by a 3.0-litre TFSI 329bhp engine that fizzes like a firework, it can launch you from standstill to 62mph in just over 5.0 seconds.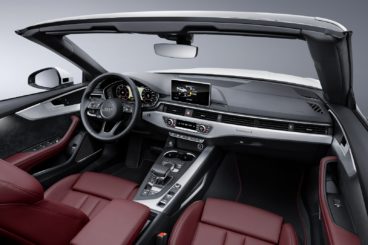 Inside, the materials used to put the cabin together are all of a high quality, while the design is both smart and functional. Build quality, as ever from Audi, is excellent, and the A5 rivals the A4 when it comes to comfort and overall interior quality.
The dashboard is now slicker than before, and can boast a smart, crisp design that is easily one of the best in this class. However, the infotainment display looks dated. This is not necessarily that it is dated, or that it would look dated in isolation – it's more the fact that Audi have added a brand new Virtual Cockpit to the dash that is strikingly modern.
In the meantime, the A6 is preparing for a makeover that should include a refreshed infotainment system. Expect the A5 to follow suit down the line.
The A5 convertible comes with an acoustic fabric roof, and this will reduce external noises (which can get really bad) with its several layers. Wind, tyre and road noises would all be otherwise intrusive.
The fabric roof also gives it one noticeable advantage over its metal hard-top rivals, which is that the boot is easier to use. The roof takes up a lot less space, and when it's up the boot measures 380-litres. Lower the roof, and you still get 320-litres.
It must be said that the boot is shaped awkwardly, but it's a small complaint when you've got class-leading space.
The roof also comes in handy whenever you're caught out by a sudden rain shower, too, as it can operate at speeds up to 31mph and it takes a matter of 15 seconds to go up or down!
The cabin itself is spacious and usable, though rear legroom may still be an issue with taller adults. However, it's better than last time. There are plenty of handy storage spaces in here, such as a huge glove box and a number of cup holders.
This is an expensive car, but standard equipment is largely generous. Each model gets leather upholstery included in the listing price, while the base-level model comes with rear and front parking sensors, and 17" alloys.
The Sport model makes it easier to use the MMI infotainment system, and also gets a nice LED interior lighting package, and power-adjustable sports seats. If you want a sportier experience, the S Line is worth a closer look. It comes with plenty of lush S Line touches, including the S insignia embossed in the Alcantara and leather seat upholstery, as well as firmer suspension.
The roof, meanwhile, comes in a choice of colours, which include dark grey, red and black. You can also get the car in metallic white, an option the Coupe version doesn't get.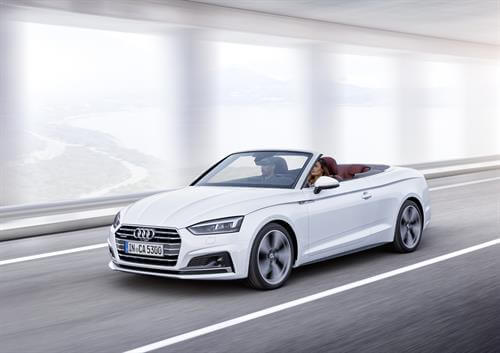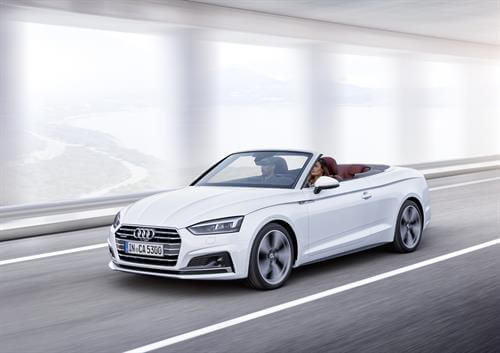 Costs Of The Audi A5 Cabriolet
Prices for the new car start out from £34,350. If you prefer to lease, deals start out from as little as £390 + VAT per month. For more information on our leasing deals, you can check out our page here.
In terms of running costs, the cheapest engine to run is the 2.0-litre diesel unit, that can achieve fuel economy returns of 60.1mpg. Its emissions, meanwhile, stand at 118g/km of CO2.
The 2.0-litre TFSI petrol engine is a good option if you're a low-mileage driver, and can return 47.9mpg when paired up with the manual gearbox. If you opt for the automatic 'box, you can improve those numbers to over 50mpg.
Pros and Cons Of The Audi A5 Cabriolet
Fun To Drive
The new A5 Cabriolet rewards keener drivers who want a proper experience on the road. It's still not as mesmeric as the 4 Series, but issues such as soft suspension have been addressed.
Excellent Build Quality
As with all Audi's, the A5 convertible is built to last.
Inexpensive
You won't get many better cars at this price point. The engines, despite packing a huge punch, deliver impressive economy figures, too.
Still Not The Best Handler
Handling is better, but if you want a premium handling experience, check out the BMW 4 Series.
Infotainment System Looking Dated
Adding the classy Virtual Cockpit System really has made the infotainment system look dated. It doesn't suit the overall feel of the cabin, and looks out of place.
Verdict Of Our 2017 Audi A5 Cabriolet Review
The new four seater drop-top from Audi is markedly different to the last model in terms of how it performs on the road. There's more life and character to it this time around, and the driving experience complements its sporty looks and desirable image.
Audi knew they had to offer better handling and more performance this time around if this car is to be your number one choice. Throw in all its previous good attributes, such as good economy, a Hollywood interior and effortless style, and the new Audi A5 Cabriolet should have enough to thrust its way to the top of your shortlist.
Get in touch with a Vehicle Specialists Today!
Fill out the form below with your details, and one of our highly qualified specialists will be in contact within 24 hours.
When you lease a car with OSV there are no hidden costs, request a call back and we'll find you a finance, lease or purchasing deal designed just for you.