Review Of The Audi A5 Sportback
Looking for an objective review on the 2017 Audi A5 Sportback? OSV have got you covered, from engines to lease deals.
The new Sportback combines the reasons we buy a hatchback (practicality) with the reasons we buy executive saloons (size, image, beautiful interior). It takes the best of both worlds and combines them to breathtaking effect. As a bonus, it's got the driving capabilities of a coupe.
Now in its second generation, the A5 builds on its previous success. This time around, Audi have added more practicality in a bid to make it the standout choice in this sector. It's essentially a usable hatchback packaged as a slick executive saloon.
OSV takes a closer look at what it's all about with our 2017 Audi A5 Sportback review.
The new Sportback drives superbly; it's more agile than last time, quicker, and it's also quieter, too. The steering doesn't feel as natural as anyone would like, but the car can weave down twisting roads with aplomb, and always feels comfortable. This is a bonus, as Audi's are widely known for their firm suspension setup.
The car feels composed when you approach bends with speed. There is plenty of grip and little body lean. The well-weighted steering is pleasing, and you can get the car with front or quattro four-wheel-drive. It has to be said, though, that there isn't much of a difference between the two.
The car comes with a 7-speed twin-clutch automatic transmission that is impressive, though it can get hesitant if you suddenly accelerate after slowing down.
The 2.0-litre 187bhp diesel is expected to be the most popular engine. It's already been seen in other Audi models, offers good running costs and a reasonable listing price. It can get you from a standstill to 62mph in less than 8.0 seconds, and offers plenty of pulling power for easy over-taking manoeuvres. The only other diesel in the range is a 3.0-litre engine that is available in either 215bhp or 282bhp guise.
The 2.0-litre 249bhp petrol engine has also been seen throughout Audi's range. It's more expensive than the diesels, but it's quicker and smoother. The 3.0-litre 349bhp petrol engine, meanwhile, makes little sense unless you can afford the costs. It can do 0-62 in 4.7 seconds, but all that power doesn't come cheap. It is, however, an enjoyable model.
Audi A5 Sportback Interior, Design & Build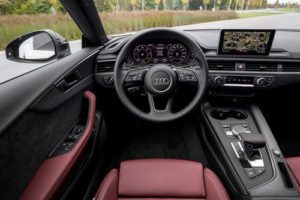 The cabin is a pleasant place to be, thanks to good sound insulation and ride quality. You barely hear a wisp of engine noise, with only the sound of the tyres managing to penetrate the shell. It isn't an irksome noise, but it is constant.
The materials used in the cabin are all of a high quality, but the design has a huge fault – Audi's decision to plant the infotainment screen on top of your dashboard is an odd one, especially when it's nicely tucked away in the Q7 and A3 – just as it should be!
That aside, the dashboard can't really be faulted. It's minimal and slick, with the exquisite-looking controls easy to get to grips with. The brand's Virtual Cockpit system isn't standard across the range, but can be added as an optional extra. It makes your life easier by letting you configure the dash so that you see the info you need to see.
Other advances in technology include a chunky gear selector and a neat digital temperature display.
Audi had to walk a fine line between exec saloon prestige and looks with hatchback everyday usability when creating this car. And where they came undone slightly was with the sloping roof which, although it gives the car a sense of presence, does impinge on practicality.
However, upfront there is plenty of room. The door bins are a bit of an unwanted nuisance, and you might find it hard to stash away all your clutter. But the seats cocoon you nicely and keep you comfortable.
Rear seated passengers have more problems than small door bins. The sloping roofline does limit headroom, and this will be true for even medium-sized adults. The awaked transmission tunnel hump will also prove a pest for anyone sat in the middle. The boot, meanwhile, measures 480-litres, which is reasonable in this class. It's more or less par for the course.
Equipment & Safety of the Audi A5 Sportback
Standard kit is generous, with even the entry-level models getting triple-zone climate control, part-synthetic leather seats, Apple Car Play, all-round parking sensors and heated front seats. The Sport model adds the likes of power-adjustable front seats, ambient interior lighting, and LED running lights.
Step up to the S Line and you'll get treated to 18" alloys, sport suspension and leather and Alcantara upholstery.
When it comes to safety, the car scored 5/5 in its Euro NCAP crash test, scoring particularly well for adult occupant protection. Included in it standard safety kit is autonomous emergency braking, which it is reckoned will lower rear-end collisions by almost 40%.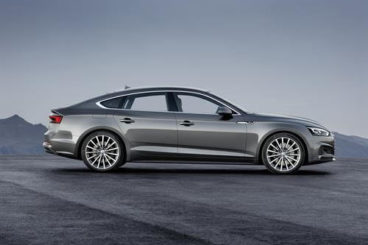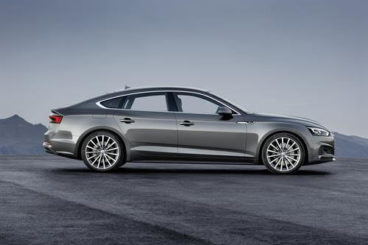 Costs Of The Audi A5 Sportback
Prices for the new car start out from £33,000 and rise to £41,200. For more information on our lease deals, you can check out our page here.
In terms of running costs, the car fares very well. The smallest diesel is the 2.0-litre 187bhp, and it can achieve excellent fuel economy returns of 70.6mpg. If you choose the 17" alloys, it emits only 109g/km of CO2.
The 2.0-litre 249bhp petrol engine will be more attractive to a lot of you, and since you can get away with fuel economy returns of 47.8mpg and a yearly road tax bill of just £130 a year, it might be well worth a shot.
However, we expect the 2.0-litre TDI diesel engine to be the most popular. It's affordable to buy and run, and occupies insurance group 32.
Pros and Cons of The Audi A5 Sportback
Excellent Cabin
The cabin is state of the art, and is easily this car's biggest strength. Deftly executed with the love, care and precision of an architect, it's probably the reason why the A5 Sportback is so expensive.
Comfy
The cabin is beautiful and also a comfortable place to be.
Lots of Advanced Tech
The aforementioned cabin is stuffed with a heap of advanced tech, including their lauded Virtual Cockpit system that dispenses with the need for old-school analogue dials.
Lifeless Driving Experience
Yes, it's comfortable, and yes it's smooth. But if you want a bit more excitement, check out the BMW 5 Series below.
Dull Exterior
Audi adopts an evolutionary-not-revolutionary approach when it comes to restyling their cars. As such, the A5 doesn't look much different to last time. This means it still looks conservative, if smart.
Audi A5 Sportback vs BMW 5 Series Gran Turismo Hatchback vs Mercedes CLS Shooting Brake Estate
Let's see how the car fares against its rivals in the comparison section of our Audi A5 Sportback review.
Audi A5 Sportback vs BMW 5 Series Gran Turismo Hatchback
The new BMW 5 Series Gran Turismo Hatchback is a special car in this sector. Indeed, there isn't really another car like it on the planet. It's huge inside, great to drive, and comes packaged like a premium, luxurious hatchback.
You'll find that most BMW's put handling and performance at the top of their list of priorities. However, this 5 Series Gran Turismo takes a different approach, and instead shifts focus to comfort. It's still agile and good to drive, but its on the road characteristics have more in common with an MPV than, say, a BMW saloon.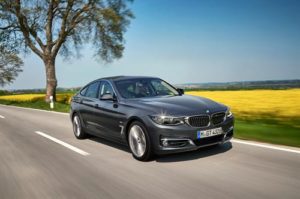 It could never drive as well as a saloon anyway – not when you consider the sheer size of this machine. It lacks composure when braking and taking bends, something not helped by its considerable right height and bulk. It's comfortable, but not as comfortable as the 5 Series saloon. It can also feel rather fidgety at times.
The diesel engines are impressive, and the range begins with a 520d GT model that delivers up to 183bhp. This is enough to get it from a standstill to 62mph in just less than 9.0 seconds. To pick up momentum, though, you really need to push it hard.
The petrol engines are also impressive. We like the 535i, which does 0-62 in 6.1 seconds. If you want to go even faster, the 550i GT develops 442bhp from its huge V8 4.4-litre engine, which is enough to cover the 0-62 dash in 5.0 seconds.
In terms of running costs, the diesels fare well, with even the most powerful 535d 309bhp GT unit capable of returning fuel economy of 47.9mpg. The 520d GT, meanwhile, returns 51.4mpg, but the 550i GT petrol is a bit of a letdown, and can only return 30mpg at best.
Despite BMW aiming for comfort more than driver enjoyment with the 5 Series Gran Turismo Hatchback, the bulging size of the vehicle means ride quality isn't on par with the saloon variants. Moreover, it lacks the elegance of a coupe inside.
Still, the interior is luxurious and beautiful. The leather seats and dashboard are all well put together, and the instruments and buttons are easy to use. Indeed, the cabin could easily have come from a sector above.
The boot measures 500-litres, but it's an odd one. It's a twin-hinged boot similar to the one you'll find in the Skoda Superb. You can open it like a hatchback's with the entire tailgate, or like a saloon's. The idea is that you can open the open the boot without the rear seat passengers feeling the cold whenever the conditions are inclement.
Rear seated passengers are well-looked after in general; there is plenty of leg and headroom, and you can order individual chairs if you wish. These slide and recline.
Price:
Audi – £33,000 – £41,200
BMW – £38,000 – £60,500
Audi A5 Sportback vs Mercedes CLS Shooting Brake Estate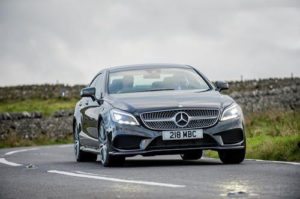 The brand new Mercedes CLS Shooting Brake Estate is an estate that's crossed with a four-door coupe. The result? It's the first of its kind. But has this idea worked?
If you're expecting an all-new driving experience, you'll be disappointed, as the CLS Shooting Brake drives exactly the same as the CLS Saloon. You can't be too disappointed, though – not when you consider that this car actually weighs more.
The steering is responsive if light, and there is a fair amount of body roll. However, on the whole the balance is just right. The 220 BlueTEC diesel engine should be quick enough for most buyers, and it's whisper quiet in and about town and on the motorway. Once you really put your foot down, though, it will start to sound a bit hoarse.
It comes paired up with a 7-speed automatic transmission which isn't as quick to react as we'd like, but it generally sums up the casual nature of this car. It's easygoing.
In terms of running costs, the 220 BlueTEC diesel is the cheapest to run, with its average fuel economy returns of 56.6mpg. At the other end of the scale, a high performance CLS 63 AMG model is powered by a V8 5.5-litre engine that returns fuel economy of 28mpg at best.
The cabin is comfortable and effortlessly stylish. Front air suspension is a useful option which will ensure an even more relaxing drive than in standard guise, while external noises are kept out of the cabin well.
As stylish as the car may be, the Mercedes CLS Shooting Brake is not without substance. It's 16mm longer than the saloon, and has a huge 590-litre boot that can be extended to 1,550-litres by folding down the rear seats – something which is really easy to do.
Rear headroom is better than last time, but this car isn't as big as the Mercedes E-Class Estate. It's practical and roomy, but if practicality is at the top of your priority you might want to look elsewhere. However, what the E-Class lacks is this cars sense of style.
Price:
Mercedes – £48,600 – £87,500
Verdict Of Our Audi A5 Sportback Review
Audi knows a few things about putting together a refined and luxurious hatchback, and they've shown all that knowledge off here. If the Punto is the lumpen proletariat of the hatchback world, this A5 is a peacock.
Yes, there isn't much drama. It doesn't drive with the theatrical bombast of the BMW 5 Series, nor does it look as purposeful as the Mercedes CLS. But the beautiful cabin is in a class of its own, while the advanced technology also adds to the attraction. The new Audi A5 Sportback is fighting for your cash against some stellar rivals, but we think it's well worth a test drive.
Get in touch with a Vehicle Specialist
Fill out the form below with your details, and one of our highly qualified specialists will be in contact within 24 hours.
When you lease a car with OSV there are no hidden costs, request a call back and we'll find you a finance, lease or purchasing deal designed just for you.