Review Of The Audi TT Coupe
Fancy the new Audi TT Coupe? OSV has got you covered, from engines to lease deals.
The Audi TT Coupe is steadily growing into an icon. After two decades of existence, it still sports its distinctive silhouette, and continues to be one of the best two-door coupes on the market.
The racy little TT is vying for your cash in a sector soaked with talent. It's certainly got a reputation, and in its third generation it's more fun, more comfortable and more stylish than ever. Its driving dynamics have been improved by the weight-loss program the brand put it on, while its baby face now has an edge to it. This is an on-the-road assassin that is in its prime. Is it time you got one?
OSV takes a closer look at what it's all about with our 2017 Audi TT Coupe review.
Almost impossibly, the TT is faster than its lightning quick predecessor. It's still great fun to drive, and can over more comfort on lengthier trips. Whichever version you go for, you'll get the brand's progressive steering system that ensures direct and sharp steering at any speed.
It's right at home in the city, where its tight turning circle comes in dead handy, but it's just as much fun when weaving down A-roads and sprinting across motorways.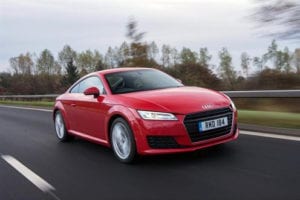 The car comes with 18" alloys as standard, and these are an improvement to the outgoing models wheels. Each model also get sports suspension, but it's worth bearing in mind that Audi are well-known for their firm suspension set ups. And if you opt for one of the S line models, you'll get a suspension setup that is firmer still.
In terms of the engines, our highlight is a TDI Ultra diesel that is economical and fast. Performance is almost on par with the petrol models, and it can do 0-62 in just over 7 seconds. Acceleration from low down is pleasing, which means you won't need to keep shifting the gears for noticeable progress.
The base level 1.8-litre petrol engine is two-wheel-drive, and while there's nothing wrong with it per say, we much prefer the 2.0-litre TFSI petrol engine that offers more pace and smoothness. It can get you from a rest to 62mph in 6.0 seconds in two-wheel-drive form, but when you add four-wheel-drive you can increase those numbers to 5.3 seconds.
The four-wheel-drive model is your best bet if you're concerned about the way a small coupe such as this can handle tougher conditions, but both versions offer a good amount of grip.
If you're a speed demon, the TT S model can get you from a standstill to 62mph in just under 5.0 seconds before maxing out at 155mph. Adding the automatic gearbox cuts that time down to 4.6 seconds.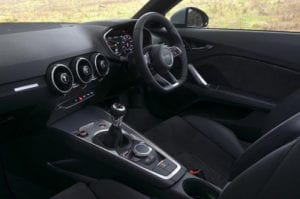 Comfort is assured – as long as you look past the S line suspension, where the sportier setup is overly firm. Standard TT suspension doesn't cost any extra, and suits the car to a tee. It proves its worth when you just want to relax, and doesn't undermine the overall driving experience.
If comfort is a top priority of yours, adding the Magnetic Ride suspension feature is worth doing. It comes as standard with the TT S model and absorbs the worst lumps and bumps in Britain's roads.
The seats themselves are well sculpted, and are designed for maximum comfort. They're supportive, and the driver's seat is also adjustable. So, too, is the steering wheel, which makes it easy for you to get into the right driving position.
The interior design is restrained but elegant, too. Audi have simplified things, and have gone for a minimal aesthetic that is complemented by good build quality. The brand's excellent Virtual Cockpit system is standard across the range, which means the traditional dials and buttons that cluttered up the second generation TT have now gone. The system houses a trip computer, a stereo and telephone controls.
The TT comes with rear seats, but they're small and really only for occasional use. Even your kids might enter with a massive grin and leave saying they hate you. The car itself is no bigger or smaller than the outgoing model, which means it's still easy to park. However, passenger space has been improved because the wheel base has been stretched.
Accessing the rear seats is a bit of a struggle, and there might be some groaning. Storage spaces, however, are good and include cup holders, and a decent-sized glove box. The boot, meanwhile, measures 305-litres, which is par for the course in this class.
There is no SE model available, which means your choice is limited to either a Sport or S line car. Standard kit is good, and includes leather seats, a DAB digital radio, 18" alloys, climate control, LED daytime running lights and bright xenon headlights.
If you want the ultimate TT experience, you'll need to splash out on the TTS, a model that comes with 19" alloys, a flat bottomed steering wheel, and adaptive dampers as part of its standard kit.
The TT Coupe only scored 4 out of 5 in its Euro NCAP crash test, which might cause you a degree of apprehension. However, the test has been revised, and it's now hard to achieve a perfect score. Safety kit includes a full set of air bags, a lane departure warning system and ISOFIX child-seat mounts.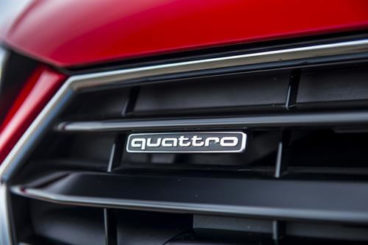 Costs Of The Audi TT Coupe
Prices for the new car start out from £28,000 and rise to £41,000, which makes it more expensive to buy outright than last time around.
In terms of running costs, the TT Coupe boasts some very impressive numbers. CO2 is down by over 10% across the range, which means road tax for this car has never been so low. It's also more environmentally friendly than ever.
If you want the cheapest-to-run option, the super frugal Ultra TDI diesel can achieve fuel economy returns of 60.1mpg while costing £30 per year in tax. The petrol engines benefit from the brand's Economy Drive Select system, with the result being that the 1.8-litre TFSI unit is good for 47.1mpg.
Want a great deal on an Audi TT?
Whether you're looking to buy, lease or finance your new car, we can help. Fill in your details below and one of our vehicle experts will be in touch within one working day.
Pros and Cons Of The Audi TT Coupe
Lots Of Fun
The Audi TT has shed some poundage, and is up for more fun than it ever has been. It's lean and ready to entertain.
Strong Performer
Performance has always been a key part of the TT's identity down the years, and remains so. Strong, tenacious and aggressive.
Classy Interior
The cabin is the best yet. Audi's Virtual Cockpit goes some way to setting new standards in this class, while the smart design is easy on the eye.
Expensive
It costs more than last time around, with its listing price seeing it veer into territory occupied by bigger and better rivals.
Firm Ride
Audi's are well-known for their firm suspension, and this doesn't buck the trend. Go for the S Line model and things can get a bit jarring.
Audi TT Coupe vs Porsche Cayman Coupe vs BMW Z4 Roadster
Let's see how the car measures up against its rivals in the comparison section of our Audi TT Coupe review.
Audi TT Coupe vs Porsche 718 Cayman Coupe
The new Porsche 718 Cayman Coupe is a bit of a pleasure machine: It's great to drive, powerful, and absolutely gorgeous to look at.
This is a special car that likes to entertain. It doesn't make much sense if you can only have one car and need it to be useful, but for out-and-out thrills and spills, it's simply unbeatable.
Porsche have turned the dial up to 11 with every aspect of this coupe. The handling is exemplary, and there is literally zero body lean, despite the stiffest of suspension setups. It absorbs lumps and bumps like a sponge, and dispenses with straight lines in no time at all.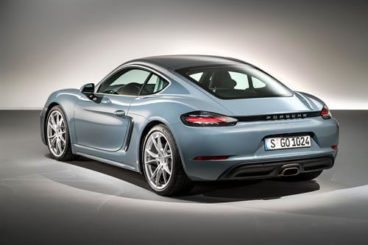 There are two petrol engines on offer, beginning with a 2.0-litre 296bhp model that does 0-62 in 5.1 seconds in manual guise and 4.9 in automatic. The Cayman S is almost ten grand more expensive, but its uproarious 2.5-litre turbocharged unit can get you from rest to 62mph in a jet-like 4.4 seconds. Launch control can be added for a cool £1,000, and helps to propel you up the road even quicker than the Porsche 911 – despite costing a lot less to buy.
However, this Cayman S isn't backed by the same engine that we all enjoyed last time around. So if you're tempted to buy it over the Audi TT, just know that you're not getting the naturally aspirated six-cylinder unit.
However, switching to turbochargers hasn't had a dampening effect on performance. What it has done is made the Cayman cheaper to run, with fuel economy returns of 40.9mpg now possible if you opt for the standard model.
The Cayman Coupe is only suitable for two passengers. If you're totally fine with that, the two of you get to sit in supreme comfort. A brand new infotainment system is one of very few changes that distinguish the car from its predecessor, whir supportive seats and fantastic suspension ensure lots of comfort.
You only get two seats here – but you get the same number of boots. This improves its overall score for practicality considerably, with the two boots combining to offer a 405-litres of space in total. That's impressive, and means you can use the car to escape for a weekend getaway without having to leave something important behind (such as your clubs!).
Price:
Audi – £28,000 – £41,000
Porsche – £40,000 – £49,000
Audi TT Coupe vs BMW Z4 Roadster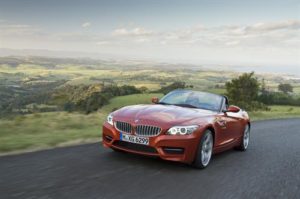 The new BMW Z4 Roadster is stylish, handles well – but is starting to show its age.
One of the biggest drawbacks the Z4 has is that it doesn't offer any diesel engines. However, while this means there's no out-and-out frugal choice, the petrol units are all highly capable.
The range kicks off with a 2.0-litre engine that powers the 18i. It delivers up to 154bhp, and can get you from a standstill to 62mph in just under 8.0 seconds before maxing out at 131mph. It sounds a bit hoarse at times, and it does need you to push it hard.
The 20i is a much better option. It does 0-62 a whole second faster, and keeps going to 146mph. The 28i, meanwhile, delivers a crushing 242bhp, which is enough to propel this relatively small car from rest to 62mph in just 5.7 seconds.
It's performative and also reasonably economical – fuel returns of 41.5mpg are the exact same as those managed by the smaller engines. All three incur an annual road tax bill of £185.
The Z4 sports just the two seats, but it's fairly practical. Standard kit is good, and the cabin is just as quiet as any normal car, thanks to its folding metal roof. The materials behind the wheel are all of a top quality, and you will notice plenty of soft touch materials. It makes the interior feel like a special, inviting place.
The roof takes 21 seconds to tuck away, and it does eat into boot space, cutting it down from 310-litres to 130. However, once the roof is down, you get to enjoy this roadster in all its glory.
And who says you need to go shopping all the time?
Price:
BMW – £30,000 – £48,000
Verdict Of Our Audi TT Coupe Review
This third generation TT is the best yet. It's as stylish as ever, weighs less, and is cheaper to run. In this market, it remains as competitive it ever has been.
The interior is a highlight. Thanks to some world-class design and engineering feats, it's a plush cabin that sets new standards in this class. Quattro four-wheel-drive enhances safety, and it's no surprise that the new Audi TT Coupe has been scooping gongs up and down the country. It's a class act for people that want to "wow" on the road.
When you lease a car with OSV there are no hidden costs, request a call back and we'll find you a finance, lease or purchasing deal designed just for you.