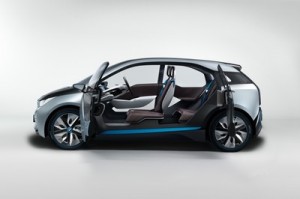 BMW i3 concept at Tokyo Motor Show
The new BMW i3 concept is just one of BMW's new cars being displayed at the Tokyo Motor Show from 3-11 December.
Originally known as the Megacity Vehicle, the BMW i3 concept is a new development in electric-fuelled technology, and BMW's first premium electric car.
Designed with a brief of being 'uncompromisingly sustainable', the BMW i3 is perfect for urban driving and commuting. It uses BMW's fresh LifeDrive design to combine innovative materials and a light-weight design.
The BMW i3 offers enviable speed, reaching 93 mph, and is easily capable of covering long distances on a single journey. The electric charge lasts for between 80 and 100 miles on the everyday charge, and if the FTP72 option is used this increased to an impressive 140 miles.
The LifeDesign architecture also provides strength and safety. The passenger area is made from high-strength lightweight carbon-fibre reinforced plastic (CFRP), which performs exceptionally well across a thorough range of safety tests.
With its small turning circle and unique Parking Assistant and Traffic Jam Assistant technologies, the BMW i3 aims to reduce the stress of urban driving. The Parking Assistant undertakes acceleration and braking automatically during parking, even switching between forward and reverse directions autonomously.
The Traffic Jam Assistant is designed to let the driver 'go with the flow' when negotiating stressful urban commutes. At speeds of up to 25 miles per hour, the driver just needs to keep a hand on the steering wheel while they let the Assistant keep a specified distance between vehicles in front. In very heavy traffic, the Traffic Jam Assistant is able to provide steering input and slow the car to a standstill when necessary.
By placing the battery cells in the underfloor section, BMWs engineers have not only given the i3 a low centre of gravity but a light, airy interior that provides greater storage space than comparable  cars.
This spaciousness extends to 200 litres of bootspace and the car is easily able to seat four.
Style and sustainability are combined in the interior design, which uses renewable materials. The instrument and door panelling are made from natural fibres, while the seats are lounge-like naturally tanned leather.
Seamless integration with the latest smartphone technology gives drivers increased flexibility. From their smartphone, it is possible to find local charging stations, check on battery status and activate battery charging remotely.
Other BMW cars at the Tokyo Motor Show include the BMW ActiveHybrid5 and the BMW i8 concept sports car.
Keep updated with previews, news and photos from our representative at the Tokyo Motor show by liking us on facebook or following us on twitter.
If you are looking for a new vehicle, contact our sales team, or alternatively, visit our website where you will find new and used vehicles available for sale or to finance.
Thanks for visiting us today.

Latest posts by Andrew Kirkley
(see all)