Review Of The BMW X4 Diesel Coupe
Looking for an objective review of the BMW X4 Diesel? OSV have got you covered, from engines to lease deals.
The concept of a coupe-come-SUV isn't as odd as it sounds, and the BMW X4 Diesel SUV Coupe was created to be a more stylish if less practical alternative to the X3. And BMW have pulled it off: The new car is essentially a sportier version of the X3. It shares its engines and platforms with its sibling, but gets a coupe roof and edgier styling. It's the version to go for if you don't mind the added pizzaz coming at the expense of less practicality.
OSV takes a closer look at what it's all about with our 2017 BMW X4 Diesel Coupe review.
The X4 is a better handler than the X3 on which it's based. This is partly due to its lowered, sportier suspension setup. It's got lots of grip, too, and comes with four-wheel-drive as standard. The steering is precise, and despite its size the car is reasonably agile.
Body lean is well managed. The X4 is composed in bends, which all makes for a relatively fun SUV-cum-coupe. A minor complaint are the brakes – they just don't seem powerful enough to calm this hefty car down when it's in full flow.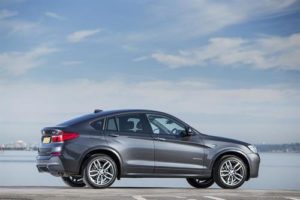 If you're willing to pay top dollar for extra performance, the M Sport models sit at the top of the range. Their suspension is firmer, which makes them the sportiest to drive. However, ride quality is compromised.
There is a petrol engine available, but for the purpose of this review we're just focusing on the more economical but still performative diesels. They're quick too, with the fastest of them all being a 35d model that delivers up to 313bhp, and can thrust you from a standstill to 62mph in 5.2 seconds. A less powerful (258bhp) 30d model covers the 0-62 stretch in 5.8 seconds. It's powered by a pretty useful 3.0-litre turbo-diesel engine.
Even if you're more inclined to look at the entry-level models, the 20d will suffice for most buyers. It covers 0-62mph in 8.0 seconds, which is still very good for a car with this much weight on its back. And indeed, the 20d has proven to be the most popular engine so far.
However, the 30d gets our thumbs up. It's quick, refined, and doesn't come with the mosquito-hum of the 20d. It also works in perfect synergy with the 8-speed automatic gearbox that comes as standard. This transmission shifts rapidly but never loses any of its smoothness.
The 20 model, meanwhile, comes with a 6-speed manual 'box as standard.
BMW X4 Diesel Coupe Interior, Design & Build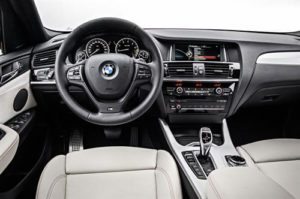 The somewhat out-there exterior design has so far polarised buyers, but it's hard for anyone to argue with the quality of the cabin. It's shared with the X3, so if you've already stepped foot inside there you'll know what you're getting. However, it's worth pointing out that the X3 has been around for a few years now, and its cabin – though smart – isn't cutting-edge. It's the same story here.
Fit and finish is excellent, and the car is clearly built to last. But like the X3 it misses out on a few futuristic components that could have made it more exciting and appealing. The i8 Coupe, for example, looks more relevant and "now".
Still, the dashboard is clean and uncluttered. The X4 also gets the brands highly-rated iDrive control system, which puts most rivals offerings in the shade. The buttons in the cabin aren't labelled so clearly, but you'll soon get used to them. And it's impossible to complain about the quality of the materials in here. Soft leather and soft touch plastics abound.
BMW sure have put style before substance here, but they know that's not a massive issue – if buyers want more practicality, they'll go for the X3. That said, the X4 is not entirely useless, and it boasts some decent off-road ability, too.
Rear-seated passengers might have the most complaining to do, as their headroom is limited by the coupe roof. However, it isn't that bad – it could have been worse. Storage spaces are almost the exact same as the ones in the X3, but the boot is marginally smaller and measures 500-litres. It's not as well-shaped, while the way the car is designed has meant that rear visibility is poor.
Equipment & Safety of the BMW X4 Diesel Coupe
There are three trim levels to choose from, but you could easily settle for the entry-level SE trim and still come away with a very fine car. Standard kit in the SE includes air conditioning, 18" alloys, a DAB digital radio, cruise control, Bluetooth, leather upholstery and heated front seats.
Moving up to the xLine gets you a different alloy design, lashings of chrome, and some quality sports seats. The much more expensive M Sport take things up a few notches with a sporty body-kit, 19" alloys, and sports suspension.
The X4 is still waiting to be rated by Euro NCAP, but we're expecting it to match the X3's perfect score of 5/5. It comes with the same standard safety kit that includes 6 airbags and tyre-pressure monitoring. Among the options are city collision mitigation and forward collision warning.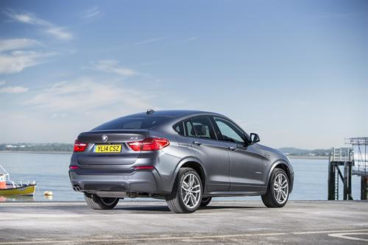 Costs Of The BMW X4 Diesel Coupe
Prices for the new car start out from £37,500 and rise to £50,000. For more information on our leasing deals, you can check out our page here.
In terms of its running costs, this diesel variant offers reasonable returns, especially when you factor in its size. Insurance costs are high, but the 20d model manages fuel economy highs of 55.4mpg, and costs just £145 a year in tax. The bigger 30d is good for 47.9mpg, and with its bigger wheels demands a yearly road tax bill of £180.
The range-topping xDrive35d model manages similar figures, and averages returns of 47.1mpg while emitting 157/km of CO2.
Pros and Cons Of The BMW X4 Diesel Coupe
Efficient
All the diesels are affordable to run – well, affordable for a car at this price point and of this size. Returns of 55mpg from the entry-level model are superb.
Pleasant To Drive
On the road, the X4 is easy to drive. It's not sporty, but it's relaxed, composed and its coupe nature takes the sting out of driving a bulky SUV.
Top Notch Interior Materials
All eyes will be drawn to its daring coupe-cum-SUV looks, but once you're inside you'll be more than happy with the materials that have been used.
A Tad Impractical
Poor rear headroom and poor rear visibility are two strikes against the X4's usability.
Lack of Petrol Options
The diesels are good, but we'd have loved a thunderous petrol engine to get our teeth into.
BMW X4 Diesel Coupe vs Mercedes GLC Coupe vs Porsche Macan SUV
Let's see how the car measures up against its rivals in the comparison section of our BMW X4 review.
BMW X4 vs Mercedes GLC Diesel Coupe
Like the X4, the new Mercedes GLC Diesel Coupe is based on a more conventional, more usable sibling. It's essentially a more luxurious, sportier version of the GLC SUV and was created as a direct rival to the X4.
The GLC is livelier on the road than the SUV variant, but driver involvement is still nothing to write home about. One of the reasons for this has to be the fact that this car wasn't conceived as something brand new – unlike, say, the Porsche Macan. Based on a rather cumbersome SUV, it's still got a few niggles in its genetic code that Mercedes have failed to iron out. As such, it isn't an out-and-out driver's car.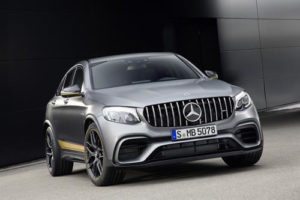 The steering, for example, provides little feedback. It's more focused on handling the sheer weight of an SUV. That's even more disappointing when you consider how much grip is on offer.
In terms of the engines, both the 220d and 250d diesels share a 2.1-litre four-pot which has already paid its dues in numerous past Mercedes cars. Here, it doesn't sound as gruff as usual, and is even what you could call smooth.
Performance is good, but for the most power you'd have to take a look at the 3.0-litre diesel, another stalwart of Mercedes' range that's already earned its stripes. it can do 0-62 in 6.2 seconds, has six cylinders and feels smoother than the 220d and 250d models.
However, those two are more economical and generally make more sense to buy. Both return fuel economy of around 52.3mpg, whereas the 350d is only good for 47.1mpg. That's still not bad, but emissions are high at 169g/km of CO2.
How comfortable the car is inside depends on which suspension setup you specify. Steel-spring suspension comes as standard, but the pillow-like AIRMATIC air-suspension is dreamy. It's not as dreamy as it could be, though, thanks to hefty alloys making things a bit shaky at times.
Like the X4's, the GLC Coupe's dashboard is straightforward and fuss-free, and the materials are almost Audi-esque in terms of their quality. The seating position is low and sporty, and the cabin on the whole can more than match the more expensive GLC SUV.
In terms of practicality, the GLC Coupe takes a bit of a hit. The sloping coupe roofline eats into rear headroom, with anyone sat in the middle being the most troubled by this. The boot is on par with the one in the BMW, but a tall lip and a high floor make it difficult to load in bigger items. There is no spare wheel, which means there is more space underneath.
Price:
BMW – £37,500 – £50,000
Mercedes – £41,000 – £46,000
BMW X4 Diesel SUV Coupe vs Porsche Macan SUV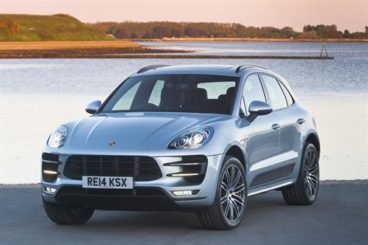 The brand new Porsche Macan SUV is one of the best cars in this market. It's super accommodating but can be mean when you want it to be. On the road it's smooth, and off-road it's ready to rock 'n' roll. For driving pleasure, it's hard to beat.
Even the base-level Macan is entertaining to drive. Four-wheel-drive is standard across the range, which helps the car to hold the road with ease. Even in slippery conditions, this Porsche has got your back. The steering is well-weighted and accurate, and there is little body lean.
Ride quality is also impressive, while the rock-solid chassis ensures you can take the Macan off-road with confidence.
There is only one diesel engine to choose from, a 258bhp unit that powers the Macan S. It's the best choice if you're a high mileage driver, and despite fuel economy returns of 45mpg, it's still got plenty of performance. 0-62 is covered in 6.3 seconds, which makes it quicker than the Volkswagen Golf GTI, with which it shares its engine.
If you've got a need for speed, the petrol-powered Porsche Macan Turbo is worth a look. It's expensive, but it's super quick. It can do 0-62mph in less than 5.0 seconds. before maxing out  at 165mph. This model also benefits from the brands PASM suspension setup, which sharpens up the handling even more.
If you can't afford the Turbo model, a 3.0-litre twin-turbo V6-powered GTS is available. it costs less, but can still get you from a standstill to 62mph in 5.2 seconds. However, neither of the petrols are cheap to run, with fuel economy figures languishing around the 30mpg mark.
Macan have designed their interior with families in mind, and as such it looks like it will cope with everyday life on the road well. It's sturdy and well-built. However, it's been given a sporty makeover too that ensures it looks easy on the eye. We like the elegant clock that sits above the air vents and sat-nav, while part-leather seats, power-folding mirrors and a DAB digital radio are part of the standard kit.
Five people should be able to sit comfortably in the spacious Macan. Head, leg and shoulder room is generous, while a wide range of steering wheel and driver's seat adjustability makes it easier for you to get into the right position upfront.
The Macan also doesn't suffer from either the BMW's or Mercedes' shared gremlin – namely, the sloping coupe roof. Its boot, meanwhile, is the same size, measuring 500-litres.
Verdict Of Our 2017 BMW X4 Diesel Coupe
Plenty of BMW hallmarks are present here: Strong performance, sharp handling, and desirability. But there is sometimes a feeling that BMW tease you with the promise of something without ever delivering it. And that's also the case here.
The X4 is as big as an SUV, and it comes with four-wheel-drive as standard. But it's not very good off-road. And despite the slick coupe styling, it's not got any real sporty pretensions either.
Remove the X3's practicality, and you're left with a hit-and-miss car that's got plenty of style, muscle and affordable engines … but it feels like something is missing. The new BMW X4 Diesel Estate is definitely a "try before you buy" car.
Get in touch with a Vehicle Specialist
Fill out the form below with your details, and one of our highly qualified specialists will be in contact within 24 hours.
When you lease a car with OSV there are no hidden costs, request a call back and we'll find you a finance, lease or purchasing deal designed just for you.