Review Of The BMW Z4 Roadster
Looking for an objective review of the new BMW Z4 Roadster? OSV has got you covered, from engines to lease deals.
The new BMW Z4 Roadster looks just like your favourite toy car when you were a kid; it's smaller than all the others you had, quicker than all the others and cooler than all the others. It's the one all your mates wanted to play with. And now you've got the chance to own and drive it for real.
There are so many things to love about the hip new Z4: Its affordable price tag (you can pick one up for less than 30 grand); its effortless style; its powerful engines (it can do 0-62 in 4.8 seconds), and the fact that it's a two-seater drop-top that's perfect for when the sun is out.
Interested? OSV takes a closer look at what it's all about with our 2017 BMW Z4 Roadster review.
Although the Z4 isn't the most entertaining car in this sector, it's still a decent amount of fun. In bends, it's certainly no party pooper, while weighty steering, good grip and just smatterings of body lean contribute to its drivability.
It's also comfortable – provided you don't blow almost £50,000 on the overly firm M Sport model.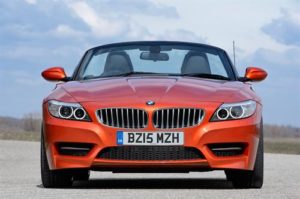 A 6-speed manual transmission is standard across most of the range, though you can pay an extra £1,900 if you'd prefer a six-speed automatic. If the idea of a seven-speed automatic is attractive to you, you'd have to go for the range-topping sDrive35is.
There are no diesel engines available. The sDrive18i kicks things off with its 2.0-litre petrol engine, and can deliver up to 154bhp while thrusting you from a rest to 62mph in just under 8.0 seconds. We're guessing that won't be fast enough for most of you, though, and moreover you will have to work it fairly hard to get it to comply.
The 20i shares the same engine but gets almost an extra 30bhp. This is enough for it to complete the 0-62 sprint a full second faster, but the 242bhp sDrive28i is quicker still, and can do 0-62mph in 5.7 seconds before maxing out at 155mph.
The fastest engine in the range, though, is the mercurial sDrive35i, which can get you from a rest to 62mph in 4.8 seconds. Those are the kind of numbers we most associate with a car like this, right?
BMW Z4 Roadster Interior, Design & Build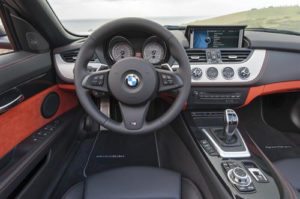 The new Z4 is actually really easy to live with, despite being a two-seater sports car. It's comfy on the motorway, and ideal for idyllic summer days when you just want to chill after a long week at work. And when the roof is up, the cabin is just as noiseless as a regular cars.
Behind the wheel, the car feels really special. The materials look stylish but also feel robust and built to last, while plenty of soft-touch plastics adorn the cabin. The Z4 Roadster gets the brands popular iDrive wheel, which controls the infotainment system and sat-nav, as well as all the other major functions.
The fabric roof is great once it's down, as it floods the cabin with light, air and – on a good day – sunshine. However, its mechanisms are slow and it takes double the amount of time to take down as the one in the Audi TT Roadster. And once it's down, it takes up what could be valuable boot space: With the roof up, the boot measures 310-litres. With it down, the boot measures just 130.
It's hard to argue with the size of the boot, though. With the roof up, it's comfortably one of the biggest in this class.
The convertible is strictly a two-seater, but two adults will be more than pleased with the space and comfort on offer. Elbow, head and leg room is good, and the steering wheel and drivers seat are adjustable.
Equipment & Safety Of The BMW Z4 Roadster
BMW's are much better kitted out than they ever were, and the Z4 is another case in point. Its standard kit includes 17" alloys, Bluetooth connectivity, air conditioning, a DAB digital radio, and automatic wipers.
Move up to the high-performance M Sport models and you get 18" alloys, stiffer suspension, an aluminium-carbon trim, and a sports steering wheel. If you want the 7-speed automatic gearbox and adaptive suspension as standard, you'd have to go for the range-topping sDrive35is.
Cars like this don't always look safe-as-houses, and confidence in them is often undermined by the fact that they're rarely crash-tested by Euro NCAP. However, Euro NCAP chose to put the BMW Z4 through its paces, only for it to stumble during its audition, scoring just three out of five.
However, its standard safety kit includes electronic stability control, anti-lock brakes, and traction control. It's a painfully thin kit that is hardly reassuring.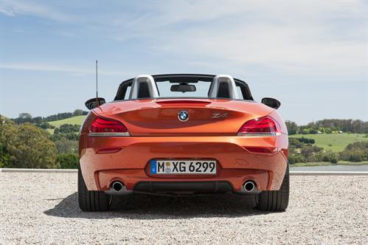 Costs Of The BMW Z4 Roadster
Prices for the new car start out from £30,000 and rise to £48,000. For more information on our leasing deals, you can check out our page here.
In terms of its running costs, the fact that there is no diesel engine keeps fuel economy relatively high. But who buys diesel engines for this type of car anyway, right? The best the petrols can manage is the 41.5mpg returned by the entry-level sDrive18i. That's not too bad from a car that's still fast. Road tax meanwhile is £185 a year.
The sDrive20i returns the same figures, as does the sDrive28i, despite offering much more performance. The s35i veers wildly off the script and can only return fuel economy of 30.1mpg at best while costing almost £300 to tax.
Pros and Cons Of The BMW Z4 Roadster
Stylish
It's basically sex on four wheels.
Powerful
It's small but powerful. Kinda like a skinny guy who surprises you with his right hook.
Excellent Build Quality
What we really love about the Z4 is how it holds things together with its top-notch build quality.
Options Are Expensive
To really get the best out of the car you'd have to empty your wallet.
Small Boot
We know convertibles are impractical, but 130-litres with the roof down seems really poor.
BMW Z4 Roadster vs Audi TT Roadster vs Mercedes SLC Roadster
Let's see how the car fares against its rivals in the comparison section of our 2017 BMW Z4 Roadster review.
BMW Z4 Roadster vs Audi TT Roadster
The Audi TT is a product of the nineties. Just picture it: You're on Gran Turismo, speeding along in your Audi TT, while listening to Oasis. Then, your sister dances across the TV screen in her Spice Girls t-shirt and holding a brush as a microphone, causing you to crash. Happy days.
Fast-forward to 2017, and you can sort of re-enact those scenes. The difference is that your bank account is bigger, the Audi TT Roadster you could drive is real, and Oasis have melted down a thousand times.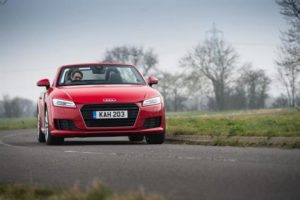 Pop culture references aside, the 2017 Audi TT Roadster is a car in-keeping with the times. It weighs the same as last time, which means performance and handling is (thankfully) unchanged. In fact, it's actually a bit lighter, thanks to a lighter roof mechanism. Awesome.
However, that roof is what ultimately makes this car heavier than its coupe sibling. Despite this, they both drive similarly. The Roadster is settled in bends (where it looks effortlessly cool winding down those twisting country turns), and there is minimal body lean.
You can take the TT Roadster to the edge, but if you exert a bit of restrain it's still quick enough but also feels agile, too. A 2.0-litre TFSI model is the entry-level engine that suits public roads better than the more powerful TTS, and with 227bhp it's definitely maybe not short of power. Moreover, it clocks 0-62 in 5.6 seconds.
The 2.0-litre 181bhp Ultra diesel engine is a good bet, too. It doesn't shake and rattle like diesels tend to, and can do 0-62 in 7.0 seconds. It's also the cheapest engine to keep on the road, and can return fuel economy of 61.4mpg while costing £130 a year in road tax.
The TFSI petrol engine isn't exactly expensive, though, and returns a very impressive 45.6mpg, while costing £145 a year to tax.
We're pleased to report that Audi have blessed their best sports car with their rather excellent Virtual Cockpit. It adds the icing on a very well-designed interior that comes complete with a clean, cutting-edge dashboard, a 12.3" high-def screen, air conditioning, and exquisite leather trim.
And while you might be fearing the worst when it comes to practicality, the TT actually doesn't fare too badly in this area. It's strictly a two-seater, which means you're limited by who you can take out for a spin. But if it's just the two of you, it'll take care of all your needs no problem. You can drop the roof, kick back and coast along like there's no tomorrow.
The boot measures 280-litres. This makes it smaller than the one in the Coupe, but 280-litres is still impressive for a car of this size. It's also a long boot, although the opening is a tad on the small side. In terms of storage areas, you get a cute storage cubby, some door pockets, and just one cup holder.
Price:
BMW – £30,000 – £48,000
Audi – £29,000 – £43,000
BMW Z4 Roadster vs Mercedes SLC Roadster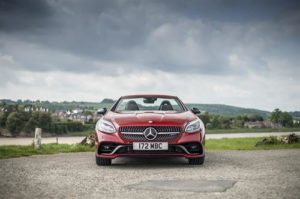 The new Mercedes SLC Roadster looks slick and ready to rock 'n' roll from the outside, but inside it's beginning to show its age.
It might be anathema to some buyers, but Mercedes have taken the decision to add turbochargers to every engine in the range. The good news is that, although the engines don't snarl like they could have done, the turbochargers haven't put a dent in performance. Better still, they've improved the fuel costs.
The SLC Roadster is more relaxed than sporty. It feels agile in bends, and it suspension can be stiffened or softened thanks to the Dynamic Select system. Body roll is at a minimum, and there is lots of grip on offer. When it comes to overall driving thrills, though, it can't compete with either the Z4 or the TT, thanks primarily to steering that's just too light and vague.
In terms of its engines, a 2.1-litre diesel unit powers the SLC 250d model. It develops up to 201bhp, and can get you from a standstill to 62mph in 6.6 seconds before maxing out at 155mph. It lets you overtake with confidence, but it will be a tad too noisy for some people.
The petrol engines are generally quicker, although a turbocharged SLC 200 completes the 0-62 dash in a more languid 7.0 seconds. The 300 does it in 5.8 seconds and again maxes out at 155mph, but enthusiasts might bemoan the fact that it's soundtrack is much less thrilling than the one produced by the outgoing SLK when it was in full flow. However, you can beef things up by adding a sports exhaust.
The AMG SLC 43 is the most exciting model in the range, and it can do 0-62 in 4.7 seconds. Fuel costs are high, though, and it can return 36.2mpg at best. The SLC 250d diesel is good for 64.2mpg and costs just £20 in road tax after one year of ownership.
Inside, the seating position is low which helps to inject some much-needed sporty personality into an otherwise dated interior. However, despite having the same look as the outgoing (and old) SLK, the cabin does get soft-touch materials and plenty of metal and leather finishes to keep things nice and luxurious.
The interior is useful for a two-seater sports car, too, and comes with a 335-litre boot. That's with the roof up; with it down, the boot shrinks to 225-litres. The opening is on the small side, too.
Keep the roof up on chillier, wetter days, and you'll find there is plenty of cabin space for you and one other person. Add the panoramic sunroof and you'll also get a more airier, lighter cabin that feels pleasant on those days when you can't take the roof down.
Price:
Mercedes – £30,500 – £46,300
Verdict Of Our 2017 BMW Z4 Roadster Review
Despite its sporty pretensions and image, the new Z4 is a straight-up comfy cruiser. It hasn't got its slippers and pipe just yet, but its handling isn't as razor sharp as some rivals, nor is it as a responsive.
Despite these drawbacks, it's still a car with bags of desirability. Effortlessly stylish, engaging and powerful the small, well-built BMW Z4 Roadster is a classic open-top sports car.
Get in touch with a Vehicle Specialist
Fill out the form below with your details, and one of our highly qualified specialists will be in contact within 24 hours.
When you lease a car with OSV there are no hidden costs, request a call back and we'll find you a finance, lease or purchasing deal designed just for you.