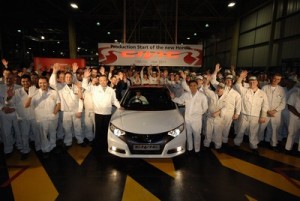 Honda is celebrating recruiting an extra 500 workers for its Swindon plant, as part of plans to double output during 2012.
The news was announced at the launch of manufacturing the new Honda European Civic, which will see Honda's factory increase its production to 180,000 units.

Triumph over adversity
This is a welcome upturn for Honda's Swindon factory, after a very trying three years.
Not only have they had to cope with the economic downturn, but the destructive affects of the Japanese Tsunami and flooding in Thailand.
Combined, the two natural disasters pushed back production on the Honda Civic by a month.
Meanwhile the credit crunch has seen production diminish significantly.
Despite these struggles, Honda Motor Europe president Manabu Nishimae praised the workforce for their continuing resilience.

Disaster brings teams closer
The 2010 Tsunami struck just as final preparations were taking place for the Honda Civic's launch.
The Japanese development team's facilities were destroyed, including the essential test track.
This blow had a surprising outcome though. The only thing to do was transfer the entire Japanese team working on the Honda Civic to Swindon.
Kim Ballamy, who leads Honda's new model centre in the UK, says that this meant the two teams could talk to each other directly.
As a result, it was much easier and quicker to make minor modifications to the Civic's design.

Honda Civic is a unique responsibility
Unlike other Honda models such as the CR-V and the Jazz, the Honda Civic is a 'motherless' model.
This means that it's not a global model built and managed from Japan, but is purely the responsibility of Honda's Swindon team.
They are also the only plant worldwide that makes diesel engines, including the 2.2 litre option for the new Civic, with a new 1.6 litre diesel engine being added to production next summer.
Keep yourself updated with the latest motoring news by liking us on facebook, following us on twitter or connecting with us on LinkedIn.
If you're interested in buying or leasing a new vehicle contact our sales team. Alternatively, visit our website where you will find new and used Honda's available for sale or on finance.
Thanks for visiting us today.

Latest posts by Andrew Kirkley
(see all)