Review Of The Hyundai i30 Diesel Hatchback
The new Hyundai i30 Diesel Hatchback is stylish, comfortable and refined. It has a real upmarket feel to it but has a massive job on its hands if it's to tempt you away from the usual suspects in this class.
It's definitely got what families are looking for, including a number of advanced safety systems that make it one of the safest cars of its type.
OSV takes a closer look at what it's all about with our 2018 Hyundai i30 Diesel Hatchback review.
One thing the i30 isn't is fun to drive. Body lean is well resisted through bends, but sensitive steering kills any hope that this would be an entertaining car.
Indeed, the Hyundai's steering often feels lifeless and inert, and there's a definite lack of feel on offer. The suspension, meanwhile, is too unsettled in the towns and cities.
That said, once it's on the motorway the i30 excels. Insulation is very good and the car works well as a confident and competent cruiser. It feels a lot like a bigger car on the motorway thanks to its civilised road manners. Over long distances, it acts as a comfortable companion.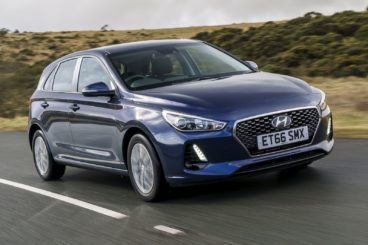 Moreover, while it's far from the most entertaining car you'll ever drive, it handles impressively and feels safe, secure and well planted. That will be music to the ears of a particular driver.
In terms of its engines, there's just the one diesel available. This is a 1.6-litre unit that develops 110bhp and 280Nm of torque. It has a 0-62 time of 11.0 seconds and maxes out at 118mph.
Its delivery is punchy but smooth, and it complements the car well on the motorway. There's really not much fun to be had at all on the open roads, though, and this is largely down to how it delivers torque down low in the rev range.
The engine comes paired up with a manual gearbox as standard. It's nothing remarkable but it does its job competently enough and the shift action is smooth.
A dual-clutch DCT automatic 'box is also available. It works well too, but it seems to hesitate when you want to accelerate from a standstill with urgency.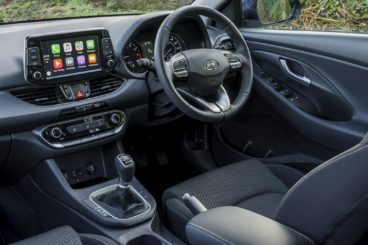 Its cabin is one of the i30's strengths. Interior quality is high, with Hyundai spoiling buyers with plenty of soft-touch plastics. Fit and finish is good, and this is an overall much better and more attractive interior than its predecessor.
It's not quite reached the standards set by Volkswagen in this class, but you can't argue with what's on offer here: A well put together dashboard, a modern design and comfy seats.
Some buyers might argue that the design is too conservative – as well as the harder looking piece of plastic that makes up the very visible horizontal trim that runs across the centre of the dash – but all models come with a neat and useful touchscreen infotainment system that's compatible with Android Auto and Apple CarPlay.
Is the Hyundai i30 Diesel Hatchback practical? Its 390-litre boot is one of the biggest in this class. It boasts a good shape too, and the split-folding rear seats can be folded almost totally flat to extend its capacity to 1,301-litres.
Other than that, rear headroom is a bit tight and taller adults will feel the squeeze. Those sat upfront will have no such issues, and neither will your kids in the back.
Storage spaces are in plentiful supply and include a reasonably sized glovebox.
Can you see yourself whizzing around in the Hyundai I30 Diesel Hatchback? Let's take a look how reliable they are on the road
Equipment & Safety Of The Hyundai i30 Diesel Hatchback
Standard kit is good across all 5 trim levels. The entry-level model gets Bluetooth, 15" alloys, a multi-function steering wheel, LED running lights and all-round electric windows.
The SE trim adds bigger 16" alloys, a 5" infotainment screen, front fog lights, a reversing camera and rear parking sensors. The SE Nav trim is our top pick and it comes with wireless phone charging, voice recognition, sat-nav and an 8" infotainment screen.
The Premium model treats you to an electronic parking brake, tinted windows, part cloth/part synthetic leather seats and twin-zone climate control. It also comes with more safety systems, front and rear parking assist, as well as a colour 4.2" instrument display.
The expensive Premium SE trim rounds things off with a heated steering wheel, leather seats and a panoramic sunroof.
In terms of how safe the car is, it was awarded all five stars by Euro NCAP for its crash test performance. Its standard safety kit on all models includes lane keeping assistance, a fatigue warning system, auto-dipping headlights and autonomous emergency braking.
Costs Of The Hyundai i30 Diesel Hatchback
Prices for the new car start out from £16,995 and rise to £24,885. For more information on our leasing deals, you can check out our page here.
In terms of its running costs, all i30 variants are affordable to run. The turbocharged 1.4-litre petrol engine is the most inefficient engine in the range, but even this power plant can return as much as 52.3mpg economy on a good day.
Meanwhile, the 1.0-litre turbocharged petrol engine is good for 56.5mpg.
Where insurance is concerned, the 1.0-litre engine sits in group 8, while the bigger 1.4-litre petrol engine occupies groups 14 – 15.
Interested in the Hyundai I30 Diesel Hatchback? Explore how Hyundai became one of the most popular manufacturers in the world with thier history 
Pros and Cons Of The Hyundai i30 Diesel Hatchback
Economical
All of its engines can return over 52mpg.
Well Equipped
Standard kit across the range is good, with even the entry-level model getting the likes of a multifunction steering wheel.
Refined
At high speeds, the i30 is remarkably refined.
Not Much Fun
It won't excite you on the road.
Cramped Rear Seats
Headroom, in particular, is an issue back there.
Hyundai i30 Diesel Hatchback vs Skoda Rapid Diesel Hatchback vs Vauxhall Corsa Diesel Hatchback
Let's see how the car fares against its rivals in the comparison section of our 2018 Hyundai i30 Diesel Hatchback review.
Hyundai i30 Diesel Hatchback vs Skoda Rapid Diesel Hatchback
The new Skoda Rapid Diesel Hatchback is an impressive car that looks good, doesn't cost a lot to run and works well as the quintessential dependable and practical family car.
On the road, the Skoda is easy enough to drive but don't expect to have much fun. It offers a relaxing, hassle-free driving experience, and its steering is light but not too light.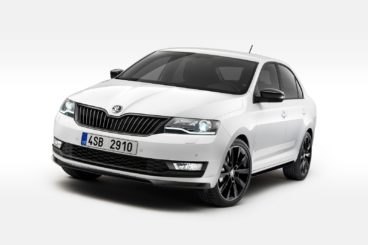 In terms of its engines, there are two diesels to choose from. The 1.4-litre unit develops a modest 89bhp and can cover the 0-62 sprint in 11.7 seconds. That's not a bad time at all, but the engine lacks the smoothness of the i30. Moreover, it comes with just three cylinders and would really have benefited from a fourth.
The bigger 1.6-litre diesel gets an extra cylinder. It develops 114bhp and covers the 0-62 dash in 9.9 seconds. It also feels smoother than the other diesel, although it isn't as smooth as the Hyundai.
Buyers can choose between a manual and an automatic gearbox, but choosing the latter has a negative impact on fuel consumption.
Running costs? Both engines are economical – and they can both return 74.3mpg economy. More surprisingly, it's the bigger diesel that has a lower BiK rating of 19%. The 1.4-litre diesel has a BiK rating of 20%.
Inside, one of the best things about the Rapid is how comfortable it is. Road imperfections are smoothed out well but opting for the bigger alloys will work against you.
Design-wise, the Skoda probably lacks flair for some buyers but it's typical Skoda fare. Its dashboard is simply and tastefully put together and quality is good. It's not a match for a Volkswagen Golf but it can keep up with the i30. And like the i30, there's a mix of soft touch and harder plastics on display here.
Is the Skoda Rapid Diesel Hatchback practical? The i30 has a big boot but it's no match for the Skoda's 550-litre boot. Even if the spare wheel is in place, you still get 530-litres of space. Fold the rear seats and it extends to as much as 1,490-litres.
Other than that, this is a very practical car. The driver's seat and steering wheel are height adjustable, while the wheel also adjusts for reach. Headroom is excellent in the front and reasonable in the rear, while storage spaces are perfectly fine.
Price:
Hyundai – £16,995  £24,885
Skoda – £15,470 – £20,260
Hyundai i30 Diesel Hatchback vs Vauxhall Corsa Diesel Hatchback
The new Vauxhall Corsa Diesel Hatchback is affordable, well-kitted out and reasonably practical.
The Corsa has been around a lot longer than the i30, but one thing it's never been is a great entertainer. For 2018, the brand have revised its suspension setup so that both body control and ride quality is better than ever.
As a result, it's now one of the best cars to drive in this sector.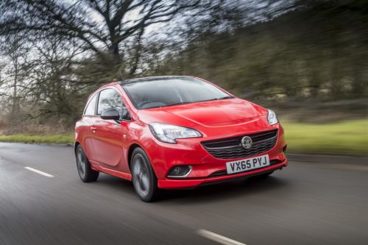 In terms of its engines, there are no diesels available. Vauxhall have also ditched a 1.0-litre petrol, which means your choice is limited to a 1.4-litre turbo petrol. It's available in 3 separate power guises, with the entry level 74bhp variant taking an aching 15.5 seconds to cover the 0-62 "sprint."
An 89bhp variant slashes that time down to 13.2 seconds, while the bigger 99bhp variant covers the same sprint in 11.0 seconds. The problem is that it never quite feels as fast as those numbers suggest and makes an awkward droning noise.
Running costs? The fact that the 1.0-litre petrol and all diesels have been dropped from the line-up means that your best fuel economy returns now come from the 1.4-litre 99bhp petrol engine that manages 51.4mpg at best if you pair it up with the manual gearbox. The fact that the most powerful engine is also the most economical is a bit odd but also a bit of a bonus. It emits 128g/km of CO2.
Inside, the Corsa is a very comfortable car. Its levels of quality aren't quite class-leading, but there are plenty of tactile materials here and there and insulation is good.
Moreover, Vauxhall have tweaked the suspension and steering specifically for British roads. The dashboard comes with a 7" touchscreen (unless you stick to the entry level model).
Is the Vauxhall Corsa Diesel Hatchback practical? Buyers can choose between a 3 or a 5-door model, but choosing the former means you'll be lumped with a sloping roofline that eats into rear headroom.
Other than that, the car sports the same dimensions as last time and three people can sit comfortably in the back. There are lots of storage spaces here and there, and the boot measures 285-litres. Frustratingly, only the SE Nav trim gets split-folding rear seats.
Price:
Vauxhall – £12,770 – £16,585
Verdict Of Our 2018 Hyundai i30 Diesel Hatchback Review
It isn't easy for the i30, what with it going head to head with established players like the VW Golf and the Ford Focus. However, it keeps up well. It isn't exciting, but it looks smart enough, can boast solid build quality, and moreover it's very well equipped.
Then there's the 390-litre boot which is among the largest in this class. All in all, the new Hyundai i30 Diesel Hatchback might not be a "name" but it's one of the most value for money family cars on the market.
When you lease a car with OSV there are no hidden costs, request a call back and we'll find you a finance, lease or purchasing deal designed just for you.