Celebrating their 15th year of collaboration, Jeep and Mopar are launching a new range of concept vehicles ahead of the Moab Easter Jeep Safari in Utah.
The vehicles in the new line up include a Jeep Grand One and a Jeep Safari. The Grand One was commissioned to celebrate the 25th Anniversary of the Grand Cherokee and boasts 18-inch, lace-style wheels and an extended wheel-base. It also features a 5.2 litre V8 engine with a four-speed automatic transmission. There is also the Jeep Luminator, so named after its powerful lighting capabilities, and the Quicksand. The Quicksand, based on the Wrangler, has been designed for those "who love the sand life" according to Mopar. It has a chopped hardtop and windshield and also comes with 32-inch Mud-Terrain tyres at the front and 37-inch tyres in the rear.
Other vehicles include the Jeep Trailpass based on the new Compass and comes with all-terrain tyres as well as a 2.4-litre Tigershark engine. The Luminator, as mentioned earlier, has a range of advanced lighting features and were jointly developed with the Automotive Lighting division of Magneti Marelli. The vehicle includes underbody rock lights, unique LED headlights, spot lights, fog lights controlled by the steering angle and auxiliary spotlights behind the windshield. It also comes with a roof-mounted solar panel and a drone landing pad.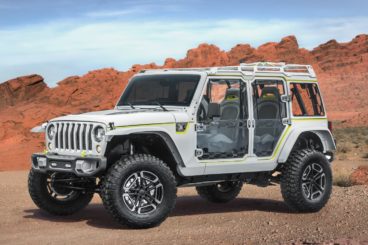 The Switchback comes with a four-inch lift with Remote Reservoir Fox and front and rear Dana 44 axle. It also comes with a custom hood and half doors. The Jeep CJ66 made its debut back in 2016 at theSEMA Show and consists of elements of the Wrangler. It boasts 383 horsepower and a six-speed manual transmission. It also has a Mopar cold-air intake and cat-back exhaust.
Pietro Gorlier told autoexpress "Jeep and Mopar have teamed up over 15 years to create unique, fun and highly capable concept vehicles for the popular Easter Jeep Safari in Moab…these concept vehicles are a perfect example of how off-road enthusiasts can use Jeep Performance Parts to personalise and enhance the already outstanding Jeep capability, allowing them to face the toughest trails in the world."
Jeeps Mike Manely said "It's truly a labour of love for the Jeep team to develop exciting, capable concept vehicles concept vehicles each year for Moab and the Easter Jeep Safari…we look forward to the reaction and the feedback from enthusiasts and our most loyal customers as these new Jeep concepts are put through their paces on the trails in Moab."
The Jeep Safari is based on the Jeep Wrangler and has a hardtop roof panel with a two-level cargo rack as well as boatsided rocker panels. The concept, according to autoguide is "all about bringing the outdoors in while keeping the doors and roof on, with a special emphasis on giving the backseat passengers a great view. This explains why the 'windows' are clear vinyl and hinged so they open like a cabinet with zipper openings.
The Easter Jeep Safari is a 9 day-long event and mainly consists of day long trips departing from Moab, Utah. The Jeep Safari started in 1967 and has since become a hugely popular event with Jeep enthusiasts, now boasting thousands of members.

Latest posts by Rachel Richardson
(see all)