Review Of The Kia Sportage Diesel Estate
The new Kia Sportage Diesel Estate is a practical and roomy SUV that acquits itself very well alongside its rivals. Its interior is filled with lots of quality, standard kit is good and prices start out from less than £20,000.
Perhaps its biggest problem will be standing out in a sector crammed with established names. To that end, its 7-year warranty will certainly help.
OSV takes a closer look at what it's all about with our 2018 Kia Sportage Diesel Estate review.
The Sportage is definitely not boring on the road, and while we wouldn't call it the most fun to drive in this class, Kia has struck gold with a solid balance between entertainment and comfort.
It's worth bearing in mind that this is a fairly tall car, a trait that often negatively impacts on a car's drivability. That's largely the case here, but the Sportage is still competent.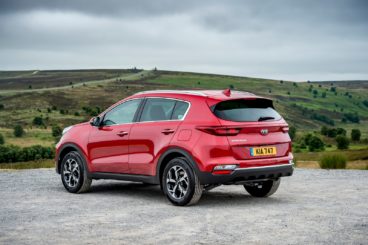 Four-wheel-drive comes as standard with some of the engines, ride quality is good, and the steering is direct and positive. There's lots of grip on offer, too, while body lean is – for the most part – well managed.
We like the manual gearbox; it shifts gears seamlessly and feels nice and smooth. All in all, the Sportage is a very enjoyable and comfortable car, but not the last word in sharpness.
In terms of its engines, the diesel range kicks off with a 1.7-litre unit that develops 114bhp. It's paired up with the 6-speed manual gearbox (and can't be specified with the automatic) and completes the 0-62 dash in 11.1 seconds.
That's hardly earth-shattering stuff and we think most buyers will be keener to take a nosey at the 2.0-litre diesel engine. It's available in two separate power guises – 134bhp and 182bhp – and both can be specified with either the 6-speed manual 'box or a 6-speed automatic.
The smaller variant has a 0-62 time of 10.1 seconds if you stick to the manual, but opting for the automatic changes that to 11.6 seconds.
The 182bhp variant, meanwhile, gets four-wheel-drive as standard to bolster things up. It's a flexible, powerful engine that's fast, refined and great for overtaking. We highly recommend it.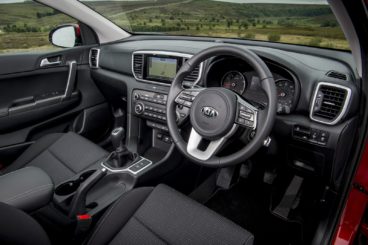 Kia knew they had to up their game in terms of interior quality if they wanted the Sportage to sell better than last time. That they have done, and its cabin is a big improvement on its predecessor.
Take the dashboard, for example, that's now coated in soft-touch plastics that create a very inviting atmosphere. Of course, if you look hard enough you'll find evidence of harder plastics, but that's the case with a lot of cars in this sector at this price point.
Moreover, build quality is good here, while the 3 and 4 models come with an excellent 4.2" screen as standard. It might sport outdated graphics, but it's easy to use and its processor is super fast.
Is the Kia Sportage Diesel Estate practical? Its dimensions are larger than last time, and an increase in its wheelbase means that the boot is bigger and rear legroom is better.
There's plenty of room in all Sportage models, whether you're up front or in the rear. There's also lots of storage solutions too, including a good-sized glovebox and a roomy cubby that you'll find under the armrest. The car is strictly a 5-seater, though.
Its boot, meanwhile, measures 503-litres if you stick to two-wheel-drive and 491-litres if you choose the four-wheel-drive, range-topping engine. Fold the rear seats and it can expand to as much as 1,492-litres.
Buyers of the previous model will be pleased to learn that the boot lip is less pronounced than last time.
Equipment & Safety Of The Ford Kuga Diesel Estate
Standard kit is good across the range, with the entry-level model coming with 16" alloys, a pair of 12v power sockets, a digital radio and Bluetooth. It is, however, a bit odd that it doesn't come with the 6-speed automatic gearbox.
The 2 trim adds 17" alloys, a 7" TFT touchscreen, sat-nav, body coloured door handles, tinted windows, automatic lights and wipers and a reversing camera. The 3 trim is next and nets you a 4.2" TFT info screen, a better stereo, 19" alloys and leather upholstery, while the 4 trim rounds things off with power-adjustable front seats, LED rear lights and a panoramic sunroof.
Safety wise, there's not really anything to worry about. Euro NCAP has already awarded it all five stars for its crash test performance, while its standard safety kit includes a braking assistance system, an electronic brake force distribution system, anti-lock brakes, stability control and traction control.
Costs Of The Kia Sportage Diesel Estate
Prices for the new car start at £19,195 and rise to £32,800. For more information on our leasing deals, you can check out our page here.
In terms of its running costs, if you stick to the front-wheel-drive version of the 1.7-litre diesel engine, you should see returns of 61.4mpg on a good day. CO2 emissions, meanwhile, stand at 119g/km, which qualifies the car for a BiK rating of 23%.
The 2.0-litre diesel is less economical. The 134bhp manages returns of 54.3mpg at best and emits 139g/km of CO2, but if you specify the automatic gearbox, those numbers change to 154g/km and 48mpg.
The 182bhp variant of the same engine is good for 48mpg if you stick to the manual, and 44.8mpg if you opt for the automatic 'box.
Pros and Cons Of The Kia Sportage Diesel Estate
Top Notch Interior
Kia has really upped their game in recent times, and you won't need to worry about the Sportage's cabin lagging behind its rivals.
Seven-year Warranty
It beats the heck out of rivals, especially the Skoda Karoq.
Well Equipped
Standard kit levels are high and ensure that the Kia offers plenty of value for money.
Expensive to Run
The smallest diesel fares well economically but both variants of the better 2.0-litre diesel are expensive to keep on the road.
Polarising Looks
Some buyers will like it, others won't.
Kia Sportage Diesel Estate vs Skoda Karoq vs SEAT Ateca
Let's see how the car fares against its rivals in the comparison section of our 2018 Kia Sportage Diesel Estate review.
Kia Sportage Diesel Estate vs Skoda Karoq
The new Skoda Karoq is an impressive-looking car that's more fun to drive than you'd imagine. However, it comes with a much shorter warranty than the Kia.
The Karoq is a lighter and shorter version of the bigger Skoda Kodiaq, and this means it can offer a better driving experience. Its steering is sharp and precise, body lean is kept to a minimum, while the suspension is nice and soft.
Overall, the Karoq feels destined to become a firm family favourite over the years.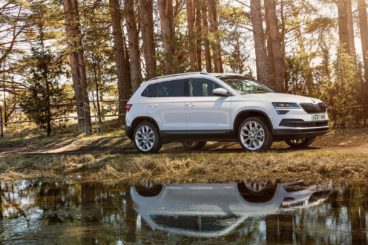 In terms of its engines, a 1.6-litre TDI diesel kicks things off. This is an engine that's been milling around for a good few years already, so you know what you're going to get. It develops 113bhp, has a 0-62 time of 10.7 seconds – but does make a noise when you work it hard.
We prefer the 2.0-litre TDI diesel that develops 148hp. It's more expensive but it comes with four-wheel drive as standard and benefits a lot from its extra power. It makes overtaking a piece of cake, and it works well as a tow car.
Running costs? The 1.6-litre diesel is the most frugal engine in the range. It's a front-wheel-drive unit that can return as much as 61.4mpg on a good day, while emissions stand at 120g/km of CO2. This qualifies it for a BiK rating of 26%.
Inside, we'd have been disappointed had the Karoq's cabin not been up to scratch. Fortunately, it is.
It's actually a really modern affair, with Skoda implementing the latest tech to keep it up to date with its rivals. That said, if you want to benefit from the Columbus infotainment system and its swanky 9.2" glass capacitive touchscreen, you'll need to splash out on the Edition trim.
All models are comfortable and have a relaxed feel, and insulation is good. Design-wise, the dashboard is a bit conservative but it's smart and nicely put together.
Is the Skoda Karoq practical? It's aimed at families, and to that end, it's spacious enough to accommodate five people. Headroom is good thanks to the tall roofline, while the steering wheel and driver's seat offer plenty of adjustability.
The boot, meanwhile, measures 521-litres if you don't specify a feature called VarioFlex. If you do specify it, it can grow to be as big as 588-litres.
Price:
Kia – £19,195 – £32,800
Skoda – £20,875 – £31,690
Kia Sportage Diesel Estate vs SEAT Ateca
The new SEAT Ateca is what you'd call a desirable large family car – and desirability is a trait that the Kia doesn't have.
As ever with a SEAT – no matter its size or shape – the Ateca is great fun to drive. Its steering is both precise and assured, and this allows you to throw this sizeable machine into corners with confidence.
Its suspension has been set a little too firm for our liking, but it only gets really uncomfortable if you add the 19" alloys.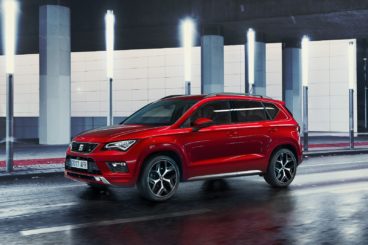 Meanwhile, a switch located on your centre console allows you to adjust the speed of the gear shifts, the weight of the steering and the response from the accelerator pedal to suit your needs.
In terms of its engines, a 1.6-litre diesel kicks things off – and it's our top pick. It completes the 0-62 dash in 11.5 seconds, and while that sounds a tad underwhelming on paper, it copes well with the car on a full load.
A 2.0-litre diesel engine is available with either 148 or 187bhp, with the latter covering the 0-62 dash in 7.5 seconds. Both variants come with four-wheel-drive as standard.
Running costs? The 1.6-litre diesel engine is the cheapest to run, with official figures pegging its economy at 62.8mpg. Emissions, meanwhile, are rated at 118g/km of CO2, which gives it a BiK rating of 25%. The biggest 2.0-litre diesel, on the other hand, manages returns of 53.3mpg at best.
Inside, the Ateca's cabin is handsome and user-friendly. The controls are well positioned and easy to use, while a huge touchscreen means that button clutter isn't an issue.
A rotary dial located on the centre console is brand new, and it lets you easily flick between different driving modes. Overall quality is good, but there is evidence of one or two harder plastics, too.
Is the SEAT Ateca practical? Five adults can sit inside the car without feeling too much of a pinch, but it's primarily aimed at young families, who it accommodates very well. Its raised ride height means that headroom is good, the wide opening doors make access easy, and the seats offer lots of adjustability.
The boot, meanwhile, measures 510-litres if you take home a two-wheel-drive model and 485-litres if you pick a four-wheel-drive model.
Verdict Of Our 2018 Kia Sportage Diesel Estate Review
It's a Kia alright – but not as we know it. This is an impressive SUV that does style, standard kit, and a slick and usable cabin in equal measure. However, as much as it impresses us, there are also criticisms that you need to weigh up. It still lacks badge appeal, it's not much fun to drive and it's expensive to run.
Overall, though, we think the Kia Sportage Diesel Estate is a great effort from the ever-improving brand and one that's well worth a test drive.
When you lease a car with OSV there are no hidden costs, request a call back and we'll find you a finance, lease or purchasing deal designed just for you.