Review of the Kia Venga Hatchback
Looking for an objective review of the Kia Venga Hatchback? OSV has got you covered, from engines to Kia lease deals.
The new Kia Venga Hatchback is a roomy and affordable supermini MPV. It's also cheap to keep on the road, and comes with Kia's attractive seven-year warranty.
Looks can be deceiving. On the outside, the 2017 Venga looks no bigger than a toy car. Inside, it's a different story. Thanks to some engineering magic, there is enough space for you and your passengers to sit in comfort, and even enough room for a good amount of luggage. It's outstandingly practical.
OSV takes a closer look at what it's all about with our 2017 Kia Venga Hatchback review.
There are four engines to choose from – a pair of petrols and a pair of diesels – but each one is flawed. They're all on the slow side, with none able to do the 0-62mph dash in less than 10 seconds. The car doesn't offer much by the way of entertainment, and you'll have to turn the steering wheel a fair bit before anything happens. It's just too vague. Body lean is poorly controlled in corners, too.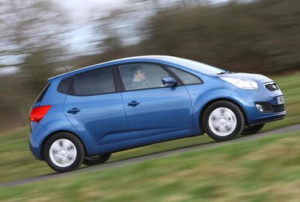 The base level 1.4-litre petrol engine is the clear runt of the range, and its manual gearbox comes with only five speeds – all the other engines are paired up with a 6-speed manual transmission, though the 1.6-litre petrol engine can be mated to an automatic gearbox if you[ prefer. However, this engine does without the Stop & Go system, a system which converses energy, thereby saving you some money.
The 1.4-litre petrol engine delivers up to 89bhp and takes 12.5 seconds to get you from a standstill to 62mph. It's okay for everyday driving, but fuel economy is not great and as such it's hardly recommended if you're a high mileage driver.
The 1.6-litre ISG is a better performer, and does the 0-62mph sprint in 10.6 seconds before maxing out at 114mph. If you match it up with the automatic gearbox, it takes 11.4 seconds to do 0-62. However, it too costs a fair bit to keep on the road.
There are also two diesel engines to choose from, a 1.4-litre and a 1.6-litre. Both are CRDi's, and both come with ISG. They're also both underpowered, and emit too much noise. The smaller of the two is incredibly sluggish, and takes 14.0 seconds to thrust you from a rest to 62mph, while the more powerful of the two can do the same distance in a more reasonable 11.1 seconds.
Interior, Design and Build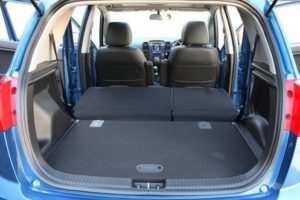 Standard equipment is better than ever, but on the whole the Kia Venga's interior falls behind the standards set by its rivals. Wind and engine noise finds it hard to enter the cabin when you're powering along at higher speeds, with the diesel engines being the main offenders. However, the cabin is comfortable enough, thanks to a soft suspension setup.
In terms of the materials used, the Venga 2017 can't compete with a number of its rivals. Fit and finish is also below class standards. There are positives, though, including a logical layout and controls and buttons that are easy enough to find and use. It's also worth mentioning that a 2015 facelift has refreshed the cabin and made it a bit more pleasing on the eye.
Where the Venga does score well is on the practicality side of things. This is a very usable car, with the designers doing a great job of getting as much space out of it as possible. It doesn't have much length or width on paper, so you'll be surprised by how much interior space is on offer. Four adults can sit in comfort, even on longer journeys, and rear seated passengers get treated to lots of leg and headroom.
The front seats are raised, which is good for visibility – but it also means rear seated passengers have more room to stretch their legs. The compact dimensions come in handy when it's time to park, but one criticism we have is that there could be more storage bins. It's billed as an MPV, so you'd expect there to be more than there is – and we'd also expect the door bins to be bigger than they are.
The boot measures 440-litres, which is competitive in this class. The rear seats slide forward to increase the space to 570-litres, or slid back for more legroom. Fold them down, and you can extend boot space to 1,468-litres.
There was a time when the Venga was poorly equipped, but thankfully Kia have seen reason to enhance its appeal with some decent standard kit at last. Whichever model you plump for, you'll get tinted glass, body-coloured bumps and door mirrors, heated door mirrors, split folding rear seats, steering-wheel mounted compatibility, and a CD stereo.
The 2 model adds 16" alloys, parking sensors, all-round electric windows, Bluetooth phone connectivity, as well a number of trim upgrades. The 3 and the 4 also get cruise control, a cooled glove box, leather upholstery and an automatic air conditioning system that will prove useful on stuffy days. These models also get an advanced reversing camera.
Optional extras include 17" alloys and satellite navigation.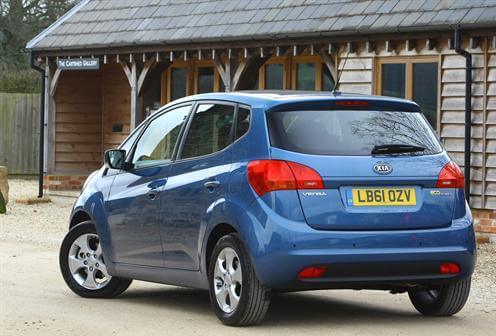 Costs of the Kia Venga Hatchback 
Prices for the new car start out from £11,995 and rise to around £18,570. For more information on our leasing deals, you can check out our page here.
In terms of running costs, the Venga is far from class-leading. However, fuel consumption is decent. The 1.4-litre and 1.6-litre diesel will both set you back £30 a year in road tax. The former can achieve average fuel economy returns of 62.8mpg, while the latter is good for 64.2mpg. Decent numbers, but far from bettering the Venga's rivals.
The 1.6-litre is by far the worst offender, though, and struggles to average fuel economy returns of 47.9mpg. It emits 139g/km of CO2, which results in a fairly hefty £130 annual road tax bill.
Pros and Cons of the Kia Venga Hatchback
Spacious
This small MPV comes with almost as much space as a much bigger car, but costs a lot less. It's one of the most practical family cars on the market.
Comfy
Soft suspension combines with supportive seats for a very pleasant ride quality.
Comes With A 7 Year Warranty
That fabulous 7-year warranty is all part of the Venga's appeal. It gives you a lot of peace of mind.
Not Cheap To Run
Remember when Kia's were VERY basic but cheap to run? Not so anymore.
Uninspiring Interior
It does the basics well, but this is a car that's lacking a spark. There is no design flair on show here.
Kia Venga Hatchback vs Honda Jazz Hatchback vs Hyundai ix20 Hatchback
Let's see how the car compares against its rivals in the comparison section of our 2017 Kia Venga Hatchback review.
Kia Venga Hatchback vs Honda Jazz Hatchback
The Honda Jazz Hatchback is usually capable of winning over buyers by virtue of its sizeable boot and the amount of space it can offer. However, the Kia can now boast more luggage space.
There are two main things the Honda Jazz Hatchback doesn't offer: Entertainment and choice. However, Jazz buyers aren't usually concerned that this car offers only a mundane if relaxing driving experience best. Moreover, although it's not thrilling by an means, it's easy to drive and will get you from A to B without any stress.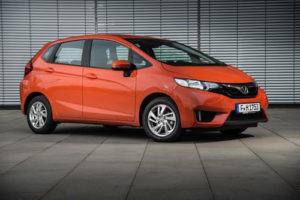 However, having only one engine in its range seems a bit uncreative. Honda has put all their faith in their trusty 1.3-litre petrol engine that does at least offer a choice of gearboxes – you can choose between a responsive and smooth six-speed manual 'box, or a CVT automatic that will reduce your running costs.
The engine in question delivers up to 101bhp, which has always been enough for Jazz buyers. It needs to be revved fairly hard, but it accelerates smoothly.
Honda have hinted that they will add a turbocharged petrol engine to its ranks, while a hybrid model has also been rumoured. For now, it's just the 1.3-litre unit that can return fuel economy of 61.4mpg when paired up with the CVT gearbox – the best returns possible. Get it registered before April, and it'll only cost you £20 in road tax.
The Jazz's interior is neat and tidy, though nothing special. However, Honda have made a real effort at modernising its cabin, and to this end have introduced a touchscreen infotainment system that dominates the dashboard. A touch-sensitive gloss panel is another nice touch, while overall the design is clear and simple. The plastics used are mostly okay, but some of them will scratch easily and look and feel decidedly downmarket.
This is a very practical car. Its 354-litre boot is dwarfed by the Venga's, but it's still one of the biggest in its class. Moreover, there is a huge amount of space inside here. Head, leg and knee room is excellent, both upfront and in the rear, and the so-called Magic Seats are a particular highlight: You can flip them to make it easier to store taller items, or fold them flat to free up more luggage space. The door bins could be bigger, but that would be nitpicking.
Price:
Kia – £11,995 – £18,570
Honda – £13,500 – £17,700
Kia Venga Hatchback vs Hyundai ix20 Hatchback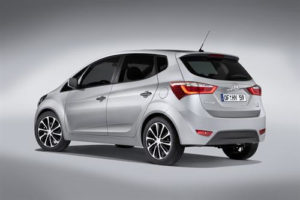 The new Hyundai ix20 Hatchback might be small, but it's still very practical and versatile. It's also reasonably priced.
The Hyundai ix20 Hatchback's engine range is populated by lacklustre engines that lack oomph. This is not a quick car by any means, but this is symptomatic of all three cars that we're comparing here: The Venga feels underwhelming at times and the Jazz is sedate and needs to be revved hard.
However, the Hyundai is easy enough to drive around town, thanks to light steering and its fantastic visibility. The soft suspension also means you'll be driving in comfort.
Unlike the Jazz, you at least get a choice of engines – four. It comes down to either a 1.4-litre petrol engine, a 1.6-litre petrol engine, or a 1.4-litre or 1.6-litre diesel. Which one you'd plump for will come down to whether you prioritise running costs before performance. As it is, the smallest petrol engine can get you from a standstill to 62mph in 12.9 seconds, while the fastest diesel does it in 11.5 seconds.
The 1.6-litre diesel engine is the most frugal in the range. It can achieve average fuel economy returns of 64mpg and costs £30 a year in road tax. The petrol engines make less noise, but averaging returns of 44mpg surely casts the 1.6-litre petrol engine in a bad light.
The 2017 ix20 Hatchback is comfortable and the petrol engines are nice and hushed. As such, the cabin is a fairly nice place to be. The dash is simply and logically laid-out, the buttons are easy to use, and the plastics feel as though they're going to last a good while.
The new ix20 can boast plenty of interior space, so you don't need to worry about rear passengers complaining about cramp. Headroom is fine, as is legroom. Two adults will be super comfortable, while even three won't feel the pinch too much. A minor criticism would be  real lack of cubbyhole storage. There are a few storage spaces here but not enough. Moreover, the glove box will do – but could be bigger.
The boot is impressive, and measures 440-litres, which is on par with the Kia Venga and bigger than the Jazz. You can fold down the rear seats to increase space to 1,486-litres.
Price:
Hyundai – £14,145 – £16,900
Verdict of our 2017 Kia Venga Hatchback Review
The days when Kia cobbled together flimsy but usable cars that were dirt cheap are over. The Korean brand has matured and wants to be taken much more seriously in 2017, and who are we to argue? The listing price is up, the running costs are up – but so is quality.
Sure, this new Venga demands a much higher price tag than a Kia of old did. But it's still affordable, and manages to offer just as much practicality as a bigger, more expensive family car. Its seven-year warranty is super attractive, and in terms of overall value-for-money, the new Kia Venga Hatchback can't be faulted. It's a winner.
Get in touch with a Vehicle Specialist Today!
Fill out the form below with your details, and one of our highly qualified specialists will be in contact within 24 hours.
When you lease a car with OSV there are no hidden costs, request a call back and we'll find you a finance, lease or purchasing deal designed just for you.