Review Of The Land Rover Discovery Diesel SW
The new Land Rover Discovery Diesel SW is an upmarket XXL family car that sits seven people in comfort. It's boldly styled, a lot more relaxing to drive than it looks, and all of its engines have more than enough oomph to keep you satisfied.
The biggest issue is that it's expensive, both to buy and run. Moreover, you'll be looking at the list of optional extras and thinking they should really be included as standard.
OSV takes a closer look at what it's all about with our 2018 Land Rover Discovery Diesel SW review.
Let's get the elephant in the room out of the way first – this is a massive car. It doesn't drive with the same agility as a hot hatch, and you're aware of its weight. However, it's more enjoyable to drive than you might expect, and it's even nice and relaxed.
This is largely down to the fact that the brand has perfectly paired up the engines with their corresponding gearboxes. For example, the 3.0-litre TD6 diesel works like a dream with the 8-speed automatic transmission.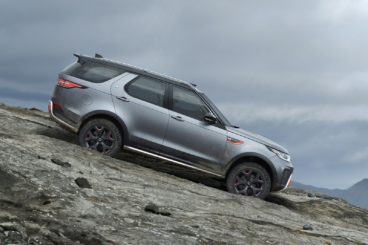 Then there's the air suspension system that smooths out lumps and bumps admirably. It also manages the weight of the car well, and ride quality is impressive.
The steering meanwhile, is precise and well weighted, although body lean is noticeable if you take corners with a little too much enthusiasm.
Off-road? The Discovery has been blessed with a new Terrain Response system that comes with low-speed off-road cruise control. This lets you tackle murkier surfaces with relative ease, and the car pulls away from the kind of muddier obstructions that would leave rivals gasping for breath.
In terms of its engines, it hardly inspires confidence on paper that the TD4 diesel is powered by a 2.0-litre engine. But while it sounds too small for a car like this, it packs plenty of punch. 0-62 is dispensed in 8.3 seconds, and the engine develops a healthy 238bhp. It's a tad noisy when you push it hard, and it has to work hard to summon every last drop of power, but it's rare when it feels underpowered.
If you can afford it – and only if – the bigger TD6 model is worth a look. It's backed by a colossal 3.0-litre diesel engine that boasts six cylinders. That said, it's not that much more powerful or faster than the TD4 model. It develops 256bhp and has a 0-62 time of 8.1 seconds.
However, what it does have is the pulling power of a tank. If you have cash, and if you need a tow car, and if you'll be heading off-road frequently, it's a solid choice.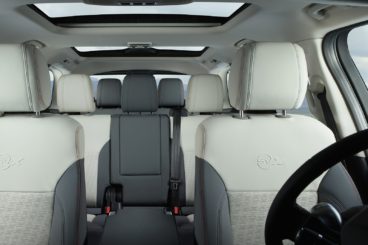 There is a lot to love about the Discovery's cabin, from its high levels of comfort to its excellent build quality. It's also remarkably well insulated for such a tall car, with barely any wind, road or diesel noise seeping in.
Ride quality is fantastic for the most part, with just Britain's very bad roads causing an issue.
The soft seats aid comfort, but it's a real shame that the brand decided to withhold leather upholstery from the entry-level models.
The dashboard meanwhile, is a well-appointed, luxurious affair that's also highly practical. Fit and finish are good, while materials used include top notch wood and leather trim.
Is the Land Rover Discovery Diesel SW practical? It seems a silly question to ask because this is one of the most usable cars on the planet. There are seven seats available, and the third row isn't reserved for kids – adults can sit in comfort back there.
The middle row of seats slide back and forth with ease, and they also come with a split-folding function. If you opt for one of the higher trims, you can fold your rear seats via the touchscreen. How neat is that?
Other than that, there seems to be storage spaces everywhere, and the boot measures 228-litres when all seven seats are up. When six seats are up, it measures 698-litres, and when five seats are up it measures a whopping 1,138-litres. Fold all but the front two seats, and the boots total capacity is 2,406-litres.
Equipment & Safety Of The Land Rover Discovery Diesel SW
The entry-level model is relatively well-equipped for its price and comes with a powered boot lid, 19" alloys, cruise control, an 8" infotainment system and cloth seats. The SE model adds a darker radiator grille, all-round parking sensors, sat-nav, a better stereo and LED headlights.
Next up is the HSE model that finally adds leather seats and a reversing camera (both of these should be standard on the entry-level model), keyless entry, a panoramic sunroof, 20" alloys and a Meridian stereo.
Rounding off the range is the HSE Luxury model that nets you 21" alloys, a pair of sunroofs, a 360-degree bird's eye camera, twin rear-seat entertainment screens and an enhanced Meridian stereo.
In terms of how safe the car is, Euro NCAP awarded it all five stars for its crash test performance. All models come with autonomous emergency braking and lane departure warning as standard, as well as lots of airbags. The likes of adaptive cruise control are optional extras.
Costs Of The Land Rover Discovery Diesel SW
Prices for the new car start at £45,895 and rise to as much as £66,095. For more information on our leasing deals, you can check out our page here.
In terms of its running costs, the Discovery is – according to Land Rover themselves – some 15% more fuel efficient than last time, and this is down to the fact that its bodywork is forged from aluminium.
It's still not massively cheap to run, but the TD4 diesel can now return 43.5mpg at best and emits 171g/km of CO2. This qualifies it for a BiK rating of 37% – the highest there is.
The bigger 3.0-litre diesel engine has the same BiK rating but emits 39.2mpg at best.
Pros and Cons Of The Land Rover Discovery Diesel SW
Vast Interior
It can fit seven people but don't worry – there'll be no shoulder rubbing.
Practical
It's literally the Swiss army knife of the motor world.
Can Go Anywhere
See above. No terrain is off limits.
Expensive
The Sport version is a lot cheaper.
Not a Looker
Its styling is divisive for sure.
Land Rover Discovery Diesel SW vs BMW X5 vs Porsche Cayenne
Let's see how the car fares against its rivals in the comparison section of our 2018 Land Rover Discovery Diesel SW review.
Land Rover Discovery Diesel SW vs BMW X5
The BMW X5 was the first SUV that actually felt good to drive when it was first released 20 years ago. It was also the first car of its type that felt a bit sexy. But what's it all about in 2018?
It weighs less than its predecessor, but that isn't really saying much as it still tips the scales at over 2,000kg. However, it hides its weight well. Handling is nice and crisp, and body lean is well-managed in bends.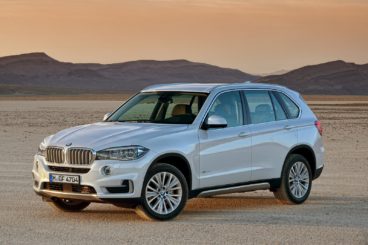 There are one or two issues, though. The steering takes too long to self-centre when you leave a corner and it feels overly artificial. Moreover, this is no off-roader – unlike the Discovery.
In terms of its engines, the entry-level X5 25d diesel is backed by a meaty 2.0-litre engine that develops 228bhp. It covers the 0-62 dash in 7.7 seconds and is available with either two or four-wheel-drive.
The 3.0-litre diesel has more pulling power. It's available with either 255bhp, 308bhp or 375bhp, with the latter covering the 0-62 sprint in just 5.3 seconds.
Running costs? If you stick to two-wheel-drive, the X5 25d model can return 53.3mpg economy. Specify four-wheel-drive and it will return 50.4mpg at best.
Th 3.0-litre diesel engine, meanwhile, manages returns of 48mpg at best and 42.8mpg if you go for the range-topping variant.
Inside, the X5 is smart, well built and pretty damn classy. Optional extras are costly but all models come with more standard kit than before.
The dashboard is strikingly stylish but logically arranged, with a 10" high-def screen dominating. Once again, the brand's iDrive control system is one of the best of its type around.
Is the BMW X5 practical? It comes with five seats as standard but you can pay extra for a third row and turn what is essentially an MPV into a people carrier. The cabin is large and spacious, storage spaces are plentiful, and the wide centre seat and flat floor mean that even a middle seated passenger will be happy as Larry.
The boot, meanwhile, measures 650-litres and can be extended to 1,869 by folding the rear seats.
Price:
Land Rover – £45,895 – £66,095
BMW – £53,395
Land Rover Discovery Diesel SW vs Porsche Cayenne
The new Porsche Cayenne is comfortable, practical and family friendly … but it's also damn exciting and insanely fast. Come on, it is a Porsche.
It handles superbly, while its performance can only be described as explosive. It might be a hulk of a car designed to ferry families around, but its DNA is flooded with genes of the sports saloon variety.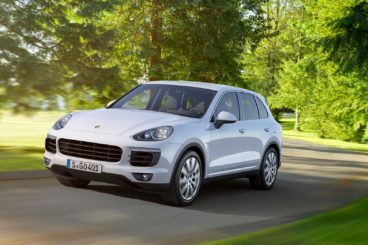 Porsche have added more tech this time around to enhance its drivability, with 4D chassis control ensuring that it's better off-road than ever – although it's still not quite on the Land Rover's level.
In terms of its engines, there are surprisingly no diesels available. Instead, a turbocharged 3.0-litre V6 petrol engine kicks things off. It develops 335bhp but it's not really a match for the Cayenne S. This model develops 434bhp and hauls you from a standstill to 62mph in 5.2 seconds.
Rounding off the range is the Turbo model. Power comes from a 4.0-litre V8 engine that can rocket you from rest to 62mph in an incredible 3.9 seconds if you add the Sport Chrono pack.
Running costs? The entry-level model can return 31.4mpg economy at the very best, which should give you an idea of where we're going with this. That said, the Cayenne S almost matches it with returns of 30.1mpg on a good day.
Inside, the Cayenne might drive like a sports car but it's very comfortable on the move. Insulation is – somehow – well suppressed, and the cabin is attractive and easy to like. A 12.3" touchscreen is standard, but it's disappointing that a) it's hard to use and b) it isn't compatible with Android Auto or Apple CarPlay.
Is the Porsche Cayenne practical? It's Porsche's most practical car. No, that isn't saying a lot but the amount of interior space available in here is impressive. Everyone should be able to sit in comfort.
That said, it is a big car. To make it easier to park, it's well worth paying extra for the rear-wheel steering system.
The boot, meanwhile, measures 741-litres if you opt for the Turbo model, but the rest of the range gets a bigger boot.
However, the Cayenne is strictly a five-seater.
Price:
Porsche – £57,220 – £101,346
Verdict Of Our 2018 Land Rover Discovery Diesel SW Review
Heavyset (and heavyweight) all-rounders like this just don't come around all that often. It's big, it's bold, but it's got as much heart as it has teeth. In other words, as savage as it can be on and off-road, it's also enormously usable and provides more-than-enough satisfactory accommodation for you and your family. The new Land Rover Discovery Diesel SW is one of a kind, and it's never been better.
When you lease a car with OSV there are no hidden costs, request a call back and we'll find you a finance, lease or purchasing deal designed just for you.