Review of the Lexus RC 300h
Sports cars are some of the most evocative and special machines that grace the road, and they normally follow a rather strict formula. Fast, loud, beautiful, slick, precise – all words you would normally associate with a sports car. So, what on earth is Lexus doing coming along and tearing up that rulebook? Has the Japanese firm gone mad or is it on to something with the new Lexus RC 300h – an efficiency-focused quiet hybrid with a challenging face.
With some stiff competition in the sector, Lexus's quirky little recipe needs to come out of the oven smelling irresistible, or it could find itself gobbled up by the big boys that dominate the sports coupe market.
The new Lexus RC 300h is powered by a hybrid powertrain, which is highly unusual for a sleek coupe. It produces a decent amount of power – 223PS to be precise – but the combination of a 2.5-litre petrol engine and an electric motor isn't exactly inspiring. It certainly isn't sporty either, especially when you learn that Lexus has restricted the top speed to just 118mph for economy reasons. The sprint to 62mph isn't setting any records, either, taking 8.6 seconds to get to the target. Still, at least it's impressively efficient, over 50mpg is theoretically possible and the CO2 figure is very low and just 113g/km.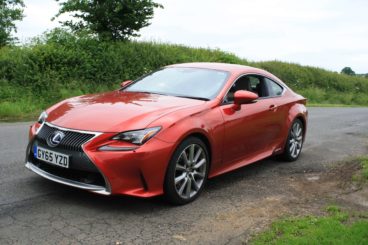 While it falls down in the performance stakes, it does at least ride very well and is surprisingly comfortable for a car of this class. It is quite a heavy machine, but it grips well in the corners, even if the lack of fizz from the engine doesn't really inspire the driver to push on to explore the limits. The steering is also pretty good and compliments the grip levels, but isn't rich in feedback. By its own nature, the Lexus RC 300h is far more satisfying to waft around in than it is to drive like a sports car.
There also isn't much joy to be found in the CVT automatic gearbox, either. A CVT transmission is vastly different from a normal automatic gearbox as it does not have fixed ratios. It works well with a hybrid powertrain but lacks the response and urgency needed for a more sporting feel in a car. As such, it is ill-suited to the Lexus RC 300h.
Interior, Design, and Build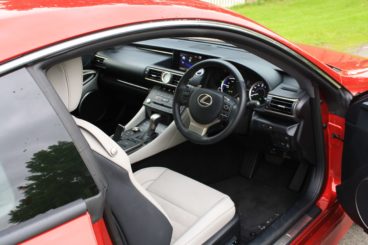 On the road, the Lexus RC 300h is unlikely to set any hearts ablaze. Where it really excels is in the design. Sure, the look won't be to everyone's taste, but there is no denying it is a truly striking car. In terms of pure style, it is the most 21st Century car in its sector. The Lexus RC 300h is angled forward, much in the same way a cat arches before it pounces upon the wriggling toes of a relative. It really does grab your attention, and makes the Audi A5 – one of its main rivals – look like a bit of a brick.
The style in the cockpit is modern too. A large infotainment system screen sits behind a bar-shaped structure, comprising two air vents and an analogue clock, while the majority of the controls are on the centre console that flows from underneath. It looks brilliant and the quality of materials used in the construction of the interior match the excellence of the design. A fair criticism would be that it is a little cluttered, but many people won't mind, seeing as the fit and finish is of such a high standard.
Being a coupe with one of the most dramatic rooflines in class, the rear space in the Lexus RC 300h is extremely limited, and suitable only for children. An adult can squeeze into a rear seat for an emergency journey, but don't expect them to climb out in a good mood afterwards. Boot space is also fairly restricted, but it is acceptable. 366 litres of loading room is available, and while it isn't spectacular, it is probably adequate for most needs.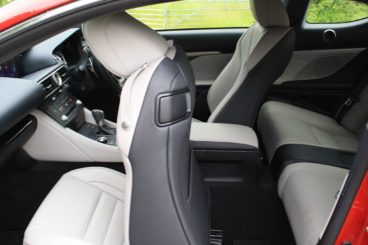 Lexus does a great job of throwing in lots of toys for not that much money. The Japanese automaker is well regarded for its small options lists, and instead looks to buyers to choose the most appropriate trim level for their requirements.
There are three such trim levels to choose from; Luxury, F-Sport, and Premier. All trim levels are very generously equipped, with climate and cruise control, heated leather seats, and parking sensors. Sport adds to the athletic look of the RC, fitting both exterior and interior design touches and adaptive suspension, while Premier adds a high-end sound system and some extra safety features.
Disappointingly, satellite navigation is not standard, and only comes fitted as such on the top level Premier trim. Another disappointment is the rather dated looking and fiddly to wield infotainment system, which is way behind competitors both graphically and ergonomically. It really does bring the gorgeous luxurious interior down somewhat.


Lexus RC 300h: Cost, Pricing, and Leasing Rates
A Lexus can be expensive to buy on paper, but they benefit from strong residual values, so buying on a Personal Contract Purchase ('PCP') agreement makes this car quite affordable. Business customers may even be able to find an RC 300h for around £300 a month with a small deposit of £2,000.
If you are a private buyer, PCP, or personal leasing, is the way to go. On PCP, expect to have to put down a deposit of around £10,000 to get an F-Sport or Premier trimmed Lexus RC 300h for under £400 a month. Prices start from a little under £35,000, but in higher trim levels this car can approach £40,000 to buy outright with cash, so the finance deals on offer don't look too bad.
Pros and cons of the Lexus RC 300h
Striking Design
Love it or hate it, the new Lexus RC 300h stands out from the crowd with its distinctive and brave styling. Lexus deserves credit for taking a braver approach to appearances, and established German rivals may have to play catch-up in the next few years in order to continue to be competitive in the beauty contest.
Comfort
It is not always possible for a coupe with sporting ambitions to provide a comforting ride for the driver, but the Lexus RC 300h most certainly does. The engine is quiet and refined – if uninspiring – and the cabin is beautifully put together. The star quality is in the ride though; this is a lovely car for a relaxing cruise.
Lack of Options
Okay, so the Lexus RC 300h isn't exactly a cheap car, but it is nice to be able to look into buying a luxurious automobile without feeling like you are going to be fleeced when it comes to optional extras. Other manufacturers really take the biscuit when it comes to the options list; thankfully Lexus isn't one of those.
The Engine
The 2.5-litre petrol-electric hybrid system is – like all hybrids – criminally lacking in character and, worse than that, it is shockingly underwhelming in terms of performance. Makes no bones about it, this is not an engine befitting of the Lexus RC 300h's striking body.
The Gearbox
Assisting the engine in disappointing is the CVT automatic gearbox. It is right at home in Lexus's cushy SUVs, but feels right out of place in a car which is supposed to provide some sort of excitement factor. It is suitable enough for gentle cruising, but ask it to work quickly and it will complain before it gets its head down.
The Infotainment System
In this era of connectivity, it is absolutely crucial for manufacturers to nail the infotainment system setup, and sadly Lexus fails to do so. It is outdated and aesthetically unappealing, and the control system can be frustrating at times.
Lexus RC 300h vs BMW 4-series (420d) vs Audi A5
By their own nature, rival cars are usually quite similar to each other. However, there is a substantial difference in character between the Lexus RC and its two key competitors.
Lexus RC 300h vs BMW 420d
The most popular BMW 4-series is the 420d, powered by the successful 2.0-litre four-cylinder turbo diesel that has dominated sales in the majority of BMW's smaller cars over the last few years. With 190PS, it is down on power on the Lexus RC, but it is actually quicker to 62mph (7.3 seconds) and has a higher top speed than the restricted Lexus RC 300h.
There is a lot to be said for a diesel coupe, they have a solid pull from a standstill thanks to that famous turbo-diesel engine torque, and this can make them feel rather sprightly. The BMW 420d certainly doesn't feel slow, but it should be specified with the excellent optional eight-speed automatic transmission to get the best out of it; the manual gearbox isn't the best and vibrates with the clatter from the diesel power unit.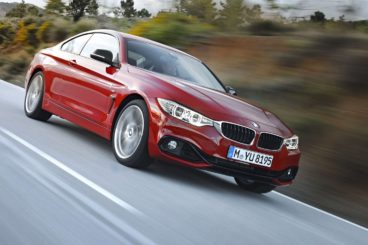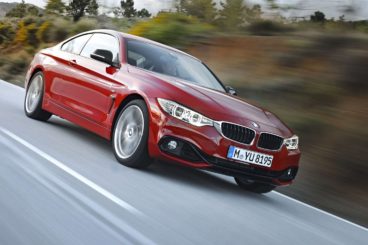 Despite the diesel engine, the BMW 420d gives a far sportier ride than the Lexus RC 300h. It is firmer in 'M-Sport' trim and far nimbler as a result, with steering that talks to the driver a lot more than that found in the Lexus. Overall, it is a far more satisfying car to drive quickly, and equally as comfortable on a long journey. It is also slightly cheaper and more economical, being well capable of 60mpg.
One area where the Lexus RC 300h does have the edge on the BMW is in exterior and interior design. It looks and feels ever so slightly better than the German car, although there isn't much in it, especially inside.
Prices:
Lexus RC 300h – Between £34,995 – £40,495
BMW 420d – Between £32,645 – £40,380.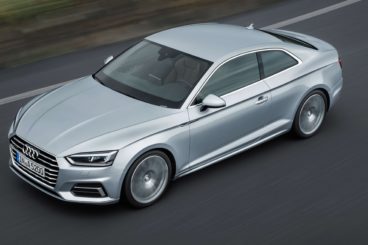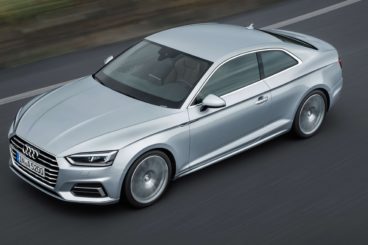 The new Audi A5 looks an awful lot like the old Audi A5, with only subtle changes to the styling and interior improvements really visible to those in the know. As a result, it still lags way behind the Lexus RC 300h in terms of exterior styling. Thankfully, Audi makes some of the crispest interior spaces on sale, and the addition of its 'virtual cockpit' system, which replaces the dials with a customisable digital screen, makes it feel even better than previously.
As with before, the Audi A5 comes with a choice of engines, but you will probably want to opt for the 2.0-litre turbo diesel. It is very similar to that found in the BMW 420d, but it is slightly more refined. The only problem is, the Audi A5 isn't quite as rewarding to drive as its compatriot.
It isn't as involving, or as enjoyable, as the BMW, but it does have more grip, thanks to the famous 'Quattro' all-wheel-drive system. Though the BMW has an optional all-wheel drive, the Audi Quattro heritage may make this the coupe of choice for those who live in harsher environments, and it is certainly useful to have in British conditions.
Similarly to the Lexus RC 300h, the Audi A5 really feels best when being cruised around in – unlike the 'push harder' personality of the BMW 4-series.
Audi's slick DSG automatic gearbox isn't quite as sharp as the 'box in the BMW, but it still vastly superior to the Lexus RC 300h's CVT unit.
The Audi A5 is far more similar in personality to the Lexus RC 300h, but carries out its task much better than the Japanese car.
Prices:
Lexus RC 300h – Between £34,995 – £40,495
Audi A5 – Between £31,910 – £46,575.
Verdict
Spend some time with the Lexus RC 300h, and you will quickly realise that this isn't a sports car. This is a comfy saloon with a slinky coupe dress on, and honestly, it has near enough zero performance credentials. The combination of a heavy body with an economy-focused hybrid powertrain means it is outpaced by all of its rivals and even almost all hot hatchbacks on sale today. And, for a car with a body that is attempting to melt trousers, that strikes us as a missed opportunity. It is actually quite difficult to understand where Lexus is going with this one, especially with its persistence with CVT automatics and the absence of strong performing diesel engines.
If you really want to stand out from the crowd, the Lexus RC 300h will certainly draw some looks as it passes people it in the street, but we can't help but feel you'll be disappointed with the driving experience. As a result, it may be better to stick to the more accomplished and well thought out BMW 4-series.
Looking for a price?
Fill out the form below with your details, including whether you're looking to lease or buy and we'll give you a quote within 24 hours.
When you lease a car with OSV there are no hidden costs, request a call back and we'll find you a finance, lease or purchasing deal designed just for you.