The new BMW X5 4 X 4 is exactly what you want a modern-day large family large SUV to be – comfortable, practical and strong. Unlike a number of its more cumbersome rivals, the X5 also handles superbly. Performance, meanwhile, is exceptional, with the ballistic X5M able to leave rivals in its wake.
You get the option of seven seats, but even if you do add the extra row you don't have to sacrifice any keen drivability. It remains sporty, though you will lose some boot space. There is also a hybrid option, but while you'll save on fuel you'll lose out slightly on practicality.
OSV takes a closer look at what it's all about with our BMW X5 4 X 4 review.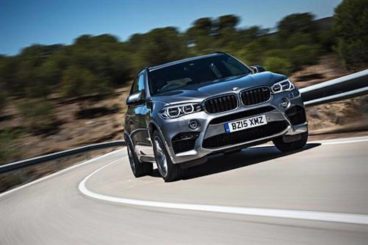 Overview Of The BMW X5 4 x 4
BMW have managed to reduce the X5's weight. Even so, it still weighs in at over 2,000 kg. But while this would probably spell disaster for their rivals, BMW have managed to bless their monstrously-sized 4 X 4 with crisp handling ability that has a remarkable amount of body control in bends.
There are some downsides, of course, and they include steering which feels unnatural at times. Moreover, when you exit corners, it can be sluggish to self-centre. Also, despite its size, the X5 4 X 4 isn't a very capable off-roader.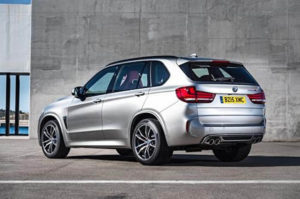 There is a tasty-sounding twin-turbo 4.4-litre V8 petrol engine available, but it's living in the shadow of a choice of excellent diesels, and will be largely overlooked. It's quick, though, and can do the 0-62mph sprint in just 4.9 seconds. That makes it only just slower than the M4 Coupe!
A 2.0-litre petrol unit works side-by-side with an electric motor to power the plug-in hybrid variant. It can do 0-62mph in 6.8 seconds, but while it can potter around the town on just electric power, there all be times when you need to fire up the petrol engine. And once you do, fuel economy will tumble.
The petrol engines are your best bet if you want to make the most of the incredible amount of power and performance on offer by the X5. If, however, your priorities are fuel economy, the diesels are more attractive. There are two diesel power plants on offer, and four power guises in total. The 2.0-litre four-pot unit starts things off. It delivers up to 228bhp, and can get you from a standstill to 62mph in 7.7 seconds.
The 3.0-litre six-pot is bigger and better suited to this car. It has plenty of pulling power, and in 375bhp guise is as strong as a bull. There is also a 255bhp option, as well as a 308bhp option. Our top pick is the 255 variant; it covers the 0-62mph sprint in 6.8 seconds, and is smooth and easy to live with.
All the diesels are paired up with a sound automatic gearbox.
The interior is well put together, and feels very classy. There is a solid amount of standard equipment available, while the options – despite offering little value to the car in the long term – are super expensive.
The dash looks visually striking. A 10" high-def screen dominates, which displays both the sat-nav and infotainment settings, which you operate using the brand's much-lauded (and rightly so) iDrive control system. A touch-sensitive pad lets you easily spell out your commands, while an adjustable driver's seat is set high for good visibility.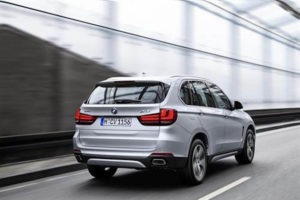 Practicality is a big consideration for a big car like this, and fortunately the BMW X5 does well in this area. You can specify an extra row of seats for an extra £1,400 if you need more passengers, while the cabin is large and comes with a number of storage spaces, including large pockets, door bins and cubbyholes. Head and leg room is good up front and in thereat, and the leather seats offer plenty of comfort. Essentially, it works as both a people carrier and an MPV.
If you keep the rear seats up, the boot measures 650-litres. Fold them down, and you can extend that space to 1,870-litres.
Standard equipment across the range includes cruise control, a DAB digital radio, Bluetooth connectivity, climate control, and the Driving Experience Control, which gives you the chance to modify the way the car drives so that it suits your mood or the driving conditions. Metallica paint is also surprisingly present on the base-level model.
The xDrive chucks in twin exhaust pipes, power-adjustable front seats and a high-gloss trim, while the M Sport adds 19" alloys, adaptive M suspension, a body kit and sports seats. Most of it seems superfluous.
Optional extras are all expensive, but the ones we recommend include the £1,495 Adaptive Comfort, and the £2,000 leather instrument panel.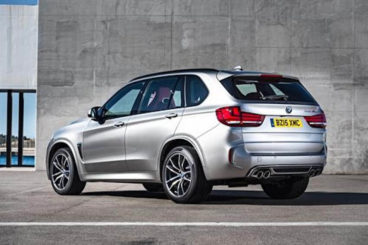 Costs Of The BMW X5 4 x 4
Prices for the new car start out from £44,600, and rise to just over £90,000. If you're interested in leasing a BMW X5, BMW X5 lease deals start out from as little as £485 + VAT per month. For more information on our BMW X5 finance and BMW X5 leasing deals, you can check out our page here.
In terms of running costs, the car performs well. The most expensive-to-run engine in the range is the twin-turbo 4.4-litre V8 petrol engine that can return fuel economy of 29.4mpg at best, while coating up to £500 a year in road tax. The 2.0-litre petrol engine makes more sense from a financial point of view, and is good for 53.4mpg, while costing £130 a year in tax. The plug-in hybrid, meanwhile, can achieve average returns of 83mpg and is free from road tax. It is, however, super expensive.
The X5 isn't cheap to insure, with the entry-level model sitting in group 41, and the range-topper occupying group 49.
Pros and Cons Of The BMW X5 4 x 4
Comfortable
In sportier settings, the BMW is slightly too firm, but if you stick to Comfort mode you'll find that the X5 offers a very relaxing, family-oriented driving experience.
Economical
The plug-in hybrid will certainly be attractive to business, with its claimed fuel economy figures of 83mpg. However, the diesel might be able to average better numbers if you drive it sensibly enough.
Classy Interior
It's not easy to distinguish the interior from its predecessors – but that's hardly a bad thing. BMW have upped the ante by introducing the new version of their iDrive control system, while standard kit such as memory seats keep things classy.
Petrols Are A Bit Thirsty
They can offer crushing performance, but the petrols are also going to rinse you at the pumps.
Bland To Look At
BMW say their car is designed to be "deliberately evolutionary", and it's clear that they've played it safe this time around. The rear end is especially bland, but the positives are that the design has created more space indoors.
BMW X5 4 x 4 vs Range Rover Sport 4 X 4 vs Volvo XC90
Let's see how the car measures up against its rivals in the comparison section of our BMW X5 review.
BMW X5 4 x 4 vs Range Rover Sport 4 X 4
The new Range Rover Sport 4 X 4 might seem like an expensive luxury at first sight, but this beast of a machine has all the sturdy qualities to be a real success.
The Range Rover Sport 4 X 4 is undeniably big and heavy, but it still manages to be fairly quick. It also handles well, and is lighter than last time around, thanks to the introduction of an aluminium chassis and body. It has a good turn of pace in a straight line, and it's more responsive in bends. Meanwhile, an anti-roll system keeps it composed when tackling twisting roads.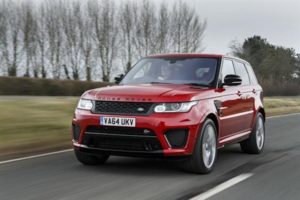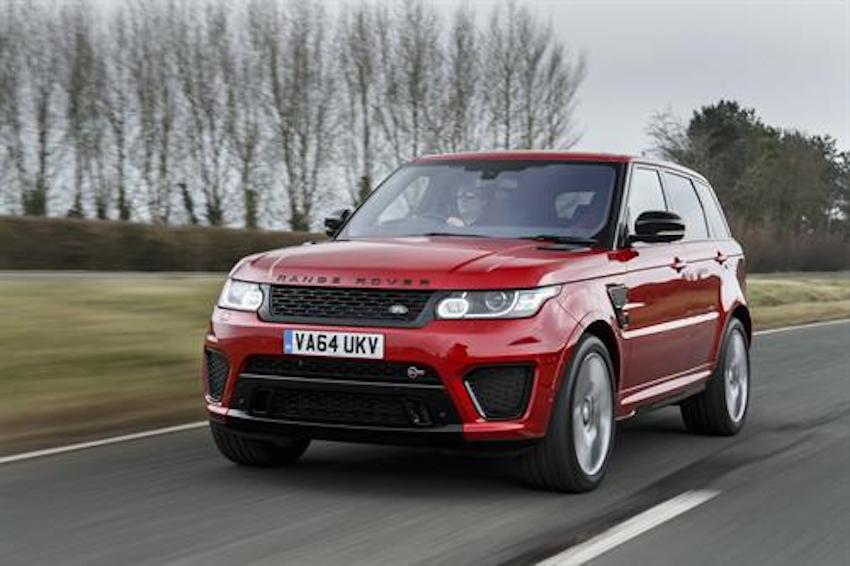 There is just on petrol engine to choose from – a monstrous 5.0-litre V8 which comes in either 503 or 542bhp power guise. It's built for pure performance, with the latter able to do the 0-62mph sprint in just 4.7 seconds.
The diesels are somewhat smaller, with a 298bhp 3.0-litre V6 engine starting things off. It's relatively affordable, and can do 0-62mph in under 7.0 seconds, but the 329bhp 4.4-litre SDV8 is much quieter and smoother while being marginally quicker. A diesel hybrid model completes the range. It's slightly quicker than the two diesels, more economical – but also more expensive.
Speaking of economy, the Range Rover Sport 4 X 4 is far from cheap to run, and its high purchase price will be followed by high bills. The hybrid is the cheapest to run, but it feels almost embarrassing to use the word "cheapest" when the best it can return is fuel economy of 44.1mpg. It also incurs a £205 yearly road tax bill.
One of the Range Rover's strengths is its cabin, which is luxurious and well put-together. Th dash is coated in leather and superbly built, and the brand have done a good job at eliminating a number of useless buttons that were cluttering the place up. The seats offer good visibility, support and comfort.
The Sport 4 X 4 isn't as big as the regular Range Rover, but it's still humongous. Parking has been made easier by the addition of parking aids as standard, but rear knee room is at a premium if the driver and passenger are fairly tall. You get the option of seven seats, but the extra third row is more for kids or space than adults. Opting for the extra seats means you lose out on a spare wheel.
With five seats, the boot can offer 784-litres of space, and this can be extended to 1,761 if you fold the rear seats flat. These numbers are on par with the X5's.
Price:
BMW – £44,600 – £90,000
Range Rover – £62,700 – £96,000
BMW X5 4 x 4 vs Volvo XC90 4 X 4
There is a strong case for the new Volvo XC90 being the quintessential 4 X 4. It ticks a lot of boxes, including comfort, luxury, safety and in-car tech.
The Volvo is better suited on the road than off it. It's comfortable and offers lots of grip, but if you approach a bend with too much enthusiasm you will notice a significant amount of lean. Moreover, the steering is too light for our liking. Overall, the BMW X5 offers more thrills and spills.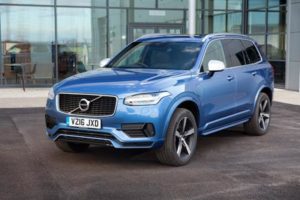 There is only one diesel engine available. It delivers up to 225bhp, and will be the one that most buyers go for. It's a capable enough performer that is both smooth and quiet, and it also makes a lot of sense if running costs are a priority of yours.
The petrol engine offers more power and therefore more fun. Capable of producing 320bhp, the T6 petrol unit can do 0-62mph in 6.5 seconds, but its performance comes with a strange, tinny noise that is a bit off-putting. A hybrid engine completes the range. It can cover the 0-62mph stretch in 5.6 seconds, and offers good straight-line performance and relaxed steering.
The hybrid costs more to buy than the diesel outright, but can return fuel economy of 134.5mpg compared to the latter's figures of 54.3mpg in two-wheel-drive guise. The petrol, meanwhile, averages returns of 36.7mpg, and will cost £205 a year to tax.
The interior is slick and stylish, and comes packed with brand new, cutting edge technology. Generally, the cabin is better insulated from exterior noise than the BMW, but some wind noise does seep in. In terms of overall interior quality, the BMW wins, but Volvo have upped their game here, and this is a cabin not short of charisma and prestige. The intuitive, advanced infotainment screen is a highlight, while the dash comprises just eight buttons.
The Volvo XC90 majors on practicality. There is a lot of space inside here for passengers upfront and in the rear, while the third row of seats are for both adults and kids. The hybrid is just as practical as the regular versions, with the batteries for once not eating into boot space. The boot in all versions measures 451-litres, and this can be increased to 1,951-litres if you fold the rear seats. They don't, however, fold totally flat.
Price:
Volvo – £47,000 – £64,500
Verdict Of Our BMW X5 4 x 4 Review
The BMW X5 was the German brand's first attempt at an 4 X 4. Launched at the end of the nineties, it quickly enjoyed market domination until the Audi Q7 came along.
It doesn't look as exciting as it once did, but there's no doubting its qualities: The cabin is unrivalled in terms of fit and finish, while performance is incredible. Premium, luxurious and practical, while leasing a BMW X5 is cheaper than ever. Overall, the BMW X5 4 X 4 continues to be a very appealing large family car.
Want to learn more? Click below to view the review for the competitors in this article…
Want a great deal on a BMW?
You could be driving away with your new car in no time. Fill in your details below and one of our vehicle experts will be in touch within one working day.

Latest posts by Will Titterington
(see all)