Review Of The Mercedes Benz A-Class Hatchback
The new Mercedes Benz A-Class Hatchback has plenty of badge appeal and premium quality, but it also boasts low running costs. However, what will really set the cat among the pigeons is its new exterior styling.
There aren't too many premium family hatchbacks on the market right now, but the competition is stiff between Mercedes, BMW, Audi, Lexus and Infiniti. What this particular hatch can offer you is a good economy, a steady and safe driving experience, and a decent amount of interior space – all things which many buyers prioritise when shopping in this market.
OSV takes a closer look at what it's all about with our Mercedes Benz A-Class Hatchback review.
The new car is a  solid enough performer, but its limitations become particularly acute when you compare it to its rivals. In isolation, this is a very steady, competent and predictable hatchback – precisely what many family car owners want, right? However, once you get a taste of something a bit more exciting – such as the BMW 1 Series – you might find that 'competent' become synonymous (or replaced entirely) with 'dull'.
Another troubling aspect of the car is its lack of grip in bend, which comes as a result of the four-wheel-drive system. Torque steer is another issue, particularly once you put your foot down and give the car some volley.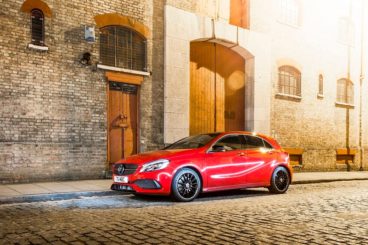 Still, let's not be so miserly as to deny this car its merits. The steering is direct, and the suspension does a good job at smoothing out our worst road surfaces, especially if you opt for the smaller alloys.
The engine range kicks off with an A180d diesel unit which takes 11.3 seconds to cover the 0-62mph distance. It's a figure which is easily beaten by its chief rivals and isn't exactly becoming a car worth £22,000. However, the 2.1-litre diesel engine is much better and takes care of the 0-62mph sprint in just 7.5 seconds.
There are a handful of petrol engines available, too. The base level A180 petrol can get you from rest to 62mph in 8.6 seconds, and does so while mated to a responsive 7-speed automatic 'box. But if it's pure power and pace you want, the A250 hits the spot, covering the same distance in 6.3 seconds. There is also a high-performance AMG model in the range, and it has enough in the tank to propel you from rest to 62mph in 4.2 seconds.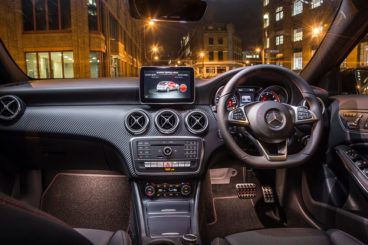 This new car sports polarising looks that you're either gonna love or hate. But while it's 50/50 as to whether the bold and sporty exterior is befitting of a premium car, there is no doubt that the interior is a cut above.
The materials are of high quality, the controls are neatly and logically arranged, and the cabin feels as though it's built to last for quite some time. There is a lack of flair, but if you're a family on the lookout for a satisfyingly upmarket cabin that won't let you down, this one has a lot going for it. Sure, it's a bit grey, but you can add a touch of class with a few optional extras, such as a metal-look trim, while the AMG Line model comes with a nifty carbon-effect trim.
The problems only arise when you start thinking "but isn't this a premium car? Shouldn't it look more contemporary?" Perhaps, but if it's flair that you're looking for, it's a good idea to check out the Audi A3.
Getting comfortable is say thanks to an adjustable driver's seat and steering wheel, and visibility is generally good despite the low driving position (which serves to give the car a sporty feel). As always with a Mercedes, the windscreen wiper and light controls are on a single column stalk and may take some getting used to.
One area where the A-Class Hatchback really does excel is practicality. Thanks to a compact shape, it is able to offer more space than its rivals, and it's also very flexible. The boot measures 340-litres, which is reasonable enough, though we recommend the £170 Storage Pack if you want to make your car more usable. Included in the pack are a few parcel nets, a sunglasses compartment, and a 12v power socket.
However, a teething problem is the low roofline, which is going to impinge on headroom in the rear. It may also make your passengers feel slightly claustrophobic if they're inclined to dislike feeling hemmed in. The black trim on the roof lining, doors and seats certainly don't help matters here!
A generous amount of standard equipment is expected of premium cars in 2016, and the Mercedes delivers. Entry-level models get 16" alloys, air conditioning, a 5.8" infotainment display screen, as well as a reversing camera for a bit of safety.
Opt for a Sports model, and you'll get 17" alloys, polished chrome exhaust pipes, and a silver-trimmed grille. The AMG Line adds adaptive suspension, bi-xenon headlights for better visibility, and a sportier cabin.
The list of optional extras is massive, and you might feel overwhelmed as you comb through them. As mentioned, we recommend the Storage Pack for an extra £170, while the adaptive dampers are also a useful addition.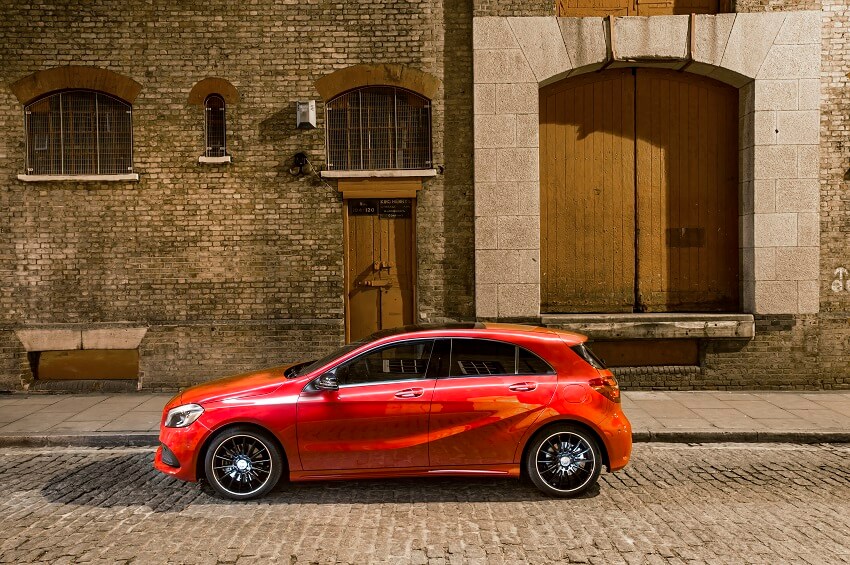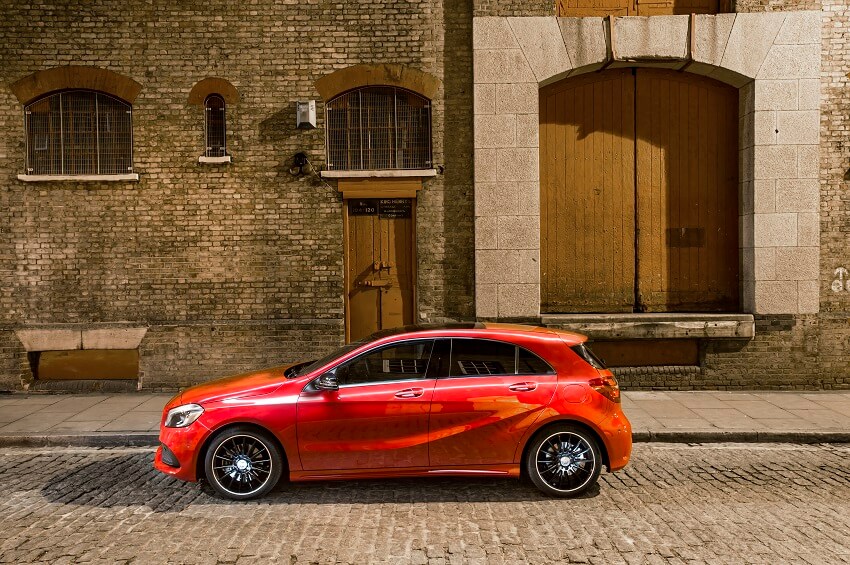 Costs Of The Mercedes Benz A-Class Hatchback
Prices for the new car start out from around  £20,000 and rise to just over £35,000. If you want to lease the car, you can pick up a deal from as little as £179 + VAT per month for the entry-level model.
Most engines in the range are cheap to run, with the most frugal of them all being the A180d diesel unit. Mercedes claim it can achieve fuel economy returns of 80.7mpg.
If you want more performance, you might be tempted by the A200d diesel. Economy figures are still reasonable, and it averages returns of 74.3mpg. The A220d diesel engine, meanwhile, averages 67.3mpg.
In terms of the petrol engines, we think returning 54.3mpg makes the A160 automatic a solid choice.
The entry-level A180d diesel unit is the cheapest to insure, and occupies group 15. The high performance A45 AMG model, meanwhile, sits in group 43 and is the most expensive to insure.
Want a great deal on a Mercedes?
You could be driving away with your new car in no time. Fill in your details below and one of our vehicle experts will be in touch within one working day.
Pros and Cons Of The Mercedes Benz A-Class Hatchback
Good To Look At
It looks are actually a bit polarising. Some will love the way it looks, others won't. We like it, and what we can also say is that at least it doesn't look ordinary. Mercedes are genuinely trying to do something different, and thanks to sporty dimensions, a low roofline and bold grille, they have succeeded.
Classy Interior
Easily one of the A-Class Hatchback's strengths is its interior. The materials used are of high quality, fit and finish is impeccable, and the build quality is sound.
Badge Appeal
If you can't make your buying decision one way or another, it might be this car's glistening heritage that sways you.
Doesn't Always Feel Premium
You expect something a bit special from a premium car. Otherwise, why would you buy one? However, there are times when this A-Class just doesn't feel as good as it should. It's rather like buying something online and realising it just isn't as awesome as the photo suggested.
Lack Of Rear Seat Space
Interior is a bit of a problem for rear passengers. While storage spaces are plentiful, leg and headroom for those in the back are restricted.
Mercedes Benz A-Class Hatchback vs. Volvo V40 Hatchback vs. BMW 1 Series Hatchback
Let's see how the Mercedes fare against its closest competitors in the comparison section of our Mercedes Benz A-Class Hatchback review.
Mercedes Benz A-Class Hatchback vs. Volvo V40 Hatchback
The new Volvo V40 Hatchback is as safe as houses. It's also comfortable, stylish and cheap to run.
As long as you disregard the sportier models, the V90 is a nimble car that's supremely comfortable. The petrol engines are smoother, quieter and more performative, but they're also less economical.
The car is front-wheel drive, which is uncommon in this market. As such, the driving experience is safe and predictable, as opposed to exciting. There is a quartet of petrol engines to choose from, starting with a 242bhp T5 model, which rockets you from rest to 62mph in just 6.4 seconds. The diesel units, however, will be the main attraction thanks to their awesome economy – returns of 83mpg and emissions of 89g/km of CO2 from the entry-level model are not to be sniffed at.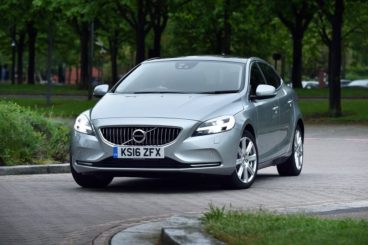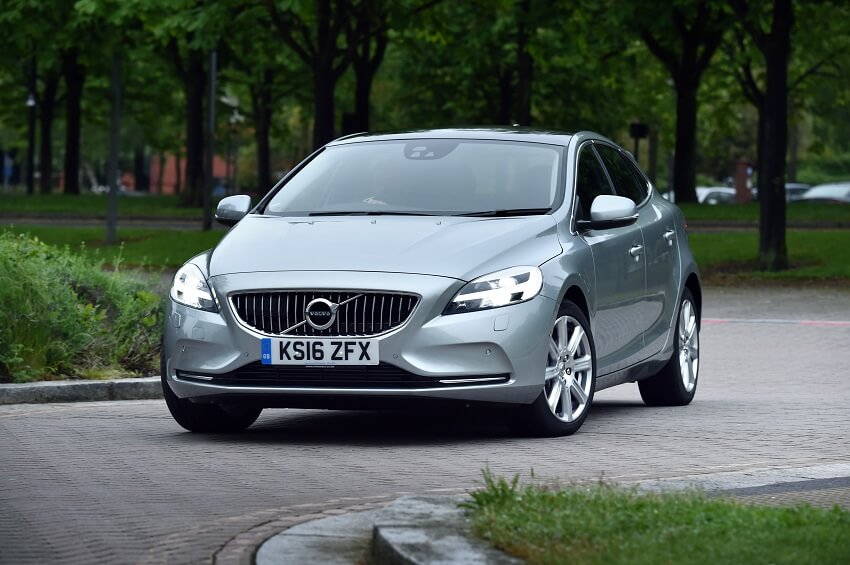 The interior is stylish and pleasingly bright, thanks to the use of lighter colours. The cabin also feels very airy, in stark contrast to the Mercedes which, awash in greys, can feel slightly claustrophobic at times.
The Volvo's dash looks a bit dated, but the fit and finish are overall good. It's comfortable, too, and sound insulation is good. Surprisingly, though, this Volvo doesn't major on practicality like many of its stablemates. A boot measuring just 324-litres is not what anyone would have expected.
The V40 will lose its market value quicker than the Mercedes.
Price:
Mercedes – £20,000 – £35,000
Volvo – £20,000 – £32,000
Mercedes Benz A-Class Hatchback vs. BMW 1 Series Hatchback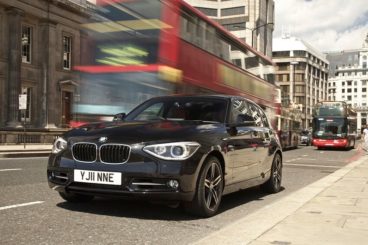 The new BMW 1 Series is a direct rival to the Mercedes. A premium offering, it's arguably the most fun to drive in its class.
If you're a keen driver on the lookout for a family hatchback that drives as well as any hot hatch, the 1 Series is your best bet. Thanks to a real wheel drive layout, the car is agile, powerful and handles like a dream.
All the petrol engines are entertaining, with even the 118i petrol model able to comfortably cover the 0-62mph dash in 8.5 seconds. The steering is light and precise, and the chassis is responsive.
And despite all the power, pace and panache on offer, the car is still affordable. The 116d EfficientDynamics, for example, can achieve fuel economy returns of 83.1mpg. Stop-start engine tech is fitted with all engines, which means that even the range-topping M135i is good for 35.3mpg.
Comfort is a bit of a letdown, but this is because BMW has put all their efforts into making this hatch as sporty as possible. Overall, the cabin looks a lot better than last time, with the brand removing the annoying scratchy plastics that let things down.
Visibility is good, the car is compact enough to park in tighter spaces, and the seats are supportive. There is a fair amount of exterior noise that creeps into the cabin, though, especially from the gruff engines.
Like the Mercedes, rear seat space here is a bit limited, while access to the back is tricky. The boot offers 360-litres of space, which is reasonable.
Price:
BMW – £21,000 – £32,500
Verdict Of Our Mercedes Benz A-Class Hatchback Review
The new family hatch from Mercedes is a high quality premium offering for families who want to travel without any hassle. While rear seat space is limited for adults, your kids will have plenty of room, and you'll all be able to enjoy the classy, upmarket interior and ride quality.
There is plenty of room for all your luggage and bits and bobs, and as a bonus, the car looks different from its rivals. Stylish and useful, the new Mercedes A-Class Hatchback is a winner.
When you lease a car with OSV there are no hidden costs, request a call back and we'll find you a finance, lease or purchasing deal designed just for you.