Review of the Mercedes-Benz C-Class Cabriolet
The Mercedes-Benz C-Class is one of the finest compact saloons on sale today, is supremely comfortable, stylish, well built, and packed with the latest tech. It has, understandably won over quite a few fans since the latest generation was released in 2014, and now Mercedes has chopped the roof off in an attempt to convert the popular cruiser into something a little bit more special.
Our car that we're testing is the diesel-powered, rear-wheel-drive Mercedes-Benz C-Class Cabriolet. There are petrol powered convertible versions available, too. But this C220d is the one we think it going to sell the most, so let's jump in and see what it's got.
It never used to be the way that diesel engines powered open-top cars, but it has become a far more common combination in the last decade or so, and isn't as unusual as it once may have seemed. Purists will argue no rag-top should be powered by diesel, but the Mercedes-Benz C-Class Cabriolet is a decent engine that performs well in the saloon variant of the C-Class.
The 2.1-litre diesel unit produces  170PS, which doesn't sound like a lot, but with 400Nm of torque to get the Mercedes-Benz C-Class Cabriolet moving it is really all you need on the road. Attached to the engine is a nine-speed (yes, nine speeds) automatic transmission that provides silky gear changes. With so many ratios, it's hard to tell when it's switching cogs around, and this gives the C-Class a really smooth and relaxed sensation out on the road. With this auto 'box and engine, over 60mpg is possible if you behave yourself, and for a car of this nature that's very impressive.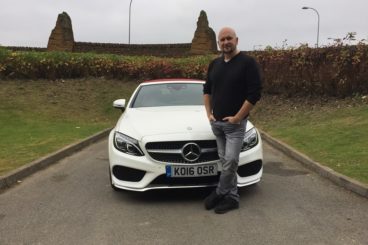 It is fair to say that the Mercedes-Benz C-Class is ordinarily behind its rivals when it comes to excitement in the drive, and that hasn't changed here. The C220d Cabriolet has gained around 130kg in weight over the saloon version, so it's more of a cruiser than ever before. It doesn't feel uncomfortable in corners, but it does let you know that anything spirited just isn't really its style. To be fair, this does suit the open-top design and it encourages you to soak in the experience of a relatively relaxed roofless drive.
One criticism that can be levelled at the Mercedes-Benz C220d Cabriolet is its diesel engine. It's got the power, it's got the pull, but it also has a noisy, unpleasant soundtrack to go with it. It should be pointed out that its rivals have far quieter engines to offer.
Interior, Design, and Build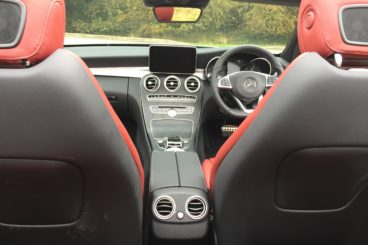 Mercedes-Benz's interior design team are on fire at the moment. They've managed to include a sweeping dashboard design into what is normally a lateral space. And the materials they've used to finish the interior are absolutely top notch. The ride is incredibly comfortable in the Mercedes-Benz C-Class Cabriolet, and it is boosted by the wonderful seating and soft leather covering in all the right places. It's been well thought out, and finished superbly.
Whether you think the Mercedes-Benz C-Class Cabriolet's exterior is attractive is another thing. With the roof off, there's no sloping roofline to give the C-Class an almost coupe look; and it looks a little bit yacht-like in profile – inviting, undoubtedly luxurious, but slightly ungainly.
Whatever you think of its appearance, you can't deny the overall quality of the Mercedes-Benz C-Class Cabriolet is up there with the best of them. The fit and finish of all the materials from outdoor to in is excellent, and we can't fault it.
Standard equipment is generous; you get cruise control, climate control, LED headlights, a parking assistant system, a reversing camera, and a seven-inch screen with sat-nav thrown in. The Mercedes-Benz C-Class Cabriolet's roof can be operated at any speed up to 30mph, meaning you won't have to stop to get the top up or down.
Mercedes-Benz has also got a system that allows you to configure the steering feel and throttle response, as well as the behaviour of the gearbox -and even the suspension if you've specified the optional air suspension. We'd recommend the latter, as it improves the quality of the ride and comfort even further. However, we aren't convinced by the German car maker's options that allow us to make the Mercedes-Benz C-Class Cabriolet seem sportier, as it just isn't that kind of car.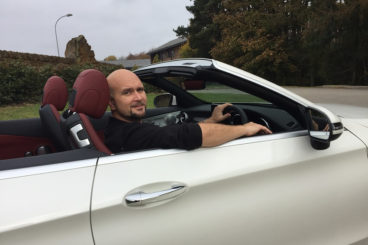 If you want the safest possible car, we'd recommend the  Driver Assistance package that features a range of useful gadgets to help keep you safe on the road. Blind spot and lane-keeping assistance, cross-traffic assistance, radar-guided cruise control with steering assistance, and an anticipatory safety system that tightens belts and closes windows are all thrown into this package. It improves the Mercedes-Benz C220d Cabriolet greatly and makes it safer, but it is only available with the automatic gearbox.
Pros and Cons of the Mercedes-Benz C-Class Cabriolet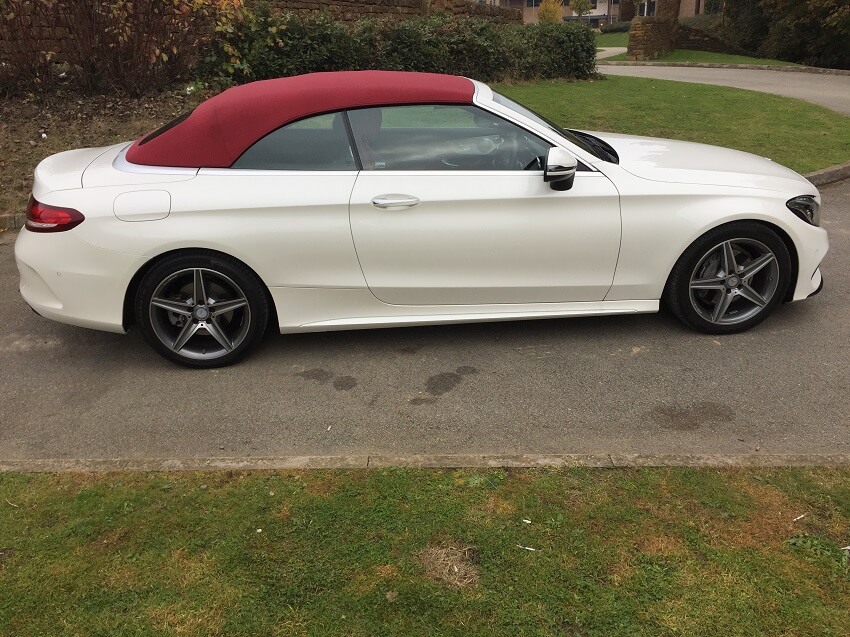 Luxury Interior
This sort of car deserves a  premium interior, and Mercedes has excelled with the new C-Class. In the cabriolet version, the plush materials used, like leather and aluminium, and the high quality in which it is finished make the Mercedes-Benz C-Class Cabriolet feel really special.
Nine-speed automatic gearbox
There are not many car manufacturers that can say they've got a gearbox with nine forward gears, and to most people that will just sound like too much. However, once you've driven the new Mercedes-Benz C-Class Cabriolet and felt – or rather not felt – that gearbox working, all will become clear. It is exceptionally smooth and moves you along with as little disturbance as possible. It's a great automatic transmission.
Comfort
Mercedes has the edge on its rivals when it comes to offering a relaxing drive, and the Mercedes-Benz C-Class Cabriolet is another gold medal in driver and passenger comfort. It means you can waft around with the roof down in absolute comfort and enjoy the act of travelling, and that counts for a lot.
Engine Refinement
There's little wrong with the 2.1-litre, 170PS turbo diesel unit in the Mercedes-Benz C-Class Cabriolet, but it is highly debatable as to whether it makes a good engine for this particular car. It's just a little bit too noisy, rattling and chugging at lower speeds, which is where this car can be enjoyed the most.
Design
Again, it's hard to criticise the design of the new Mercedes-Benz C-Class Cabriolet, but it does look a little but ungainly and clumsy, and the glitzy front grilles that Mercedes now likes to put onto the front of its cars doesn't do it any favours.
Infotainment system
Mercedes-Benz's infotainment system is difficult to get used to, and will take a lot of users, unfamiliar with the product, some time to adjust to. It's by no means poor in quality or lacking in features, it's just laid out in a way that makes it tricky to learn.
Mercedes-Benz C220d Cabriolet vs BMW 4-series convertible vs Audi A5 convertible
The Mercedes-Benz C-Class Cabriolet is a cool and classy automobile. It's an indulgence for motorists who want open top motoring and luxury combined. But how does it compete with its two key rivals in this chic cabrio category?
Mercedes-Benz C220d Cabriolet vs BMW 4-series Convertible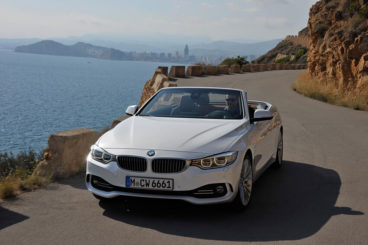 The big fight in this sector will be held between these two contenders, but the choice is relatively easy to make as the car that will suit you better all depends on the kind of driver you are.
Drivers who enjoy a spirited drive will enjoy the slightly firmer and balanced feel from the BMW 4-series, but drivers who like to take things easier will get more enjoyment from the Mercedes-Benz C220d Cabriolet. The BMW is far happier taking corners at pace and giving the driver feedback from the road than the C220d Cabriolet is, and it is more rewarding to drive quickly as a result. The Mercedes does hold an advantage in that the cabriolet can be specified with '4MATIC' all-wheel drive, whereas the BMW is only available as rear-wheel drive in convertible form.
The closest BMW to our Mercedes-Benz C-Class Cabriolet here is the 420d, a 2.0-litre turbo diesel engine that produces 190PS, 20 more than the unit in the C-Class. In truth, it doesn't feel all that much different from the Mercedes unit, but it is quieter and more refined – as long as you have the automatic gearbox option. The manual gearbox and this diesel engine in the BMW do not go well together, the gearstick has even been known to shake with vibration from the engine.
Prices:
Mercedes-Benz C-Class Cabriolet – £38,580 to £42,750.
BMW 420d Convertible – £37,400 to £40,380
Mercedes-Benz C-Class Cabriolet vs Audi A5 Convertible
As of this moment, the only Audi A5 Convertible is the one launched back in 2009. With the exciting A5 Convertible being over seven years old now, the Mercedes-Benz has a relatively easy time outgunning it in terms of quality, technology, and even style.
So, with such an easy victory apparent for the Mercedes-Benz C220d Cabriolet, why are we even mentioning the Audi A5? Well, that's because recently the new Audi A5 Coupe has come out and gathered up some rather good feedback from those who've driven it. It surely can't be long until Audi replaces the A5 Convertible now, and that means Mercedes-Benz should be worried about a couple of things.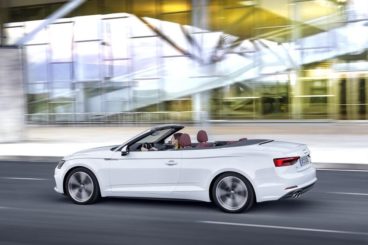 Firstly, Audi's 2.0-litre turbo diesel unit is one of the best on the market, and the automatic double-clutch gearbox and famous Quattro system are also right up there with the best systems. The imminent A5 Convertible will likely tread a line between the BMW and Mercedes by offering an enjoyable but not extreme ride, and, being the one in the middle, it is likely to attract some indecisive buyers.
For those who might fancy a bargain, there's bound to be some offers out there for the existing A5 Convertible, but it's fair to say it just isn't up to the standard of the Mercedes or the BMW in any department, other than the engine. Patience is a virtue, wait for an announcement on a new model soon.
Prices:
Mercedes-Benz C-Class Cabriolet – £38,580 to £42,750.
Audi A5 Convertible – £36,830, but be patient and wait for an announcement on a new model.
These are fairly unusual cars really, treading a line between sports car thrills and saloon convenience, but for the most part they do a very good job. We could bang on all day as to whether a diesel engine should sit in a topless car, but in a world driven by economy figures and CO2 output, it's easy to see why they exist.
The choice here is fairly simple. Go for the Mercedes-Benz C-Class Cabriolet if you want pure comfort, and like to take your time on journeys, and go for the BMW 420d if you want something a little bit more engaging. Avoid the manual gearbox options in both, and you'll have a very good car on your hands.
The wildcard option is to sit tight and wait for Audi to reveal its plans for the new A5. If you just can't decide what kind of driver or driving style you have, or if you think you're a little bit of both, Audi might have the perfect car for you.
Looking for a price?
Fill out the form below with your details, including whether you're looking to lease or buy and we'll give you a quote within 24 hours.
Get in touch to have a chat about your new car
Give one of our helpful team a call to find your perfect vehicle.
ARE YOU INTERESTED IN GETTING A
Convertible
?
Get in touch with us on 01903 538835 or request a call back. We look forward to hearing from you.