Review Of The Mercedes SLC Roadster
The new Mercedes SLC Roadster is essentially the SLK but with a makeover. It sports a brand new look, modified engines, as well as a more luxurious interior. As always for an AMG model, it's Mercedes' hot rod machine that has the wow factor.
The heavyweight German brand has already labelled this roadster as the ultimate all-rounder, but there is no disguising the fact that it's taken a lot of cues from the SLK. If you liked that car, the idea is that you'll love this one. The reason for the similarities is Mercedes' new naming structure, but the problem is that it might be hard to love this one if the brand has relied on a name change alone to convince us of its newness. OSV dishes the dirt with our Mercedes SLC Roadster review.
Each engine in the range is turbocharged. As well as the high-performance AMG model, there is also a 2.0-litre petrol unit that comes in two power guises, as well as a more frugal diesel engine.
The car isn't as fun to drive as some of its blazing rivals in this sector but offers a more restrained and relaxing ride. It's agile enough in snaky bends, and the Dynamic Select system lets you switch between driving modes so that you can stiffen the suspension when you need/want to.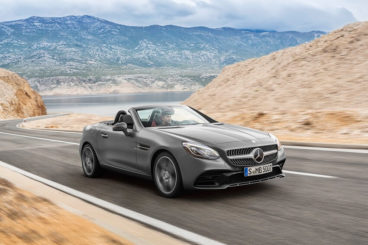 Body roll is at a minimum in corners, and there is lots of grip. However, it doesn't deal with large lumps and bumps in the road very well, and can really shudder and shake. Add in vague and light steering, and you'll soon realise that a thrilling drive is better had elsewhere.
The engines are at least quiet, although the diesel can let out the occasional bark. The range is paired up with a nine-speed automatic 'box, with the exception of the SLC 200 petrol which is mated to a six-speed manual transmission.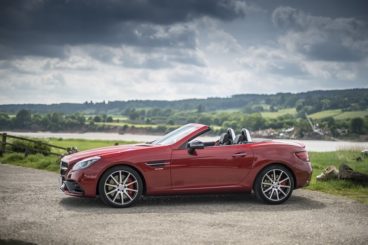 The turbocharged 2.1-litre diesel is good for 201bhp and can get you from rest to 62mph in 6.6 seconds before maxing out at 155mph. It comes with lots of punch so that overtaking is easy, but it barks a fair bit when you fire it up.
A turbocharged 2.0-litre petrol good for 181bhp kicks off the petrol line-up, an engine which can get you from rest to 62mph in 7.0 seconds before topping out at 149mph. The SLC 300 petrol unit will cover the same distance in 5.8 seconds and is limited to a top speed of 155mph.
The quickest model in the range is, of course, the AMG SCL 43 Roadster. Backed by an awesome twin-turbo 3.0-litre V6 engine, it develops 362bhp and guns you from rest to 62mph in a matter of 4.7 seconds. It isn't as savage as the SLK55, and it is a much quieter engine. Performance is still good but lacks a bit of responsiveness.
The SLC is well-built, and the folding metal hardtop serves to give it slick coupe-esque looks. It's only if you look super closer that you'll notice the differences with the SLK. There are new front and rear bumpers, while full LED headlamps are also a fresh addition.
This is a two-seater sports car, and as is tradition, you sit really low down. The interior is very luxurious, and there are lots of metal and leather finishes, as well as lashings of soft-touch materials. It isn't, however, vastly different from the SLK.
The dash, for example, is near identical to the last SLK. The new infotainment is bigger, and sports fresh dials and better quality materials overall. The centre console, though, hasn't really changed, and it's starting to show its age. It's a bit too cluttered for our liking and lacks the contemporary, minimal finish of its rivals.
On the plus side, it's easy to get comfortable in here. The seats are power-adjustable, which makes it easy for you to find the ideal driving position, and the optional AirScarf is a neat feature that blows hot air from the headrest so that you get to keep warm on those wintry days when the sun is blazing, and you want to take the roof down.
The car also comes with the brand's Magic Sky Control glass roof, which allows you to let in as little – or as much – light as you want.
You don't expect two-seater sports cars to be practical, but the SLC cabriolet still disappoints here. Visibility is poor, thanks to the low seat position, while with the roof down interior space seems to disappear. With it up, however, the car is surprisingly roomy. Opt for the panoramic roof too, and you'll benefit from more air and light.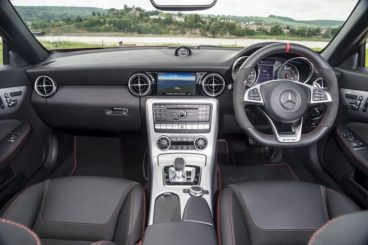 The glovebox is decently sized, while a pair of cup holders and a few other storage spaces make the SLC moderately practical. And the boot is nigh on exceptional for a car of this class, offering as it does 335-litres of space.
There are three trim lines to choose from:
SLC Sport
SLC AMG Line
AMG SLC 43
The base-level trim comes with air conditioning, sports seats, LED daytime running lights, 17" alloys, Bluetooth connectivity, and cruise control, as well as a few safety systems, including Active Brake Assist.
The SLC AMG trim adds 18" alloys, sportier bumpers, sports suspension and red interior stitching, while the SLC AMG Roadster includes small differences, such as a slightly changed lower front bumper and a changed 18" alloy wheel design.
Costs Of The Mercedes SLC Roadster
Prices for the new SLC Roadster go as high as £46,000. If you want to lease it for three years, you'd be looking at paying somewhere around £250 per month.
If you want your Mercedes to be cheap to run, you'll have to opt for one of the diesel engines. The ageing 2.1-litre diesel unit can achieve impressive returns of 70.6mpg.
All models including this AMG variant come with fuel-saving technology which helps to keep running costs pleasingly low. The petrol engines are, unsurprisingly, costlier to run than the diesel unit, with the entry-level SLC 200 model struggling to achieve better fuel economy returns than 43.5mpg. The SLC 300, though more powerful, can achieve returns of 47.1mpg.
The AMG Roadster model, meanwhile, can achieve returns of 36.2mpg, and emits 178g/km of CO2. Insurance groups are still unconfirmed, but the higher powered AMG variant will likely sit in the highest group of them all. As is typical, a three-year warranty/unlimited mileage is offered.
The car should hold onto its value well.
Pros and Cons Of The Mercedes SLC Roadster
The Diesel Engine Is Cheap To Run
The turbocharged 2.1-litre diesel engine may be getting old now, but there is plenty of fire left in this old dog. Not only is it super performative (6.6 seconds to get from rest to 62mph is not to be argued with), but it's also incredibly efficient, and can achieve superb fuel economy returns of 70mpg.
Good Amount of Standard Equipment
There is a pair of model lines available, and both come stocked with a good level of standard equipment. Included as standard are LED tail lights, halogen headlights, a new sports exhaust system (for automatic's only), a 7" display screen, and a fake carbon-fibre trim.
It's A Great Cruiser
The engines are quiet and refined, and Mercedes have worked hard to put together a smooth cruiser that, while not especially enthralling on twisting roads, offers plenty of great ride quality.
Essentially The SLK
Perhaps the only reason the SLC exists is for marketing reasons. The roadster is yet another Mercedes model to join the German giant's new naming scheme, but it feels like a poor relation. The brand has tried to tweak its looks, but there is no denying that this is a face lifted SLK.
Feels Dated Inside
The SLK was beginning to show its age inside, and although this is marketed as a new car, it also feels dated inside the cabin.
Everything is, however, well built.
Mercedes SLC Roadster vs Audi TT Roadster vs BMW Z4 Roadster
Let's see how the car fares against some of its closest rivals in the comparison section of our Mercedes SLC Roadster review.
Mercedes SLC Roadster vs Audi TT Roadster
The new Audi TT Roadster looks fantastic, is sharp to drive and, as usual for an Audi, offers an exquisite interior.
There aren't many better cars to drive in this class than the Audi. In fact, we'd argue that there is only one, which is the Porsche Boxster. It doesn't really weigh anymore than last time around, and this means handling and performance is still as classy.
Thrills and spills abound once you're up and running. The 2.0-litre petrol can be specified with four-wheel-drive and a six-speed S-tronic 'box, and can get you from rest to 62mph in 5.6 seconds. Opt for the turbocharged 2.5-litre five-pot petrol unit, and you can cover the same distance in an astonishing 3.9 seconds.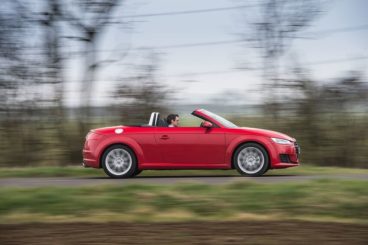 There is a diesel engine on offer, but despite hard acceleration, it takes 7.3 seconds to cover the 0-62mph sprint.
Despite the sport, exotic nature of this roadster, it's also quite economical. The most frugal engine in the range is a 2.0-litre TDI Ultra engine that develops 181bhp and achieves impressive fuel economy returns of around 61.4mpg.
Whereas the Mercedes' dashboard is cluttered and dated, the Audi's is cutting edge. It's minimal, fresh and overall more contemporary than the SLC's. A modern 12.3" virtual cockpit has replaced conventional dials and is standard across the range.
In terms of practicality, both cars are the same length, but the Audi has better visibility. Naturally, the TT is not what you'd call practical by any stretch of the imagination, hindered as it is by the roof. Storage space is sparse, while the boot measures 280-litres.
Price:
Mercedes – £30,000 – £46,000
Audi – £29,000 – £42,000
Mercedes SLC Roadster vs. BMW Z4 Roadster
The brand new BMW Z4 Roadster looks snazzy, is great fun to drive – but is starting to feel its age.
The BMW is not the most fun to drive in this class, with that particular honour going to the Porsche 718 Boxster. But it does offer plenty of entertainment in bends, as well as weighty steering and good grip. Body lean, meanwhile, is at a minimum.
The entry-level 2.0-litre 154bhp petrol engine can get you from rest to 62mph in 7 seconds, but it is going to struggle up hills. The 181bhp 2.0-litre petrol covers the same distance in 6.9 seconds, while the 242bhp variant does it in 5.7 seconds and offers good running costs too, achieving returns of 41.5mpg.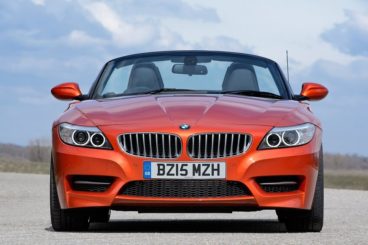 The quickest engine in the range is a 3.0-litre petrol engine which develops 302bhp and guns you from rest to 62mph in 4.8 seconds before maxing out at 155mph. This range-topping engine comes with financial penalties and can only achieve fuel economy returns of 31.4mpg.
The car is overall easy to live with and makes for a fairly pleasurable motorway cruiser. A lot of thought has gone into the dashboard, and everything feels robust enough, with plenty of soft-touch materials used throughout the cabin. It is, however, starting to look a bit dated.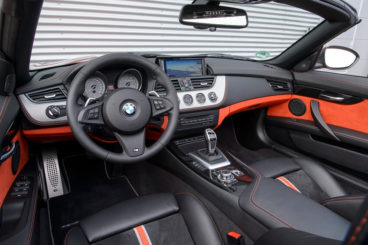 And compared to the Mercedes, the BMW is somewhat impractical. The roof takes a long time to fold down (21 seconds) and a long time to put back up (20 seconds), which makes it one of the slowest folding roofs in this class by some margin.
Moreover, once you put the roof down, you have a bit of a problem because it eats into boot space significantly. The boot, though, is surprisingly spacious when given the chance and measures at 310-litres.
Two adults can sit in relative comfort, and elbow room is good.
Price: 
BMW – £29,000 – £48,000
Verdict Of Our Mercedes SLC Roadster Review
The SLC Roadster is going to divide opinion. Sure, it feels like a rehashed SLK – but is this really a bad thing?
The brand's baby roadster might have a famous father, but it's still a very good car. It's now 20 and comes with a new name and a new look. Lots of new technology and better engines help it to standout from its predecessor, and overall the Mercedes SLC Roadster is another neat addition to this thrilling market.
Looking for a price?
Fill out the form below with your details, including whether you're looking to lease or buy and we'll give you a quote within 24 hours.
When you lease a car with OSV there are no hidden costs, request a call back and we'll find you a finance, lease or purchasing deal designed just for you.