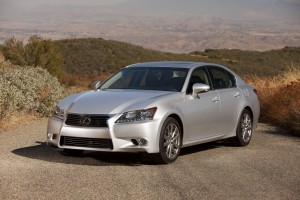 Lexus is taking luxury to a new level with their GS 250.
Their new luxury saloon is a significant upgrade to Lexus's GS range. It's part of a launch of new models in the UK in June 2012, including a high-performance F-Sport version and the full hybrid GS 450h.

The Lexus GS 250 isn't without a touch of controversy
Its powerful 2.5 litre V6 petrol engine is praised by reviewers and delivers a top speed of 142mph and smooth, exhilarating driving experience. 0 to 62mph is reached in 8.6 seconds – not bad for a four door saloon with 566 litres of boot space.
Opinion is split as to whether Lexus's decision not to offer a diesel option will limit the GS 250 range's appeal.
The top of the range powertrain is completed by an intelligent six-speed automatic transmission. The sequential manual shift function option is popular with reviewers for giving a fluid drive.
The Driver Mode Select system gives drivers the choice of Eco, Normal and Sport S modes, adapting the Lexus's responses according to the environment they are in.

Bold design
The Lexus GS 250 has powerful, dynamic styling that hints at its impressive driving capabilities. The fluid, slightly swooping front lights particularly stand out for their subtle individuality.

Step inside a deluxe cocoon
The interior is notable for sophisticated, understated luxury that doesn't need to prove itself, such as the seats and door inserts upholstered in discreet, quality brown leather.
The Lexus focus on quality extends to details like the Drive Mode dial, finished in a sleek metal.
Compared to previous models, the new Lexus GS 250 is much more spacious. Back-seat passengers particularly benefit from this adaptation, making the new Lexus even more suitable for practical, everyday driving.
In-drive comfort and pleasure is added to by the GS 250's S-flow air-conditioning system, the new Mark Levinson audio system and a 12.3 inch multimedia screen.
Lexus will be releasing more detailed specifications nearer the launch.
Keep yourself updated with the latest motoring news by liking us on facebook, following us on twitter or connecting with us on LinkedIn.
If you're interested in buying or leasing a new vehicle contact our sales team. Alternatively, visit our website where you will find new and used cars available for sale or on finance.
Thanks for visiting us today.

Latest posts by Andrew Kirkley
(see all)