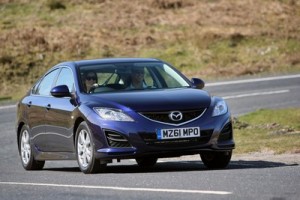 Mazda are proving their determination to offer superb value for money with improvements to their Mazda 6 and Mazda2 ranges that will see UK businesses and employees saving money.
Thanks to reduced CO2 emissions on these vehicles, both the Mazda6 and Mazda2 fall into lower Vehicle Exise Duty (VED) and benefit-in-kind (BIK) tax brackets.

The Mazda6 offers lower VED
CO2 emission reductions from 142 to 140 grams per kilometre on the Mazda6 2.2 litre 5-door 163PS and 180PS models see their VED fall from Band F (£130) to Band E (£115).
Mazda6 BIK savings
The 2.2 litre diesel 5-door 129PS Mazda6 range sees CO2 emissions go from 138g/km to 133g/km, earning a place in the 19% BIK tax bracket, rather than the previous 20% bracket. This includes the recently launched Mazda6 Business Line.
In terms of real-world savings, a basic rate taxpayer driving a 129PS TS Mazda6 saves £39.66 over the year. A higher rate tax payer saves £6.61 per month, or £79.32 over the year.
Meanwhile a colleague driving the 129PS Business Line Mazda6 will have an extra £36.26 in their wallet at the end of year if they are a basic rate taxpayer, or £72.52 if they are taxed at the higher rate.

Mazda2 BIK savings
The Mazda2 1.5 litre petrol range has also improved its BIK rating by a single percentage point, coming in at 16%, instead of 17%.
CO2 emissions on these Mazda's now weigh in at 132g/km, rather than 135g/km.
Someone driving a Mazda2 1.5 litre 3 door Sport saves £25.55 per year as a basic rate taxpayer, and £51.10 per year as a higher rate taxpayer.
On the 5-door version, savings are slightly higher – £26.25 per year at the basic rate, and £52.50 at the higher rate.
The 1.3 litre Mazda2 models all see CO2 dropped to 115g/km from 119g/km, while the 1.5 litre automatic reduced its emissions by a single gram to 145g/km.
As an added bonus for employers, these tax reductions also translate into a saving in NI.
Keep yourself updated with the latest motoring news by liking us on facebook, following us on twitter or connecting with us on LinkedIn.
If you're interested in buying or leasing a new vehicle contact our sales team. Alternatively, visit our website where you will find new and used Mazda's available for sale or on finance.
Thanks for visiting us today.

Latest posts by Andrew Kirkley
(see all)