Review Of The Skoda Fabia Estate
The Skoda Fabia Estate does what Skoda does best in 2016; it's affordable, cheap to run, armed with lots of useful equipment and delivers the goods on practicality. It's ideal for families who don't want something too big, and who still want the space of an Estate..
It isn't as engaging to drive as some cars in this class, but if you're prepared to sacrifice a bit of fun for comfort, it's worth a closer peek.
There are some solid competitors in this sector that you might also want to consider, such as the SEAT Leon hatchback, but if practicality, space, efficiency and value for money appeals to you, join OSV as we give you the lowdown on our Skoda Fabia Estate review.
The Fabia Estate is a fairly hefty car, but it doesn't actually feel all that different to the hatchback behind the wheel. It's just as agile and zippy and has a terrific sense of control around town. It isn't, though, especially fun to drive.
In terms of the engines, there is surprisingly only a single diesel unit on offer, a 1.4-litre TDI, which is available in either 89bhp or 104bhp guise. The more powerful of the two, though, is only available with the range-topping model – something of a disappointment.
However, even the 89bhp packs a bit of a punch and is a solid featherweight contender. Acceleration is nice and brisk, but it does cough and splutter a tad when you really rev it. There is a major flaw, though: This engine rattles and vibrates, especially when the unit is cold.
The entry-level petrol engine is a 1.0-litre, the same unit you'll find in the considerably smaller Skoda Citigo. It can only deliver 74bhp, and consequently, feels underpowered. If you drive this on a full load, you might struggle.
Our pick of the petrol power plants is a turbocharged 1.2-litre TSI engine that is available in either 89 or 108 bhp. The 89bhp is good enough and will shift the most sales, but the 108bhp unit is good value and comes with a DSG dual-clutch automatic 'box.
The diesel is the most economical, so it makes more sense. If economy isn't a priority of yours, the petrol units are well worth a punt.
Interior, Design And Build
The Fabia Estate doesn't look as classy and as luxurious as some mid-sized cars in this sector, but it is well-built and deftly designed so that everything is logically laid-out and user-friendly.
Skoda has indeed been building robust, minimal and well-assembled interiors for over a decade now. But they have also been a little guilty of refraining from adding colour or excitement. The interior is solid, but it's also very unglamorous, with drab greys giving it dismally moody look.
The dash is straightforward and practical, but also employs a very basic design language. It's easy to use, and it's also actually more appealing than some of what its rivals are offering. For example, its layout is easier on the eye than the rather cluttered dash in the Seat Ibiza Tourer. It's topped off with a touchscreen infotainment system that is super modern.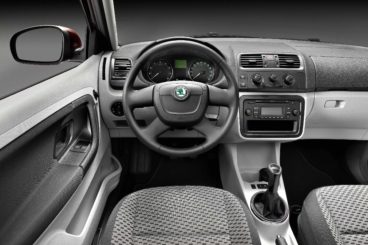 This is a really practical car, with its 530-litre boot so big that it's a genuine rival to Estate's in the class above, including the Ford Mondeo Estate. The seismic boot is also a whopping 200-litres bigger than the Fabia hatch and can be extended to 1,395-litres if you fold down the rear seats.
This car is longer than the hatch too, and can easily accommodate four adults. Head and leg room is good up front and in the back, and even taller passengers should be able to travel in comfort on longer journeys. Three adults, meanwhile, should be able to cope on shorter travels.
If you opt for the 104bhp diesel, you tow cargo with a weight of up to 1,200kg.
As always with a Skoda, there is a good amount of standard equipment available. All models get a heat adjustable driver's seat, under-seat storage, a DAB radio, curtain airbags, and engine stop-start.
Air conditioning is frustratingly absent from the base-level trim but is available with the SE model which also gets a leather steering wheel, 15" alloys, a height-adjustable seat and rear parking sensors.
The range-topping Monte Carlo model adds 16" alloys, cruise control, climate control, LED running lights, black alloys and sports seats.
The Skoda Fabia Estate is cheap to buy, with prices starting out from £12,500 and rising to £19,000. If you choose to lease it on a Contract Hire, you should be able to strike a deal somewhere in the region of £115 – £350 + VAT depending on trim.
The car is super efficient and is in fact 17% more efficient than its predecessor. Moreover, no model will cost you more than £20 per year in road tax.
The 1.4-litre TDI 89bhp can return 78.5mpg and is free to tax, while the more powerful and quicker 104bhp variant is also free to tax and can return an equally impressive 76.3mpg. This engine isn't available with the S or SE trims, though.
If you want to pair your engine up with an automatic transmission, the car is still free to tax, but fuel economy falls slightly to a still respectable 74.3mpg.
The 1.0-litre MPI 75bhp petrol engine struggles to pull this sizeable car along, but it can still return 58.9mpg. It will cost £20 per year to tax.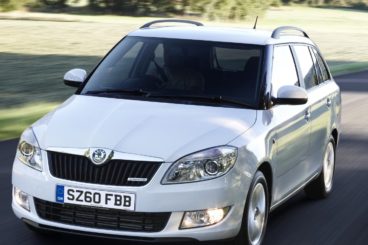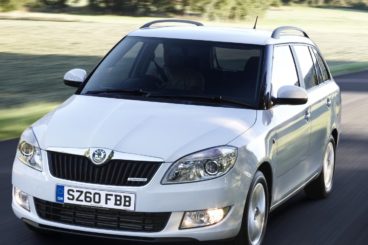 For first two years of ownership, your Fabia Estate will be covered for unlimited miles in the warranty agreement, and you'll trigger a third year if you stay below the 60,000-mile threshold.
Pros and Cons Of The Skoda Fabia Estate
Pros:
It's Practical
The Fabia Estate majors on practicality, and it's a lot lengthier than the hatch from which it's derived. It's still a relatively small car, but it's got a lot of carrying capacity, and can compete with bigger boys in the class above when it comes to boot space.
There are plenty of handy storage solutions around the interior, too, and it's unbeatable for space in this class.
It's Cheap To Run
The solitary diesel's power ranges from 89bhp to 104bhp. The least powerful of the two can return an eye-opening 78.5mpg, while the base-level petrol engine is good for a very impressive 58.9mpg.
Good To Drive
This lengthier Skoda Fabia benefits from a size that is neither too small to be unappealing to families who need more space nor too big so as to be difficult to drive. It really hits the sweet spot, and this has ensured that it's decent fun behind the wheel.
It's not a sporty Estate, of course, but it's got bags of character, refinement and on the whole feels well put together.
Stylish
A Skoda Estate that's stylish? Well, I never! This car puts on its best happy face so that your kids will love it, and it looks slick, commanding and has real presence. It's arguably one of Skoda's best lookers yet.
Cons:
Engine Line-up Disappoints
The Skoda Estate engine range isn't exactly swimming with choice, and what is on offer comes with a few caveats. There is only diesel unit on offer, and although it comes in two guises the most powerful is unavailable with the standard trim. It is also a noisy affair.
The petrol range, meanwhile, is propped up by a redundant entry-level unit that lacks any power so as to be of use, while the better performing petrol engines are exciting enough – but will cost more to run than the diesel.
Interior Lacks Imagination
Skoda's interiors are well-known for their functionality, and their solid build quality. Everything is simply done and logically arranged, and buyers over the last decade have enjoyed them.
But isn't it time that VW Group added a touch of imagination, colour and even a smidgen of luxury? The exterior looks better, but the interior still lacks a bit of fancy.
Skoda Fabia Estate vs. SEAT Leon Hatchback vs. Nissan Note
There aren't a lot of small Estate's available that rival this car, but to help you make a better buying decision let's take a look at how it fares against its nearest competitors in the comparison section of our Skoda Fabia Estate review.
Skoda Fabia Estate vs. SEAT Leon Hatchback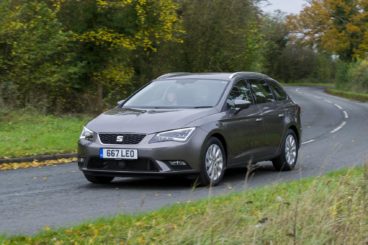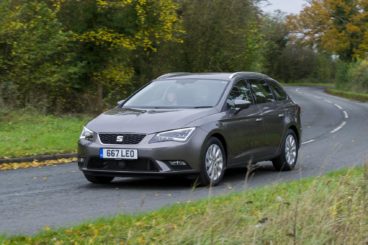 There aren't many small Estates on the market, which is why you might be tempted to take a closer look at stylish hatchback's, such as the SEAT Leon hatchback.
This hatch is aimed at young families who want a car that is practical, affordable, fun to drive, and which looks the part.
It's more entertaining behind the wheel than the Skoda. The steering is exact, the suspension setup comfortable, and the transmission silky smooth.
And unlike the Fabia, the range of engines here is extensive and exciting. The 1.8-litre petrol offers a lot of bounce and performance, and will be a smash hit with the kids.
You won't need to worry about interior space. While the SEAT is obviously smaller than the Fabia Estate, four adults can still sit in comfort. The fit and finish is good, but if you're in the market for a super practical family car with a spacious, boot, the 380-litre boot in the Leon hatch is much smaller than the one in the Skoda.
Still, it can compete with the Fabia when it comes to safety and reliability, its looks will appeal to your children, and it doesn't cost a lot to run, with the cheapest diesel engine in the range capable of returning 74.3mpg. It will, however, cost you much more to buy.
Price
Skoda – £12,500 – £19,000
SEAT – £17,000 – £25,000
Skoda Fabia Estate vs. Nissan Note
The Nissan Note celebrated its tenth year anniversary in 2016 and has always been popular with UK buyers. It's a cute mini MVP that is today more frugal than ever before, with its cheapest diesel capable of returning a very impressive 80mpg.
Even its most inefficient petrol engine is good for 55mpg on a sensible drive, while safety has also been much-improved thanks in part to the introduction of a pack of new features called Safety Shield which are usually only found on premium cars.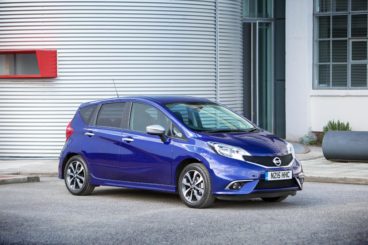 Like the Skoda, it doesn't cost much to tax either, with £30.00 the maximum amount you'll have to pay per year.
The car certainly looks small, but this disguises the fact that it's incredibly spacious and practical. Even taller passengers should be happy with the amount of leg and headroom on offer, while the 381-litre boot space is a 100-litres larger than its predecessor. It isn't the most sizeable boot around, but there are plenty of cubbyholes in and around the interior for extra storage.
The interior itself is nice enough to look at, and there is a good amount of standard equipment available. In terms of how it drives, it's more sportier than last time around, but it doesn't major in performance. There is only one diesel on offer, a fairly unrefined 1.5-litre dCi unit that is quick and cheap to run. The entry-level petrol is similar to its counterpart in the Fabia in that it's short of power and too feeble to get you anywhere at a decent pace.
It's cheaper than the Skoda and might be able to offer you as much space as you need.
Price:
Nissan – £10,000 – £18,000
Verdict Of Our Skoda Fabia Estate
The new car is pricier than last time around, but there is a good reason for this: The interior is more spacious, the styling is more dynamic, and it's better to drive. It's a small car, but it's super spacious and is indeed the most practical in this class.
As always, the Skoda has a five-star EuroNCAP crash safety rating, and when all is said and done it's hard to find a reason not to snap up the new Skoda Fabia Estate.
Looking For A Price For The Skoda Fabia Estate?
Fill out the form below with your details, and one of our highly qualified vehicle specialists will be in contact within 24 hours.
When you lease a car with OSV there are no hidden costs, request a call back and we'll find you a finance, lease or purchasing deal designed just for you.