Review Of The Skoda Superb Estate
The Skoda Superb Estate offers plenty of value for money. Competent, comfortable and practical, it's the ideal estate if you're operating on a budget but still want a spacious and dependable family car.
Like the hatchback from which it's derived, the Superb Estate is handsome and well proportioned. But perhaps the most convincing reason for why you need to take a closer look is the fact that it outperforms a number of its key rivals (including premium estates) in important areas. It's roomier than the BMW 5 Series Touring and has a bigger boot than the Ford Mondeo Estate.
OSV takes an in-depth look at what it's all about with our Skoda Superb Estate review.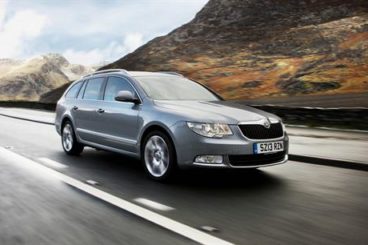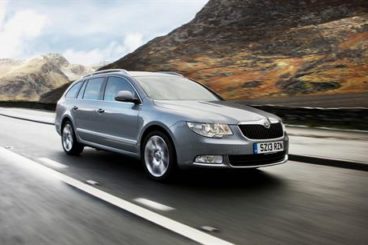 This car does comfort cruising as good as any in this class. It's not a plaything in the same way that the BMW is, but it's a great place to be if you want longer journeys to fly by without any hassle. The transmission is smooth, the cabin quiet, and the steering accurate.
You can instantly improve the handling by snapping up the optional adaptive dampers for £750. This system comes with adjustable settings that let you alter the suspension according to road conditions or your own mood. A four-wheel drive system is also available and works brilliantly on wetter roads.
Even without it, though, this car always makes you feel at ease. As such, four-wheel drive is not something that you need.
The 1.6-litre TDI diesel engine develops 118bhp and can be paired up with either a 7-speed DSG automatic 'box or a 6-speed manual. It gets you from rest to 62mph in 11 seconds.
As efficient as the 1.6-litre unit is, the 2.0-litre 148bhp diesel engine is our favourite. It costs almost as little to run, and is often more powerful, especially if you happen to be carrying a full load. You can wed it to any model except the base-level variant, and it can pull you and your family from rest to 62mph in 8.9 seconds before maxing out at 135mph.
The petrol line-up is an interesting proposition this time around. Left in the dark for so long for cars like this, recent advancements in technology have brought them back into favour. Buyers here get to pick between a pair of 1.4-litre units and a pair of 2.0-litre ones, with the 276bhp 2.0 being the mightiest. It's fast too, but you might decide that the rush of blood to the head is not really worth the poor economy and emissions figures.
Interior, Build And Design
The design both inside and out is fairly straightforward, but this is still a handsome machine as far as Skoda's in 2016 go. The Superb Estate doesn't prefer style over substance, but no one expects it to. Instead, the design team have gone for a less is more theme. The interior is simplistic and easy on the eye, with everything logically laid out. You know exactly where anything is, which is a huge plus in a car like this.
There is a lot of advanced tech on offer too, especially in the range-topping models, while the design comes with a fairly mundane but user-friendly rectangular touchscreen.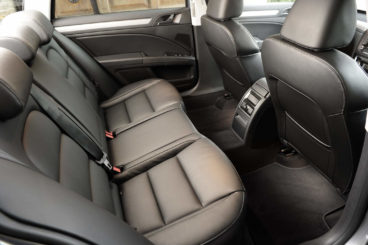 All the controls feel high-quality, and everything is durable and robust.
As expected, the car is super practical, and this is really its ace card. It's big everywhere, from the front to the back, while the 660-litre boot is easily one of the biggest in this class. Fold down the rear seats and you can expand it to a ridiculous 1,950-litres of space. It opens wide and comes with a low loading lip, practical touches that will please buyers. Passengers up front and in the back will benefit from lots of room to stretch out, while several storage spaces are dotted around the cabin.
The Superb Estate makes for a good tower, and can tow weight of up to 2,200kg.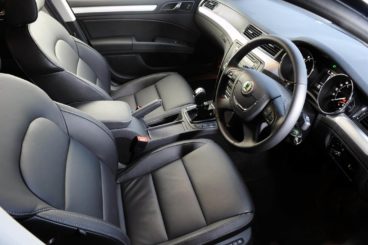 The infotainment screen is easily one of the best around, and it's also used in a variety of other VW Group motors, including the Passat. It's not the best to look at, but it's so intuitive and very user-friendly. A small rotary knob helps you to navigate the controls, and the screen can link up with Apple CarPlay and Android Auto.
The entry-level variant comes with 16" alloys, front fog lights, a leather-wrapped steering wheel, a trip computer and Bluetooth connectivity.
The SE trim adds 17" alloys, adaptive cruise control, rear parking sensors and dual-zone climate control, while the SE Executive trim will treat your company fleet to 17" alloys, LED rear lights and sat-nav.
The range-topping Laurin & Klement model includes 18" alloys, an electrically heated windscreen, and lane keep parking assist.
Cost Of The Skoda Superb Estate
Prices for the new Superb Estate start out from £20,000 and rise to over £36,000. If you choose to lease it over three years on a Contract Hire, you should be able to do a deal somewhere between £210 and £600 + VAT.
Unsurprisingly, running costs are impressive despite the sheer size of this car. If you add in four-wheel-drive, costs will invariably rise. The most frugal unit in the range is a 1.6-litre TDI GreenLine diesel that can return an astonishing 76.4mpg, while even the powerful 2.0-litre 148bhp variant can return 68.9mpg.
The petrols are, of course, thirstier but the 55.4mpg returned by the 1.4-litre TSI is respectable.
Insurance ratings will vary across the range, but most models sit between groups 18 and 13. The car comes with the standard 3 year/60,000 warranty, which is something of a disappointment when you consider that rivals Kia and Hyundai are much more flexible with their offers.
Pros and Cons Of The Skoda Superb Estate
Pros:
Comes With Plenty of Advanced Safety Tech
The new Superb Estate shares a lot of its safety features with many of the major players in the VW Group stable, including the likes of the Volkswagen Passat, the SEAT Leon and the Audi A3. Reliability and safety, then, is pretty much guaranteed.
To strengthen the case, Skoda itself came third in the 2016 Driver Power survey for customer satisfaction. The Skoda Superb, meanwhile, came 12th out of 200 in a separate Driver Power survey for consumer satisfaction, scoring 94.5% overall.
Swathes Of Interior Space
If you buy a Superb Estate, you'll find that space is not a problem. Whether you're up front or in the back, you'll be treated to lots of room, with the car almost feeling like a stretched limousine. There is, in fact, more interior space than in a bigger Ford Mondeo.
Great Choice Of Engines
Whichever engine you opt for, you won't be disappointed. The petrol line-up this time around is impressive, while the diesel engines are both performative and cheap to run.
But the real show-stealer is a vRS model. Performance-oriented, this jacked-up engine gives the car real steel, while a 4 wheel drive model – the Scout – also beefs things up if you want a bit more excitement behind the wheel.
Cons:
Interior A Little Bit Too Plain
There is a lot to be said for a functional, simplistic interior design like the one here. It's user-friendly for a start, with everything clearly laid out.
But there are also things to be said against such a design, too. For a start, it's really quite plain and does little to shake off the idea that Skoda's are frankly a bit dull. The grey plastics are moreover uninspiring and don't exactly make the cabin a pleasant place to be.
It's all about what your priorities are, but for a sexier fit and finish, you may want to look elsewhere.
Petrol Engines Could Be Redundant
It's easy to be pleased that there is a good selection of petrol units on offer this time around. But if you choose to run with one, you might find that all the excitement is short-lived.
Sure, the engines are quick enough, but they're expensive to run and cost a fair bit to tax. Moreover, none of them are suited to this car's character and take something away from the idea that a Skoda represents value for money.
Skoda Superb Estate vs. Ford Mondeo Estate vs. Volkswagen Passat Estate
As good as the Superb is, you might want to take a closer look at its rivals before making a final decision. Let's see how it compares to its competitors in the comparison section of our Skoda Superb Estate review.
Skoda Superb Estate vs. Ford Mondeo Estate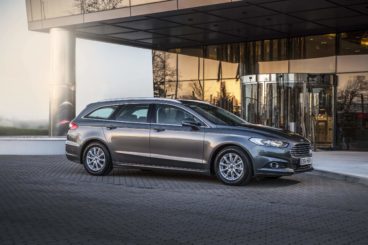 The Mondeo Estate has been around for a long time now and is a familiar sight on our roads. It was so popular in the nineties that it even helped to coin the term "Mondeo Man." But how does it fare in 2016?
These days, it sports a very commanding look that will appeal to buyers who want an Estate that looks as though it means business. It's sizeable too and has a lot more space than its predecessor. Not only is there a lot of space indoors, but there is also a lot of quality.
It feels better built than ever and comes with an easy on the eye and easy to use 8" touchscreen that helps to elevate interior quality above the drab plastics of the Superb Estate.
The gear lever is a bit of an issue, though, and suffers from poor-fitting trim. It seems to be a case of look and you'll find evidence of hard plastics, but overall the cabin is a pleasant place to be.
Oddly enough, Ford has watered down this car's drivability. Whereas the previous generation version was arguably one of the most fun to drive in this class, the new Mondeo Estate is more comfortable than exciting. The suspension is precise and comfy enough, but for out and out ride enjoyment, the Skoda works as a better motorway cruiser.
Ford have worked hard to reduce running costs, but it will still cost considerably more to run than the Superb. The cheapest engine in the range is a poky 2.0-litre 148bhp unit that returns 67.3mpg and will cost you £20 a year in road tax.
And just like Ford chose to weaken the Mondeo Estate's drivability, they've also committed a crime against practicality by reducing the size of the boot from 537-litres to 525.
Prices:
Skoda – £20,000 – £30,000
Ford – £22,000 – £34,000
Skoda Superb Estate vs. Volkswagen Passat Estate
The Volkswagen Passat Estate will cost you more than the Skoda, but this is VW's top offering in the Estate sector, and it's a very attractive proposition.
Unlike with the Skoda, where four-wheel drive is optional, 4WD is standard in the Passat and can't be swapped. While this will drive up running costs, ensuring that it's nowhere near as cheap to run as the Skoda, it does give the car bull-like power and enhances its performance in poorer conditions.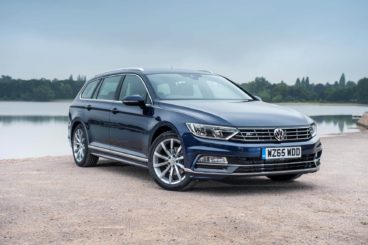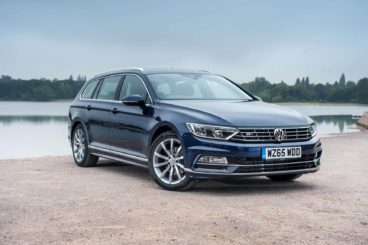 As a result, the Passat is one of the steelier Estate's on the mark that has way more pulling power than many of its rivals, the Superb included.
There are brains to go with the brawn, though, and this is a sensitive Hulk that is well-insulated, with exterior noise kept to an absolute minimum. And although it's a sturdy tow car, the interior is plush and comfortable – and luxurious. For every grey bit of plastic in the Skoda, there is a colourful soft touch in the VW.
It's practical too, and while its 639-litre boot is over 20-litres shy of the Skoda's, there is going to be enough luggage space here for most families. There is only one trim level available, and as mentioned four-wheel drive is standard and not optional which does limit your free will.
If you can afford it, the Passat is well worth a shot. If, however, you need to keep your spending on a tight leash, the Superb Estate is a fantastic second prize.
Prices:
Volkswagen – £31,000 – £34,000
Skoda was always the budget brand you could turn to in times of need, but is this big, bold car a step too far for VW Group?
We'd like to think not. Despite its confidence and premium feel, this still does everything Skoda have done very well for the last few years. It's spacious, reliable, practical and comfortable. It's also still very affordable for such a quality, large car, and the Skoda Superb Estate is going to make a lot of sense for many buyers.
Verdict Of Our Skoda Superb Estate
Looking For a Price For The Skoda Superb Estate?
Fill out the form below with your details, and one of our highly qualified vehicle specialists will be in contact within 24 hours.
When you lease a car with OSV there are no hidden costs, request a call back and we'll find you a finance, lease or purchasing deal designed just for you.