Review Of The Smart ForFour Hatchback
Looking for an objective review of the cute new Smart ForFour Hatchback? OSV has got you covered, from its perky engines to some fab lease deals.
The new Smart ForFour Hatchback is a delightful offering for four people. It may be small and it may look like a child's toy, but this little trooper has five doors, nimble handling and lots of personality.
If you're buying your first car, you may not recall the first time the cheery Smart ForFour entered the UK market. That was over a decade ago, after which it disappeared before being revived last year as essentially a spin-off of the Renault Twingo. Its tiny turning circle allows it to turn on a sixpence, and the brand have managed to get more space out of its compact dimensions than a magician or even Einstein could manage!
OSV takes a closer look at what it's all about with our 2017 Smart Car ForFour review.
As you might be able to tell from just looking at it, the pint-sized Smart ForFour is right at home in the city, where it can squeeze through gaps in the traffic and negotiate tight turns with ease. Get it on the motorway, however, and stage fright soon sets in – this car is totally out of its depths on the roaring freeway.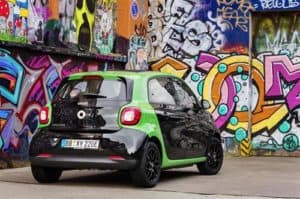 However, it buzzes around the city without a care in the world, and this is what buyers want from such a car. Its turning circle measures 8.5 metres, and there is very little body lean. In fact, this is arguably better at breezing through crowded busy streets than a black cab. At low speeds, you don't have to turn the steering wheel much, thanks to Direct-Steer system, while at higher speeds said system boosts stability.
The rear suspension is apparently modelled on the prestigious Mercedes C-Class, and this has ensured that ride quality is good. The car can deal with lumps and bumps better than its predecessor, which means you'll be comfortable most of the time. If you wish, you can fit your car with sports suspension, which firms things up a bit.
There are no diesel engines in the range. A 1.0-litre 70bhp petrol unit sits at the bottom of the line-up, and takes almost 16 seconds to get you from a rest to 62mph in manual mode. If you hook it up to an automatic transmission, you can expect to add a full second to that time. Such slowness really will make you feel anxious out on the motorway, but it can also undermine your confidence when you try to plot an overtake in city traffic.
A 0.9-litre engine tops the range. It develops up to 90bhp, which is enough to propel you from a standstill to 62mph in 11.2 seconds when paired up with a manual gearbox. Such "speed" makes it a better companion when you're out on the motorway.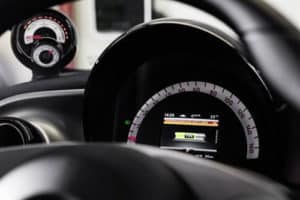 On the outside, the car looks young and full of beans. It's a similar story inside, where bright colours lift the atmosphere to one of happiness and comfort. It's a much more colourful and appealing affair than last time around. There are also opportunities to personalise it until you get the funky, cool look you want.
Interior quality is better too, but it isn't as insulated as the brand had been hoping. Rumbling engine noises will still creep into the cabin, as will whistling winds. This can make you feel a bit uncomfortable when the conditions are rubbish and you're on the motorway, but on a pleasant day you'll be just fine.
The outside looks like a toy, and so does the dashboard. However, don't let that deceive you – the dash is very usable. The switch-gear in particular is designed for ease of use, and it also feels very well put together. Look hard enough, though, and you will find evidence of cost-cutting in the form of cheaper plastics.
This is a five-door Smart car, and the extra length means added practicality. Access to the rear is made easier thanks to those extra doors that open wide, but headroom is sparse in the back. The rear seats can be adjusted for a bit more legroom, and overall there is more leg and headroom in here than in many rivals. The boot, meanwhile, measures 185-litres.
Standard kit is good across the range. In its most basic form, the car gets the aforementioned Direct-Steer system which comes in handy when you need to negotiate a sharp turn, as well as remote central locking, daytime running lights, cruise control and a trip computer.
The Prime model adds 15" alloys, but strangely comes with a darker interior. However, the black leather seats and black upholstery are smart, while a panoramic sunroof brightens things up a bit. The Prime Sport model comes with 16" alloys, a chrome tailpipe and a sports steering wheel, while the Brabus ForFour gets 17" alloys, lowered sports suspension and twin exhausts.
In terms of safety, the car scored 5 out of 5 in its Euro NCAP test, with child protection rated at 77% and adult occupant protection rated at 78%.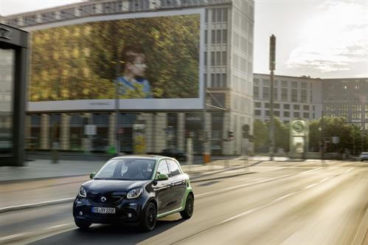 Costs Of The Smart ForFour Hatchback
Prices for the new car start out from around £11,600 and rise to £15,800. If you prefer to lease and would like more information on our Smart ForFour Hatchback lease deals, you can check out our page here.
In terms of running costs, it should come as little surprise to read that this dinky city car works its way neatly into your budget. All models are free from road tax, which means you're getting a car that's cheap to run, and also good for the environment.
The reason for such low emissions across the board are down to small engines, but also some new technology that brings the engines optimal operating temperature up as quickly as possible. Smart.
The cheapest engine to keep on the road is the 89bhp variant, which can achieve fuel economy returns of 67.3mpg. That's enough to put a smile on your face, and the 1.0-litre 70bhp variant offers the same returns. A manual 0.9-litre engine, meanwhile, is good for 65.7mpg.
Pros and Cons Of The Smart ForFour Hatchback
Ideal In The City
It bobs through the city with a smile on its face, it's easy to park, and it can negotiate the kind of tight turns that would terrify a large saloon.
Cheap To Run
Super cheap to run and all models are free from road tax.
Customisable
You can customise it until you get the look that reflects your personality.
Expensive
Compared to rivals, the Smart ForFour is highly priced.
Not Ideal For Longer Journeys
Planning a road trip anytime soon? This might not be the ideal partner.
Smart ForFour Hatchback vs Fiat 500 Hatchback vs Volkswagen Up!
Let's see how the car measures up against its rivals in the comparison section of our 2017 Smart ForFour Hatchback review.
Smart ForFour Hatchback vs Fiat 500 Hatchback
The Fiat 500 Hatchback is a retro throwback to the 1950's. It's unashamedly cute and cuddly, but has it got substance?
Like the Smart ForFour, the 500's natural habitat is the city. Here, it can show off its trendy good-looks, as well as perform nifty manoeuvres for you in the tightest of areas. Its small size is an obvious advantage when it comes to skipping through traffic and parking, while big windows also ensure good visibility.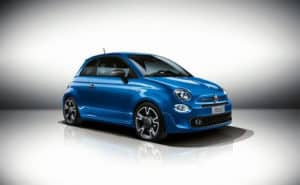 The suspension setup is a bit firm, but not enough to be a deal breaker, and there is lots of grip on offer.
In terms of the engines, our favourite is a TwinAir two-pot petrol engine that comes with a turbo. It emits a loveable trill that lets you know you're making decent progress, and it's got enough power in its tank to sprint from a standstill to 62mph in 10 seconds.
There is also the option of a 1.2-litre petrol engine, but it's a lot less entertaining. It's sluggish too, and does 0-62 in 13.0 seconds, which is enough to send you back to sleep as you start the morning commute.
A 1.3-litre MultiJet diesel rounds off the range. It develops up to 94bhp, and can get you from a rest to 62mph in 10.7 seconds before maxing out at 112mph. This engine is the cheapest to run in the range, and can achieve fuel economy returns of 83.1mpg. But it's an expensive model to buy outright and may not be worth it unless you're a high mileage driver.
The 1.2-litre petrol engine has an Eco version, which is good for returns of 65.7mpg. It's also free from road tax.
From the outside, the 500 looks trendy and stylish. Inside, it's a similar story. The cabin is funky fresh, colourful, and will suit anyone with a taste for all things retro. The soft seats are comfortable, the dashboard is clean and clutter free, and the overall quality of materials used is much better than before. It's a delight.
There isn't a five-door version of the 500 available, and it doesn't major on practicality. But it isn't entirely unusable,  its small dimensions and big windows make it easy to park. Optional rear parking sensors help to this end, too. The interior is well-packaged, the doors open wide, but like the Smart ForFour, it's built for four people only – there is no fifth seat belt.
The boot, meanwhile, measures 185-litres.
Price:
Smart – £11,600 – £15,900
Fiat – £11,000 – £17,200
Smart ForFour Hatchback vs Volkswagen Up! Hatchback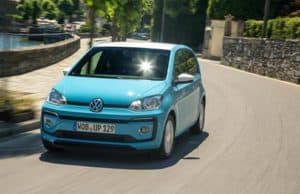 The new Volkswagen Up! Hatchback is affordable to keep on the road and looks as cute as a button.
The new Up! is a jolly old soul, and is one of the most fun cars to drive in this sector. It's perfectly suited to the city, where urban sprawls and the Up's driving experience are a match made in automotive heaven. It's a piece of cake to park and easy to control.
Thanks to a super tight turning circle, taking advantage of those gaps in the traffic is also simple.
There are a handful of engines to choose from, all of them small, but all of them capable. The most powerful engine in the range is a brand new turbocharged 1.0-litre 89bhp petrol engine that can do 0-62mph in less than 10 seconds. A 74bhp version of the same engine covers the same distance in an old-man speed of 13 seconds.
Indeed, this 89bhp is a lot punchier in real life that is on paper. It's fun, sprightly but also quiet. It's also good on the motorway, which isn't something you can say about all the models in the Up!'s range. For example, a 1.0-litre 54bhp petrol engine does 0-62 in 14.4 seconds, which hardly makes it the stuff dreams are made of when you want to overtake or cruise on the M6.
The Volkswagen Up! Hatchback is the clear winner in this class when it comes to running costs. It's available with either three or five doors, with the former costing less to buy in the first place. However, both are cheap to run, with the less powerful 1.0-litre engines good for average fuel economy returns of 64.2mpg while incurring a yearly road tax bill of £20.
The Up! boasts a classy interior, and fit and finishes resembles some of the more upmarket models in the VW canon. The quality of the plastics used is second to none, and getting comfortable is dead easy. The cabin is a fantastic package that'll make you feel as though you're behind the wheel of a much more expensive car.
Like the Smart ForFour Hatchback, the Up! has only four seats. It's also a really small car, but Volkswagen have had a right good go at getting as much space as possible out of this car. Space for you and your passenger is very good, while two adults in the rear should be comfortable enough. Headroom is really the only issue.
For more practicality, we suggest that you go for the five-door model. Boot space in both cars, however, is limited at 251-litres, and both boots come with a niggling high boot lip.
Price:
Volkswagen – £9,000 – £12,900
Verdict Of Our 2017 Smart ForFour Hatchback Review
This ball of fun is undoubtedly a good city car. It bobs its way in and out of traffic with ease, can be customised so that you get the look you want, and it's cheap to run.
However, it's on the more expensive side of the city car spectrum. For example, it demands a premium of £2,000 over the Hyundai i10, a car that's similar in many respects. The Smart ForFour is certainly a fab choice, but you might want to do a bit more shopping around before making your final decision.
Looking For A Price For The Smart ForFour Hatchback?
Fill out the form below with your details, and one of our highly qualified vehicle specialists will bein contact within 24 hours.
When you lease a car with OSV there are no hidden costs, request a call back and we'll find you a finance, lease or purchasing deal designed just for you.