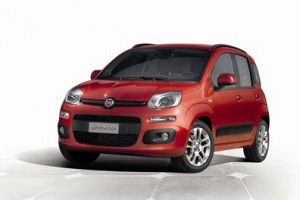 Fiat is celebrating the 22nd birthday of its enduring Panda range by launching an entirely new generation of Panda cars next year.
Before the release of the new Pandas, Fiat have released a few tantalising details about the updated range.
The latest news on specifications
Excitingly, the new Pandas will be powered by Fiat's innovative TwinAir engine, which drives the popular Fiat 500.
The TwinAir technology was designed by Fiat's engineers to meet rising European emissions standards, delivering zesty driving with outstanding fuel efficiency and low CO2 emissions.
The initial model range is expected to comprise a variety of four cylinder petrol and diesel engines, with a 4×4 Panda in development.
Fiat are also planning to expand the range further, although at the moment they aren't giving any hints about which direction this might take the Panda in.

Pricing
Specific prices haven't been released by Fiat yet, but at the Panda's launch in Naples, Fiat promised that the car will sell for under 10,000 Euro. This gives a rough starting price of £9,000 in the UK.
Fiat have created a novel '100 squared' finance package for the continental market, with new Fiat Panda owners paying 100 Euro a month for 100 months. At the moment it's not clear if this finance model will be extended into the UK as well.
Fiat Panda production rescues struggling factory
Fiat have decided to move the production of the new Pandas back to Italy, after producing the previous Panda model in Poland.
For the factory in Pomigliano, near Naples, this has meant a rags-to-riches turnaround.
Before getting the job of assembling the Pandas, the factory was under-used and in dire need of an overhaul. Now it has been thoroughly refurbished, transformed into a flagship production centre for Fiat and its alliance partner Chrysler, becoming an example of how Fiat expect to reform their manufacturing across Europe, Asia and North America.
Keep yourself updated with the latest motoring news by liking us on facebook, following us on twitter or connecting with us on LinkedIn.
If you're interested in buying or leasing a new vehicle contact our sales team. Alternatively, visit our website where you will find new and used Fiats available for sale or on finance.
Thanks for visiting us today.

Latest posts by Andrew Kirkley
(see all)