Tokyo Motor Show: innovative BMW i8 concept sports car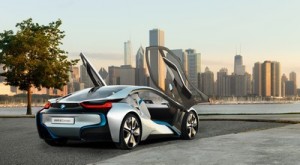 People seeing the new BMW i8 concept sports car at the Tokyo Motor Show may not believe that this sleek, powerful car is a plug-in hybrid.
It is a result of BMW's pioneering vision to make the dream of a sustainable, contemporary sports car a reality. The BMW i8 gives an impressive sports performance, outdoing similar cars, and the fuel consumption of a much smaller car.
The BMW i8 combines an electric drive system over the front axle and a lithium-ion battery with a high-performance three-cylinder engine that offers 220 hp.
This enables the i8 to easily reach 62 mph (100 km/h) from 0 in under five seconds. BMW says that it is even possible to improve on this under certain conditions.
From the inside out, the BMW i8 has an arresting, memorable character. Unlike many hybrids, its design is not a conversion from a standard combustion car, but created specifically around the electric drive train.
The sculptural exterior design is modified so that the i8 gives the impression of surging forward even when it's stationary, along with a superbly aerodynamic silhouette. Details such as the wing-style top-opening doors and signature i-series U shaped lights ensure the i8 is immediately recognisable.
BMW's unique LifeDrive vehicle architecture is adapted in the BMW i8 to support an exciting and engaging driving experience. The weight of the electric and combustion drive systems is equally spread throughout the car, resulting in a perfect 50/50 weight distribution.
The resulting low centre of gravity enhances the BMW i8's performance advantage.
The interior carries on the innovative vertical layering present in the body of the i8. Interior and exterior almost seem to merge thanks to the transparent surfaces in the doors and roof.
Luxurious and streamlined, the interior is strongly driver-focused. The gearshift lever, parking brake and stop-start button are grouped around the driver on the central console.
The information display and instrument clusters are generously sized at 8.8inches each. Modern, clean design combines with leading presentation technology so that information is easily readable without sacrificing style.
The BMW i8 joins other BMW vehicles on display at the Tokyo Motor Show, including the world launch of the BMW ACtiveHybrid5 and the all-electric BMW i3 concept, a new development for urban driving.
Stay updated with previews, news and photos from our representative at the Tokyo Motor show by liking us on facebook or following us on twitter.
If you are interested in a new vehicle, please contact our sales team who will be pleased to help.  Alternatively, visit our website where you will find new and used vehicles available for sale or to finance.
Thanks for visiting us today.