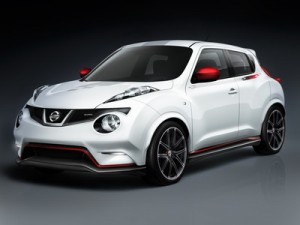 The new Nissan Juke Nismo, on display at the Tokyo Motor Show, is a glimpse into the pioneering new direction being taken by Nissan.
The Nissan Juke Nismo is a high-performance version of the popular crossover Nissan Juke, adding a distinctive sports attitude and performance to the standard car's genre-creating mix of compact crossover, SUV strength and coupe-like feedback.
It is a result of Nissan's determination to bring its recent enviable success on the racetrack to mainstream driving. The Nismo Juke will be the first of a range of sports versions of standard Nissan vehicles.
Carlos Ghosn, Nissan President and CEO, explains the company's vision: "The time now is right to let ordinary drivers experience what our racing drivers enjoy every time they head out onto the track…The Juke Nismo Concept shows what we can do."
2011 has been an outstanding year for the Nismo on the racetrack. Nissan GT-R race cars took Drivers' and Team titles at the Japan SUPER GT championship, as well as winning the Drivers' title at the FIA GT1 World Championship. This builds on the victory of Nismo-developed engines at Le Mans.
Even when standing still, the Nissan Juke Nismo's muscular design showcases the car's coiled power. The body kit has all the aerodynamic benefits expected from being created by the Nismo team in charge of race car bodywork.
For drivers this means not just a distinctive, powerful appearance but improved dynamics. Modifications from the standard Nissan Juke include a more aerodynamic rear spoiler and specially designed door mirrors. These now give reduced front and rear lift without increasing drag.
19-inch alloys top off the Nissan Juke Nismo's high-performance tyres, which have enlarged the contact patch in order to increase grip. Working with the new lowered and stiffened chassis, this gives drivers even better road handling.
Powered by the 1.6 direct inject turbo petrol engine, the Nismo Juke provides the driving experience expected given Nismo's racing heritage.
The Nismo Juke wears the distinctive Nismo colours of pearl white finished with red highlights.
In the interior, sportive design touches emphasize the Nismo Juke's performance capabilities. Even the central console is shaped to resemble a motorcycle fuel tank, while the pedals, steering wheel, gauges and gear-stick benefit from a redesign to boost the driver's experience.
As part of Nissan's expanding Nismo programme, an increased range of proprietary parts will be available, with greater potential for drivers to customise their Nismo Juke's.
Keep up to date with what's happening at the Tokyo Motor Show by liking us on facebook or following us on twitter.
If you're interested in buying or leasing a new vehicle, contact our sales team. Alternatively, visit our website where you will find new and used Nissan's available for sale or on finance.
Thanks for visiting us today.

Latest posts by Andrew Kirkley
(see all)