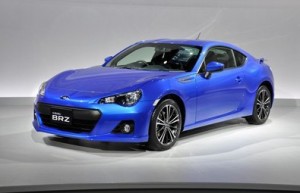 The Subaru BRZ is another world premiere for the Tokyo Motor Show. The result of a pioneering engineering collaboration between Subaru and Toyota, the BRZ is designed for sensational performance and pleasure.
Briefed to deliver exceptionable handling with impressive safety and reliability, the Subaru designers focused their efforts on creating a remarkably low centre of gravity.
What sort of powertrain does the Subaru BRZ have?
It's currently the only Subaru to have a powerful, naturally aspirated 2.0 litre Boxer engine (200PS). This is further enhanced with Toyota's 'D-45' direction injection and port injection technology.
Using this low-slung engine allows for the Subaru BRZ's low, wide build.
And the body?
Technological innovation carries on into the body, which is lightweight and rigid to maximise the aerodynamic benefits of the low gravity design.
An aluminium bonnet offers weight-saving benefits and is engineered to improve pedestrian protection.
This eye on safety comes through in the suspension too. While the front suspension uses struts to increase rigidity, at the rear a wishbone formation makes for impressive shock absorption.
The Subaru BRZ is also roomy enough to fit four people and has plenty of luggage space, enabling the Subaru BRZ to perform as a daily drive as well as a weekend pleasure.
What about appearance?
Subaru is keen to emphasize the fun aspects of the BRZ in its design, which combines the power and lines of classic sports cars, with an attitude that says it doesn't take itself too seriously.
Attention is drawn to the wide front grille and bulging wheel arches. At the rear, twin exhausts and the diffuser add a muscular touch.
In the interior of the Subaru BRZ, the sports influence is immediately obvious. A digital speedometer, compact steering wheel and sleek pedals mix modern functional technology with contemporary design.
The concern with safety and reliability is also evident in the interior aesthetics, as the instrument panel is carefully designed to enable the driver to gain vital information at a glance.
Drivers in the UK will be able to get their hands on the Subaru BRZ when it goes on sale in July.
Keep yourself updated with the latest news, previews and photos from the Tokyo Motor Show by liking us on facebook, following us on twitter or connecting with us on LinkedIn.
If you're interested in buying or leasing a new vehicle contact our sales team. Alternatively, visit our website where you will find new and used Subaru's available for sale or on finance.
Thanks for visiting us today.

Latest posts by Andrew Kirkley
(see all)