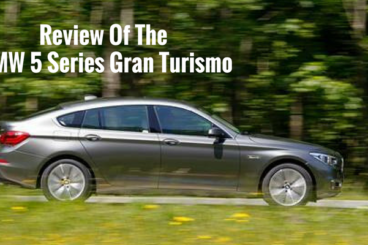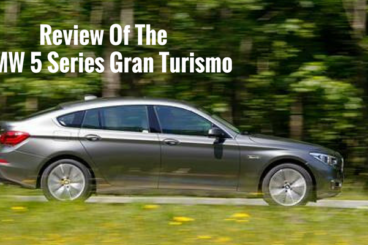 Looking for an objective review of the BMW 5 Series Gran Turismo Hatchback? OSV have got you covered, from engines to lease deals.
Rarely do you come across a one-of-a-kind car at this price point. But that's exactly what the new BMW 5 Series Gran Turismo Hatchback is. If you want something versatile, something huge, something luxurious, something different, this is a great place to start your search.
Essentially a bigger, more family-friendly version of the 5 Series exec saloon, this GT is softer, positions you higher up, and has a more usable boot. It's well-equipped, and represents an interesting alternative to a conventional SUV. The best thing? It's probably BMW's most comfortable car to date.
OSV takes a closer look at what it's all about with our 2017 BMW 5 Series Gran Turismo Hatchback review.
Overview Of The BMW 5 Series Gran Turismo Hatchback
Most BMW's that leave the production line are primed to be deft handlers. This one, however, is primed for comfort first and foremost. It's a good trait to have, because not only is it comfortable, but it's still relatively agile. Think of it as an upmarket MPV with some drivability thrown in for good measure.
It's just super relaxing, and super easy to drive. Visibility is good, and the sheer size of the machine is complimented by a selection of powerful but smooth engines. Adjustable dampers are available as an optional extra, and adding them turns it into easily BMW's most comfortable car.
If you're pining for a BMW that handles roads like a juggler handles sticks of fire, we'll have to disappoint you. Even BMW's highly-talented engineers couldn't hide the fact that this car weighs over two tonnes.
In tight spaces, it will feel cumbersome, and it lacks composure when cornering and braking. Worse still, as tempting as the M sport model is, it adds bigger alloys that diminish ride quality.
In terms of the engines, the diesels impress as always. The 520d model sits at the bottom of the range, and its 183bp is just enough to be able to get you from a standstill to 62mph in a shade less than 9.0 seconds. The engine offers decent performance, but it needs encouragement before it builds momentum.
If you're a high mileage driver, we recommend the 530d. It's fairly economical and has performance on tap. It produces 254bhp, and can do the 0-62 sprint in 6.5 seconds.
For petrol-heads, the 535i should be good enough for most of you. 309bhp is a lot brawn, and the car uses that to rocket you from 0-62mph in a mere 6.1 seconds. If – unbelievably – you're shaking your head and want even more pace and power, how about the 550iGT model? Its meaty V8 engine hones 442bhp, and can launch you and yours from a rest to 62 in just 5.0 seconds.
BMW 5 Series Gran Turismo Hatchback Interior, Design & Build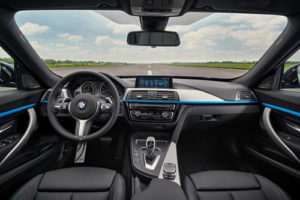 You won't find many more luxurious cars on the road than this, not at this price at least. In the showroom, it's the equivalent of a trophy wife. Inside the car, it just screams beauty and luxury. The leather seats that come as standard are a product of love, while the dashboard is clearly well made, and excellently appointed.
The instruments and buttons are breathtaking in their minimalism and quality, and soft-touch plastics, metal and leather make you feel very welcome. You probably won't ever want to leave, especially once you check out the ambient cabin lighting.
You sit higher up in this 5 Series than you do in the saloon variant, and this offers good visibility of the road ahead. It also makes you feel safe and kinda powerful! Leg room is good, and thanks to the high roof so is headroom.
However, as comfortable and at home as your passengers will feel, the driving dynamics are what essentially let the car down. It's a car geared up for interior comfort, which it does well. But you have to decide if you're prepared to forsake drivability for such home comforts.
The car has also been designed with practicality in mind. However, BMW have decided to introduced a 500-litre twin-hinged boot to this end – and we're not so sure that it works. You can either open the whole tail gate, a la a hatchback, or just a portion of it, a la a saloon. The idea being that, on colder days, you don't expose your back seat passengers to the elements when you need to unload or load the boot.
You can increase the boot size to 650-litres by sliding the rear seats forward, or 1,700 by folding them.
Equipment & Safety Of The BMW 5 Series Gran Turismo Hatchback
Standard equipment across the range is good. This is not a cheap car, so we'd recommend that you go for the entry-level SE model as it has most of what the average buyer needs. It misses out on useful stuff like a head-up display and sat nav, but these can easily be added as optional extras. It will certainly save you more cash than going for a pricier model would.
Moreover, the more expensive models are barely better-specced.
In terms of safety, we don't expect the GT Hatchback to be EuroNCAP crash-tested. However, when the 5 Series saloon was put through its paces, it scored 5/5. And we'd expect this to score the same.
Its standard kit includes electronic stability and traction control, and curtain, front, and side airbags.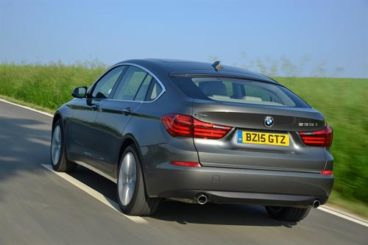 Costs Of The BMW 5 Series Gran Turismo Hatchback
Prices for the new car start out from £38,000 and rise to £60,500. For more information on our leasing deals, check out our page here.
In terms of its running costs, the car does reasonably well. If running costs are a priority of yours, the GT certainly doesn't have to cost the earth. The four-pot 520d is the most frugal model; it can return fuel economy just over 50mpg, and emits 144g/km of CO2.
All the diesel models are affordable, though. The 535d GT tops the range, but even this engine averages fuel economy returns of 47.9mpg.
If you fancy a petrol, you'll have to be content with fuel economy returns of 30mpg from the 550i model and 34.4mph from the 535i.
Pros and Cons Of The BMW 5 Series Gran Turismo Hatchback
The Engines Are All On Form
BMW have really hit a stride at the moment with their engines.  Whether you go for a six-cylinder diesel or the 4.4-litre V8 twin-turbo petrol, you won't be disappointed.
It's Versatile
This is a big, big car that can offer plenty of space and versatility. We especially like the fact that you can spec individual seats that slide and recline.
Not The Best Looking BMW Ever
It's a bit of an unusual car, a one-of-a-kind. And while this works in terms of its usability, it doesn't really work in terms of how it looks. It's big, awkward and patched-up.
Unsure Ride
It certainly isn't the most composed SUV on the road at the moment.
BMW 5 Series Gran Turismo Hatchback vs Audi A7 Sportback vs Mercedes CLS Saloon
Let's see how the car measures up against its rivals in the comparison section of our BMW 5 Series Gran Turismo Hatchback review.
BMW 5 Series Gran Turismo Hatchback vs Audi A7 Sportback
The new Audi A7 Sportback is a killer-looking coupe. It's sleek, gorgeous and so desirable. But is it as versatile as the BMW?
Like the 5 Series GT, the A7 Sportback is a big car. However, it does a good job of hiding that weight, and takes on bends well. Handling is good, but it's enhanced if you add quattro four-wheel-drive, which is available as an optional extra.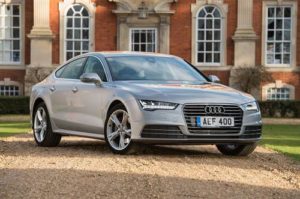 The steering doesn't engage you in the overall driving experience as much as the BMW's does, and entrainment is at a premium. But Drive Select is standard, and this gives you the chance to tweak the steering and suspension to get the setting you want.
Out of the engines, our favourite is the 3.0-litre Ultra diesel. It's a pick 'n' mix of excellent performance and good efficiency. It's also paired up with a brand new, smooth-shifting 7-speed automatic gearbox. It can do 0-62 in 7.3 seconds, which we'd argue is very reasonable for a car of this type.
However, if you want your hatchback to come with fearsome power that scares the kids in your street, the RS7 or S7 models are a better option. These models are both powered by a tasty V8 twin-turbo engine, and they each get quattro as standard.
The RS7 develops up to 552bhp in standard guise, but the Performance adds almost a half-century more power, which enables it to get you from a standstill to 62mph in 3.7 seconds.
Running costs are only good if you choose the right engine. If you're tempted by the maniacal RS7, we hardly doubt efficiency is a top priority of yours. As such, you'll hardly bristle at fuel economy returns of less than 30mpg. However, we reckon most buyers who are interested in the 5 Series GT will care a bit more about running costs. To this end, the cheapest engine in the A7's line-up is the Ultra diesel, which is good for 62.8mpg.
The cabin is both stylish and comfortable, and we think customers will love the acoustic windscreen that does an excellent job of keeping out exterior noises. The suspension shoulders the brunt of the worst roads the UK has to offer, but the optional air suspension is worth adding for max comfort.
The only criticism we have of the interior is that it misses out on Audi's brilliant Virtual Cockpit.
Apart from that, more good things include plenty of space for four people, a well-sized glovebox, a 535-litre boot, and seats that can be folded totally flat as standard.
Price:
BMW – £38,000 – £60,500
Audi – £47,000 – £60,000
BMW 5 Series Gran Turismo Hatchback vs Mercedes CLS Saloon
The new Mercedes CLS Saloon could have easily looked like a bad cut and paste job. But shame on anyone who doubted Mercedes. This is a stylish-looking coupe-cum-saloon that merges desirability with practicality.
This is a fun-loving car that's a joy to drive. Even the base-level CLS 220 has some serious power, and can get you from a standstill to 62 in just 8.5 seconds. However, we think the more expensive CLS 350 Blue TEC diesel engine has the broadest appeal. Powered by a 3.0-litre 201bhp diesel engine, it can do 0-62mph in 6.2 seconds.
The petrol engines are different animals altogether. Their base-level offering is a CLS 400 that can do 0-62 in a scattergun 5.3 seconds. That's unbelievably fast, but it gets even better if you go for the CLS 63 AMG model. This cheetah does the same distance in almost 4.0 seconds.
However, speed probably isn't at the top of your list of priorities. More sensible buyers shopping around this sector will be more concerned with running costs. And with average fuel economy returns of 61.4mpg, the C220 Blue TEC diesel makes perfect sense.
Interior will be another big part of your decision-making. The CLS houses comfy leather seats, an excellent driving position, swathes of wood, metal and leather, and an all-round luxurious cabin. It feels breathtakingly upmarket, but it also looks rather sporty. Our only complaint with the design is that the steering wheel feels a bit out of reach.
Four adults can sit in relative comfort in the car, and rear headroom is good despite the coupe roofline. The rear windows could do with being bigger, but there are lots of storage spaces in here, including a lidded box in your centre console that goes quite deep.
The boot measures 520-litres, which is 20-litres more than the BMW can offer before you slide its rear seats forward. Disappointingly, however, the CLS doesn't get folding rear seats as standard, so versatility takes a hit.
Price:
Mercedes – £47,000 – £87,000
Verdict Of Our 2017 BMW 5 Series Gran Turismo Hatchback Review
When deciding whether or not to buy this car, you might have to mull over whether you really want a car that essentially puts passenger needs before the needs of the driver. See, this is a very useful car that we're certain your passengers will love. It's spacious, versatile and comfortable.
However, it's far from being a looker and it doesn't drive especially well.
Still, the new BMW 5 Series Gran Turismo does what you need it to do, and it does it with plenty of power and zero hassle.
Want to learn more? Click below to view the review for the competitors in this article…
Need help deciding?
With help from one of our vehicle experts you could be driving away with your new car in no time. Fill in your details below and one of our team will be in touch within one working day.

Latest posts by Will Titterington
(see all)