Review Of The Audi A3 Diesel Cabriolet
Despite being able to offer more space than last time, the new Audi A3 Diesel Cabriolet still looks great and comes equipped with a rapidly folding roof. Even better, it doesn't cost as much to run as its predecessor.
So while there's plenty of style, panache and verve about this drop-top, there's also lots of usability, too. It's fun but practical, handles well and looks and feels smart indoors.
OSV takes a closer look at what it's all about with our 2018 Audi A3 Diesel Cabriolet review.
On the road, the Audi A3 might not be class-leading when it comes to sheer drivability but there's still a good amount of entertainment to be had. Losing the roof does scupper performance a bit and Audi have added a stronger floor which further dampens performance.
That said, Audi are generally better than most of their rivals at making convertibles. At normal speeds, there's nothing wrong with the way the car drives and indeed it reminds us a lot of the A3 Hatchback. Body lean is well resisted and there's a decent amount of grip on offer. Where outright handling is concerned, we'd say this is the best in its class. It just feels so sharp, poised and grippy.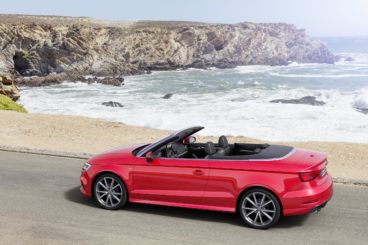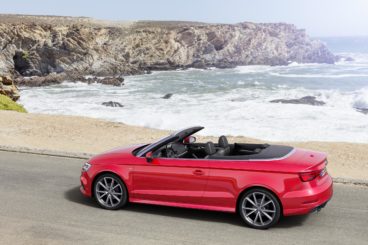 Four-wheel-drive can be fitted as an optional extra. It offers more grip but it doesn't improve the way the car performs. Go for the Sport or S Line model and you'll find that the A3 is better in bends but the stiffer suspension worsens ride quality. However, Audi will let you specify the standard SE suspension setup at no extra cost.
The Sport models benefit from Drive Select, a system that, when you put it in Dynamic mode, sharpens the throttle and steering, which makes the car feel more alert.
Refinement is decent with the roof up, but once you take the roof down you'll find that buffeting is a bit of an issue, regardless of which engine you choose. A wind deflector is available for £290 and it does a good job at removing buffeting. However, it can't be used if the two rear seats are occupied.
In terms of the engines, just two diesels are available. The 1.6-litre unit is the cheapest to run but it's a bit slow and takes 11.4 seconds to complete the 0-62 dash. A bigger 2.0-litre diesel engine develops 148bhp and tackles the 0-62 time in around 9.2 seconds. And it feels even faster than that.
Audi A3 Diesel Cabriolet Interior, Design & Build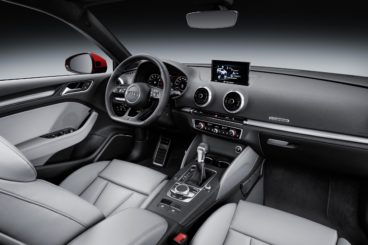 There are two things you're always guaranteed when it comes to an Audi interior: An exquisitely put-together cabin and a firm ride. And that's what you have here. If you want to be as comfortable as possible, you'll need to stick to the SE model, or at least specify the SE suspension if you choose the Sport or S Line trim. These last two have stiffer suspension as standard and are super uncomfortable.
Apart from that, the usual gremlins that plague a convertible aren't present. High-speed refinement is very good with the A3 if you add the £220 special acoustic roof, which is standard on the Sport and S-Line models.
The car also doesn't shake like a lot of cheaper cabriolets, which in turn improves the way it handles.
Its dashboard, meanwhile, is tastefully and stylishly designed, while overall cabin quality is excellent. We like the look and feel of the plastic, as well as the cool lighting and the suave trim finishes. All models get a 5.8" display screen as standard, but you can increase its size to 7.0" by adding the Technology Package.
Is it practical? For a convertible, it is. Its 320-litre boot is bigger than last time, although it's still smaller than the A3 Hatchback. It also shrinks to 275-litres when you fold the roof. That's not too bad however and the fabric roof takes up less space than a metal one would.
The new A3 Diesel Cabriolet is a bit bigger than last time, which means there's a bit more headroom. However, the presence of the roof was always going to make legroom a squeeze and that's the case here. Still, there's more room than in most cars of this type.
Equipment & Safety Of The Audi A3 Diesel Cabriolet
The A3 Diesel Cabriolet is an expensive car but a standard kit is good. All models come with an 8-speaker stereo, a DAB radio, air conditioning and a leather-trimmed steering wheel. The Sport model adds bigger alloys, a noise-cancelling acoustic roof and climate control, while the S-Line model chucks in super-bright xenon headlights and a body kit.
Is the Audi A3 Diesel Cabriolet safe? Its standard safety kit includes everything that the standard A3 Hatchback gets, which includes the very useful secondary collision braking assistance feature. This prevents the A3 from moving if a collision has occurred.
Costs Of The Audi A3 Diesel Cabriolet
Prices for the new car start out from £29,680 and rise to £42,080. If you prefer to lease, you can pick up a deal from around £298 + VAT per month. For more information on our leasing deals, check out our page here.
In terms of its running costs, the 1.6-litre diesel engine is the most frugal. It can return 70.6mpg economy at best. However, most buyers will probably want a bit more oomph from their A3 Cabriolet. The 2.0-litre diesel engine develops 148bhp and returns 60mpg when fitted with 2WD. If you add Quattro four-wheel-drive, that figure drops to 57.6mpg.
Pros and Cons Of The Audi A3 Diesel Cabriolet
Looks Great
Ditching the hatchback body style in favour of a saloon has worked wonders.
Low Running Costs
Ever thought an Audi convertible could return over the 70mpg economy?
Excellent Refinement
Refinement is fine with the roof up, and if you purchase the optional wind deflector it's also fine with the roof down.
Firm Ride
As ever with an Audi, the ride is on the firm side.
Expensive
Cabriolets can come cheap these days, but not the ones made by Audi.
Audi A3 Diesel Cabriolet vs BMW 2 Series Cabriolet vs Mercedes C-Class Cabriolet
Let's see how the car fares against its rivals in the comparison section of our 2018 Audi A3 Diesel Cabriolet review.
Audi A3 Diesel Cabriolet vs BMW 2 Series Cabriolet
The new BMW 2 Series Cabriolet is smart, stylish and – as expected – great fun to drive.
BMW might have dropped their "ultimate driving machine" moniker but that doesn't mean their cars are any less brilliant to drive. This is right up there where handling and straight-line performance is concerned, with the M Sport trim and M240i model taking things to another level.
Like the Audi, the BMW doesn't come with a metal roof. To make up for that, BMW has tightened its shell and made it stronger. As such, it lacks the usual vibrations and wobbles that usually plague cars like this.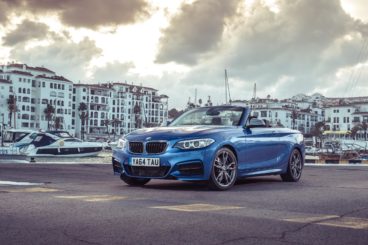 In terms of its engines, BMW is offering a 2.0-litre four-pot diesel that's available in three power guises. The 218d sits at the bottom of the range, but thanks to its 148bhp it's able to eclipse all the Audi A3 diesels with its 0-62 time of 8.9 seconds.
The 220d is next up and it develops 187bhp for keen performance. It's the 2 Series Cabriolet's best-seller and can be specified with four-wheel-drive. Rounding off the range, meanwhile, is the 225d M Sport model. Its turbocharged engine delivers 221bhp, which is enough to get you from rest to 62mph in 6.4 seconds.
It's easy to assume that with all that blistering pace available, the BMW 2 Series Cabriolet's diesels would be expensive to run. They're not, with the mid-range 220d model able to return a very impressive 65.7mpg while emitting just 113g/km of CO2. That's even better than the entry-level 218d model, which returns 60.1mpg.
Inside, comfort and top-quality materials are the order of the day here. The low-down seating position gives the 2 Series a sporty flavour, build quality is impeccable, while the dashboard is nicely laid out.
Refinement is on par with the Audi, though we'd recommend adding the optional wind deflector.
Is the BMW 2 Series Cabriolet practical? Its boot is decent, measuring as it does 335-litres. That's significantly less space than you get in the 2 Series Coupe and it drops to 280-litres when you drop the roof.
But while luggage capacity isn't too bad, the boot sports a more awkward shape than the Audi.
Other than that, interior space is pretty much the same as it is in the Audi. That means there's a good amount of room up front but less in the rear, where taller adults will be cramped when the roof is up.
Price:
Audi – £29,680 – £42,080
BMW – £27,540 – £39,615
Audi A3 Diesel Cabriolet vs Mercedes C-Class Cabriolet
The new Mercedes C-Class Cabriolet is affordable to run, sports a fabulous interior and feels more comfortable in its standard guise than the Audi.
On the road, however, it's not as fun to drive. Mercedes have instead put together a cabriolet that's more of a cruiser than a sports car. Ride quality is good and its suspension setup does a good job of absorbing most lumps and bumps.
In terms of its engines, a C250d diesel has proven to be the most popular with buyers. It delivers 201bhp and is a tried and trusted engine that's been around a while.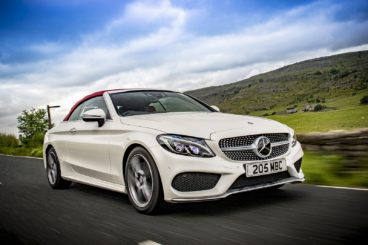 It's fast, galloping from a standstill to 62mph in 7.2 seconds but noise is a bit of an issue. On colder days, it will sound hoarse which doesn't exactly go hand in hand with the car's otherwise relaxed demeanour.
The C220d unit is your other diesel choice. It produces as much as 168bhp, can be specified with a 9-speed automatic transmission, and has enough in its tank to get you from rest to 62mph in 8.3 seconds. It's available with four-wheel-drive, and adding this system will drop its 0-62 time down to 8.1 seconds.
It's the most frugal engine in the range and can return 62.8mpg economy at best. However, adding four-wheel-drive will knock that figure down to 56.6mpg, while emissions will go up to 130g/km of CO2.
The C250d, meanwhile, is hardly any more expensive and can return 61mpg with rear-wheel-drive while emitting 121g/km.
Inside, the Mercedes C-Class Cabriolet is magnificent. The design is beautiful, the quality of the materials used is excellent, and there are lashings of aluminium, leather and wood here, there and everywhere.
Overall, then, the cabin feels like a special place to be, while an intuitive infotainment screen is easy to get to grips with.
Is it practical? It's definitely comfortable but rear seated passengers will struggle for headroom when the roof is up. The boot measures a competitive 355-litres but expect that to plummet to 260-litres when you fold the roof. Like the BMW, the C-Class Cabriolet suffers from an awkwardly shaped boot, however.
Price:
Mercedes – £36,945 – £51,880
Verdict Of Our 2017 Audi A3 Diesel Cabriolet Review
Following hot on the heels of the A3 Hatchback, the Cabriolet is the sexier version that's ideal for buyers who want to chill with the sun on their face. And because the roof drops rapidly, you won't have to wait too long.
The diesel variants are still on the expensive side but have low running costs on their side. All in all, the new Audi A3 Diesel Cabriolet is a smart, upmarket and a classy way to get out and about.
When you lease a car with OSV there are no hidden costs, request a call back and we'll find you a finance, lease or purchasing deal designed just for you.