Review of the Audi A3 Diesel Saloon
The new Audi A3 Diesel Saloon sits somewhere between the bigger Audi A4 and the smaller Audi A3 Hatchback. It mixes together style with practicality and can boast a top-notch interior and low running costs.
Saloons like this don't tend to sell too well in the UK and the A3 has no direct rival. If you're on the lookout for a car that's larger than a hatchback but which has all the key features of a hatchback, it's well worth adding to your shortlist.
OSV takes a closer look at what it's all about with our 2018 Audi A3 Diesel Saloon review.
We wouldn't go as far as saying that the Audi is fun to drive, but its safe handling and light, precise steering make it easy to drive. Ride quality is better if you stick to the standard suspension, as the higher-spec models suffer from a firmer setup. Audi let you keep the comfort suspension free of charge.
All models come with either a 6-speed manual 'box as standard or a 7-speed automatic. If you specify the latter, you'll be paying somewhere in the region of £1,480 and £2,910. It all depends on the engine you choose. If your budget stretches far enough, it's well worth adding as it's smooth and responsive.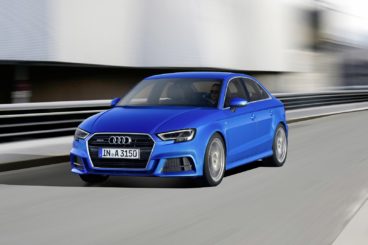 Four-wheel-drive Quattro isn't standard but can be added to the 2.0-litre 148bhp diesel.
Speaking of the engines, the 1.6-litre TDI diesel sits at the bottom of the range and is a bit on the slow side. It completes the 0-62 dash in over 10.0 seconds, and will probably appeal more to economy conscious buyers than anyone else. It's a smooth enough engine, however, but to get the best out of it you will need to work it hard.
The aforementioned 2.0-litre TDI that develops 148bhp is your only other diesel engine option. It can get you from a standstill to 62mph in 8.6 seconds if you stick to the manual transmission, but that number drops to 8.3 seconds if you specify the automatic 'box.
Both diesels are also used in the likes of a SEAT, Skoda, Volkswagen and other Audi models, and their credentials when it comes to economy and performance are solid.
Audi A3 Diesel Saloon Interior, Design and Build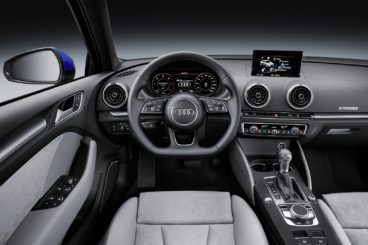 If there's one thing Audi do very well, it's cabins. Once again, the interior here is not only one of the best at this price point, it's also one of the best around.
Indeed, the only downside is that ride quality diminishes as you move up the trims. Stick to the comfort suspension and you'll be A-okay.
The dashboard is neat and tidy, and all the controls are easy to locate and use. The steering wheel and driver's seat are highly adjustable, and a lot of thought and care has gone into the overall design. One look at the impeccably put-together air vents is enough to tell you that.
The cloth seats will be fine for most buyers but quilted leather seats can be specified and they take things up another notch on the luxury scale.
Is the Audi A3 Diesel Saloon practical? It's longer than the A3 Hatchback which means there's more rear legroom. However, an increase in length also means that it's harder to park. Moreover, visibility is not fantastic.
Still, that extra legroom in the back means the Audi your rear seated passengers will be comfortable on longer journeys. Three adults can squeeze in but two adults will be happier.
The sloping roof does present a problem where rear headroom is concerned, and in this respect the A3 Sportback has more space. If you'll be travelling with kids back there most of the time, it won't be an issue.
The glovebox is a decent size but the door bins are awkwardly shaped. The boot, meanwhile, measures 425-litres, which makes it 60-litres bigger than last time. If you specify four-wheel-drive, however, it drops back to 390-litres. Fold the rear seats and the boot only increases to 880-litres.
Equipment and Safety of the Audi A3 Diesel Saloon
Standard kit is good, with the entry-level model getting the likes of a digital radio, a 5.8" colour screen, Bluetooth, 8 speakers, heated washer jets and 17" alloys.
The S-Line chucks in a unique body styling kit, more storage nets, a sports steering wheel, xenon headlights and half-leather upholstery. The S3 model rounds things off with heated leather seats, adjustable suspension, quad exhaust pipes, special instruments and a flat-bottomed steering wheel.
In terms of how safe the car is, Euro NCAP awarded it five stars after its crash-test performance. Standard safety kit is decent and includes electronic stability control, antilock brakes and airbags, but a lot of the stuff that will really make you feel safe and secure is optional. Hill-start assistance costs £90, while cruise control is £225.
Costs of the Audi A3 Diesel Saloon
Prices for the new car start out from £23,525 and rise to £39,645. For more information on our leasing deals, check out our page here.
In terms of its running costs, the 114bhp 1.6-litre diesel is the most frugal. It can return as much as 70.6mpg if you go for the automatic 'box, while its BiK rating is 23% regardless of whether you stick to the manual or add the automatic.
The bigger 2.0-litre 148bhp diesel is also impressively economical if you stick to its standard setup, where it can return 67.3mpg. Add four-wheel-drive and that changes to 57.6mpg.
It's more expensive to insure than the 1.6-litre diesel. Whereas the smaller engine sits in insurance group 16, the bigger engine occupies group 20.
Pros and Cons of the Audi A3 Diesel Saloon
Stylish
The style is, of course, subjective but to our eyes the new A3 looks fab.
Efficient engines
Adding four-wheel drive will hurt you, but other than that both types of diesel can return over 67mpg.
Refined
The diesel engines are remarkably quiet and the A3 has good insulation.
Harsh ride
It's a typical Audi problem. The sportier trims are super harsh but you can specify a softer suspension setup for no extra cost.
Cramped rear headroom
Due to the car's styling, rear headroom is limited.
Audi A3 Diesel Saloon vs Volkswagen Jetta Diesel Saloon vs BMW 3 Series Saloon
Let's see how the car fares against its rivals in the comparison section of our 2018 Audi A3 Diesel Saloon review.
Audi A3 Diesel Saloon vs Volkswagen Jetta Diesel Saloon
The new Volkswagen Jetta Diesel Saloon is hardly an exciting choice, but it boasts a huge boot, solid build quality and it can beat a lot of rivals when it comes to rear seat space.
On the road, the Jetta is very reminiscent of the previous generation Volkswagen Golf. Indeed, it uses the Golf's suspension, offers lots of grip and feels nice and responsive. It's predictable handling also makes you feel safe and secure.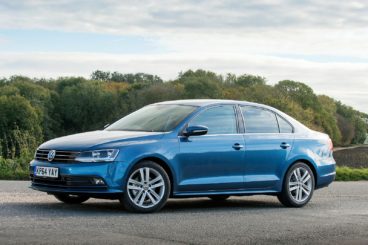 The steering isn't too shabby either; in fact, it feels pretty sharp. There's a lack of feedback but it's well weighted, while electrically assisted steering comes as standard. The suspension is on the firm side but it shouldn't ruin your enjoyment too much.
In terms of the engines, the diesel range kicks off with a 1.6-litre TSI diesel that comes fitted with fuel-saving BlueMotion technology. It develops 103bhp, returns 70.6mpg economy and can get you from rest to 62mph in 11.7 seconds.
That's probably going to make it too slow for most buyers, who will likely be more tempted by either the Audi or the bigger 2.0-litre TDI diesel. This one develops 138bhp and combines performance with economy to good effect. It has lots of pulling power in the bag and covers the 0-62 dash in 9.5 seconds. It also returns 67.3mpg, which is impressive.
Inside, the Jetta feels dated, primarily because it's based on a Volkswagen Golf that's no longer in production. The quality of the materials used is far behind the Audi, while its layout design leaves a lot to be desired.
That said, it's a very roomy car. Those sat in the rear have plenty of space to stretch their legs, and comfort is all but assured on longer journeys. The Jetta's boot, meanwhile, measures 510-litres.
Price:
Audi – £23,525 – £39,645
Volkswagen – £19,740 – £25,670
Audi A3 Diesel Saloon vs BMW 3 Series Saloon
The new BMW 3 Series Saloon has for a long time set the benchmark in this class. It gets better and better each time, and can now boast increased efficiency and comfort.
In terms of how it drives, the BMW gets massive thumbs up for being the most fun to drive in this review. It offers lots of grip, well-weighted steering and firm suspension. Take it onto winding roads and you'll have a ball.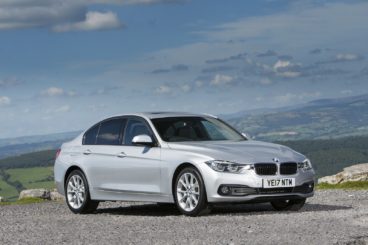 However, it's worth mentioning that BMW has made the 3 Series less direct to cut out twitchiness on the motorway.
Adaptive dampers are available as an optional extra and we highly recommend them as they boost ride quality. All models come with a 6-speed manual transmission as standard, but an 8-speed automatic 'box can be added for £1,500.
Engine-wise, enthusiasts will no doubt look at the petrols first but the diesels shouldn't be discounted. They're cheaper to run and still have lots of power. The 2.0-litre 320d model, for example, has more power than the 320i petrol and can get you from a standstill to 62mph in 7.5 seconds.
The 320d model is the middle ground between the smaller 316d and 318d models, and the larger 330d model, which returns 56.5mpg. That will put it out of the range of most families who are looking at the affordable-to-run Audi A3 Diesel Saloon.
Inside, the BMW is a proper rival to the Audi where interior quality is concerned. The materials used are top-notch and the layout and design are logical and classy.
The driver-focused dashboard is a major strength, featuring as it does a wraparound design. The dials and controls are angled towards you, while the centre console sits high. All models come with a colour screen which is mounted on the dashboard, and which controls most of the car's functions.
Is the BMW 3 Series Diesel Saloon practical? It's not as roomy indoors as a lot of mainstream family saloons but it's the biggest 3 Series so far. Headroom is adequately more than spectacular, while the middle-seated passenger will continue to be blighted by the high transmission tunnel.
Up front, it's a different story, with the driver and their passenger getting plenty of space to stretch out and get comfortable.
There are lots of storage spaces dotted around the cabin, including some reasonably-sized door bins and a huge glovebox. Handy features include map pockets on the backs of the front seats, while the boot measures 480-litres. Fold the rear seats and you can extend it to 1,500-litres, which totally blows the Audi out of the water.
Verdict of our 2018 Audi A3 Diesel Saloon Review
The A3 range has a lot to choose from, with the Saloon variant arguably one of the most stylish. It's got the classic four doors and boot look, and while there are sexier cars in this market, none can match the A3's genuinely upmarket appeal. Slick, good to drive and with a cabin to die for, the new Audi A3 Diesel Saloon will win a lot of fans.
When you lease a car with OSV there are no hidden costs, request a call back and we'll find you a finance, lease or purchasing deal designed just for you.