Review of the Audi A4 Allroad Quattro
You probably don't need me to tell you that the Audi brand is famous across the world for its 'Quattro' all-wheel-drive system. They are the go-to guys when it comes to all-wheel drive performance, and Audi's 'Q' badged SUVs are fairly capable when it comes to mucking about off tarmac. There is another off-road Audi on the 2016/17 motor market, though – the new version of the Audi A4 Allroad Quattro.
You don't normally see saloon or estate cars straying too far from the tarmac, and that's for a good reason – they are totally unsuited to the job – unless it's a car like Subaru, with a rally heritage. Audi isn't a brand to throw in the towel, though, and the Audi A4 Allroad Quattro proves decisively that a car in this class can do a bit of off-road work, providing you play to its strengths.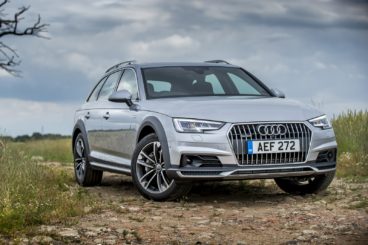 It may be named 'Allroad' but most of the time it will be on the road doing what all the 'normal' A4s do, so it's vital that this particular A4 model retains the excellent road manners found in the standard Audi A4. Luckily, it does.
Smooth is the word that really describes the ride of the Audi A4 Allroad Quattro best. It is superb on the road, providing an exceptionally comfortable and sheltered drive and absorbing the crevices in our crumbling road surfaces, while gripping, just as a 'Quattro' badged car should, in the corners.
The undoubted highlight of our test car was the excellent 3.0-litre V6 turbo diesel engine. The six-cylinder unit is silky smooth, especially as it is mated to an excellent eight-speed automatic gearbox, shifting gears in such a way as you hardly notice it; it gives a really refined feeling to the driving experience and it isn't lacking in power either. 272PS means the Audi A4 Allroad Quattro is rapid – 62mph comes up in just 5 and a half seconds, so overtaking is a breeze, especially as the Quattro system can put all of that power down neatly between all four wheels. Don't be fooled by its looks, because with this engine under the bonnet this is an extremely quick car.
This engine comes in pretty handy off-road too. Now, the Audi A4 Allroad Quattro has a slightly higher ground clearance than the standard A4, but it's still no Q7. That being said, it handles some gentle off-roading very well indeed and can deal with far more than a normal saloon or estate car can. It may look like it's posing as an off-roader with that body cladding and ride height, but it can deal with more than you may think. Rocky, rough surfaces with small ruts, fields, mud – just put it into the Allroad mode, and off you go. Providing you respect its limits, it will get you through it.
Interior, Design, and Build
The Audi A4 Allroad Quattro has always been a quirky looking car, but it has never looked as handsome as it does now. Sure, the rough and ready looking body cladding still seems strange to see stuck to an A4 estate, but there's no denying it's a strong and classy looking car and so it should be, given its premium status.
It has an aura of SUV about it; it looks expensive; it feels expensive, but it's still an estate, and, as such, it's actually a bit more special than an SUV or a standard Audi A4.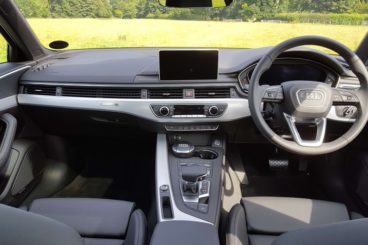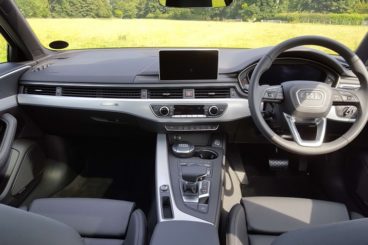 It sounds bizarre, but the Audi A4 Allroad Quattro is actually quite an exclusive machine for something in mass production. Most of the world is flocking towards SUVs and some buyers can't justify the extra cost of the Audi A4 Allroad Quattro, and that makes this a rather special car.
It's very special inside too, with yet another superb interior space by Audi. There's beautiful and supportive leather seating to go with the excellent materials that the dash and switchgear are constructed from. It all feels incredibly well put together and very luxurious. Our test car also featured a useful 360-degree viewing system for help with parking and creeping out of junctions, as well as Audi's brilliant new 'virtual cockpit', allowing for a customisable gauge and dial cluster behind the steering wheel. It's a brilliant setup, and well worth paying the £450 extra for. Of course, there are a ton of toys available as optional extras, but the standard interior space is pretty special anyway – Audi just doesn't do low-quality interiors.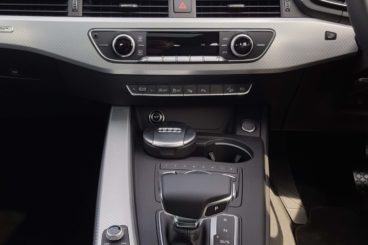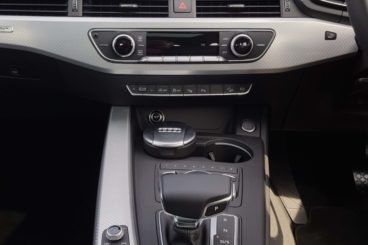 As mentioned, there is a very long list of equipment and there are a lot of boxes available to tick for those buyers not concerned with running up a higher price. Our car as tested added a whopping £18,000 of extra equipment to the list price, which is a remarkable amount of money, even if the additional kit is of a very high quality indeed.
Here are just some of the extras added to our Audi A4 Allroad Quattro test car: a heads-up display, a driver assistance package (that adds adaptive cruise control, self-driving capability in traffic jams, a steering system that helps you keep in lane, and a traffic sign recognition system.) A parking assistance package, which provides an automatic parking system with the very handy 360-degree camera, electrically adjustable front seats, new 'Matrix' LED headlights and LED rear lights, Allroad suspension with damping control, and a trailer assistance pack, which steers the new Audi A4 Allroad Quattro for you when reversing with a trailer. All are very useful and impressive features. There was also a Bang and Olufsen sound system which sounded excellent when blasting out Grandmaster Flash's greatest hits, and the very expensive, but very necessary, technology package. At £2,000 it's a pricey addition to the car, but it features sat-nav, internet connectivity and wireless smartphone charging.
Buyers should think very carefully when choosing options for the new Audi A4 Allroad Quattro, but the same advice applies to all Audis. There's no disputing the quality of the equipment on offer, but if you can live without some of it, you'll save yourself a lot of money.
Audi A4 Allroad Quattro: Cost, Pricing, and Leasing Rates
There's no getting away from it, the new Audi A4 Allroad Quattro is an expensive car. To secure an Audi A4 Allroad Quattro with the 3.0-litre TDI engine we've tested for under £400 a month on a business contract, you'll have to have around £3,000 of deposit to put down. This also relies on you doing a fairly low annual mileage, and if that's the case, you may be better off seeking out a model with the cheaper petrol engine.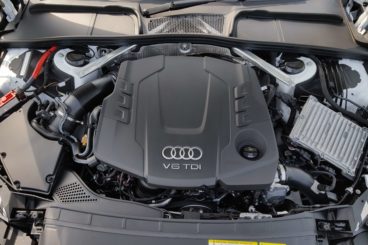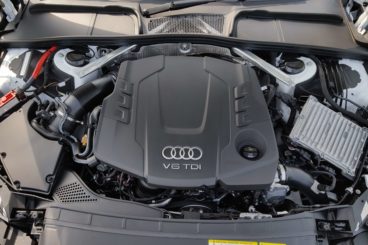 If you're seeking to buy a new 3.0-litre TDI Audi A4 Allroad Quattro on the popular PCP method of buying a new car, you'll really need to come into an Audi dealer with at least five figures to secure an Audi A4 Allroad Quattro at a similar £400 a month cost. Do bear in mind that if your annual mileage is high, the monthly costs will increase, and don't forget the potential cost implications of that substantial options list either.
Pros and cons of the Audi A4 Allroad Quattro
Style
You probably didn't expect that style would be a pro on an estate car dressed up as a rugged off-roader, but with each generation, the Audi A4 Allroad Quattro has got better dressed. The latest version now looks really smart, and stands out as something a little more special than the legions of SUVs currently filling our roads.
Comfort
This is still an A4, and as such, it's still a very comfortable car. You can expect a really smooth and relaxing drive on the tarmac, and an accomplished, confident experience off it. Let's not forget the role that the interior plays in the experience too.
Technology
There are a lot of expensive options on the new Audi A4 Allroad Quattro, but it would be unfair to not praise Audi for developing such excellent connectivity and equipment. The virtual cockpit, wireless phone charging, internet access, 360-degree view from cameras, and it's now also semi-autonomous. This car is truly ready for the future.
The Options List
We can't justify the high price of the options on the new Audi A4 Allroad Quattro, and £18,000 of extras on our test car is difficult to get our head around. Not everyone will spec a car this way, but if you did, you'd be turning a £38,000 car into a £56,000 car.
Diesels Don't Get The Updated 'Quattro' System
It seems strange that a car like the Audi A4 Allroad Quattro hasn't been optimised to tolerate the new and improved 'Quattro' system with the diesel engines. We haven't driven it yet, and as of publishing, there are no cars with the new system to test in the UK. But the question must be asked, why hasn't Audi been able to implement it with the diesel engines?
In-Group Competition Makes It Hard To Justify
Audi is part of the Volkswagen Group, the group that also owns VW, Skoda, Seat, Lamborghini, and others. The group is saturated with similar products across its brands, and, as such, the Audi A4 Allroad Quattro is pretty hard to justify a purchase. If you want to get off-road more, why not buy an Audi 'Q' car? If you want a vehicle similar to the Audi A4 Allroad Quattro, but not as cushy, why not buy the Seat Leon Xperience? When the Audi can hit almost £60k, other options, even in-group, start to look like better propositions.
Audi A4 Allroad Quattro vs Skoda Octavia Scout vs BMW X3
With plenty to challenge the Audi A4 Allroad Quattro, the model will have to show why it's a must-have motor. So, let's check it out against two major antagonists – the Skoda Octavia Scout and BMW X3.
Audi A4 Allroad Quattro vs Skoda Octavia Scout
One of the cars in the Volkswagen Group that can really take the fight to the Audi A4 Allroad Quattro is the Skoda Octavia Scout. It starts at over £13,000 less than the Audi A4 Allroad Quattro and has a larger boot space. It doesn't have an engine as powerful as the new Audi, but then again, the 2.0-litre diesel engine will be plenty quick enough for most users, and it'll be more economical, too. It also has, essentially, the same all-wheel-drive system as the Audi A4 Allroad Quattro (don't be fooled by in-house spin) so it is just as capable off-road.
Where does the money go then? Well, it goes on the quality of the materials used and the refinement of the ride. The Octavia Scout is by no means an unrefined or cheap feeling car, but compared with its Audi cousin, it is a long way behind. Then again, it isn't even trying to compete, and if the Skoda Octavia Scout is good enough for some emergency services, surely it's good enough for most people?
Prices
Audi A4 Allroad Quattro – £38,815 (rising to over £56,000 with options)
Skoda Octavia Scout – From £25,700 to £28,495
Audi A4 Allroad Quattro vs BMW X3
With the new Audi A4 Allroad Quattro likely to cost buyers over £40,000 with smartly selected options, you have to wonder if they'd be better off looking at an SUV. With higher ground clearance and more optimised for off-road use, those looking to get away from the roads more often may find more joy in an SUV. One such option for them could be BMW's X3.
The BMW X3 is the mid-sized SUV in the BMW range, and comes with a selection of petrol and diesel engines. Unlike the Skoda Octavia Scout, it comes with the options of six-cylinder diesel engines, capable of rivalling the new Audi A4 Allroad Quattro for power and grunt.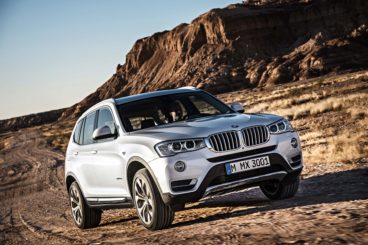 It also comes with the option of an excellent eight-speed automatic gearbox – easily on a par with the Audi S-tronic unit.
So, is the BMW X3 a better option than the Audi A4 Allroad Quattro? It all depends on how seriously you take your off-roading, the X3 and other such SUVs are certainly an improvement off-road, but they don't command the long lead that you think they would. Now, it really is just the ride height that they hold an advantage on. On top of that, the X3 just doesn't feel as special as the Audi A4 Allroad Quattro. Maybe that's because it seems like everyone is running around in an SUV now, or maybe that's because Audi has something very special in the shape of the Audi A4 Allroad Quattro.
Verdict on the Audi A4 Allroad Quattro Review
Audi has created a superb car, of that there can be no doubt. It does everything you need a car to do, and more – and has style to boot. It has little to no rivals in the luxury off-road estate car sector, and, as such, is something a bit special – whether you think it should be or not.
Comfortable on the road, accomplished off it, it really is a great choice of car, but for all its qualities it is still a very hard car to justify spending money on. Do you spend 90 per cent of your life on the road? Buy a well-spec'd A4 Avant. Spend lots of time off-road? Buy a car that can really deliver off-road. In a way, the new Audi A4 Allroad Quattro is a car that nobody really needs, but everyone will appreciate. Just think very carefully before you buy or lease one, as there is plenty of competition out there.
Get in touch with a Vehicle Specialist
Fill out the form below with your details, and one of our highly qualified specialists will contact you within 24 hours.
When you lease a car with OSV there are no hidden costs, request a call back and we'll find you a finance, lease or purchasing deal designed just for you.