Review Of The Audi A4 Diesel AllRoad Estate
If you like the look of the new A4 Estate but fancy a bit of off-road ability, the new Audi A4 Diesel AllRoad Estate is essentially a brawnier version. It's tougher, comes with four-wheel-drive as standard and can boast improved ride quality.
Stylistically, it still looks a lot like the Avant but gets a new chrome front grille, while its diesels are powerful but, thanks to the car being bigger, cost more to run than the standard A4 Estate.
OSV takes a closer look at what it's all about with our 2018 Audi A4 Diesel AllRoad Estate review.
Despite being tougher and larger, the AllRoad is actually better to drive than the regular Avant. Thanks to its longer suspension, its ride is a lot more comfortable. It's a huge boost, as Audi's are notoriously firm.
On the flipside, body lean is more noticeable than in the Avant. Switch to dynamic mode using the Drive Select System and you can curtail some of that lean but doing that means you'll also firm up the suspension. It's a bit of a double-edged sword.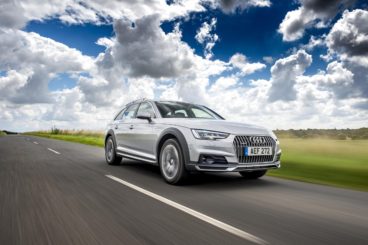 There's lots of grip available from a standard quattro four-wheel-drive system which, rather unusually, sticks to four-wheel-drive most of the time.
In terms of its engines, the diesels will be the most popular and they outnumber the petrols 3 to 1. The entry-level 2.0-litre 187bhp diesel is a big seller and it has enough power for most buyers. It can get you from rest to 62mph in an impressive 7.8 seconds and is quiet and smooth. It also delivers lots of power up and down the rev range.
A pair of 3.0-litre V6 diesels are more expensive but arguably more exciting. The smallest of the two delivers 215bhp and can get you from a standstill to 62mph in 6.6 seconds, while the biggest of the pair delivers 268bhp and covers the 0-62 dash in 5.5 seconds before maxing out at 155mph.
Those are figures we usually associate with a sports coupe and they'll seem unnecessary for a lot of buyers. Moreover, they cost a lot to run but they're strong and compliment the AllRoad well.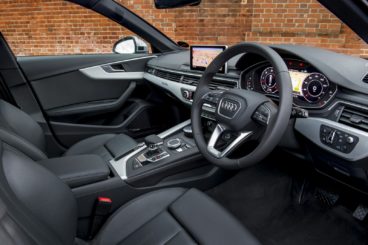 Traditionally, Audi excel with their cabins and they've excelled once again here. The interior looks a lot like the A4 Avant, which means the materials used are of a high quality but there is a real lack of imagination when it comes to design. It might seem too reserved for some.
That said, no one can argue with the build quality or the tasteful layout. Comfort is assured by the seats, the longer suspension and the raised ride height, while visibility is fantastic.
Fit and finish is also excellent, and very few rivals can match the Audi on this score. The dashboard is clean, user friendly and all models get a rotary knob to control the MMI infotainment system.
The brands classy Virtual Cockpit is a worthy optional extra that adds a 12.3" TFT screen which dispenses with the need of the usual instrument dials.
In terms of how practical the car is, it's as usable as the A4 Avant – and then a bit more. Accessing the AllRoad is easier thanks to the elevated ride height and wide opening doors, but overall dimensions are the same. While it's no bigger than the Avant, it's still a pretty big car.
There's lots of room upfront and in the rear for two adults or three kids, while the massively adjustable driver's seat is a huge bonus in a car like this. Storage spaces include a decent sized glovebox and a deep cubby, while the boot measures 505-litres. Fold the rear seats and you can increase that to 1,510-litres.
There are just two trim levels available and standard kit is good in both. The entry-level model gets Bluetooth, sat-nav, a powered tailgate, three-zone climate control, an MMI infotainment system, 17" alloys and a DAB radio.
The Sport model adds rear privacy glass, LED lights and 18" alloys.
The list of optional extras can be daunting and tempting, but one addition we recommend going for is the Virtual Cockpit. Adaptive dampers will also prove useful but they're on the pricey side, while LED matrix headlamps will improve safety in darker conditions.
Is the Audi A4 Diesel AllRoad Estate safe? It was awarded all five stars when crash tested by Euro NCAP, while its standard safety kit includes anti-lock brakes, ISOFIX child mount points, tyre pressure monitoring, automatic headlights and wipers, multi-collision braking assistance and seatbelt monitoring.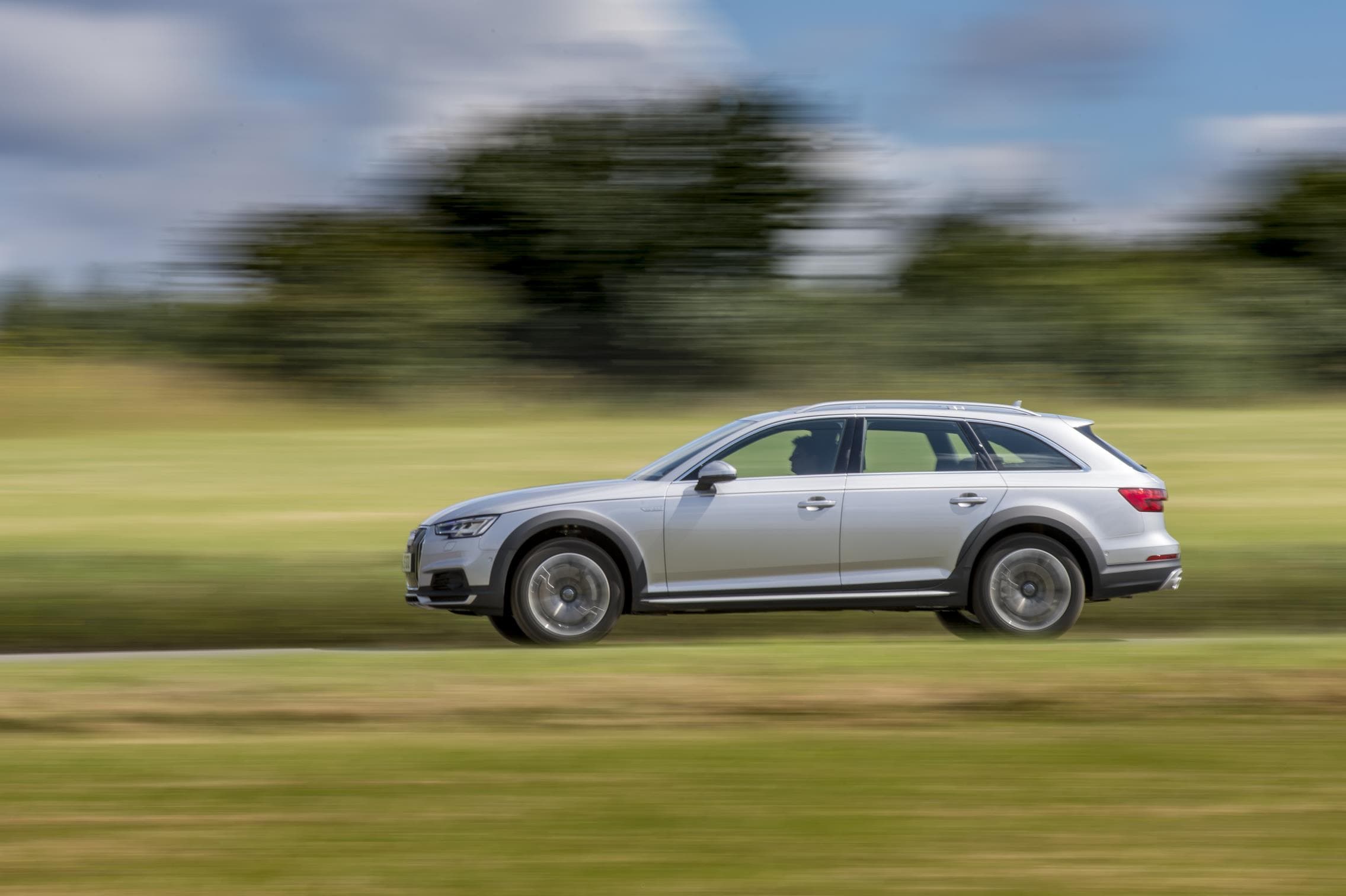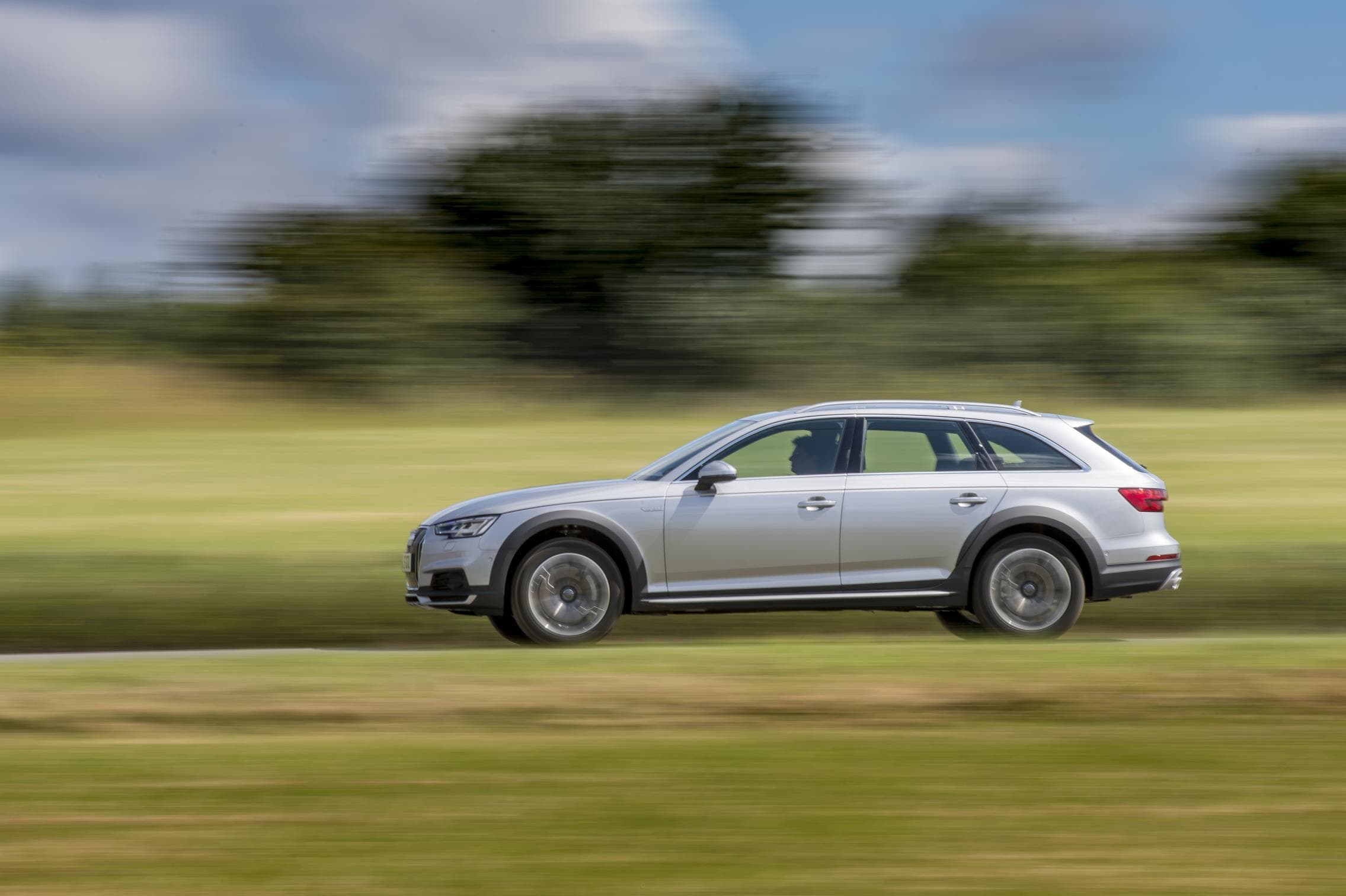 Costs Of The Audi A4 Diesel AllRoad Estate
Prices for the new car start out from £38,370 and rise to £44,400. For more information on our leasing deals, check out our page here.
In terms of its running costs, the AllRoad struggles to be as economical as the standard A4 Estate simply because its heavier. The 2.0-litre 187bhp diesel engine is the cheapest to run, returning 57.6mpg and emitting 129g/km of CO2.
The bigger 3.0-litre V6 diesels are unsurprisingly more expensive to run – but only just. The 215bhp variant returns 55.4mpg at best and emits almost 140g/km. The 268bhp variant, meanwhile, returns 53mpg and emits 139g/km of CO2.
Where insurance is concerned, the car occupies groups 26 – 39, with the biggest 3.0-litre V6 268bhp engine sitting in group 39.
Pros and Cons Of The Audi A4 Diesel AllRoad Estate
Tougher Version of the A4 Estate
It's got extra brawn that gives it a certain ruggedness which the standard A4 lacks.
Four Wheel Drive Is Standard
All models come with four-wheel-drive as standard, which gives it off-road prowess.
Fab Interior
It might be tough and rugged, but the AllRoad is still impeccable inside.
Not as Economical as the Standard A4
The most frugal diesel returns just over 57mpg, making it far less efficient than the A4 Estate.
Boring to Drive
There's a real lack of excitement on the road.
Audi A4 Diesel AllRoad Estate vs Volvo XC60 vs Subaru Outback
Let's see how the car fares against its rivals in the comparison section of our 2018 Audi A4 Diesel AllRoad Estate review.
Audi A4 Diesel AllRoad Estate vs Volvo XC60
The new Volvo XC60 is one of Volvo's most stylish cars but it's sacrificed some practicality along the way and comes with a (for a Volvo) small boot.
The Volvo might not have the meatiest engines on the block, and they're all capped at 2.0-litres. But for families, they've pretty much got all the strength and power needed. They're reasonably quick and economical and they make financial sense.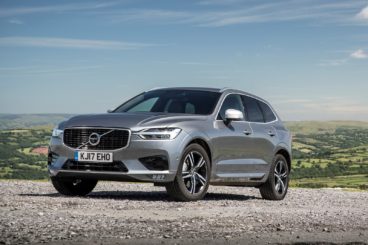 In terms of how it drives, it's hardly fun but it is reassuringly easy. It offers plenty of grip and it feels fairly agile considering its size. Body lean is a bit of an issue and while ride quality is mostly okay, going for the bigger models will have negative effects on comfort.
In terms of the engines, The D4 187bhp diesel unit can get you from rest to 62mph in 8.4 seconds, while the D5 PowerPulse develops 232bhp and completes the 0-62 dash in just 7.2 seconds.
Some buyers will be disappointed to learn that there's no manual 'box on offer, but we think the 8-speed automatic transmission is well suited to the cars nature.
Where running costs are concerned, not much separates the two diesels. The D4 returns 54.3mpg, while the D5 PowerPulse is good for returns of 51.4mpg. However, there's a bigger difference when it comes to insurance, with the smaller engine sitting in group 31 and the bigger engine sitting in group 36.
Inside, the Volvo is stunning. It competes with the Audi for interior quality and deserves all the plaudits it's been getting. Some of its trim is taken from the XC90 but that's not exactly a bad thing, and both refinement and comfort are excellent.
As is typical with Volvo's right now, the XC60's dashboard gets a portrait-oriented infotainment screen. It's a 9" touchscreen that controls pretty much everything but it will take some time to get the hang of.
Is the Volvo XC60 practical? It's not short of space for passengers and five adults should be able to travel in comfort without any hassle. However, its 505-litre boot, while the same size as the Audi, is smaller than Volvo boots of old. Fold the rear seats and it extends to 1,432-litres, which means it isn't overall as big as the Audi.
Price:
Audi –
Volvo – £36,405 – £49,455
Audi A4 Diesel AllRoad Estate vs Subaru Outback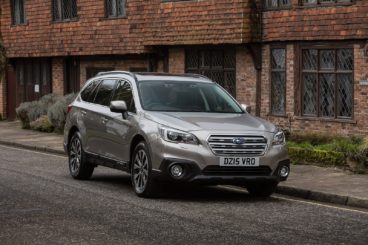 The new Subaru Outback is as good off-road as the Audi but it lacks style.
On the road, the Subaru doesn't really impress. It's a bit boring. Off it, however, it's a different story and it's here where the Outback rises to the occasion. If you need an impressive off-road performer, the Outback has you covered.
In terms of its engines, the 2.0-litre 148bhp diesel is our top pick. It's the only diesel and it gets the nod ahead of the sole petrol engine in the range by virtue of being quieter and offering more punch.
Unlike the Volvo above, the Subaru Outback diesel comes with a manual transmission. It's got six gears and suits the car's character well. 0-62 is dispensed within 9.7 seconds, which will seem a bit slow compared to the Audi.
Subaru offer the option of a Lineartronic CVT gearbox that adds 2 seconds onto that 0-62 time. That means the Outback clocks 0-62 in almost 10.0 seconds. However, the CVT gearbox used here is one of the best around and works well with this car.
Running costs? If you stick to the manual 'box you can see returns of around 50.4mpg, while adding the automatic CVT will knock those figures down to 46.3mpg. Stick to the manual and you'll pay £145 a year in tax while going for the automatic will knock your tax bill up to £180.
Meanwhile, the diesel is spread across insurance groups 18 and 22.
Inside, the Outback's cabin is good but can't compete with the Audi for the quality of the materials. That said, the materials used are much better than last time and the cabin feels well-built.
However, it's still far from stylish. If a brand is known for dull interiors, it has to be Subaru. The layout is odd, with buttons chucked around here and there without much care, while scant attention has been paid to the aesthetics.
Still, the new infotainment system looks good.
Is the Subaru Outback practical? Its boot measures 512-litres which makes it the biggest in this list. It comes with a low loading lip and can be extended to a massive 1,848-litres when you fold the rear seats.
There's lots of interior space for all your occupants, the huge windows let lots of light in, access is easy and there are lots of storage compartments dotted around the place.
Price:
Subaru – £32,995 – £34,995
Verdict Of Our 2018 Audi A4 Diesel AllRoad Estate
The AllRoad has been getting a lot praise from various quarters and for good reason. Provided you're not bothered about exceptional handling and an entertaining drive, this one could be the best in the range. It's strong, comes with four-wheel-drive as standard, boasts a huge boot and sports a typically classy Audi cabin. The new Audi A4 Diesel AllRoad Estate is expensive but seems worth it.
Request a call back from one of our Vehicle Experts
When you lease a car with OSV there are no hidden costs, request a call back and we'll find you a finance, lease or purchasing deal designed just for you.