Review Of The Audi A4 Diesel Avant
The new Audi A4 Diesel Avant is a modern estate car that comes with a top class interior and a large boot. If you never thought estate cars could ever be classy or upmarket, this one can change your mind and turn your head.
For families who like the finer things in life, there's not a lot that it does wrong. It might be too conservatively styled for some, but there's plenty of choices available, including four-wheel-drive, a manual or automatic gearbox and some strong engines.
OSV takes a closer look at what it's all about with our 2018 Audi A4 Diesel Avant review.
In terms of how it drives, the Avant is more comfortable than sporty but it's easy enough to drive. The steering is super precise, body lean is minimal, while the suspension is a bit hit and miss if you stick to its standard setup.
For this reason, we recommend specifying the optional adaptive dampers. They let you modify the setup to suit the surfaces and conditions, as well as your mood. If you want to race into corners, you can stiffen things up, and if you want to relax, you can soften things up.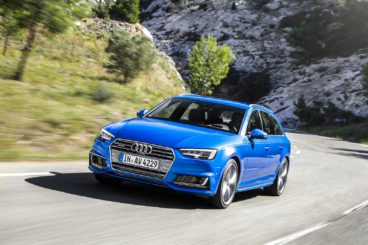 The engines are paired up with a 6-speed manual gearbox as standard, but a 7-speed dual-clutch automatic transmission is available if you want it. When you put your foot down it can get a bit jerky and it's not available with the 3.0-litre 268bhp diesel, which gets a stronger auto 'box to cope with all its power.
In terms of the engines, a pair of 2.0-litre diesels kick things off. The smaller of the two develops 148bhp and is a solid enough choice. We recommend specifying it with the automatic transmission as the manual can slow things down a tad.
The bigger of the two 2.0-litre diesels develops 187bhp and feels a lot stronger. It's quiet, refined and smooth, feels right at home on the motorway, and can get you from a standstill to 62mph in less than 8.0 seconds.
Topping the diesel range is a 3.0-litre V6 engine that's also available in two power guises. It develops either 215 or 268bhp, with the former covering the 0-62 dash in 6.7 seconds, and the latter doing it in a matter of 5.4 seconds. These are both powerful engines, but the 2.0-litre diesel is likely to be the most popular.
Audi A4 Diesel Avant Interior, Design & Build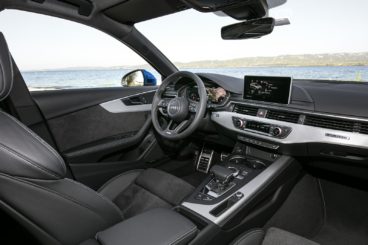 What else did anyone expect from an Audi product than a five-star interior? As ever, Audi leads the market where cabin quality is concerned and this is a genuinely upmarket, premium interior. The materials used are gorgeous and of a high quality, build quality is excellent and all the controls are easy to find and use.
The dashboard is simple and may be a bit restrained for some, but it's clean and tasteful. A rotary knob controls most of the car's functions, while entry-level models get a 7" colour screen which is easy to get to grips with.
We highly recommend adding the brand's Virtual Cockpit as it dispenses with the usual instrument dials and replaces them with a customisable TFT screen.
In terms of how practical the car is, the Avant outdoes its main rivals. It's a considerable car that measures 4,725mm in length – the biggest premium car of this type. This means there's lots of room up front, while two adults will have plenty of space to get comfortable in the rear.
The steering wheel and driver's seat offer lots of adjustability, the seats are comfy and each model gets a pair of ISOFIX child seat mounts as standard. A transmission tunnel will make things awkward for anyone sat in the middle, however.
The boot, meanwhile, measures 505-litres. There are bigger boots around but 505-litres is competitive with its rivals and it can extend to 1,510 by folding the rear seats. It's a nice, practical shape and easy to use.
Equipment & Safety Of The Audi A4 Diesel Avant
Standard kit is good across the range, with the entry-level model getting rear parking sensors, voice control, USB smartphone connectivity, Bluetooth, cruise control, three-zone climate control and a digital radio.
The Sport specification adds LED interior lighting, a leather multifunction steering wheel, a ten-speaker stereo, sports seats and sat-nav. The S Line rounds things off with more LED lighting, a sports body kit, 18" wheels and part-leather seats.
The list of optional extras is long, varied and pricey. We recommend the Virtual Cockpit, while the useful LED matrix headlights bolster safety. Adaptable dampers are also worth adding.
Is the Audi A4 Avant safe? It hasn't been crash tested by Euro NCAP itself, but the car on which it's based – the A4 Saloon – was awarded all five stars. Its standard safety kit includes anti-lock brakes, parking sensors, electronic stability control, 6 airbags, multi-collision brake assist and pre-sense city braking.
Lane-keeping assistance is optional, as is adaptive cruise control and parking assistance.
Costs Of The Audi A4 Diesel Avant
Prices for the new car start out from £29,250 and rise to £44,900. For more information on our leasing deals, check out our page here.
In terms of its running costs, the 2.0-litre 148bhp diesel is the most frugal. It returns 70.6mpg and has a BiK rating of 22%. The 187bhp variant of the same engine, meanwhile, is good for 68.9mpg – according to Audi, at least. In reality, you might be looking at around 45mpg.
Then there's the mightier 3.0-litre V6 engine that produces as little as 215bhp or as much as 268bhp. Again Audi claims optimistic economy figures of around 53mpg, but you'll struggle to match that in the real world.
Where insurance is concerned, the smaller diesels sit in group 20, while the biggest 3.0-litre diesel occupies insurance group 36.
Pros and Cons Of The Audi A4 Diesel Avant
Top Notch Interior
As ever with Audi these days, the sparkling interior outdoes its rivals.
Large Boot
The Passat offers a bigger one, but the A4 Avant's 505-litre boot will be enough for most families.
Strong Engines
Whichever one you plump for, all the engines are strong, performative and quick.
Lack of Fun
There isn't much driver involvement to be had.
Expensive Options
The Virtual Cockpit is well worth adding, but the truth is that if you spend too much time looking at the list of options, you could seriously fatten up the price.
Audi A4 Diesel Avant vs Ford Mondeo Vignale Diesel Estate vs Volkswagen Passat Diesel Estate
Let's see how the car fares against its rivals in the comparison section of our 2018 Audi A4 Diesel Avant review.
Audi A4 Diesel Avant vs Ford Mondeo Vignale Diesel Estate
The new Ford Vignale Diesel Estate, according to Ford at least, is in a separate class to the Mondeo. It's got all the newfound sense of style and swagger as the standard model but adds a bit more power.
The problem for enthusiasts is that, like the Mondeo as a whole, the car has lost some of its drivability. The Mondeo isn't as engaging as it used to be, with Ford watering down the driving experience.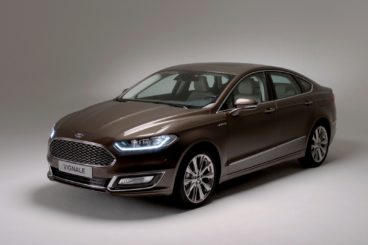 That said, it's still capable of putting a smile on driver's faces. Its soft suspension means that it's comfortable and the steering is easy to live with and nice and light. Despite being a pretty big car, the Ford does a decent job of hiding its weight.
In terms of the engines, there's just one diesel available, a 2.0-litre bi-turbo that develops as much as 207bhp. It's pricey and takes the Mondeo over the £30,000 mark, while adding four-wheel-drive will set you back another £1,500.
Refinement is excellent, and while the diesel Vignale can't claim to be as fun as Mondeo's of old, there's a certain maturity about the way it drives that complements the cars' new sophisticated image.
It's a smooth engine that can get you from rest to 62mph in 8.0 seconds and it makes the merest of noises. Once you're cruising, it's pretty much silent.
Running costs? It's good for a 51.4mpg economy and emits 130g/km of CO2.
Inside, insulation is good, with Ford adding active noise cancellation to keep out whatever noises the diesel might make (which aren't much). But while the Vignale has been crafted by six individuals it doesn't feel that special inside. The massaging and contoured leather seats are a highlight but buyers could be left feeling that there shouldn't have been something more in a car that's a lot more expensive than the standard Mondeo.
Is the Ford Mondeo Vignale Diesel Estate practical? There's more headroom in here than in the saloon version, thanks to the higher roofline, while the large windows ensure it feels airy and light.
Three people could squeeze into the rear but two adults will be a lot more comfortable, and there's plenty of room for them to stretch their legs out. The doors open wide for easy access, while the power-adjustable front seats make it easy for the driver to get comfortable.
Storage spaces are plentiful and, in some cases, huge, and the boot measures 525-litres. That makes it a bit smaller than its predecessor but it's still larger than the Audi.
Price:
Audi – £29,250 – £44,900
Ford – £20,945 – £32,695
Audi A4 Diesel Avant vs Volkswagen Passat Diesel Estate
The new Volkswagen Passat Diesel Estate is one of the best all-rounders in this class by far. Classy, spacious and stylish, it's got the lot.
On the road, it might not rock your socks but it's refined, responsive and barely makes a noise. It will be a bit middle of the road for some of you but it's lighter than last time which has increased its agility. Meanwhile, VW has added some weight to its steering, which makes it feel sportier than ever.
Its diesel engines are powerful, and although we like the look of the entry-level 1.6-litre TDI unit, the bigger 2.0-litre 148bhp is our top pick. It can haul you from rest to 62mph in just under 9.0 seconds before maxing out at 135mph. It's easy to overtake with this engine and it feels good at high speeds. On the motorway, meanwhile, it's smooth and quiet.
A 187bhp variant of the same engine covers the 0-62 dash in 7.9 seconds, while the BiTDI 237bhp model, which is four-wheel-drive and DSG automatic 'box only, covers the same sprint in 6.3 seconds before maxing out at 147mph.
Powerful stuff but it returns 50mpg at best, which will make most buyers think twice. At the other end of the spectrum, the entry-level diesel can return a very impressive 74mpg while emitting 99g/km of CO2. It also has a 19% BiK rating.
Our top pick, the 2.0-litre 148bhp diesel, returns 67.3mpg.
Inside, if you've ever spent time in a Volkswagen before, the cabin will be familiar to you. Quality is high, build quality is excellent, and there are plenty of soft-touch plastics.
The Passat comes with standard dashboard instruments but you can clear them all away by paying extra for a 12.3" Active Info Display, which is VW's equivalent of Audi's Virtual Cockpit. Other than that, entry-level models get a 6.1" touchscreen, while mid-range models get a bigger 8.0" touchscreen.
Is the Volkswagen Passat Diesel Estate practical? It looks smaller on the outside because it is smaller on the outside, but it's bigger inside than last time. The seats are comfy, there's lots more room inside than in its predecessor, with headroom and knee room considerably improved.
The large rear doors make access easy, ISOFIX child seat mounts are standard, while the boot measures – wait for it – 650-litres. All in all, the Passat is the practical choice.
Price:
Volkswagen – £23,625 – £39,355
Verdict Of Our 2018 Audi A4 Diesel Avant Review
The A4 Saloon is good but this Estate version has more to offer. It's retained its sibling's classy looks and drivability but added more space and more usability. There's an engine for everyone, from cost-conscious buyers to those who want more power, and overall the car continues to be held in high regard. The new Audi A4 Avant is a solid choice.
When you lease a car with OSV there are no hidden costs, request a call back and we'll find you a finance, lease or purchasing deal designed just for you.