Review Of The Audi A5 Diesel Coupe
The new Audi A5 Diesel Coupe is a fine choice if you're on the lookout for a slick, luxurious and highly refined Coupe. On the other hand, enthusiasts may have to look elsewhere as its driving experience could leave you feeling a bit cold.
For everyone else, there's a lot to love about the new A5. The design is classy, the diesel engines are efficient, and there's lots of advanced safety tech on board.
OSV takes a closer look at what it's all about with our 2018 Audi A5 Diesel Coupe review.
Perhaps unusually for a Coupe, the new A5 is more composed and calm than fun. There are a few sporty aspirations on show here, although the steering is precise enough for you to be able to throw it into corners with confidence. There's also plenty of power but it's lacking in the excitement department.
And while the steering is accurate, it lacks feedback and feels numb.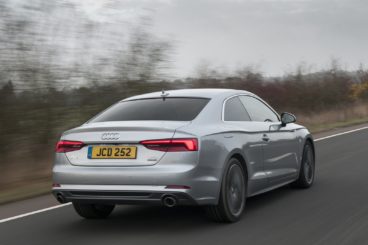 Still, even if you choose not to add Quattro four-wheel-drive there's lots of grip. However, the biggest issue the A5 Coupe has is that it's neither the most engaging car in this class or the most cosseted. The BMW we'll be comparing it to later is the most fun while the Mercedes is the most serene and relaxing.
The A5, conversely, suffers from a fairly harsh ride. If you hit a pothole, you'll certainly know about it. Adaptive dampers are available as an optional extra, and they're certainly worth adding.
In terms of the engines, a 2.0-litre 187bhp sits at the bottom of the range but it's still fast. It can get you from rest to 7.7 seconds if you stick to front-wheel-drive, while adding Quattro cuts that time down to 7.2 seconds.
A bigger 3.0-litre V6 diesel engine is certainly a tasty proposition but it will cost more to run. It develops a meaty 215bhp which is enough to haul you from a standstill to 62mph in almost 6.0 seconds. It's coupled with Quattro and an S-Tronic automatic 'box and feels smooth for the most part. It's also quiet and, if your budget stretches far enough, an engine well worth snapping up.
Audi A5 Diesel Coupe Interior, Design & Build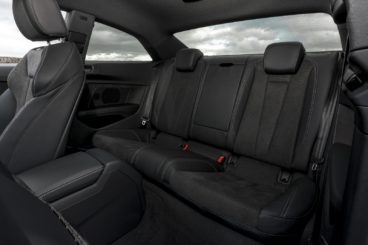 Audi pays close attention to detail when it comes to their interiors, and once again the A5 Coupe's cabin is a cut above. It's well appointed, there are lashings of aluminium and leather, and sound insulation is excellent.
In fact, the only noises you really hear are made by the tyres. Engine and wind noise? Barely perceptible.
The dashboard is gorgeous to look at, and it's also put together using some of the finest materials around. Design-wise, it reminds us of the A4 – the saloon, that is. The brand's Virtual Cockpit is the star attraction, looking elegant while being comprehensive with its driving info and yet easy to get to grips with.
The MMI infotainment system is also easy to live with, thanks largely to the fact that it comes with a simple to operate touch-sensitive pad.
In terms of how practical the car is, it's got two doors and its back seats are really only to be used sparingly. If you can live with this, it's got a degree of usability that should appeal to buyers who need a luxury car for weekend getaways.
Its boot measures an impressive 465-litres, while there's more than enough room for two adults up front. Those in the rear will struggle to get into the seats in the first place, but once settled in anyone under six feet should be fine on shorter trips.
Equipment & Safety Of The Audi A5 Diesel Coupe
Standard kit across the range is good, with the entry-level model getting the likes of LED interior lights, LED rear lights, LED daytime running lights, a 7" colour screen, a digital radio and Bluetooth.
The Sport model chucks in front seats, LED ambient interior lighting, connected internet services and some subtle changes to the exterior. The S-Line rounds things off with leather upholstery, a sports steering wheel, LED headlights and 18" alloys.
Is the Audi A5 Diesel Coupe safe? It scored all five stars when crash tested by Euro NCAP, and coupled with its strong structure, we have no fears in this department. There's also lots of standard kit too, and it includes ISOFIX child seat mounts, tyre pressure sensors, anti-lock brakes and electronic stability control.
Costs Of The Audi A5 Diesel Coupe
Prices for the new car start out from £33,840 and rise to £42,895. For more information on our leasing deals, check out our page here.
In terms of its running costs, the 2.0-litre Ultra diesel that develops 187bhp is the most frugal in the range, returning 68.9mpg and emitting 106g/km of CO2. The bigger 3.0-litre V6 diesel, meanwhile, doesn't price itself with its running costs that much, and can return over 61mpg while emitting 119g/km as long as you stick to the smaller 17" alloys.
All models cost £140 per year in road tax and each one gets a three-year/60,000 mile warranty.
Pros and Cons Of The Audi A5 Diesel Coupe
Stunning Cabin
Audi just doesn't do bad cabins, and with their Virtual Cockpit installed this is one of their best yet.
Comfortable
If you're not looking for a sporty Coupe, the luxury and comfort on offer here is very satisfying.
Economical
Even the meaty 3.0-litre V6 diesel that does 0-62 in nearly 6.0 seconds returns 61.7mph.
Understated Looks
For some buyers, 'understated' will be a polite way of saying "rather dull."
Understated Drive
See above.
Audi A5 Diesel Coupe vs BMW 4 Series Diesel Coupe vs Mercedes E-Class Coupe
Let's see how the car fares against its rivals in the comparison section of our 2018 Audi A5 Diesel Coupe review.
Audi A5 Diesel Coupe vs BMW 4 Series Diesel Coupe
If you're an enthusiast, the new BMW 4 Series Diesel Coupe is probably a better shout than the Audi. It's great to drive and its rear-wheel-drive layout has tremendous appeal.
It's sharper to drive than the 3 Series and is arguably the most fun car in this sector. Its centre of gravity is low, its suspension settings are designed to aid its drivability, and in many respects it feels like a full-on sports coupe.
The ride is slightly on the firmer side of things but it still feels comfortable for the most part and there is barely any body lean.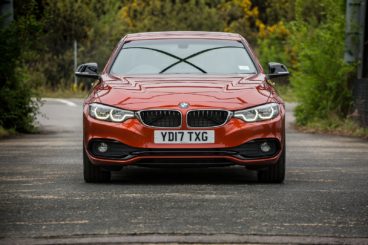 In terms of the engines, there was the worry that the diesels would be too focused on the economy and would, therefore, take something away from the car's driving dynamics. Fortunately, that isn't the case at all. The 420d is popular precisely because it's fast (0-62 is dispensed within 7.3 seconds), performative, affordable and super smooth.
That said, the other diesels really take things up a notch. The 430d model can get you from rest to 62mph in 5.5 seconds, while the 435d model covers the same sprint in 4.7 seconds. They benefit from six-cylinder engines but you can't pair either up with a manual gearbox. The most powerful of the two, meanwhile, comes with four-wheel-drive as standard.
Running costs? There are more frugal engines on the market, but the 62.8mpg economy returned by the 420d model is impressive. Adding the 8-speed automatic transmission will negatively impact those numbers slightly, while the bigger 430d and 435d engines cost more to run overall, returning 55.4mpg and 50.4mpg.
Inside, the BMW has a classy cabin that's well insulated and comfortable. It looks better than last time, though most of the changes are subtle and concern things like the gloss-black trim and chrome compartments, which have been tweaked
Overall, the aesthetic is businesslike. Some buyers will like it, others won't.
Is the BMW 4 Series Diesel Coupe practical? There's more rear seat space than in the Audi and four adults should be able to sit comfortably back there, where headroom is good. Its 445-litre boot, on the other hand, is smaller than the Audi.
It's easy enough for the driver to get comfortable, with the driver's seat and steering wheel offering lots of adjustabilities. Storage spaces are hit and miss; the glovebox is fine but the door pockets are a bit slender. Overall, it's a suave, fun and fairly usable Coupe.
Price:
Audi – £33,840 – £42,895
BMW – £33,110 – £47,280
Audi A5 Diesel Coupe vs Mercedes E-Class Coupe
The new Mercedes E-Class Coupe offers the most cosseted ride in this class. It's also stylish and can offer more practical touches than last time.
On the road, the Mercedes offers a more relaxing driving experience than the Audi manages. That said, Mercedes are also keenly aware that they don't want their drivers to get bored and have made a few tweaks to boost drivability.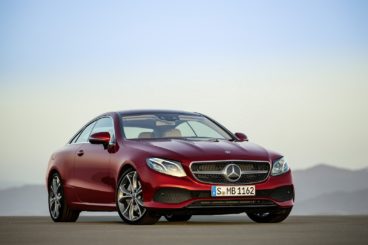 It's still on the heavy side, though, which means it isn't going to be as agile as the saloon variant. Thrill seekers still won't give it the thumbs up but it's more enjoyable than ever.
There's also plenty of performance on offer. The E220d diesel (which used to be the only diesel engine offered with this car) develops 191bhp and can get you from rest to 62mph in a respectable 7.4 seconds.
Did the car need a larger engine? Some would say not, but anyone who can afford the E350d model would argue otherwise. It's powered by a 3.0-litre engine that develops 258bhp, which is enough to gallop from a standstill to 62mph in 6.0 seconds flat. 4matic all-wheel-drive assists come as standard, but as expected the engine will hit you in the wallet at the pumps.
The E220 diesel is actually reasonable when it comes to running costs, and can return 61.4mpg while emitting 119g/km of CO2. It also has a BiK rating of 25%.
Inside, the car is comfortable, eerily quiet and well put together. The materials used are top notch, and all the plastics are soft and feel great to touch.
There are plenty of suave-looking details, such as the metal turbine air vents. Wood trim is available as is air suspension, while the frameless windows look fantastic. The brands COMAND Online navigation system is optional on most trims and it's well worth adding. It's packed full of driving information and comes with two screens.
Is the Mercedes E-Class Coupe practical? It's a bit longer than last time which means more interior space. Rear seat passengers will find an increase in legroom and should be comfortable enough on longer trips. Access is easy, storage solutions are good, but the boot measures 425-litres, which makes it significantly smaller than the Audi.
Price:
Mercedes – £40,180 – £51,415
Verdict Of Our 2018 Audi A5 Diesel Coupe Review
There was probably a 10% chance Audi would surprise us all by putting together an entertaining, sporty coupe this time around. Let's face it, though, that was never going to happen, and instead Audi has stuck to what they do best: Luxurious, elegant, well-crafted Coupe's that are comfortable and affordable to run.
There's nothing brash about the latest A5. It might not be tremendously exciting, but it's got a touch of class that makes it super appealing. It's stuffed with tech, sports an exquisite cabin and is even a bit practical. The new Audi A5 Diesel Coupe is going to make it hard for you to make your mind up.
When you lease a car with OSV there are no hidden costs, request a call back and we'll find you a finance, lease or purchasing deal designed just for you.