Review Of The Audi A6 Diesel Avant
The new Audi A6 Diesel Avant is a hefty exec estate that boasts excellent practicality levels and lots of performance. Surprisingly, it's also economical.
It's essentially the bigger, more usable version of the A6 Saloon and is just as well-finished and furnished. And while many buyers these days are more interested in SUVs, we think the large exec estate class has still got lots to offer.
OSV takes a closer look at what it's all about with our 2018 Audi A6 Diesel Avant review.
The A6 Avant is an accomplished motorway cruiser. It might not be as agile as, say, a BMW and the steering lacks communication. But overall, it's a safe, predictable and composed way of getting out and about with your family.
Moreover, it's easier to drive than its predecessor. This is largely thanks to a new aluminium body that's helped it to shave some weight.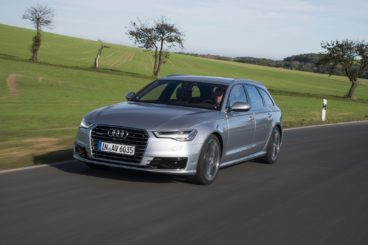 In terms of its engines, the standard A6 Avant is actually only available with diesels. The range begins with a 2.0-litre TDI Ultra unit that develops 187bhp, which is enough to haul the car from a standstill to 62mph in 8.7 seconds. That might be a bit restrained for some of you, and while specifying the optional 7-speed automatic transmission speeds things up, it only changes its 0-62 time to 8.5 seconds.
That said, while the car is clearly a bit sluggish on paper, it feels pretty fast and has lots of pulling power available.
A 3.0-litre TDI diesel is next up. It produces up to 215bhp, feels smoother, and can do the 0-62 gallop in 7.3 seconds which is a bit more like it. If you add Quattro four-wheel-drive, you can chop that time down to 6.8 seconds.
A 268bhp variant of the same engine is faster still, and can get you from rest to 62mph in 5.7 seconds before maxing out at 155mph. If you have any desire/need to go even faster in an estate car, the faintly ridiculous 3.0-litre BiTDI 316bhp Quattro diesel covers the 0-62 sprint in 5.2 seconds. That's stunningly quick for a car of this type.
Audi A6 Diesel Avant Interior, Design & Build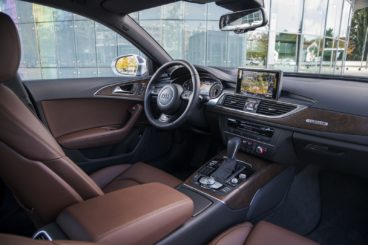 As ever in an Audi, the materials used are of a very high quality. Soft-touch plastics abound, the surfaces are plush and the controls are durable and sensibly located. Each model gets an MMI control system that, although it takes a bit of getting used to, takes care of most of the A6 Avant's functions and is therefore super useful.
The most noticeable aspect of the cabin when you're on the move is how comfortable it is. Ride quality isn't always Audi's strength but the standard models on 17" alloys are very comfy indeed. Insulation is also good, and leather, supportive seats come as standard.
In terms of how practical it is, the biggest concern you might have when you first set eyes on it is "how easy will it be to park?" Without the brands parking system it can be tricky but adding it makes parking a cinch.
That said, Audi has also made the car shorter this time around. However, they've increased its width so there's now more rear seat space for two adults. Headroom is good all around, but you'll find it hard to sit three adults in the rear as anyone unfortunate enough to be sitting in the middle will have a large bump to deal with.
There are plenty of cubbies here and there, including a reasonably sized door bin, while the boot measures 565-litres. Fold the rear seats and you can extend it to 1,680-litres. There's next to no load lip which is a bonus.
Equipment & Safety Of The Audi A6 Diesel Avant
Standard kit across the range is good, with the entry-level models getting the likes of leather seats, parking sensors, a digital radio, four-zone climate control, sat-nav, phone connection and Bluetooth.
Audi drive select is also standard, and this is a useful system that lets you flick between Comfort, Auto, Dynamic and Efficiency driving modes.
The S Line model adds 18" alloys, headlight washes, LED rear lights, leather upholstery and a leather-trimmed multi-function sports steering wheel. The Black Edition rounds things off with a lathe trimmed multi-function flat-bottomed steering wheel and Bose surround sound.
Is the Audi A6 Diesel Avant safe? It scored 5/5 when crash tested by Euro NCAP, while its standard safety kit includes the brands Parking System Plus, an anti-theft alarm, electronic stability control and 6 airbags. Each model also gets hill-hold assist, while rear side airbags, blind spot monitoring and lane-departure warning are optional.
Costs Of The Audi A6 Diesel Avant
Prices for the new car start out from £35,300 and rise to £61,665. For more information on our leasing deals, check out our page here.
In terms of its running costs, the 2.0-litre TDI Ultra diesel returns just over 64mpg if you pair it up with the automatic 'box, and while you can stick with the manual transmission, it will cost you a bit more to run. It also emits less CO2 if you go for the automatic (114 vs 124g/km).
The 3.0-litre 215bhp TDI is more powerful and can be fitted with Quattro four-wheel-drive. Doing so pegs its economy at 55mpg. Meanwhile, a bigger 268bhp variant is good for 53mpg and emits as much as 144g/km of CO2.
Then there's the all-powerful 3.0-litre twin-turbo BiTDI diesel unit that averages over 45mpg while emitting 164g/km of CO2. Not bad for a car that can get you from rest to 62mph in 5.2 seconds.
Pros and Cons Of The Audi A6 Diesel Avant
Looks Great
It looks absolutely beastly.
Stuffed With Kit
As mentioned earlier, the amount of kit that's standard is hugely generous and goes some way to justifying the price tag.
Strong Engines
There's some seriously staggering power on offer here and the best thing is that it doesn't mean running costs will be exorbitant.
Not The Biggest
There are bigger cars that will fill certain buyers' needs better.
Not The Most Fun
It's fun-ish. And that's a compliment. Ish.
Audi A6 Diesel Avant vs Mercedes C-Class Diesel Estate vs Volvo V90 Diesel Estate
Let's see how the car fares against its rivals in the comparison section of our 2018 Audi A6 Diesel Avant review.
Audi A6 Diesel Avant vs Mercedes C-Class Diesel Estate
The new Mercedes C-Class Diesel Estate is similar to the Audi in a lot of respects; it's comfortable, luxurious and boasts a practical boot.
In terms of comfort on the road, the Mercedes just about edges the Avant. Driver engagement is weak and there isn't much feedback, but if it's supreme ride quality you're looking for, the C-Class is tough to beat.
Air suspension is an optional extra and it makes the ride ridiculously comfortable when you're out on the motorway. That said, there's a caveat as switching to Comfort increases excess body lean.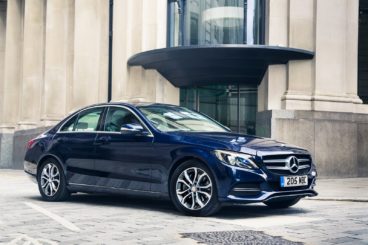 In terms of the engines, the biggest diesel powers the C250 BlueTEC engine. It develops 201bhp, which is enough to get you from rest to 62mph in 6.9 seconds. The C220 diesel isn't far behind and has enough power to cover the 0-62 dash in 7.6 seconds. Both cars share a 2.1-litre engine that's a tad on the noisy side when you put your foot down.
The C200 model gets a smaller 1.6-litre diesel unit that does 0-62 in 10.1 seconds. It's more affordable to buy but not as economical. Instead, the C220 BlueTEC model takes the crown for being the most frugal diesel with returns of around 68.9mpg economy. The C250 BlueTEC, meanwhile, returns 62.8mpg at best and emits 117g/km of CO2.
Like the Audi, the Mercedes impress with a top-class interior, with even the entry-level models getting satin chrome highlights and gloss-black surfaces. Comfort suspension comes as standard and insulation are good.
The dashboard feels very high-tech, thanks to the inclusion of a pair of colour screens and an intelligent touchpad. All models are well-built and feel ultra-sophisticated but it's not until the Sport model that you get sat-nav and heated front seats.
Is the Mercedes C-Class Diesel Estate practical? It's competitive with the Audi overall but its 490-litre boot is significantly smaller. Fold the rear seats and you can extend that to 1,510-litres. It's a usable boot that comes with an electronic tailgate and splitting the rear seats is as simple as touching a button.
The car is longer than last time, which means there's more rear-seat legroom, but it's a shame that the entry-level model misses out on a useful reversing camera. Without it, this lengthy car can be tricky to park.
Price:
Audi – £35,300 – £61,665
Mercedes – £30,235 – £47,030
Audi A6 Diesel Avant vs Volvo V90 Diesel Estate
The new Volvo V90 Diesel Estate is a sumptuously designed large family car that's safe, comfortable and packed with quality.
Volvo has produced a lot of estates down the years and this is very possibly their best yet. It's not super fun behind the wheel, but it is super relaxing. If you test the Audi first and then test the Volvo, you won't notice much of a difference.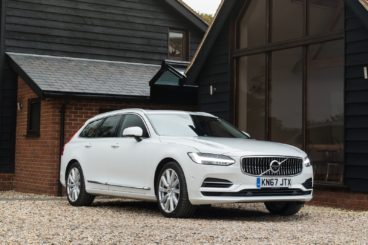 The V90 comes with some smart semi-autonomous driving systems that improve its dynamics, and while it's not the most agile car in the world it deals with corners well. On the motorway, it makes for an excellent cruiser.
In terms of its engines, the D4 187bhp model covers the 0-62 dash in 8.5 seconds, but the D5 232bhp model is a better cruiser, has more punch and gets from rest to 62mph in 7.2 seconds. Both models are powered by the same 2.0-litre diesel engine but the latter benefits from the brands PowerPulse tech to boost its performance. It also gets four-wheel-drive as standard.
Overall, though, the Audi has the Volvo beaten for smoothness. The four-cylinders here are noisy and don't really settle down on longer trips. Moreover, the Volvo is automatic only.
Running costs? The smallest D4 is good for returns of a 63mpg economy and emits 119g/km of CO2, which is par for the course in this class. The car has a BiK rating of 25%. The meatier D5 engine, meanwhile, struggles with weight of its four-wheel-drive system and added performance, and it returns 57.6mpg at best.
Inside, the Volvo gets five stars from us. Their cabins are just getting better and better, and the V90 is a case in point. The seats are supportive and comfortable, the leather upholstery is nice and soft, and the materials used are of a premium quality.
The dashboard is similar to the one in the S90 Saloon, which means it's gorgeously laid out and finished to a high standard. Each model gets a portrait-oriented 9" touchscreen which dazzle the eyes, but if we can have a criticism it's that we would have liked more USB points.
Is the Volvo V90 Diesel Estate practical? Its boot is right up there with the Audi, measuring 560-litres. Fold the rear seats and you can increase that to 1,526-litres. Its shape is practical but there is a high load lip to deal with.
Other than that, the V90 is a very practical family car. There's lots of interior space, everyone is well catered for, and there are a ridiculous amount of cubbies dotted around the place.
Price:
Volvo – £36,435 – £49,915
Verdict Of Our 2018 Audi A6 Diesel Avant Review
Us Brits love an Audi and there are good reasons for that: Audi's tend to be desirable, they sport stunning interiors and stunning looks, they're well built and they're mostly affordable to run. The Audi A6 Diesel Avant has all of that and wraps it up in a powerhouse package that's exciting but also family friendly.
When you lease a car with OSV there are no hidden costs, request a call back and we'll find you a finance, lease or purchasing deal designed just for you.