Review Of The Audi A6 Diesel Saloon
The new Audi A6 Diesel Saloon is smart-looking, powerful and surprisingly affordable to run. It looks the part, feels the part and should be on anyone's shortlist who are looking at the large exec saloon class.
Among all the things that buyers will appreciate about the A6 – besides its beautiful interior – is how comfortable it is on longer journeys. Couple that together with low running costs and it's a very enticing product for high mileage drivers.
OSV takes a closer look at what it's all about with our 2018 Audi A6 Diesel Saloon review.
The new A6 Saloon won't knock your socks off, but if it's a comfortable and relaxed driving experience you're looking for, it ticks all the boxes. The steering is light and the suspension – which now boasts fibreglass springs – does a terrific job of ironing out lumps and bumps in the road.
Not all models can be fitted with four-wheel-drive, but it's a useful option if you want to turn your car into a tower. Quattro provides more grip but it won't make the driving dynamics any more exciting.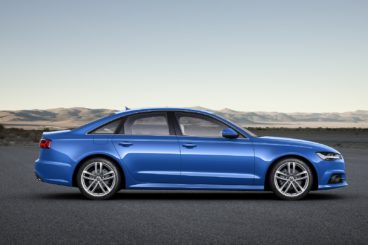 If you want more excitement, you could specify sports suspension and larger wheels but even then you'll only notching things up ever so slightly. The truth is that if you want a genuinely entertaining ride, you'll need to cast your gaze at the BMW 5 Series.
In terms of the engines, the entry-level Ultra Diesel will be one of the most popular, thanks largely to its super low running costs. It's also reasonably performative and can get you from rest to 62mph in 8.1 seconds. Thanks to its soft suspension setup and small wheels, it offers a very comfortable ride.
The 3.0-litre diesel engines offer more speed and performance and are well worth looking at. They suit a car like this more, with the range-topping bi-turbo unit able to dust off 0-62 in 5.0 seconds flat before maxing out at 155mph. Because there are not petrol engines available, this could almost be considered as the high-performance engine of the range.
There are three gearboxes to choose from, but only the smaller engine can be specified with a manual gearbox. However, you can specify it with a 7-speed S-Tronic transmission if you prefer.
Meanwhile, an 8-speed TipTronic 'box is reserved for the bi-turbo engine only.
Audi A6 Diesel Saloon Interior, Design & Build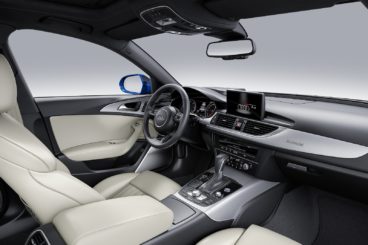 One of the best things about Audi's interior is its high comfort levels. The driver's seat and steering wheel have full adjustability, which makes it easy for the driver to find the ideal position. Front and rear parking sensors are standard and this makes life even easier.
Insulation is excellent, with the wind, road and engine noise well suppressed. The entry-level models benefit from soft suspension but the sportier S Line model boasts stiffer suspension and bigger wheels which will cause the car to jerk over poorer surfaces.
As ever with Audi, the dashboard is a classy affair. It's superbly put together, build quality is excellent and the controls are logically laid out. Look around you and you'll see lots of soft-touch plastics, with the overall feeling being that the A6 Saloon's interior is a rather pleasant place to spend your time.
The only real criticism we have of the cabin is the MMI scroll wheel which, while it looks great, turns opposite to the direction you'd expect. Drivers will get used to it so it's a good idea to not let it frustrate you too much during a test drive.
In terms of how practical it is, the Audi A6 boasts lots of interior space which makes it an appealing family car. Taller adults should be just fine in the rear, and the large windows help to make it feel nice and airy.
Leg and shoulder room shouldn't be an issue, although it's worth pointing out that the new version is shorter than its predecessor. The boot, meanwhile, measures 530-litres which is impressive. However, folding the rear seats will only increase it to 995-litres.
Equipment & Safety Of The Audi A6 Diesel Saloon
Standard kit across the range is good, with all models getting four-zone climate control, a stereo, LED rear lights, bright xenon headlights, alloys, heated front seats, sat-nav and a leather interior.
The S Line models get sports suspension, a sporty body kit, 18" alloys, a 3-spoke steering wheel and upgraded sports seats. The Black Edition rounds things off with unique looks, a de-chromed exterior and 20" alloys.
Is the Audi A6 Diesel Saloon safe? It was awarded all five stars when crash-tested by Euro NCAP, while its standard safety kit includes electronic stability control, tyre pressure monitors, seatbelt warning buzzers and 6 airbags.
If you want to feel safer, a Technology Pack Advanced costs £3,265 and gets you lane-keeping assistance, blind-spot warning and active cruise control.
Costs Of The Audi A6 Diesel Saloon
Prices for the new car start out from £33,160 and rise to £51,960. For more information on our leasing deals, check out our page here.
In terms of its running costs, the 2.0-litre Ultra is the most frugal engine in the range. It returns 67.3mpg economy and costs just £140 a year to tax. For a large exec saloon, that's impressive. That said, you'll need to specify the 7-speed automatic 'box and stick to the smaller wheels to get those figures.
The 3.0-litre diesel, meanwhile, is available in two guises, with the smaller of the two returning 55.4mpg and the bigger one returning 47.1mpg at best.
Pros and Cons Of The Audi A6 Diesel Saloon
Economical Ultra Diesel
It might not be the most performative engine, but returns of over 67mpg will be hugely appealing.
Strong Quattro System
Quattro four-wheel-drive can be specified and it offers a lot of grip.
Top Notch Interior
As per modern day, Audi models, the well-appointed and well-built cabin is impeccable.
Not Massively Fun
If you want to be entertained on the road, you'll need to look at the BMW 5 Series.
Expensive Options
They'll bump up the list price, and if it goes over £40,000, you'll get a £310 road tax surcharge.
Audi A6 Diesel Saloon vs Maserati Ghibli Diesel Saloon vs Infiniti Q70 Saloon
Let's see how the car fares against its rivals in the comparison section of our 2018 Audi A6 Diesel Saloon review.
Audi A6 Diesel Saloon vs Maserati Ghibli Diesel Saloon
The new Maserati Ghibli Diesel Saloon won't find it hard to convince buyers to give it a test. But beyond all the allure, is there any substance?
On the road, the Maserati struggles to be as comfortable as the Audi. It will fidget and you'll be aware of its weight, and while it's perfectly fine and compliant on smoother surfaces, let's face it: Britain doesn't exactly have many of those.
That said, in perfect conditions and in full flow, the Maserati is a joy to behold. It sure is heavy but weight distribution is excellent and the car corners well.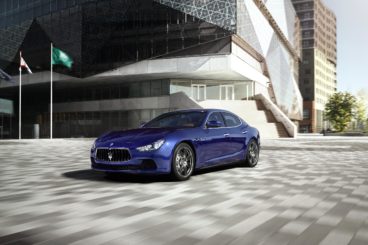 In terms of the engines, the petrols have the "wow" factor but the solid diesel has running costs on its side. It's a 3.0-litre unit that develops up to 271bhp, which is enough to get you from a standstill to 62mph in 6.3 seconds. It makes a bit of a grumble when pushed hard, and while Sport mode is probably designed to make it more spine-tingling, the truth is that it makes a noise most people probably don't want to hear.
There's no manual gearbox available, but the 8-speed automatic 'box can be specified with steering wheel-mounted paddles.
Running costs? The diesel returns 47.9mpg at best while emitting 158g/km of CO2. It has a BiK rating of 33%, which all seems very reasonable for a car of this type. However, the diesel sits in the same insurance group as all the petrols – group 50, which is the highest there is.
The Maserati's interior surely wasn't going to be anything else other than luxurious and well-appointed. It's also reasonably well equipped, with the likes of dual-zone air conditioning and a digital radio and an 8.4" infotainment display coming as standard, but the list of optional extras is extensive and expensive.
They are a pair of trims available, with the GranLusso being the more premium of the two. It gets special Comfort seats, wood trim and full leather.
Is the Maserati Ghibli Diesel Saloon practical? There's plenty of room up front to ensure the driver and their passenger feel luxurious, but there's much less room in the rear. It's a large exec saloon so you'd expect more room back there, but it's probably better to think of the Maserati as a coupe-come-saloon.
For one thing, the sloping roofline impinges on backseat headroom, while the transmission tunnel is the most awkward one we've come across. The boot, meanwhile, measures 500-litres and as such falls short of the Audi. It also comes with a high load lip.
Price:
Audi – £33,160 – £51,960
Maserati – £51,165 – £73,840
Audi A6 Diesel Saloon vs Infiniti Q70 Saloon
The new Infiniti Q70 Saloon is the alternative choice in this review. Hardly as glamorous as either the Audi or the Maserati, it's a lot cheaper to buy and sports good looks, lots of kit and efficient engines.
Rather unusually, the Infiniti has a rear-wheel-drive layout, but while that might get enthusiasts a bit hot and bothered, the Infiniti isn't as fun to drive as a 5 Series. The inconsistent weighting of the vague steering is off-putting, and while the suspension is nice and soft, it causes too much body lean for our likings.
Moreover, the car comes with big wheels, which means it jerks over lumps and bumps. The Q70 doesn't offer the most serene of driving experiences.
In terms of its engines, there's just one diesel on offer. It's a 2.2-litre unit that's refined, smooth and delivers a decent amount of mid-range power. It's on the slow side, though, and will take almost 9.0 seconds to complete the 0-62 gallop. That makes it by far the slowest car in this review.
Sharper-eyed readers will note the absence of the car's old 3.0-litre diesel. It's been replaced with the 2.2-litre unit, which has actually come from Mercedes. Infiniti reckon it can return 58.9mpg economy, which is awesome, but in the real world you'll be looking at around 45mpg. Still, that's not bad and your yearly tax bill will be £140.
Inside, the Infiniti is reasonably comfortable, while double-glazing windows do a decent job of keeping exterior noises out. On the motorway, it's a very quiet car.
The dashboard isn't the most user-friendly that we've come across, and the sat-nav feels and looks a bit dated. Some of the buttons, meanwhile, are clunky – and there are too many of them.
Is the Infiniti Q70 Saloon practical? It's super spacious and four adults will have plenty of room to get comfortable. Legroom is especially good, and although there's a sloping roofline it doesn't really affect headroom too much. The boot, meanwhile, measures 500-litres.
Price:
Infiniti – £34,260 – £39,810
Verdict Of Our 2018 Audi A6 Diesel Saloon Review
There's really not much counting against the Audi. As far as large executive saloons go, the only thing missing is a fun drive. Apart from that, you can choose a super economical engine or a powerhouse one, the interior once again impresses from Audi, and the ride is comfortable. The Audi A6 Diesel Saloon is a stellar, luxurious package.
When you lease a car with OSV there are no hidden costs, request a call back and we'll find you a finance, lease or purchasing deal designed just for you.