Review Of The Audi A8 Diesel Saloon
The Audi A8 Diesel Saloon has always been a good car and it's now more impressive than ever. It feels smoother, it's got more power, and it's never handled so neatly.
What really sets it apart from its rivals, however, is the sheer amount of standard advanced technology that's on board, from online route mapping to the Virtual Cockpit. A car has rarely been this innovative.
It's up against some strong competitors in the large luxury saloon market, though, and making your mind up is going to be difficult. Has the fuel-efficient Audi got what it takes to stand out? OSV takes a closer look at what it's all about with our Audi A8 Diesel Saloon review.
The Audi has struggled over the years to deliver its own USP. It's never been the flashiest of saloons, and neither has it been the most fun. It still isn't what you'd call fun but it's quiet, comfortable and enjoyable.
There's no denying that it's a heavy car, but Audi has done a good job with the four-wheel steering system to take a load off, so to speak. This system increases the car's agility by reducing its turning circle and will come in especially handy on tight city streets.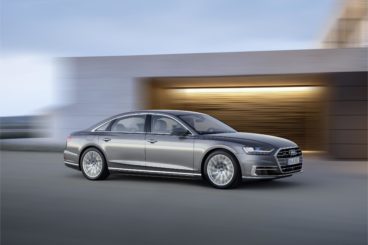 On the motorway at higher speeds, however, you will notice the car's weight.
The ride quality is a bit on the firm side but not enough to be mega uncomfortable. Body control is good, there's very little lean and thanks to the strong brakes, it's possible to hit corners with enthusiasm.
In terms of the engines, the 3.0-litre diesel is a bit of a stalwart in the A8 Saloon's range. It develops as much as 282bhp, has lots of pulling power and can get you from rest to 62mph in 5.9 seconds. It comes paired up with a smooth, seamless and responsive 8-speed automatic transmission.
Audi will be adding a 4.0-litre V8 diesel engine to the range later this year, but there's not much to say about it except that it delivers 429bhp and sounds absolutely massive.
Audi A8 Diesel Saloon Interior, Design & Build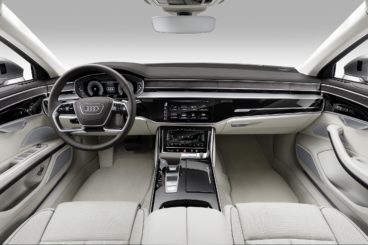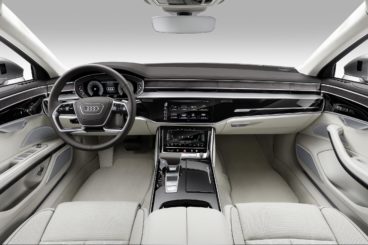 Audi doesn't do bad interiors, but neither do they do good interiors. Instead, they do spectacular interiors and this is what we have here. Passengers will be dazzled just as much as you will by the amount of tech onboard, while the excellent insulation means there are times when you could be sat in absolute silence.
That said, the wide tyres will make themselves heard once you get up and running on the motorway, while the Mercedes S-Class – as we'll find out below – is even quieter.
This A8, however, is the smoothest so far, and it glides over potholes like a jet ski over water.
Its dashboard is also it's most impressive so far. Black gloss covers its face, while a 10.1" central touchscreen controls the infotainment system and various other features. It sits on top of an 8.6" screen that's equally intuitive – but also equally complicated.
True, both systems will take a while to get used to but the virtual buttons will help you get to grips with things, while pinch-and-swipe boosts usability.
Virtual Cockpit is also on hand (and it's standard across the range for once!), and as ever it's impressively presented and super useful.
Is the Audi A8 Diesel Saloon practical? It is to an extent. It's the largest saloon in Audi's stables, but they haven't designed it to be super versatile. Instead, it's just spacious and comfortable.
Rear seat room is just about better than last time, but while it's possible to squeeze three adults into the back, two will be much more comfortable. A transmission tunnel will further make things awkward for anyone sat in the middle, but there's a longer wheelbase model available that has ample more legroom.
The boot measures 505-litres, which is par for the course in this class.
Equipment & Safety Of The Audi A8 Diesel Saloon
As mentioned, all models get the brands superb Virtual Cockpit, while all models also get a high-def head-up display, LED lights front and rear, power-adjustable and heated front seats, online route planning, detailed 3D city models, Audi AI remote garage pilot, Audi Connect and adaptive cruise control.
In terms of how safe the car is, it's not yet been crash tested by Euro NCAP but we'd expect it to scoop all five stars. Standard safety kit is excellent and there's lots of advanced tech thrown into the mix, including blind spot monitoring, autonomous emergency braking, active pedestrian protection, anti-kerb warning and 360-degrees cameras.
Costs Of The Audi A8 Diesel Saloon
Prices for the new car start out from £71,000 and rise to £74,995. For more information on our leasing deals, check out our page here.
In terms of its running costs, Audi worked hard to keep the car as light as possible, going as far as using magnesium and carbon-fibre components, as well as high-strength steel. However, the A8 has still ended up being heavier than last time, and this means its economy and emissions have been impacted.
That said, possible returns of 50.4mpg from the 282bhp 3.0-litre diesel engine are impressive, while emissions for the same engine stand at 145g/km of CO2.
Insurance groups, meanwhile, haven't been confirmed yet but we expect the 3.0-litre diesel to sit in group 46 out of 50.
Pros and Cons Of The Audi A8 Diesel Saloon
Loads of Advanced Tech
It's the sheer amount of tech, from detailed 3D city models to Audi Connect, that sets it apart from its rivals.
Fairly Economical
It's staggering that a car that can do 0-62 in 5.8 seconds can still be in with a shout of returning just over 50mpg economy.
Classy Interior
It's impossible to expect anything less from Audi than a well-groomed interior that's as luxurious as they come.
Underwhelming Looks
It's unlikely to grab your attention in the showroom.
More Comfortable Options Elsewhere
If it's the last word in relaxation you're looking for, the Mercedes below is a better option.
Audi A8 Diesel Saloon vs Jaguar XJ Diesel Saloon vs Mercedes S Class Diesel Saloon
Let's see how the car fares against its rivals in the comparison section of our 2018 Audi A8 Diesel Saloon review.
Audi A8 Diesel Saloon vs Jaguar XJ Diesel Saloon
The monstrous new Jaguar XJ Diesel Saloon would be in danger of being an utterly ridiculous car were it not for the single sensible diesel engine available.
The engine in question is a 3.0-litre V6 unit that develops 296bhp. It's a bit of a beast itself that can get you from a standstill to 62mph in 6.2 seconds, but it's the most low-key engine in the range, with one of the petrols covering the same sprint in almost 4.0 seconds.
The diesel will be powerful enough for most buyers, however, and it's still quick when you consider how heavy the Jaguar is.
In terms of how it drives, the XJ is more involving than the Audi. It boasts lightweight construction, fast steering, and body lean is minimal. The wraparound creates a driver-focused atmosphere, as does the low seating position.
Running costs? The 3.0-litre diesel engine returns around 49.7mpg and emits just under 150g/km of CO2. That's not bad for a car in this class, but opting for the bigger alloys will bump its emissions up to 155g/km. Meanwhile, it has a BiK rating of 31%.
Inside, the cabin is a pleasant place to spend your time on the road. The centre console, dashboard and seats all get leather trim, and there's lots of standard kit available. However, Jaguar has found it hard to get the right balance between comfort and handling, and it can't match the Audi when it comes to the former.
The infotainment system also isn't a match for the Audi's, but there's a lot of polished wood veneer, solid metal and soft-touch plastics to enjoy.
Is the Jaguar XJ Saloon practical? It's large, which means lots of interior space. Those in the back are well-accommodated, and there's both a longer and a shorter wheelbase version to choose from.
If you're in a good mood, you can treat your back seat passengers to a pair of electrically adjustable seats. Other than that, they'd have to make do with the three-seater rear bench that comes as standard.
The boot, meanwhile, measures 479-litres and comes with a large opening for easy access.
Price:
Audi – £71,000 – £74,995
Jaguar – £59,995 – £101,370
Audi A8 Diesel Saloon vs Jaguar XJ Diesel Saloon vs Mercedes S Class Diesel Saloon
The new Mercedes S-Class Diesel Saloon is one of the best luxury saloons on the market – and one of the best cars full-stop.
On the road, it's comfortable, refined and smooth. If you need a hassle-free and gorgeously serene driving experience, it's going to be tough to overlook the S-Class. It might not entertain you in corners like a BMW, but it has never done and (probably) never will do.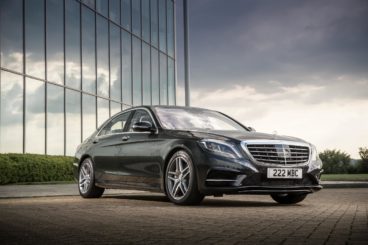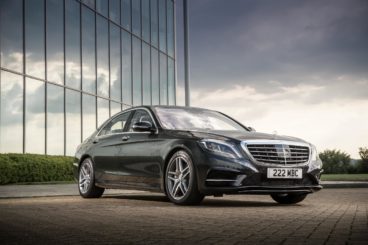 Body lean is at a minimum even if you do decide to take bends with a bit of gusto, and there's lots of grip on offer. The steering feels a bit artificial, but it's a heavy car and it's clear that Mercedes decided not to take any chances.
In terms of its engines, an old V6 diesel has finally been replaced with a spirited young gun in the form of a 3.0-litre straight six engine that's available with two power outputs. The smaller of the two develops 264bhp, which should be enough for most buyers, while the bigger of the two develops 335bhp.
Both are sharper and smoother than last time, while a S300h diesel hybrid rounds the range off. It develops 228bhp, returns as much as 61.4mpg economy, but isn't as refined as the other diesels.
The regular diesels aren't as cheap to run, but returns of 52.3mpg from the smallest 3.0-litre engine are still good for a car of this size.
Inside, the S-Class boasts an impeccable interior that gets 5/5 from us. Refinement is excellent if you avoid the hybrid, a pair of 12.3" TFT screens replace the usual infotainment screens and instrument cluster, while each model also gets a COMAND infotainment system which you control via a rotary controller.
There's soft leather upholstery on the seats, while brushed aluminium and wood veneer make up the trim pieces.
Is the Mercedes S-Class Diesel Saloon practical? Like the Audi, it's a huge car and this means lots of interior space. Those in the rear will have no complaints, with even the shorter wheelbase model getting plenty of leg and headroom. There's a longer wheelbase model available should you need it, but the question is: How much space do you really need?
The driver and their passenger gets treated to super comfortable seats, while the boot measures around 500-litres if you stick to the standard model. Going for the hybrid model means you get less space.
Price:
Mercedes – £72,705 – £187,240
Verdict Of Our 2018 Audi A8 Diesel Saloon Review
Now in its fourth generation, this big luxury saloon might have just been edged out by the Mercedes but it's still a class act. The sheer amount of onboard tech available is bewildering, but the difficulty will lie in getting used to it. Apart from that, while it can't match the Mercedes for comfort, the new Audi A8 Diesel Saloon is still relaxing, boasts an impeccable cabin, and treats all passengers well.
When you lease a car with OSV there are no hidden costs, request a call back and we'll find you a finance, lease or purchasing deal designed just for you.