Review Of The Audi Q2 Estate
The new Audi Q2 Estate is a smart-looking small family car that lines up against the likes of the Nissan Juke, but which hopes to tempt buyers with its four rings and its upmarket interior.
Indeed, the Q2 costs more to buy outright than its mainstream rivals, and its list of optional extras is extensive and expensive. But there's plenty of room for personalisation here and if you want a practical car that's hugely desirable and not too big, it's one of the most appealing around.
OSV takes a closer look at what it's all about with our 2018 Audi Q2 Estate review.
The Q2 is a bit bigger than your average Hatchback and it boasts a higher driving position, but it drives just like one. That's good news if you want a very car-like experience but bad news if you wanted something more in line with a pure SUV. For that, you could take a look at the bigger Audi Q3.
As it is, body lean is minimal here while the steering is precise and responsive. Drive Select is available as an optional extra and it lets you alter the suspension, transmission and steering to suit your mood or the conditions.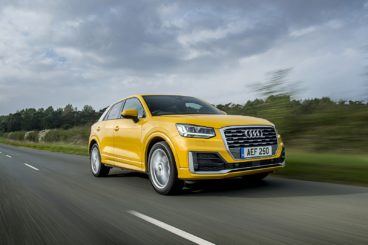 Overall, it's an enjoyable car to drive and it competes well with its mainstream rivals. In fact, we'd say it's one of the easiest cars to drive in this class.
A 6-speed manual 'box comes as standard and it's likeable enough, but an S-Tronic automatic suits the car's character more. It changes gear smoothly and it will also save you a bit of cash on fuel.
Four-wheel-drive isn't yet available with the 1.4-litre petrol engine but it should be added at a later date. As usual, the system is well worth adding if you reckon you'll be taking the Audi out of some pretty compromising situations fairly regularly. It costs £1,500 and its extra weight will bump fuel costs up a bit.
In terms of the engines, the aforementioned two-wheel-drive 1.4-litre petrol TFSI unit kicks things off with a 0-62 time of 8.5 seconds. It's noisy but not unpleasantly so, and it can be paired up with the 7-speed S-Tronic dual-clutch automatic transmission that allows you to take the reins using steering-wheel-mounted paddles.
The 1.4-litre petrol engine is our favourite and it sits above a turbocharged 1.0-litre engine that develops 113bhp. It's not massively powerful but it impresses us with its punch. It can do 0-62 in just over 10 seconds and proves useful for when you want to perform an overtake.
A range-topping 2.0-litre petrol engine that gets four-wheel-drive as standard will be launched later in the year.
Audi Q2 Estate Interior, Design & Build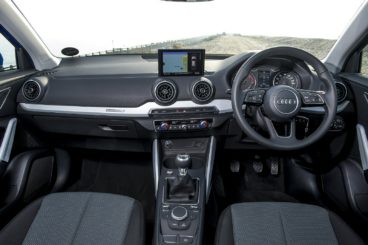 As ever, an Audi interior is luxurious and well put together. Its dashboard is tastefully and simply designed, and the top-notch materials ensure the cabin is a pleasant place to spend your time on the road.
The words we'd use to describe the atmosphere are welcoming and contemporary. Nothing seems out of place and, for once, Audi has broken free from their conservative shackles and allow plenty of scope for personalisation. For example, you can order dashboard trim inserts in the same colour as the car's exterior.
Ride quality is good as long as you avoid the sports suspension and larger alloys, although comfort is a bit more compromised in the rear.
Is the Audi Q2 Estate practical? It's more useful than its more affordable, mainstream rivals. It's based on the Audi A3, boasts easy access thanks to wide-opening doors, and comes with a high roofline which means headroom is good all-round.
The steering wheel moves up and down as well as in and out, and the driver's seat is also superbly adjustable.
On the face of it, the Q2 Estate is a small car but there's still lots of room for four adults. Knee room in the rear is slightly compromised but we think Audi has done a good job of packaging this car for longer trips.
The boot, meanwhile, measures a very respectable 405-litres.
Equipment & Safety Of The Audi Q2 Estate
Standard kit isn't really anything to get excited about and you might find yourself splashing out on optional extras to top things up. The entry-level model gets 16" alloys, air conditioning and Android Auto and Apple Car Play compatibility … but not a great deal else.
Step up to the Sport model and you'll get a bit more bang for your buck. Included in its standard kit are automatic lights and wipers, cruise control, Audi Connect, body-coloured bumpers, 17" alloys and flashes of bright silver bodywork.
The S Line model tops the range with its ambient interior lighting, part-leather sports seats, 18" alloys, unique styling details and all-round LED lights.
The brand's Virtual Cockpit system, meanwhile, is a £1,500 optional extra.
In terms of safety, the Q2 bagged all five stars when crash tested by Euro NCAP while its standard safety kit includes adaptive cruise control, traffic sign recognition, lane-departure warning and autonomous emergency braking.
Costs Of The Audi Q2 Estate
Prices for the new car start out from £21,660 and rise to £37,050. For more information on our leasing deals, check out our page here.
In terms of its running costs, the petrol engines will naturally cost more to run than the diesels, but thanks to advanced fuel-saving tech, the economy is decent. The 1.4-litre TFSI petrol engine gets the brands cylinder-on-demand system and this helps it to return around 51.4mpg while emitting 124g/km of CO2.
The smaller 1.0-litre petrol engine, meanwhile, sports one less cylinder and can return 55.4mpg at best while emitting 117g/km of CO2.
Insurance-wise, our top pick, the 1.4-litre TFSI, occupies group 18 out of 50.
Pros and Cons Of The Audi Q2 Estate
Spacious Cabin
There are cheaper rivals that can't compete with the Audi in terms of interior space.
Safe
The amount of standard safety kit is heartily reassuring.
Economical
Audi has added plenty of advanced fuel-saving tech to keep running costs for both petrol engines over 50mpg.
Expensive Compared To Rivals
As you'll find out below, you can pick up a mainstream rival for £6,000 less.
Lots of Optional Extras
They're expensive but they make the car better.
Audi Q2 Estate vs Nissan Juke Hatchback vs Fiat 500X Hatchback
Let's see how the car fares against its rivals in the comparison section of our 2018 Audi Q2 Estate review.
Audi Q2 Estate vs Nissan Juke Hatchback
The new Nissan Juke Hatchback costs £6,000 less than the Audi to start out with but can't compete with its desirability factor.
That aside, there's still plenty of reasons why the Juke is so popular in Britain. However, one thing it can't offer is an enjoyable drive. Its suspension setup tries its best to iron out lumps and bumps, but you'll certainly feel it if you hit a pothole.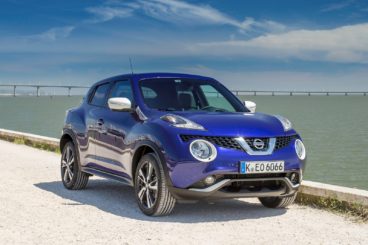 Handling is okay, body roll is controlled well, but the steering feels too light for our liking and this could cause a few drivers to get nervous on winding roads. Moreover, front-end grip is lacking.
In terms of the engines, a 1.6-litre petrol unit kicks things off. It develops a modest 93bhp if you stick to the manual gearbox and 113bhp if you specify the automatic CVT. Doing so gives it a 0-62 time of 11.5 seconds and it never feels especially quick. Moreover, the CVT 'box seems intent on strangling the engine.
Our preferred petrol engine is the DIG-T 1.2-litre turbo that suits this car's quirky nature. If your budget stretches far enough, there's also the option of a 1.6-litre DIG-T turbocharged petrol engine that develops 187bhp, and which completes the 0-62 dash in 8.4 seconds.
Running costs? The entry-level 1.6-litre engine returns 47.1mpg at best, which seems like a poor return for a car of this type. Bear in mind, however, that the sole Juke diesel can return as much as 70.6mpg.
Meanwhile, the turbocharged 1.2-litre petrol engine can return 49.6mpg, while the range-topping 1.6-litre DIG-T turbocharged is good for returns of 43.5mpg.
Inside, the Juke is as funky as last time, but while its looks are certainly eye-catching, the quality of the materials used isn't up to scratch. Moreover, comfort will be an issue.
However, for Nissan and its Juke fans colour is the order of the day. It's a fun interior that will raise a smile but if you want user-friendliness and usefulness, you'll need to keep looking at the Audi. The steering wheel can't adjust forwards and backwards, there are scratchy plastics here and there and the boot measures just 354-litres. That makes it over 100-litres bigger than last time but it's still 50-litres short of the Audi.
Price:
Audi – £21,660 – £37,050
Nissan – £15,080 – £23,525
Audi Q2 Estate vs Fiat 500X Hatchback
Like the Juke, the new Fiat 500X Hatchback is a funky-looking family car that puts the onus on retro. And like the Juke, it's a lot more affordable than the Audi.
On the road, the Fiat handles as neatly as you'd expect a high-riding crossover to handle. Body lean is well managed in corners and the steering is nice and sharp.
Ride quality is also perfectly fine unless you opt for the bigger alloys.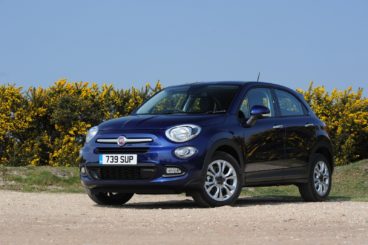 In terms of its engines, we like the turbocharged 1.4-litre MultiAir petrol engine that develops 140bhp. It's brisk, feels rather sporty and doesn't make too much noise even at higher speeds.
There's also the option of a four-wheel-drive 170bhp variant, but it returns just 42.2mpg economy. A smaller 1.6-litre petrol engine is offered with the entry-level Pop model, but while it's cheaper it's also underpowered and returns just 44.1mpg.
Our top pick, the turbocharged 1.4-litre MultiAir petrol engine, meanwhile, is good for returns of 47mpg, which contributes to its appeal.
Inside, there are plenty of retro touches to keep fans of the Fiat 500 Hatchback happy. The cabin is also roomy and comfortable and visibility is good. Especially for the driver, it's an excellent car to drive.
The dashboard is tasteful but stylish, with higher-spec models getting a neat 6.5" colour touchscreen. The materials look solid enough, build quality is good, and while Fiat clearly wanted to make the dash as retro as possible, it's also really useful.
Is the Fiat 500X Hatchback practical? It's not hugely spacious but it competes well in this class. There's plenty of room up front, where leg and headroom are good, and there are lots of storage spaces to help you keep things neat and tidy. These include a pair of glove boxes as well as a deep storage bin.
The boot, meanwhile, measures 350-litres which looks pretty meagre compared to the Audi. Fold the rear seats and you can extend it to 1,000-litres.
Price:
Fiat – £14,485 +
Verdict Of Our 2018 Audi Q2 Estate Review
Does Audi have a car for everyone these days? Pretty much. The Q2 is still a relatively new model and while there may have seemed no niche for it, Audi has found one. If you're on the lookout for an upmarket family car that's neither too big or too small, this might just fit the bill.
Sure, it's more expensive than mainstream rivals. But you're not just paying extra for the four rings; you're also paying for added practicality, better engines, more space and a classy interior that makes the new Audi Q2 Estate so desirable.
When you lease a car with OSV there are no hidden costs, request a call back and we'll find you a finance, lease or purchasing deal designed just for you.