Review Of The Audi Q7 Estate
The new Audi Q7 Estate is nearly perfect. It's safe, spacious and, as far as large cars go, is affordable to run. For families who want a confident and practical driving experience, it makes a lot of sense.
It's also got seven seats which will have tremendous appeal to bigger families, while Audi has done a good job at toning down its somewhat bulky looks of last time. But have they managed to improve the way it drives?
OSV takes a closer look at what it's all about with our 2018 Audi Q7 Estate review.
One of the problems with the previous Q7 was that it wasn't exactly the easiest car to drive in the world. It was just too big and heavy. This time around, Audi have shaved a considerable amount of weight off the new model and it's now more agile.
If you want it to feel even more agile, adding the optional four-wheel-steering system will help.
At speed, the car's lighter nature becomes apparent and the Q7 feels good. It changes direction faster, feels stable on the motorway and you can take corners enthusiastically without worrying about what's going to happen.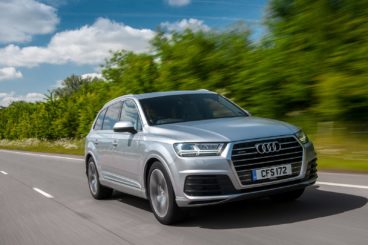 Meanwhile, body lean is kept to a minimum by the introduction of an electromechanical active roll stabilisation feature. It is, however, an optional extra here in the UK.
The Q7 is decent off-road and comes with four-wheel-drive, but if you're looking for a proper off-roader, you'd be better off taking a closer look at a Range Rover. With that in mind, Audi is clearly targeting the Range Rover with the Q7's luxurious driving experience and if you specify adaptive air suspension, refinement and comfort are on par with a Range Rover.
In terms of the engines, there was only one engine available at first, a 3.0-litre turbocharged diesel that develops 268bhp, and which can get you from rest to 62mph in 6.5 seconds. It's paired up with an 8-speed automatic transmission and stays mostly refined and composed even at speed. It's certainly an engine that adds to the luxurious driving experience that Audi was going for.
Since the Q7's launch, Audi has added a 215bhp variant of the same engine. It can do 0-62 in 7.3 seconds, has a decent amount of pulling power, gathers pace well, but does get noisy at speed.
There's now also the option of a plug-in hybrid that combines an electric motor with the 3.0-litre diesel engine for a combined output of 368bhp. It can get you from a standstill to 62mph in 6.2 seconds, makes very little noise in electric mode and picks up pace well.
Rounding off the range is a 4.0-litre V8 diesel engine that powers the Audi SQ7. It delivers as much as 429bhp, can do 0-62 in 4.9 seconds and distributes its power evenly. It also feels very, very fast and sounds fantastic.
Audi Q7 Estate Interior, Design & Build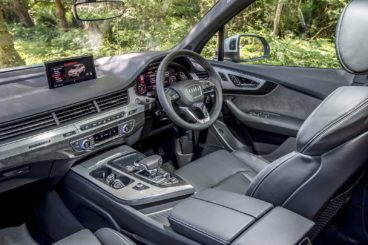 What's left to be said about an Audi interior that hasn't already been said? The Q7 is, as ever, an excellent place to spend your time on the road. It's comfortable, finished with high-quality materials, and the design is minimal and tasteful.
Insulation is also very good, particularly if you opt for the plug-in hybrid model.
The dashboard is logically arranged and looks smart, but unfortunately, the entry-level model misses out on the brands 12.3" Virtual Cockpit digital display. Without it, you have to make do with traditional analogue dials, but if you can afford it it's well worth adding as it reduces button clutter and relays all kinds of useful driver information to you.
Other than that, the steering wheel controls a lot of the car's infotainment and map functions, and while it takes some time getting up to speed with it, it's a very handy way of operating the car's various functions and will make your life safer.
Is the Audi Q7 Estate practical? It weighs less than its predecessor and it's also a tad smaller, but Audi has installed some thinner seats and produced some clever design magic to create more leg and headroom across all three rows.
The seven-seat layout is versatile and can be fully configured, although the hybrid model gets just five seats. The third row in the regular Q7's is really for kids only but two adults can squeeze in there for shorter journeys whenever needs must.
The boot, meanwhile, can change in size at the simple push of a button. With all 7 seats up, it measures 295-litres, but collapse the third row of seats and it can extend to 770-litres. Fold the second row too, and it increases to 1,955-litres. Wow, indeed.
Equipment & Safety Of The Audi Q7 Estate
Standard kit across the range is good, with the entry-level model getting the likes of sat-nav, keyless go, Bluetooth, heated electric sports seats, four-zone climate control, and LED headlights. The S Line model adds LED lights, while the Black Edition gets the Virtual Cockpit system, a reversing camera, Valcona leather upholstery, ambient lighting and a panoramic sunroof.
The Vorsprung edition rounds things off with a 19-speaker Bose sound system, a head-up display, front sports seats, matrix LED headlights and 22" alloys.
In terms of how safe the car is, the car was awarded all five stars when crash tested by Euro NCAP. Its standard safety kit includes an automatic braking function, adjustable speed limiter and cruise control, while optional extras include active lane-keeping assistance and autonomous parking assistance.
Costs Of The Audi Q7 Estate
Prices for the new car start out from £51,110 and rise to £89,345. For more information on our leasing deals, check out our page here.
In terms of its running costs, the plug-in hybrid is the cheapest model to run. It can return 156.9mpg while emitting just 48g/km of CO2, which means that it's exempt from road tax and the London Congestion Charge. That said, the 156.9mpg economy is a claimed figure only and it's more likely that you'll be averaging around 70mpg. That's still not bad.
Of the turbocharged 3.0-litre diesel engine, the smaller variant returns 48.7mpg, while the bigger variant manages 47.1mpg while emitting 158g/km of CO2. The smaller of the two costs £145 a year to tax while the bigger diesel costs £185 a year to tax.
Pros and Cons Of The Audi Q7 Estate
Seven Seats
Seven seats aren't always guaranteed in this sector, which might give the Audi the edge over its rivals.
Comfortable
Ride quality is good, something the comfortable seats add to.
Safe
There's a reassuring amount of safety kit included as standard on all models.
Not the Most Stylish
In terms of its exterior design, it might be too fussy for some buyers.
Expensive List of Options
Standard kit is good but to get the best out of your Q7, you might fancy adding the likes of active-lane keeping assistance, parking assistance, air suspension, an enormous panoramic sunroof and four-wheel-drive.
Audi Q7 Estate vs Mercedes GLS vs Range Rover Sport
Let's see how the car fares against its rivals in the comparison section of our 2018 Audi Q7 Estate review.
Audi Q7 Estate vs Mercedes GLS
The new Mercedes GLS is a huge seven-seater that's super quiet and smooth on the move.
The GLS is arguably bigger and heavier than the Audi, which means you can't chuck it into corners with enthusiasm. It is, however, comfortable and quiet, and feels right at home on the motorway. Winding country roads are not it's forte.
As such, we like the 3.0-litre V6 diesel engine that powers the GLS 350d model. It suits the car's relaxed nature very well, develops 255bhp and can get you from rest to 62mph in 7.8 seconds. It's also paired up with a brand new 9-speed automatic transmission that further compliments the car's composed character.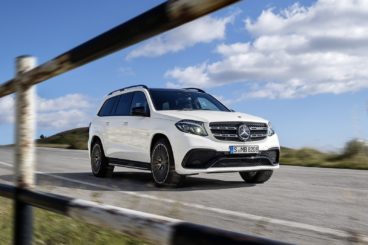 If you need more power, a 5.5-litre V8 engine powers the mercurial AMG GLS 63 model. It develops a titanic 580bhp, dispenses with the 0-62 sprint in a matter of 4.6 seconds and feels quicker than a sports car.
However, it's paired up with a dated 7-speed transmission that's a bit clunky and, moreover, you have to ask yourself whether a car of this type needs to be so fast.
Running costs? The GLS 350d model is predictably the cheapest to run but returns just 37.2mpg at best while emitting 199g/km of CO2. That means your annual road tax bill will be £265.
The AMG model, meanwhile, returns 23mpg at the very best and emits 288g/km of CO2, which means there'll be a hefty £505 yearly tax bill to pay.
If you can stomach those costs, the Mercedes' cabin is pretty sweet. It's solid, well-built, quiet and comfortable. Insulation is also excellent, while air suspension is standard across the range.
There is a caveat, however, and it comes in the form of the large wheels which diminish ride quality whenever you hit poorer surfaces.
And compared to the Audi, we'd have to say the Audi wins where interior quality is concerned. The Mercedes just isn't as luxurious and even looks old in areas.
Is the Mercedes GLS practical? It's absolutely huge, so we'd always hoped it would be. It's got seven seats which are all easy to access, thanks to a second row-flipping mechanism that makes it easy for people to climb into the third row.
With all seats up, the boot measures 295-litres. Drop the third row and that extends to 680-litres, while folding the second row gives you a total capacity of 2,300-litres. That's pretty epic and dwarves even the Audi's 1,955-litres of space!
Price:
Audi – £51,110 – £89,345
Mercedes – £72,530 – £105,950
Audi Q7 Estate vs Range Rover Sport
The new Range Rover Sport offers one of the most luxurious driving experiences on the market.
Land Rover has employed lighter construction this time around, and the new Range Rover is now lighter and therefore corners better. It also boasts a brand new chassis, as well as an anti-roll system that helps it keep its composure through bends.
That said, this is still an imposing, heavy car and you will notice its weight from time to time. The steering is also a tad on the light side but we don't think it will inspire too many nerves.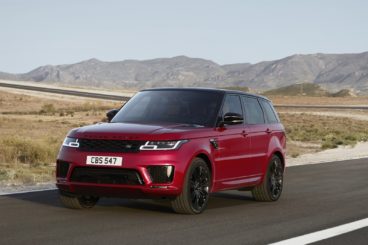 Off-road, the Range Rover Sport is a better performer than the Q7 and benefits a lot from its many driver-assistance modes.
In terms of the engines, a V8 petrol engine should satisfy most buyers with its 503bhp and 0-62 time of 5.3 seconds, while a 3.0-litre V6 petrol engine develops 335bhp and completes the 0-62 sprint in 6.7 seconds.
Topping the petrol range is an outrageous SVR model that's powered by a 5.0-litre V8 engine. This unit packs 542bhp and has a 0-62 time of 4.7 seconds.
There are also a handful of diesels to choose from, but we'd overlook the entry-level SD4 model as its 237bhp and a 0-62 time of 8.3 seconds is a bit too modest for a car of this size. We prefer the 3.0-litre V6 diesel that develops 298bhp, and which can haul the car from a standstill to 62mph in 6.8 seconds.
Running costs? The 3.0-litre diesel engine is good for returns of a 40.4mpg economy at best and emits 185g/km of CO2. The most frugal petrol to run, meanwhile, is the 3.0-litre V6 unit that returns 26.9mpg at best. The V8 petrol, by contrast, is good for the 22.1mpg economy.
Inside, the Range Rover is impeccably put together. The materials used are all top notch and it feels like a truly luxurious cabin. Design-wise it might not be top dog but it looks and feels very desirable.
The seats and ride quality itself is comfortable, insulation is excellent, while the dashboard is superbly put together. It's coated in leather, Land Rover has eliminated button clutter and each model gets a 10" Infotainment screen.
Is the Range Rover Sport practical? It's not as big as a standard Range Rover but it's still large. Visibility is just fine, parking sensors come as standard – as do five seats. However, there is the option of a seven-seater but the third row, which is hidden in the boot floor until you raise it up, is really for children only and it costs £1,555 to add.
The boot measures 784-litres if you stick to the standard five-seater and can be extended to 1,761-litres by folding the rear seats.
Price:
Range Rover – £61,315 – £99,680
Verdict Of Our 2018 Audi Q7 Estate Review
One of the most impressive things about the new Q7 is how much lighter it is than last time. Shaving 325kg off its kerb weight means Audi has developed a car that's better to drive and cheaper to run. Add in more tech than its predecessor, seven seats, as well as optional four-wheel-drive and the new Audi Q7 Estate proves to be a very impressive car.
When you lease a car with OSV there are no hidden costs, request a call back and we'll find you a finance, lease or purchasing deal designed just for you.