Review Of The Audi RS3 Sportback
Wanna own the fastest but smallest five-door on the planet right now? The new Audi RS3 Sportback packs a whopping punch that can whip drivers into a frenzy, but it's also remarkably practical. Aside from its 362bhp engine, it boasts a sizeable boot that can cope with your needs and the car will prove useful to small families.
It's kind of a super car-come-family car. Intrigued? OSV takes a closer look at what it's all about with our 2018 Audi RS3 Sportback review.
In terms of the way it handles, buyers should prepare themselves for a bit of disappointment. We'll get onto the engine in a moment but with the promise of 362bhp, Quattro four-wheel-drive (which is standard) and a lighter chassis, a lot was expected from the way the RS3 drives. Ultimately, however, it fails to deliver.
If you specify the optional sports exhaust, the car will promise even more … which just means you'll be in for even more disappointment. Because while the Audi sounds and looks like it should be a mighty handful on the road, it really isn't.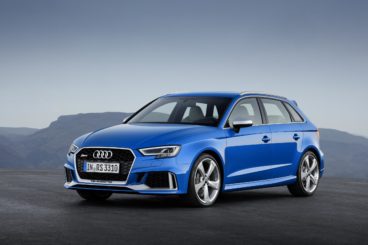 It barks and growls like a werewolf but handles more like a poodle. But its growl? It's pure animalistic and will certainly get the hairs standing up on the back of your head.
Moreover, there's nothing wrong on the performance front, and this is the most powerful car of its type right now. It's muscle and brawn and comes powered by a five-spot turbocharged 2.5-litre petrol engine that develops 362bhp, and which can get you from a standstill to 62mph in 4.3 seconds. That makes it 0.3 seconds quicker than its jet-heeled predecessor.
There's now more steering feel than last time too, but once again Audi is left trailing BMW when it comes to the fun factor. There are a few driving modes to choose from, but switching to Dynamic hardly boost involvement.
The ride feels firm thanks to the lowered sports suspension, but we wouldn't say that it's significantly uncomfortable. Adaptive suspension is available as an optional extra and it's well worth adding.
Overall, the RS3 Sportback is going to be too, shall we say, docile and predictable for some buyers who would expect way more thrills and spills from a hot hatch that does 0-62 in an x-rated time of 4.3 seconds.
Audi RS3 Sportback Interior, Design & Build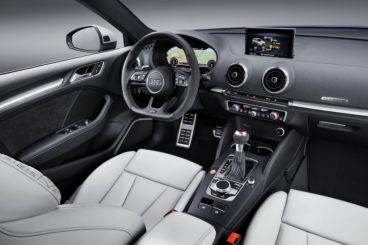 The RS3 Sportback is the wild child of the A3 family but it bears a striking resemblance to its more sensible siblings inside. There are a few detailed trim appliqués that set it apart, but it's mostly as you were.
OSV for one is not complaining, of course, and there's no doubting the quality of the materials on offer here. There are cars that cost a lot more money than this one that can't boast this level of quality and there's a lot to appreciate about its minimal, clean design.
The cabin is ergonomic and easy to get used to, button clutter isn't an issue, and the infotainment screen is intuitive and user-friendly. However, sat-nav isn't included as standard and the rotary dial is a source of frustration as ever.
Another minor criticism is the door colours. Some will find them too conservative and the only way to liven things up is to pay extra for the Design Pack.
Is the Audi RS3 Sportback practical? It might be a high-performance car, but it's also got a lot of usability about it. True, it's never going to be as practical as a conventional Hatchback, but a 280-litre boot impresses – at least in isolation. Compared with rivals, it doesn't come off best but it all depends what your priorities are.
Moreover, if you fold the rear seats you can extend it to 1,120-litres.
Storage space is decent, as is interior space. Four adults can sit in comfort and the RS3 Sportback makes for a surprisingly useful car for small families.
Equipment & Safety Of The Audi RS3 Sportback
Standard kit across the range is good, with all models getting alloys, front electric windows, folding rear seats, heated mirrors and seats, ISOFIX child seat anchor points, parking sensors, remote locking and leather seat trim.
If you think the infotainment screen is too small, you can get a 7" one with the Technology Pack, while the Dynamic Package adds an RS sports exhaust and the Magnetic Ride system.
How safe is the Audi RS3 Sportback? It probably won't be crash tested by Euro NCAP, but the A3 Hatchback was awarded all five stars for its own performance. Its standard safety kit includes uprated brakes, Quattro four-wheel-drive, plenty of airbags, full LED lights front and rear … but mostly everything else is optional. This includes cruise control, a reversing camera, blind spot monitor, rear side Airbus and hill hold assist.
Costs Of The Audi RS3 Sportback
Prices for the new car start out from around £54,200. For more information on our leasing deals, check out our page here.
In terms of its running costs, the fact that this is the fastest and smallest five-door on the planet at the moment might excite you, but it doesn't come cheap. It shares its five-pot 2.5-litre engine with the Saloon variant and while it's significantly cleaner than its predecessor, it returns 34mpg economy at best and emits as much as 189g/km of CO2.
It's also expensive to insure and occupies insurance group 40 out of 50.
Pros and Cons Of The Audi RS3 Sportback
Brilliant Engine
The 2.5-litre engine is an absolute stormer that, despite being around for quite some time already, continues to excite us.
Practical
Sure, it can do 0-62 in 4.3 seconds, but make no mistake: Audi has put this together with the purpose of it being used in everyday situations.
Noisy Sports Exhaust
It's capable of sending chills down your spine.
Expensive
Its running costs are acceptable, but if you want to save some cash, it's a much better idea to look at the likes of a Ford Focus RS.
No Manual Gearbox
This could be a deal breaker for some of you.
Audi RS3 Sportback vs Mercedes AMG A45 vs BMW M140i
Let's see how the car fares against its rivals in the comparison section of our 2018 Audi RS3 Sportback review.
Audi RS3 Sportback vs Mercedes AMG A45
The new Mercedes AMG A45 is much like the Audi in a lot of ways; it's a super fast hot-hatch that's grippy and somewhat practical.
Before 2015, the Mercedes was trailing the Audi in the performance stakes. Realising this, Mercedes upped their game and the puppy we have on our hands here is backed by a turbocharged 2.0-litre petrol engine that develops 376bhp. For a relatively small engine, that's quite staggering and, combined with four-wheel-drive, the car is able to blast its way from rest to 62mpg in 4.2 seconds.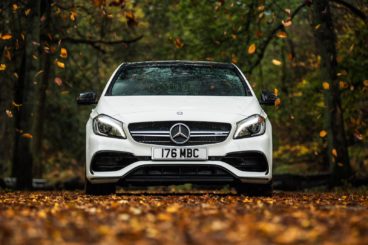 Mercedes have also added a suspension setup that the driver can tweak to suit the mood or the surface. It's still firm but not as harsh as last time, while body control is still excellent.
The steering has been improved too and now feels a lot sharper. There's more feedback, while the 7-speed automatic transmission complements the car's character well and teases a fierce roar out of the exhaust.
Running costs aren't half bad for a car with as much speed and power as this one, and the engine is able to return over 40mpg while emitting 162g/km of CO2. Road tax is pegged at £180 and the AMG model sits in insurance group 43. As such, it demands a massive premium over the standard A-Class.
Inside, the cabin is smart enough, well appointed and nicely finished. It looks great, and the Mercedes gets polished metal and some expensive trim to give it a sense of occasion. However, we reckon Audi's interior looks plusher still.
Moreover, while the figure-hugging sports seats look and feel great, overall comfort is a bit of an issue thanks to the firm suspension setup. The adjustable adaptive suspension is, however, an optional extra.
Is the Mercedes AMG A45 practical? Visibility is a sore point thanks to small rear windows and thick windscreen pillars, but sharing its body with the basic A-Class has proved to be a huge advantage.
There's plenty of space up front, access to the rear seat is okay, interior space in the rear is good, and the boot measures 340-litres. That's not bad at all for a car of this type and it can be extended to 1,157-litres by folding the rear seats.
Price:
Audi – £54,200
Mercedes – £41,875
Audi RS3 Sportback vs BMW M140i
The new BMW M140i is another hyper-quick, classy hot hatch that's great fun to drive.
The M140i has replaced the outgoing M135i model and is now the flagship of the BMW 1 Series range. It's powered by the same six-pot turbocharged engine but develops 335bhp, which means it's as fast as a high-performance BMW saloon.
Top speed is 155mph, while 0-62 is clocked at just over 4.0 seconds. Naturally, the Audi and the Mercedes represent solid rivals to the BMW, but we reckon the M140i edges it in terms of drivability.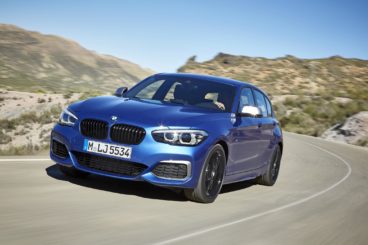 Its engine is just that bit more memorable, emits a spine-tingling growl, pulls hard no matter what gear you are in, is super fun … and it also keeps things quiet and chilled when you want it to.
Its handling prowess benefits from the car's rear-wheel-drive layout, which improves its agility. The M model gets a firmer suspension and bigger alloys than the standard 1 Series, and while these have a negative impact on ride quality, adding the optional adaptive dampers will help to smooth things over.
Running costs? The M140i is only slightly behind its rivals with its returns of just under 40mpg, but these figures are better than those managed by its predecessor. It sits in insurance group 37.
Inside, the cabin is as driver-focused as expected. The big question, however, was whether BMW would improve the quality of the materials used. The car's predecessor sported a lot of harder plastics, but this time around BMW have splashed the cash on more quality.
The controls are better, visibility is better, and while the dashboard still doesn't have the kind of cutting-edge technology that even a VW Golf has, the design is clear and simple, and everything is easy to find.
Is the BMW M140i practical? Room in the rear is a bit restricted but there's more interior space than last time. However, it doesn't compare favourably to rivals.
The boot measures 360-litres, but you can fold the rear seats to extend it to 1,200-litres. A low lip makes loading easy but the boot opening isn't as wide as we'd like.
Price:
BMW – £22,405 – £35,810
Verdict of our 2018 Audi RS3 Sportback Review
We started this article by pointing out that this is the fastest and smallest five-door you can own at the moment. It's a headline-grabbing fact but if that was all the car had to offer, few would buy it.
Instead, the RS3 is a pocket rocket that's got a lot to offer small families. For a car with so much power, it's remarkably practical and can be used for your day to day activities. Sensational, flamboyant but also level-headed, the Audi RS3 Sportback is for families who want to live on the edge.
When you lease a car with OSV there are no hidden costs, request a call back and we'll find you a finance, lease or purchasing deal designed just for you.