Review Of The Audi TT RS Roadster
Looking for four rings, two seats, one powerful engine and wind in your hair? The Audi TT RS Roadster is a bit of an icon among enthusiasts, and in 2018 it's as exciting as ever. Its distinctive silhouette is present and correct, it's still fun to drive and it boasts an excellent cabin as usual.
The RS is also the fastest TT Roadster available, and although that will translate to "most expensive" too, its 0-62 time of 3.9 seconds indeed makes it one of the fastest road cars on the planet at the moment.
OSV takes a closer look at what the Audi TT RS Roadster is all about.
There are few – if any – cars that are better driven in this sector than the RS Roadster. Its steering is razor sharp, and Audi has done an excellent job keeping its weight down. It weighs around the same as it did last time, which means performance and handling are just as good.
There have been weight-saving measures that have brought down the Audi's weight in certain areas, too; for example, the roof mechanism is lighter than its predecessor.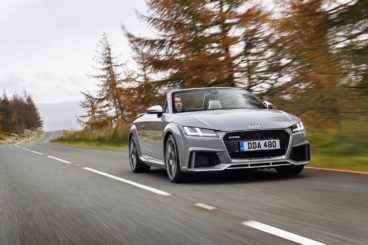 That said, the Roadster version is heavier than the TT Coupe, but this is the case with all cars that have a removable roof. Moreover, there's not much difference between the two behind the wheel. This one is settled in corners, feels stable and doesn't lean too much at all.
Four-wheel-drive is available and it arms the car with plenty of grip, but for the sake of absolute transparency, we'd argue that the Porsche Boxster is a tad more exciting to drive by virtue of the fact that it's got a rear-wheel-drive system.
The TT Roadster's suspension is a little on the firm side but the car does a decent job of smoothing out broken surfaces. However, badly rutted roads will be noticeable and the car crashes over potholes.
In terms of its engine, the Audi TT RS Roadster is powered by a turbocharged 2.5-litre five-pot petrol engine that gets Quattro four-wheel-drive as standard. It's paired up with a 7-speed S Tronic dual-clutch automatic transmission and clocks 0-62 at just 3.9 seconds. Top speed is set at 155mph but if that sounds a bit boring, you can top it up to 174mph for an extra £1,400.
Audi TT RS Roadster Interior, Design & Build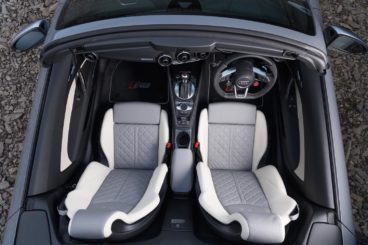 Inside, it's once again impossible to find fault with an Audi interior. The brand's Virtual Cockpit digital display comes as standard, and there are certain touches that distinguish the Roadster from the TT Coupe – not least the fact that this has just the two seats.
Then there's the removable roof. Whether it's up or down, the TT strikes a pose.
Referring back to the Virtual Cockpit, as well as relaying all kinds of useful information to the driver, the system also removes the need for clutter on the dashboard. Gone are the traditional dials as it packages driving data, the infotainment system and sat-nav into one place.
At first, it might take a bit of getting used to but a rotary dial improves its user-friendliness. The multifunction steering wheel, meanwhile, houses a few extra buttons. Again, getting to grips with it might take a bit of time but once you're up and running you'll be just fine.
The seats have got brand new air vents which will come in handy when the roof is down and interior quality from Audi continues to amaze us. The leather trim is sumptuous and the metal switchgear looks as chunky as ever.
And refinement with the roof up? It's good and there's barely any vibration.
In terms of how practical the car is, usability was never going to be its strong suit but it boasts a 280-litre boot. That makes it 25-litres smaller than the Coupe and its opening is on the small side, but it is quite long.
Other than that, storage spaces include a few small storage cubby holes, a cup holder (just one), and some slender door pockets. The doors open wide for easy access and it's worth remembering that this is strictly a two-seater. If you want four, you'd need to look at the TT Coupe.
Equipment & Safety Of The Audi TT RS Roadster
All RS Roadster's get the likes of Quattro-four-wheel-drive, a choice of four interior colours as well as 11 for the exterior and three for the roof, leather and Alcantara-trimmed seats, automatic LED lights, sports seats with lumbar support, 19" alloys, rain-sensing windscreen wipers, Bluetooth and a digital radio.
Safety-wise, there's always the worry that a car as small and quick as this will test our nerves, and although it's yet to be crash-tested by Euro NCAP, the TT Coupe only scored 4/5 for its own test.
The standard Roadster is a bit short of safety kit, but optional extras include traffic-sign recognition, parking assistance, lane-keeping assistance and blind-spot monitoring.
Costs Of The Audi TT RS Roadster
Prices for the new car start out from around £54,200. For more information on our leasing deals, check out our page here.
In terms of its running costs, it's unsurprising that the TT RS model is the most expensive to run out of all the TT Roadster's. It's powered by a massive 394bhp, Quattro engine that returns 34mpg at best while emitting as much as 189g/km of CO2.
It's also the most expensive model to ensure, and sits in insurance group 42 out of 50.
Pros and Cons Of The Audi TT RS Roadster
Super Fast
0-62 is dispatched in less than 4.0 seconds, which makes this one of the fastest cars in this sector.
Awesome Quattro System
Four-wheel-drive is standard on all models and it provides a reassuring amount of grip.
Iconic Design
The new TT looks and feels like it's always done. Welcome back.
Expensive
The standard TT is almost £25,000 cheaper.
Not Economical
If the numbers don't add up – and 34mpg economy might not for some of you – high running costs could prove to be a deal breaker.
Verdict Of Our 2018 Audi TT RS Roadster Review
The TT is like one of those cool older siblings who you looked up to as a kid. They took you to all the best places, lived a bit dangerously and got you home after dark. And you couldn't get enough of 'em!
As ever, the new model is here to add a bit of spice to your life. As distinct and as TT as ever, it's hyper-fast, grippy, superbly built, and huge fun to drive. In short, if it feels like there's something missing in your life right now, that something is probably the Audi TT RS Roadster.
When you lease a car with OSV there are no hidden costs, request a call back and we'll find you a finance, lease or purchasing deal designed just for you.