Looking for an objective review of the Citroen C3 Picasso MPV? OSV has got you covered, from engines to lease deals.
The new Citroen C3 Picasso MPV is aiming to be the Most Valuable Player. And with its standout looks, easygoing nature and interior space, it might be the most appealing family car of this type on the market right now.
The problem buyers have in this sector is that cars like this don't tend to look all that great.
"I'm not getting in that!" your child cries.
Citroen, though, have an enviable reputation for turning even a functional MPV into something that looks fab. And that's what they've done here. Join OSV as we take a closer look at what it's all about with our Citroen C3 Picasso MPV review.
The Picasso has a lot of road presence, thanks to its styling as well as its size. Its daytime running lights also add to the visual drama it creates on the road.
Ride quality is good, thanks to a soft suspension setup, but body lean is a bit of an issue as you take on bends. Visibility upfront and out the back is not a problem, while the power steering makes it easy to drive in and about the town. Winding country lanes present a bit of a problem, though, where the car feels a bit airy.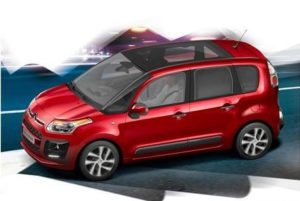 Moreover, while its styling looks good, its tall sides means that a strong crosswind hits the car harder more than it does rivals.
The engine range kicks off with a small 1.2-litre petrol engine. Don't let its size put you off, though, as this a tough cookie. Backed by three cylinders, it can do 0-62 in 11.8 seconds before maxing out at 116mph. It's a smooth mover that's right at home on the motorway, but you will need to work it hard to get the best out of it. And you'll properly need to whip it into shape whenever you've got a full load, as it does start to get tired.
The BlueHDi diesel engine is surprisingly quiet – indeed, it's just as noiseless as the petrol engine. It's more of a workhorse than the petrol, and can cope better with bigger loads and longer journeys. It is, however, a tad on the sluggish side, and takes 13.3 seconds to get you from a standstill to 62mph. Overall, it's not as lively as the petrol, but it is more cost-effective in the long run.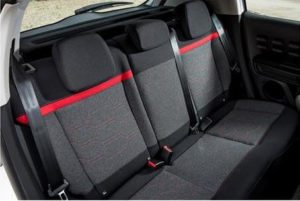 We like the fact that the dashboard conveniently places all controls on one platter for you, but it's disappointing that the satellite navigation is so fidgety to use. And despite looking so quirky on the outside, the same can't be said of the Picasso inside. The dashboard looks dated compared to rivals who have worked hard to modernise their layouts.
Still, you'll be super comfortable inside the C3 Picasso, thanks to the soft suspension. And the boxy styling ensures lots of cabin space, while as a bonus there is very little exterior noise that gets inside the cabin.
The steering wheel is height and reach adjustable, but the driver's seat is only height adjustable. It's easy enough to get into your ideal position, though.
But despite the good amount of comfort and room on offer, storage space is a bit of an issue. There just aren't that many storage spaces around. For an MPV, that's a shame. The glovebox isn't big enough, while a storage area is missing between the drivers and passengers seat.
The rear seats are accommodating and versatile, though. They slide backwards and forwards, and once slid forwards the boot extends from 385-litres to 500.
Standard equipment is good, with the entry level model coming with Bluetooth phone connectivity, rear parking sensors, alloys and cruise control. The Platinum trim adds 17" alloys, two 12v sockets, a panoramic sunroof, a leather steering wheel, automatic headlights, and tinted rear windows.
The list of optional extras isn't very big, but the space-saver spare wheel is worth adding to your cart for just £80. Other than that, the Automatic Pack costs almost £500 to add to the entry-level model, but when you consider that the Platinum trim only costs an extra £1,000 and gets the Automatic Pack for free it hardly seems worth it.
The car hasn't been crash-tested by Euro NCAP for a while, but when it was it scored 4/5. According to Euro NCAP, its ISOXI child-seat mounting points could be clearer, while they gave it just over 75% for child protection.
Safety kit includes electronic stability control, driver and front-seat passenger airbags, antilock brakes, automatic door locking and emergency braking assistance.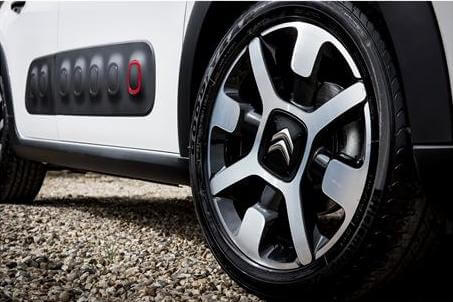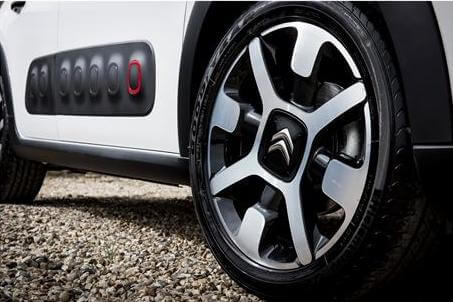 Costs Of The Citroen C3 Picasso MPV
Prices for the new car start out from £16,000 and rise to £18.000. For more information on our leasing deals, you can check out our page here.
In terms of its running costs, the sole diesel engine is unsurprisingly your best choice if you want to keep costs down. According to Citroen themselves, it can average fuel economy returns of 72.4mpg, and costs £20 each year in road tax.
The petrol model is cheaper to buy, though, costing £1,000 less. As such, it's an excellent choice for low-mileage drivers. According to the French brand, it's good for returns of 56.5mpg costs just £30 each year in road tax.
Pros and Cons Of The Citroen C3 Picasso MPV
Stylish
MPV's are getting increasingly stylish, and the C3 Picasso finds Citroen at their funky best.
Refined
Surprisingly for a people carrier, the engines are super quiet.
Plenty of Body Roll
The soft suspension setup had to come with a trade-off. In this case, it was exceptional body roll in corners.
Not Much Power
The three-pot petrol unit has the most pulling power, but no engine feels particularly strong enough to cope with this car on a full load.
Citroen C3 Picasso MPV vs Fiat Doblo MPV vs Kia Carens
Let's see how the car measures up against its rivals in the comparison section of our Citroen C3 Picasso MPV review.
Citroen C3 Picasso MPV vs Fiat Doblo MPV
The new Fiat Doblo might have the worst name for a car ever ("So, what car has your parents got, kid?" … "A Doblo"), and, being based on a van, it was never going to look visually appealing either. So what's it got going for it?
If the Doblo was a school kid, it'd be the one that was always picked last for the netball teams. Away from sports and showers, though, it always played the role of mother hen – it was there for you when you needed it.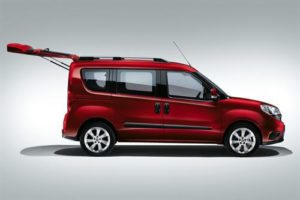 So while the Doblo looks too boxy to ever be cute and loveable, this MPV is hugely practical that serves a purpose for families who need lots of space and seats. And while it may never be picked first for the netball team, it's big enough to ferry around a small group of your would-be football champions. For this reason alone, you and the kids will love it.
Its engines aren't too bad either. A pair of 1.6-litre MultiJet diesel engines are lively, with the more powerful 118bhp variant able to get you from a standstill to 62mph in 11.3 seconds. Hardly Theo Walcott but pretty good for such a big car.
And despite being based on a van, there isn't too much body roll, the steering is accurate, and the sharp handling is impressive.
What's more impressive are its running costs. A 1.4-litre petrol engine's fuel economy returns nudge 40mpg, while the 1.6-litre diesel engine is good for 51.4mpg and costs just £110 to tax. This is a powerful engine, too, that's our pick of the range.
Now, your kids might not like this car if you dropped them off on their first day of big school in it, but they'll love how useful it is for things like day trips and football matches. Inside, it's a bit hit and miss for all the family, though.
The Doblo benefits from soft springs, which means ride quality is good, while the cabin is also really well-insulated from exterior noises. Leg and headroom is reasonable, while seven seats are an optional extra. Each seat is comfortable and soft. So far, so good.
The problems begin when you start assessing the cars quality and aesthetics. Characterised by neutral greys and some hard surfaces, it isn't the most pleasant place to be on longer journeys. It's functional at best.
And speaking of functionality, you only need to cast your gaze at the boot and its dimensions to be impressed: It measures almost 800-litres with the seats up and 3,200 with them down. It comes with a parcel shelf that can support weight over 70kg, and the sliding rear doors also improve usability.
But the best thing about the Doblo? Its price tag.
Price:
Citroen – £16,000 – £18,000
Fiat – £13,800 – £20,700
Citroen C3 Picasso MPV vs Kia Carens MPV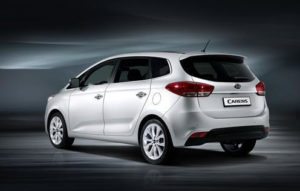 The new Kia Carens might share your best friends name, but this is a fine MPV that further represents how far Kia have come in recent years. Emerging from the bargain basement with better build quality, better styling and better driving dynamics, their cars are now giving the more established names like Citroen something to really think about.
The outgoing Kia Carens was hard to recommend for its drivability, but this is a much more polished affair. It still isn't what you'd call fun, but it's comfortable, the steering is direct, and there are plenty of engines to choose from.
The 1.6-litre GDI petrol engine should probably be overlooked, though. It's quite expensive to run, and while it feels smooth enough, it lacks power to cope with a fully-loaded Carens. We prefer the diesel engines, with even the 114bhp capable of doing the 0-62 sprint faster than the petrol.
However, how fast and how economical these diesel engines are depends entirely on whether you pair them up with the manual gearbox or the automatic. The energy-saving stop-start feature is standard on the manual models across the range, but trims 2 and 4 miss out if you opt for the automatic 'box.
Moreover, while the 139bhp diesel can do 0-62 in 10.0 seconds flat when paired up with the manual, it takes 11.6 seconds when paired up with the automatic.
It's the same story when it comes to economy. The 139bhp diesel can return 62.8mpg when fitted with the manual transmission (the same returns managed by the 114bhp diesel), but when fitted with the automatic, returns tumble to 58.9mpg. Road tax meanwhile increases from £30 a year to £110 a year.
The Carens' interior is a well-appointed, well-conceived affair. There are plenty of power sockets for your laptops and phones, lots of cubby-holes to help keep things nice and tidy, and the design is smart. Better still, it looks and like a car built to last, thanks to durable materials.
As a bonus, the Carens come with seven seats as standard – unlike the Fiat. However, Kia have actually shrunk its dimensions. But despite being smaller than last time, it actually manages to be more spacious.
Moreover, its smaller dimensions have improved practicality in other areas, as the car is now easier to park than last time, something made easier if you go for a higher-spec model that comes with a full reversing camera and parking sensors.
The third row of seats are really just for kids, while the second can easily slide back and forth. The boot measures just 100-litres with all the seats in place, but can be extend to almost 500 when you fold down the third row. The boot also comes with a very useful false floor.
Price:
Kia – £18,200 – £27,100
Verdict Of Our Citroen C3 Picasso MPV Review
MPV's never used to look so quirky, and indeed when this car was first launched back in 2008, it breathed life into a stale sector. And it's been shaking things up ever since, inspiring rivals to get their quirk on, too.
In 2017, it remains a clever package. It's spacious, well-built, refined, and feels more like a premium product. And while SUV's are largely making cars like this redundant, the popular Citroen C3 Picasso MPV reminds us why families love this type of stylish and modern family car.
Need help deciding?
With help from one of our experts you could be driving away with your new car in no time. Fill in your details below and one of our vehicle specialists will be in touch within one working day to talk cars.

Latest posts by Will Titterington
(see all)