When you decide to get a new car, one of the biggest decisions you'll need to make is whether to go through a car broker or a dealership. Both have their advantages and disadvantages and it's important to take these into consideration when making your decision.
OSV is a vehicle broker, but we know that choosing a broker isn't always the best option for everyone. For the sake of ensuring you make an informed choice, we're going to use this article to take a look at the differences between purchasing a car through a dealership or a car broker.
What's the Difference Between a Car Broker and a Dealership?
More and more car buyers are using a vehicle broker. A vehicle broker acts as the middleman between you, a dealership and a finance house. It works simply: you go to them with your requirements, and they then shop around for the best deal.
Some brokers have access to multiple funders and manufacturers, which is great if you're unsure of what car you want.
A dealership, however, is a more traditional way of finding a car. It's pretty straightforward: all you have to do is find a dealership that sells the brand of car of your choice (for example, Ford), pick a car and wait for a deal to be offered to you. It's that simple, and it's a good option if you're set on a specific type of car and are willing to negotiate a deal yourself.
What Are the Advantages of Going Through a Car Broker?
There are many advantages of going through a car broker:
They are independent.

Brokers aren't tied to any brand or finance house, which means they only have to meet their targets, and not the targets of the brand.

They have access to numerous finance houses.

Dealerships are a bit limited in that they have access to just one finance house, which limits your chances of getting the best deal possible. Brokers, on the other hand, have access to a wide range of finance houses, which increases the chances of them getting you the best deal possible.

You have access to multiple brands.

If you're undecided as to which car you want, going through a dealer greatly limits your choice. However, a broker is able to shop around and find a variety of deals from a variety of manufacturers.

They do the hard work for you.

When you go through a vehicle broker, all you need to do is tell them what you want and they'll find it for you. Then, you just need to kick back and wait for that phone call.

Car brokers find cars from all over the country. Dealership are limited to the cars that they have in their showrooms, while brokers can source cars from all over the country.
You can access 'fleet' discounts.

Brokers have access to different types of discounts that are not available to the public
What are the Disadvantages of Going Through a Car Broker?
Going through a car broker might sound pretty beneficial at this point, but before you pick the phone up and give us a call, let's take a look at the risks that come from working with brokers:
They may not be reputable.

This is a big risk, but it's also one that's easy to avoid. Simply check to see how long a firm has been around, as well as any online reviews and testimonials. Do background checks on the founders too, as well as the people who work there.

You can read our article on how to tell if your vehicle broker is trustworthy here.

You could be subject to extra fees.

When you go through a broker, you will be subject to an admin fee. If a broker says there is no admin fee involved, be cautious – you might get stung by hidden costs at a later date.

They may not have access to that many finance houses. The best brokers have access to a variety of finance houses, but some have access to much less. Again, this is something that can be easily avoided, simply by asking a broker.

They might not have much experience.

Some car brokers may be agents for larger brokers and work from home.  The industry calls them bedroom brokers. The FCA and the BVRLA require brokers to have appropriate business premises so always worthwhile doing a Google Map search on the address so you can assure yourself you are dealing with an established business. Also, go to Linkedin to see how much experience (whoever you are talking to) has got in the industry.
You can read more about the risks involved with going through a vehicle broker here.
What Are the Advantages of Going Through a Dealership?
Going through a dealership is still the traditional way of getting a car. Let's remind ourselves of the benefits:
You get to look at the cars

. This is a part of the buying/leasing process that people tend to forget about, but miss if they go through a broker. With a dealership, you get to see the cars there and then in the showroom. This means you get a good idea of the actual size of the car, the colour etc, and you can also test drive them straight away.

You may benefit from the dealership retail discount.

Dealerships do have deals that others can't access, such as a retail discount. Also, dealerships tend to slash their prices when they get new models in. This is because they need to clear their forecourts for newer models.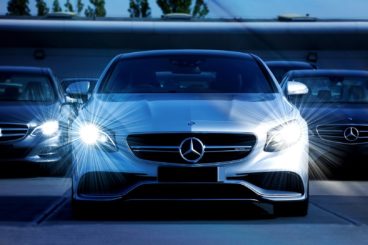 You won't have to pay an admin fee

. This isn't a big deal to some, but can be advantageous to others, particularly as admin fees can be up to £300.

It's more convenient and faster

. When you go to a dealership, everything is there – the car, the salesperson, the paperwork, which means you can clinch the deal and take your new car home that same day. Going through a broker can take longer, which isn't ideal if you need a car pretty quickly.

You get to speak to a person

. Some people like being able to speak to a salesperson in, well, person. Vehicle brokers do their business over the phone or via email, which some people prefer and others don't.
What are the Disadvantages of Going Through a Dealership?
While dealerships are still very popular, more people are shying away from them. Here are a few possible reasons why:
You are limited to one brand.

With the sheer amount of cars on the market at the minute, going through a dealership can feel quite restricting. Unless you are set on one brand, the chances are you'll want to keep your options open.

You won't get an unbiased opinion

. At the end of the day, the salesperson needs to sell those cars. They won't want you to go to a different dealership that's selling a different brand. This means that you cannot guarantee that you are getting an honest opinion about whether you are getting the best deal.

You don't have as many options.

Dealerships don't have access to as many finance houses, which means you might not be getting the best deal.

You can't get a car if you have bad credit

. As dealerships have limited funders, you won't be able to get a car through them if you have bad credit. You can read more about

 leasing with bad credit here

.
Dealer Vs. Broker: Which Will Get Me A Better Deal?
Ultimately, you want the best deal you can get. So, which option will get you the best deal?
The truth is, there's no way of telling which one will get you the best deal as the deals are dependent entirely on your situation. Both dealerships and vehicle brokers have access to different sorts of discounts.
Car Brokers With Lots of Funders Vs. Brokers With Limited Funders
Brokers who have access to a lot of funders will be able to offer you a variety of deals. This means you have a wider choice. However, just because a broker has limited funders does not mean they can't find you a great deal. They may have stronger relationships with manufacturers and finance houses, which means they can negotiate a better deal for you.
Dealerships, on the other hand, will be able to get you the retail discounts I mentioned earlier. Dealerships have been known to make a loss just to hit targets. While this doesn't often happen, it has been known to occur.
Either way, both dealerships and brokers have access to great deals, it just depends on whether that great deal is great for you.
Ultimately, there are quite a few differences between a vehicle broker and a Dealership. Their advantages and disadvantages are pretty subjective, so there is no answer to which one is better. It's completely down to you whether you choose a dealership or a car broker, but hopefully, this article has made it easier for you to make that decision.

Latest posts by Will Titterington
(see all)