The Fiat Doblo is all about giving you as much space as possible for as little money as possible. It fits into your budget like a glove, while you and your family fit inside it in the same effortless way. As far as value for money options go in the MPV market, this is right at the top.
Being based on a van has its obvious disadvantages, and the Doblo will never win beauty contests. But it also has advantages in the form of practicality. Its van-derived origins mean the interior is spacious, the engines are economical and it's massively versatile. You can also add two extra seats if you need them.
OSV takes a closer look at what it's all about with our 2017 Fiat Doblo review.
In its previous incarnation, the Doblo  had poor driving dynamics. Fiat would have to be engineering alchemists to turn a van-based-car into a sophisticated handler. However, they have managed to improve the driving dynamics somewhat.
As a result, the steering is now more accurate, there is more grip on offer and less body roll. Moreover, the handling has been sharpened up. It's as sharp as a scalpel, but it's also nowhere near as blunt as last time.
And where its van roots further come in handy are in terms of visibility. Thanks to the massive windscreen, the driver has a panoramic view of the road ahead.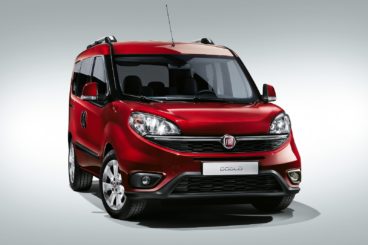 None of the engines are what you'd call hushed. A 1.4-litre petrol engine is the cheapest in the range. It delivers a meagre 95bhp, and costs just over £14,000. You get what you pay for, and we think any engine that delivers less than 100bhp will struggle to haul the Doblo along. The petrol engine is an example of this, and feels overwhelmed on a full load.
We like the MultiJet diesel engines better. They're a pair of 1.6-litre's, with the less powerful delivering up to 105bhp. The more powerful of the two, meanwhile, produces 118bhp. It can get you from rest to 62mph in 11.3 seconds, which is good going for a car of this size.
It's the best engine to go for if you'll be spending a lot of time on the motorway. Like all the engines, it needs to be worked hard, but it's got more pulling power and shove.
Fiat Doblo Interior, Design & Build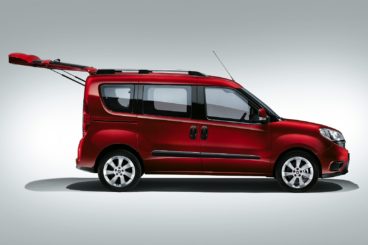 The Doblo is far from being a looker, and its interior doesn't come with the kinds of creature comforts that some of you will be used to. However, buyers who are taking a look at this car are sometimes in the process of downsizing. And when you downsize, there are certain things you have to do without.
So while the materials inside the cabin are clearly tough and durable, they lack quality. And while the controls are easy enough to use, they haven't been smartly designed. Still, this is exactly what you get from van-based s and the Doblo prefers to play to its strengths.
This means swathes of space and a smooth ride. The suspension means the car does a good job of absorbing lumps and bumps, and only the faintest of exterior noises get inside the cabin. Leg and headroom is excellent, with everyone being able to stretch their legs as much as they want.
You can add two more seats to turn the Doblo into a seven-seater. Doing so doesn't take away too much cabin space. Even better, these two extra seats are comfortable and soft. They're also easy to access, thanks to sliding rear doors. And the best thing? They come as part of a generous Family Pack option, which means they're two of the cheapest extra seats on the market.
Without those extra seats, the boot measures 790-litres, which is hugely impressive. Take away all the back seats, and you can extend luggage capacity to a whopping 3,200-litres. The boot also comes with a useful parcel shelf.
Equipment & Safety Of The Fiat Doblo
As mentioned, families will have to make do without a number of creature comforts here. For one thing, the base-level Doblo comes without electric rear windows or air conditioning. The latter is especially galling, as it's standard in most modern passenger cars.
Overall, standard kit is not great. But when you're paying less than £20,000 for a seven-seater with this much space and such a large boot it's hard to be too upset.
In terms of its safety, things are less impressive. The Doblo has been put through its paces by Euro Ncap, and scored just 3/5 during its crash test. Child protection was noted as a particular weak point of the car, and was rated at less than 50%. Worse still, Euro NCAP's testers didn't like the way the car's airbags and seat belts protect occupants. Meanwhile, emergency isn't available, even as an optional extra.
Prices for the new car start out from around £14,200 and rise to £21,200. For more information on our leasing deals, check out our leasing page here.
In terms of its running costs, the Doblo is impressively economical. The cheapest engine to run is the 1.6-litre 118bhp diesel engine. This is the most powerful of the 1.6 MultiJet's, and it can return fuel economy of 51.4mpg. It costs £110 a year to tax.
The 1.4-litre petrol engine might be the cheapest engine to buy, but with returns of 39mpg, it's far from the cheapest to run. Moreover, it costs £250 a year to tax, and might be out of many families' price range.
Pros and Cons of The Fiat Doblo
Easy To Drive
Accurate steering, lots of grip and a huge windscreen make this van-cum-car very handy on the road.
Practical
Seven seats and a 790-litre boot are just two of this budget cars strengths.
Lack Of Interior Quality
The design is bland, the materials lack class and the overall standard is miles off some rivals.
Safety Issues
Scoring 3/5 in the Euro NCAP crash test is hardly a good sign.
Depreciates Badly
Fiat Doblo vs Citroen Berlingo MultiSpace vs Peugeot Partner Tepee
Let's see how the car fares against its rivals in the comparison section of our Fiat Doblo Hatchback review.
Fiat Doblo vs Citroen Berlingo MultiSpace
The new Citroen Berlingo MultiSpace is as unorthodox looking as the Fiat Doblo. It won't win any beauty contests, but it's spacious, practical and comes with a 3,000-litre boot.
Glamour isn't something you'll find in the van-cum-car sector. The Citroen Berlingo MultiSpace is capable on the road, but won't excite you. It's solid, steady and livens up from time to time. The diesel engines, moreover, do a fair bit of grumbling and aren't exactly what you'd call refined.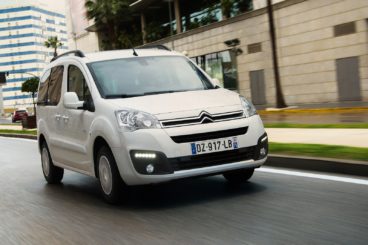 However, families buy cars like this to do a job. And being like a van means that the Berlingo MultiSpace at least feels safe on the road, and as enough power to pull along a full load.
In terms of the engines, the 1.6-litre 94bhp petrol engine are as cheap as things get. Ideal for a budget, it's just about possible to live with. You will need to work it hard, though, and it takes almost 13.0 seconds to do 0-62mph. The 108bhp 1.2 petrol engine has more power, and is the one we'd recommend.
However, diesel engines suit the car best. The BlueHDi 100 98bhp diesel engine is economical and offers reasonable performance, covering 0-62 in 12.4 seconds. It can return fuel economy of 65.7mpg, which is impressive for such a big car.
Meanwhile, a BlueHDi 120 118bhp diesel engine covers 0-62 in 11.4 seconds, which is fast. However, it costs a fair bit to buy and won't suit cash-conscious buyers.
The interior is capable of springing a few surprises. Since the car is based on a van, it's reasonable to assume that the interior will be bare bones. However, this has its advantages, such as lots of leg and headroom. You can also get seven seats if you wish.
There has been a genuine attempt on Citroen's part to jazz the cabin up. So while the dashboard is predictably utilitarian, the upholstery is a lot snazzier, and the car gets a few new technologies to keep it up to date. A 7" touchscreen is a particular highlight, although it's only available in the range topping model.
In terms of practicality, the car performs well. The boot can be extended to a whopping 3,000-litres when the seats are all folded down. With the seats up, it measures 675-litres – which is still huge! Accessing the car is easy, thanks to large doors and a high seating position.
Other practical touches include sliding doors, an overhead storage system, and the option of seven seats.
Price:
Fiat – £14,200 – £21,200
Citroen – £16,200 – £20,500
Fiat Doblo vs Peugeot Partner Tepee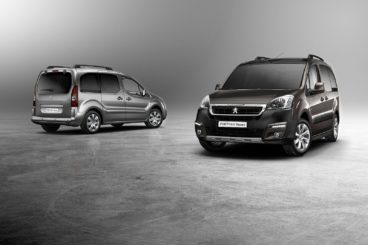 Like the Doblo and Citroen, the new Peugeot Partner Tepee looks like a van. Peugeot – it seems – haven't made any attempt to convince us otherwise. But that's something most buyers can get past, because this is a practical seven-seater that fits into your budget the way a city car fits into gaps in traffic.
If your kids happen to love vans, they'll love the Peugeot Partner Tepee. On the road, it feels just like you're behind the wheel of a van. Body lean is unpreventable, thanks to the tall stature of the car. And while the steering is heavy, the car is on the whole highly capable, both in town and on the motorway.
There are a few engines available, two of which are 1.6-litres. One is a petrol, the other a diesel. Neither will excite you like the sports car you've always dreamed of.  But although the BlueHDi 100 makes you wait 13.0 seconds before completing the 0-62 dash, it doesn't feel all that slow.
For more pace, a 1.2-litre petrol engine is a better option. It can cover the 0-62 sprint in 12.2 seconds, and feels lively in the right conditions. It's a smooth engine, and it's also surprisingly economical. However, the BlueHDi diesel is the cheapest to run, and can return an impressive 67.3mpg. It emits 112g/km of CO2.
Standard equipment is something the Peugeot Partner Tepee does well. Standard kit includes LED daytime running lights and manual air conditioning, as well as a touchscreen infotainment system.
There are handy gizmos that help with safety too, including a reversing camera and parking sensors. On the whole, the cabin is roomy, smart and comfortable, and super practical. And while the boxy shape isn't nice to look at it, it means you get plenty of interior space. Like the Citroen's, the Peugeot's boot measures 3,000-litres when all seats are folded. With the seats up, it measures 675.
Two extra seats are available as an optional extra. Other practical touches include sliding doors, roof rails, and an overhead storage system. This is an optional extra, though.
Price:
Peugeot – £16,200 – £20,500
Verdict Of Our 2017 Fiat Doblo Review 
The Doblo is only expected to retain 39% of its value after three-years of ownership.
The desirability dial has been turned down all the way to 0. But the value for money dial is soaring past 9. It looks like a van, which means you won't be showing it off at a school reunion as evidence of how far you've come. But those van origins mean the car can offer plenty of practicality. You get 7 seats, a massive boot, lots of space, excellent visibility, and durable materials.
The perfect family car? No. But if you're on a budget, the Fiat Doblo  steps up and won't let you down.
Request a call back from one of our Vehicle Experts
Get in touch to have a chat about your new car
Give one of our helpful team a call to find your perfect vehicle.
ARE YOU INTERESTED IN GETTING A
MPV
?
Get in touch with us on 01903 538835 or request a call back. We look forward to hearing from you.