Review Of The Hyundai i10 Hatchback
The new Hyundai i10 Hatchback is a dinky city car that's at the top of its game. It sports a friendly face, has more space than you'd imagine, and goes about its business without any hassle.
It's also super cheap to run and makes the morning commute to work that little bit easier. Even better, it might be small but its five doors make access easy.
A new front bumper has given it an edgier dimension, while an improved suspension setup has boosted comfort. However, there is still no diesel engine available.
OSV takes a closer look at what it's all about with our 2017 Hyundai i10 Hatchback review.
On the road, reality starts to hit a little. Because while the Hyundai i10 looks like it'd strut its stuff with sass, it's actually not all that exciting. It can tackle a hairpin turn with ease, but it's more competent than fun.
However, there have been improvements. The steering is now more precise, and visibility is good. This is thanks to the high driving position. Combined with the light controls, it makes the i10 a really easy car to park.
The i10 benefits from power-assisted steering, but it hasn't made the driving experience any more dynamic. It feels composed, and there is plenty of grip.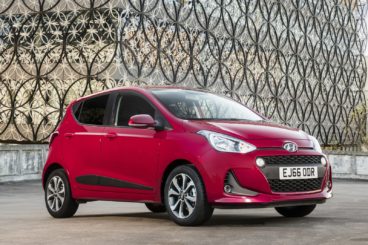 Moreover, thanks to it being so light and compact, it feels nippy as you bob through traffic. The kind of thrills you'll find in rivals, however, are absent.
As mentioned, there are no diesel engines on offer. The petrol range kicks off with a small 65bhp variant that doesn't inspire much confidence when it comes to overtaking. It gets you from rest to 62mph in 14.9 seconds, which is par of the course
The 1.2-litre 86bhp variant is a better option if you plan on spending time on the motorway. It covers the 0-62 distance in just over 12.0 seconds, and feels confident at higher speeds.
As well as being no diesel engines in the line-up, there are also no turbochargers. This weakens the Hyundai's case, as most rivals offer such engines these days.
A standard 5-speed manual gearbox should be enough for most buyers. The automatic has just four gears, which takes its toll on both economy and performance. It also doesn't change gear as smoothly.
Hyundai i10 Hatchback Interior, Design & Build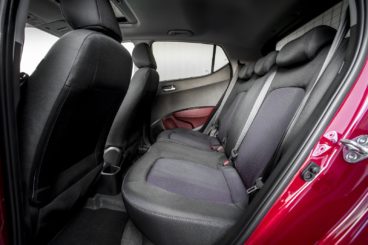 It's hard to find fault with the Hyundai i10 if you're looking for a cabin that's relaxing, quiet and comfy. It's certainly a much better cabin than Hyundai were producing a decade ago, and offers a solid alternative to rivals. Its dashboard is smart, the materials are impressive, and build quality is good.
It's been updated recently, and can now be specified with red or blue metallic dashboard finishes. Some of you might find them a bit tasteless, but this is the city car sector after all. Bright, funky colours liven things up, and will appeal to young buyers.
And despite being so small, it's a liveable car. By that, we mean that it's well insulated from exterior noises, and soaks up lumps and bumps like a sponge. It requires more sweat from you on the motorway, thanks to having five gears at the most, though.
Practicality is given a boost by a number of things. The interior is massively roomy, and the class-leading boot measures 252-litres. Unusually for such a small city car, it also has five doors. This makes rear access a piece of cake.
Visibility is excellent, which means it will be simple enough to park. Head and legroom will be good enough for most people, and there is always somewhere to store your bits and bobs.
Equipment & Safety Of The Hyundai i10 Hatchback 
Standard kit across the range is decent at this price point. All i10's get electric front windows, a trip computer and USB connection.
The SE model adds Bluetooth connectivity, cruise control and a DAB radio. It also comes with power-adjustable heated door mirrors, and electric rear windows.
The Premium trim takes things up a notch. It comes with 14" alloys, a smartphone docking station, a 7" infotainment screen, and LED daytime running lights. A leather gear lever and steering wheel almost make the cabin luxurious.
The range-topping Premium SE model finishes things off with sat nav, Android Auto technology, and Apple CarPlay.
In terms of safety, the equipment in here is tried and tested. However, it only scored 4/5 when it was crash tested by Euro NCAP. It's worth pointing out, though, that the i10 was unfortunate enough to be one of the first cars tested just as Euro NCAP tightened up its rules.
Its standard safety kit includes a tire-pressure monitoring system, electronic stability control and 6 airbags.
Costs Of The Hyundai i10 Hatchback
Prices for the new car start out from £18,900 and rise to £27,500. For more information on our leasing deals, check out our page here.
In terms of its running costs, the i10 is a superstar. Its engines are small, and so are its dimensions. As such, the most you'll be asked to pay in tax is £130 a year. Even better, Hyundai has been kind enough to offer an SE Blue model that's aimed at cash-strapped buyers. It benefits from stop-start tech and can return fuel economy of 70.6mpg.
The cheapest engine to keep on the road otherwise is the 1.0-litre 65bhp engine. It returns 60.1mpg economy on average, and emits 108g/km of CO2
.
The 1.2-litre 86bhp model has more power, but is still good for returns of 57.6mpg. The car is also cheap to insure, with its smallest model sitting in group seven.
Pros and Cons Of The Hyundai i10 Hatchback
Great To Look At
It's rare that a city car looks so mature you could even call it handsome. But that's certainly the case here.
Big-Car Feel
It might be small, but Hyundai has used its dimensions well. As such, it has all the comfort of a bigger car.
Cheap To Run
Capable of returning 70mpg, the i10 easily fits into cash-strapped buyers' budget. The commute to work will rarely be so cheap.
Not Much Character
Compared to quirkier city car rivals, the i10 lacks character.
Not Many Engines To Choose From
Without any diesels, your choice is really rather limited.
Hyundai i10 Hatchback vs Skoda Citigo Hatchback vs Citroen C1 Hatchback
Let's see how the car fares against its rivals in the comparison section of our 2017 Hyundai i10 Hatchback review.
Hyundai i10 Hatchback vs Skoda Citigo Hatchback
The new Skoda Citigo is further evidence of how far Skoda have come since the early nineties. It's a cute, compact, fun-loving small car that can seat four people.
Calling the Citigo "cute" almost seems patronising, because it's grown up a lot since we last saw it. The way it feels behind the way is certainly more mature than last time around. It's easy to park, easy to turn on a sixpence in the city, and can overtake with confidence.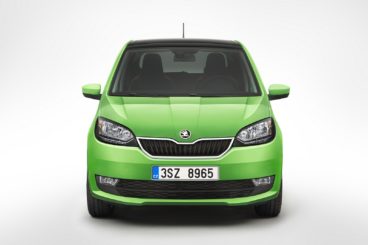 Engine choice is limited. There are no diesels in the range, and just the one petrol. Both are sized 1.0, with the least powerful developing just 59bhp and the most powerful delivering 74bhp.
The 59bhp variant can do 0-62 in 14.4 seconds, which admittedly sounds sluggish as heck. But it feels quicker, and it's responsive to your inputs. Moreover, it feels pretty good even when you work it hard. It's got lots of grip too, and its steering is reassuringly direct.
The 74bhp has a bit more power, enough to get it from rest to 62mph in 13.5 seconds. However, you don't notice that extra power unless you really work it hard. Moreover, it doesn't actually feel much quicker than the 59bhp engine.
There's also not much to separate the two engines when it comes to running costs. The 59bhp benefits from a GreenTech that ads low-resistance tyres and more aerodynamics. Despite this – and it's stop-start tech – its 68.9mpg economy is almost matched by the 74bhp variant. This one can return 67mpg, and both engines are free to tax.
From the outside, you just wouldn't believe how big this car is indoors. Skoda has worked wonders with its dimensions, and given it a genuine big-car feel. Head, leg and shoulder room are surprisingly excellent.
You can get the car with either three or five doors. The five-door model is the obvious choice if you'll be using the rear seats often, their wide-opening doors making rear access a cinch.
The boot, meanwhile, is impressive. It measures 251-litres, which is just one litre shy of the Hyundai i10. Fold the rear seats and you can extend the capacity to 959-litres. For a bit more ease-of-use, you can add a variable boot floor for £65.
The dashboard is a bit Plain-Jane, but it's smart and well-built. The cars suspension setup means you always feel comfortable, and the cabin is well-insulated. Even out on the motorway, you'll barely hear a peep.
Price:
Hyundai – £9,195 – £13,355
Skoda – £8,600 – £11,600
Hyundai i10 Hatchback vs Citroen C1 Hatchback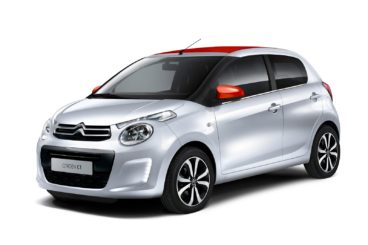 The new Citroen C1 Hatchback is a quirky car for the city. It's stuffed with standard kit, has a low asking price, and offers a full-length fabric roof if you want it. However, there are criticisms …
The Hyundai i10 has raised the bar with its levels of performance in this class, and the C1 can't quite compete. It's still using the same underpinnings as last time, and this is a real issue. It means excess body lean in bends is still a problem, and there isn't much fun to be had.
And although light steering means it's easy enough to potter about the city, it doesn't offer much confidence. In corners, the lack of feedback means you just don't know where the limits are.
In terms of the engines, the entry-level 1.0-litre petrol engine is another relic from its predecessor. It's got that same, mosquito hum that we'd hoped Citroen would have ironed out by now. You also need to work it fairly hard to keep up with traffic.
It's not too slow, though, and can do 0-62 in 13.0 seconds.
The 1.2-litre petrol engine makes more sense. It has an added 13bhp, and does 0-62 in just under 11.0 seconds. It's also a bit more flexible, and has a greater sense of urgency whenever you want to overtake.
Running costs are decent, despite there being no diesel engines in the range. The VTi68 is the cheapest to run. It can return 68.9mpg economy, and is free to tax. All engines are in fact free to tax, which is why we'd plump for one of the more expensive models. They have more performance. Moreover, running costs for the 1.2-litre 81bhp engine, for example, are as good as 65.7mpg.
But it's really the insurance premiums where you'll lose a bit more money if you opt for this and not the i10.
It seemed inevitable that the Citroen C1 Hatchback was going to come up short somewhere, and it's inside. Compared to the i10 and the Citigo, it just isn't as well-built. Indeed, there is a noticeable drop in quality.
Cheap plastics are easy to spot, and aren't as robust as the ones you'll find in the i10.
It's also not so easy to get comfortable. In the basic model, the steering wheel and driver's seat adjust for height only. No models, meanwhile, offer steering wheel's that adjust for reach.
Still, there are positives. The funky dashboard will certainly appeal to young drivers with its colours and easy-to-use controls. And then there is the fact that the soft suspension guarantees comfort.
It's also reasonably practical. The rear seats are a bit cramped, but those up front get plenty of room. And while the boot measures just 196-litres, it comes with a wide opening and will be enough for some buyers.
Price:
Citroen – £8,900 – £13,100
Verdict Of Our 2017 Hyundai i10 Hatchback Review
If you're looking to save money on the commute to work but still want to look good, the i10 is a good option. It's handsome, affordable, and offers hassle-free driving experience. It lacks the quirkiness of some rivals, but makes up for it with space, refinement and big-car comfort. The Hyundai i10 Hatchback is a winner.
Request a call back from one of our Vehicle Experts
When you lease a car with OSV there are no hidden costs, request a call back and we'll find you a finance, lease or purchasing deal designed just for you.