Review Of The Jaguar F-Type Convertible
Two seats, a rapidly folding roof and 0-62 in 3.5 seconds. What more could you ask for from the new Jaguar F-Type Convertible?
Oh, how about the option of four-wheel-drive, or up to 576bhp?!
This is a beauty. Quick enough to make the cheetah extinct, it emits a killer soundtrack that's more heavy metal than Metallica. It's fun to drive, powered by either a V6 or V8 engine of your choice, and is more addictive than Candy Crush.
OSV takes a closer look at what it's all about with our 2017 Jaguar F-Type Convertible review.
Whichever model you go for, you'll get a thunderous sports exhaust, as well as sports suspension. These bad boys really crank up the heat, turning the F-Type Convertible into a pure pleasure machine.
All models are great to drive, thanks to well-weighted steering and lots of grips. This ensures that you won't lose your nerve at crucial moments as you launch into bends at scintillating (but legal) speeds.
The four-wheel-drive models boost your confidence further, as they come with a more sophisticated drive-train. This sends up to 32% of your total power to the front wheels, upping the dosage only when the rear wheels start to lose grip.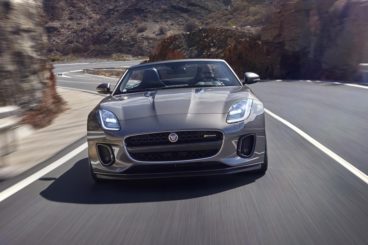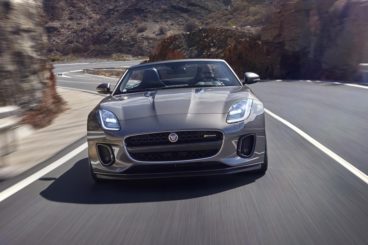 In terms of the engines, the 335bhp V6 petrol unit sits at the bottom of the range. It's got plenty of power in its arsenal, but we suggest upgrading to the 375bhp variant to get a better driving experience out of the F-Type Convertible. Meanwhile, a limited edition F-Type 400 Sports model is available. This V6 engine delivers 395bhp.
However, it's the 5.0-litre V8 engine where things get really fun. The F-Type R produces up to 535bhp, which is enough to rocket it from rest to 62 in 4.0 seconds. You can get it with either rear or four-wheel drive, and it comes close to being an all-out supercar.
The SVR model is the absolute beast of the pack. It delivers 567bhp, and can haul you from rest to 62 in just 3.5 seconds. Maxing out at 195mph, it's unerringly fast – maybe too fast. See, for all that devastating speed on offer, there's usually not enough road to actually use it all.
Worse still, this is a performance car that's perpetually chomping at the bit. In other words, it wants you to let it off its leash. But unless you're on a track, you've gotta keep it in some kind of harness at all times. It sure would be intimidating on the circuits, but in the suburbs it has to be kept in check.
Jaguar F-Type Convertible Interior, Design & Build
The entry-level model is the only one to miss out on adaptive dampers. That's a shame, as they really do improve comfort levels so that you guys are cushioned from broken roads. The adaptive dampers let you modify the setup so that the car soaks up bumps and lumps with ease.
The cabin is just as handsome as the exterior. The appealing-looking dashboard has a cool swooping design that's easy on the eye, and it's logically laid out. The overall quality of the interior is high, as is build quality. The leather seats offer plenty of support, which makes it easy to cover long distances in the F-Type.
No one really buys a ferocious sports car for its practicality. But as a bonus, this is pretty usable. The 200-litre boot might sound small, but it doesn't change in capacity whether the roof is up or down.
Moreover, Jaguar has been mindful not to waste any space. The steering wheel and seats offer lots of adjustment, and legroom is good.
Visibility takes a hit because of the low seat height, but you can add a reversing camera. The roof, meanwhile, operates at up to 30mph, which is reasonable.
Equipment & Safety Of The Jaguar F-Type Convertible
Standard kit is decent across the range. All level models get 18" alloys (or bigger if you wish), LED headlights, and cruise control. They also come with a leather steering wheel, and an 8" TouchPro touchscreen display. It's a slick piece of software, but the screen resolution lets it down a bit.
But it's only once you dip into the list of optional extras that your F-Type really gets interesting. On here you'll find larger alloys, an active exhaust system, and a Black Design Package. This comes with a gloss black finish for the roll bars, side vents and grille surround.
A Visibility Pack is worth taking a look at too. It includes LED blade daytime running lights, bi-xenon headlights, and a heated front windscreen.
In term of safety, the car hasn't been crash tested by Euro NCAP, and neither do we expect it to. Its predecessor wasn't. We have zero concerns in this department, though. Not when the standard safety kit includes airbags, anti-lock brakes, fixed rollover hoops and electronic stability control. The more powerful models, meanwhile, also get limited-slip differential to shore up grip.
Costs Of The Jaguar F-Type Convertible
Prices for the new car start out from £55,400 and rise to £116,400. For more information on our leasing deals, check out our page here.
In terms of its running costs, the figures achieved by the F-Type are pretty standard for this class. It's not cheap to run, but neither is it crazily expensive. For example, the V6 can return 33.6mpg economy, which is reasonable. Also, its yearly tax bill of £290 is competitive with rivals, as we'll see below.
The further up the range you go, the more you will be penalised. The V6 S returns 29mpg at best, while the SVR manages 25mpg. Again, for all the explosive power on offer, that's reasonable. It used to be worse.
Pros and Cons Of The Jaguar F-Type Convertible
Fine Handling
Rear-drive handling is astonishing here.
Drop Dead Gorgeous
It's killer looks are all part of what's made the F-Type such a desirable car down the years.
Thunderous Exhaust
The exhaust's vociferous soundtrack is enough to get the hairs on the back of your neck standing to attention. Just how we like it.
Small Boot
The only good thing we can say about the 200-litre boot is that it doesn't change whether the roof is up or down. Apart from that, it's kinda tiny.
Optional Extras Are Pricey
Optional extras are always pricey on cars like this. Unfortunately, it won't feel like a true F-Type specimen without a few.
Jaguar F-Type Convertible vs Porsche Boxster vs Mercedes-Benz SL-Class Convertible
Let's see how the car fares against its rivals in the comparison section of our 2017 Jaguar F-Type Convertible review.
Jaguar F-Type Convertible vs Porsche Boxster
The new Porsche Boxster continues to be one of the best all-rounders in this market. It handles like a dream, and is backed by some hugely powerful engines.
Few cars in this world are as fun to drive as the Porsche Boxster. But while this super cool drop-top will no doubt appeal to posers who just want a car to look good in during a British heatwave, it's also going to appeal to enthusiasts, too.
The steering is sharp and precise, the throttle is responsive, and the power of the engines ensures this is a sports car that challenges the F-Type.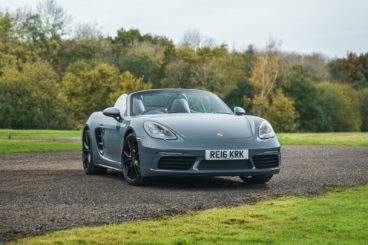 Even the entry-level 2.7-litre petrol engine will be enough for most people. It delivers 261bhp, and does 0-62 in 5.8 seconds. Move up to the Boxster S, and you get treated to a 3.4-litre petrol gene that's armed with 311bhp. It covers 0-62 in a matter of 5.1 seconds.
The GTS uses the same engine, but a further 15bhp. It adds up to 326bhp, which is enough to storm its way from rest to 62mph in 4.7 seconds.
But it's the Spyder model that's the quickest in the range. 0-62 is covered in just 4.5 seconds, before the 3.8-litre engine maxes out at 180mph.
Whichever engine you choose, you'll get a fierce soundtrack. And whenever you want to just chill, you can fold down the roof.
Fuel economy on the whole is surprisingly good – for this type of car, of course. The smallest engine is the 2.7-litre petrol, which returns 34.4mpg. It costs £265 a year to tax, and when you consider how powerful this car is, that seems reasonable.
The Boxster S returns 32.1mpg economy, while the GTS is good for 31.4mpg. Both cost £290 to tax, which again seems reasonable.
Inside, comfort is decent for a thoroughbred sports car. But it's not really comfort that stands out here, so much as style. Make no mistake, this is a handsomely put together cabin. The seats offer the ideal driving position, while optional upgrades give you the chance to turn your Boxster into a thing of real luxury.
It's also practical, thanks to two boots. Together, they add up to 280-litres of space. However, by themselves, the 150 and 130-litre compartments won't be able to swallow furniture or the like. So while the combined space is good, there won't be much you can do if you have larger items.
The cabin, however, is roomy, and the glovebox is a decent size. The electric roof, meanwhile, takes 9.0 seconds to fold, and can be operated at speed up to 30mph.
Price:
Jaguar – £55,400 – £116,400
Porsche – £43,500 – £56,200
Jaguar F-Type Convertible vs Mercedes-Benz SL-Class Convertible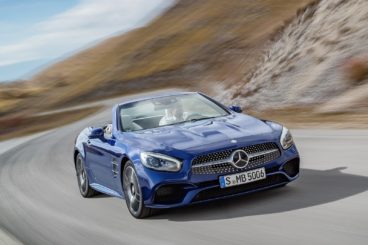 The new Mercedes-Benz SL-Class Convertible is a sleek two-seater. It puts the focus on comfort instead of handling, and offers stunning performance.
There'll be no shortage of takers for this German masterclass. Even the entry-level model can do 0-62 in 4.9 seconds. The SL500, meanwhile, does it in just 4.3 seconds.
There are actually four versions available, with the SL65 rounding things off with a massive 6.0-litre V12 engine. Is that really necessary? It depends on how fast you want to go. If you fancy rocketing from a standstill to 62 in 4.0 seconds, we'd argue it's pretty necessary!
Moreover, despite that unbelievable power available on tap, the SL65 is as smooth as they come. And despite such a bulky engine powering it, it never feels particularly heavy.
However, while the Mercedes-Benz SL-Class Convertible looks the part, it can't rival the Jag or the Porsche for fun. It's a glamorous old thing, and looks great with the top down. But if you want entertainment as part of the package, we suggest a head-to-head between the F-Type and the Boxster.
As mentioned, the Mercedes never feels especially heavy. This is because Mercedes have used a lighter body. So not only does it feel nimble, it's also affordable to run – relatively speaking, at least. The SL400, for example, returns 36.7mpg, which is impressive in this class. It costs just £210 a year in road tax, too.
Naturally, the bigger engines will incur bigger costs. The SL63 is one of the main offenders, and costs £500 a year to tax. Meanwhile, the SL65 is good for returns of 23.7mpg at best.
Inside, the Mercedes is the most comfortable out of the three cars we're looking at here. You can get it with lowered stiffened sports suspension, or you can add a tweaked version of the brand's Active Body Control. Whichever you choose, ride quality is awesome.
It's also remarkably practical, and its boot measures a stunning 504-litres. For a two-seater sports car, that seems almost excessive! The roof – which takes 20 seconds to lower – does eat into boot space, however. Lower it, and boot space is cut to 364-litres.
Price:
Mercedes – £75,900 – £175,900
Verdict Of Our 2017 Jaguar F-Type Convertible Review

This is a seriously sexy car. Born for the showroom, the F-Type sounds glorious, looks amazing, and can do 0-62mph in just 3.5 seconds. It's a killer sports car cut from Jaguar, who are rediscovering their golden touch.
The only problem is that it's facing off against some blockbuster rivals. The decision to buy or not to buy the new Jaguar F-Type Convertible is all on you. You lucky thing …
Request a call back from one of our Vehicle Experts
When you lease a car with OSV there are no hidden costs, request a call back and we'll find you a finance, lease or purchasing deal designed just for you.