Review Of The Mazda3 Fastback
The Mazda3 Fastback is derived from the Mazda3 Hatchback. A saloon aimed at people who need a bigger boot, it's managed to retain the low running costs of the hatchback variant, as well as the stylish exterior.
It looks smart, with the brand's distinctive nose and a muscular rear ensuring that it stands out in this bloated sector. The purchase price is also not too high, and it represents good value for money if you need a saloon that is good to drive, spacious, and which comes with a good selection of powerful engines.
OSV takes a closer look at what it's all about with our Mazda3 Fastback review.
Like most Mazda's, the Mazda3 Fastback handles well. There is a playfulness here that is impressive, and approaching bends is fun. Thanks to comfortable suspension and an excellent manual gearbox, it betters most of its competitors in this area.
There are two engines available, a petrol and a diesel unit. Both offer good efficiency and performance, but there really is little to choose between the two. The diesel is a 2.2-litre power plant, while the petrol is a 2.0-litre unit.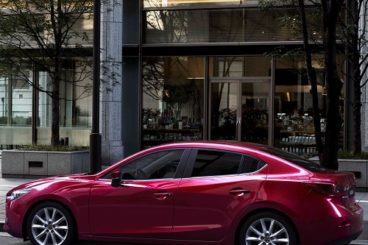 The petrol is fairly fast, and can get you from rest to 62mph in 8.8 seconds, while producing enough power to satisfy most of you. It isn't going to set your pulses racing, but it's got enough here to rocket you down a motorway slip road, giving you plenty of confidence as you execute overtakes. Indeed, it's a solid driver's car, but fuel economy might be a concern.
If it is, the 2.2-litre diesel engine would be your best bet. It covers the 0-62mph dash in 8.0 seconds when wedded to the manual 'box, and 10.3 seconds if you choose to pair it up with the automatic transmission. The automatic will seem sluggish.
The diesel unit is fun to drive, but when you keep it at low speeds with the window open, you'll notice a distinct tractor-esque thrum. There is sufficient power for most needs and all in all it offers an engaging driving experience. It's quiet and refined on the motorway, and is surprisingly quicker than the petrol engine. In fact, it's more of a petrol engine than the petrol!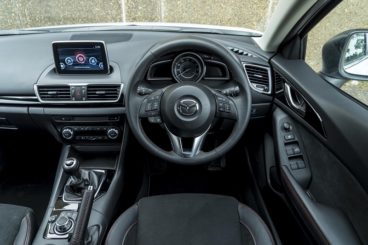 The Mazda3 Fastback hatchback is a handsome devil in its own right, but the saloon variant is arguably even better looking. Bi-xenon headlamps, rear privacy glass, and LED running lights have all added to its easy on the eye exterior styling.
Take a peek inside, and you'll notice that the interior here is very much like the one in the hatchback. They share a similar high-end feel, as well as top-notch fit and finish. The controls all appear to be super durable, and are easy to use.
Ride quality is good, with the car doing a grand job at absorbing the worst bumps and lumps in our roads. Despite the comfort on offer, handling is also still very good.
The dash is smartly designed, while the cabin benefits from a plush modern layout. The leather multifunction steering wheel is a particular highlight, as are the high-quality air-con controls. The understated dashboard is also clutter-free, and all controls are easy to reach. Oddly, Mazda have chosen to mount the door handles further forward than usual, but it works.
The car is overall decently practical, and both front and rear passengers will be more than satisfied with the amount of leg and headroom on offer. There are plenty of storage compartments dotted around the cabin so that your saloon never needs to look messy, while the 419-litre boot offers 55 more litres than the hatchback. You can fold down the rear seats for more space.

There are four trim levels available:
SE
SE Nav
SE-L Nav
Sport Nav
Standard equipment across the range is decent, with even the SE trim getting rear electric windows, remote central locking, 16" alloys, a 7" colour touch-screen and a DAD digital radio.
SE Nav models, meanwhile, get Bluetooth and air conditioning, while the SE-L trim adds LED rear lamps, LED daytime running lights and front fog lights. SportsNav throws in 18" alloys, adaptive front lighting, and a nine-speaker Bose stereo.
The list of optional extras is small, and is largely made up of paint – metallic, solid, or pearlescent.
Costs Of The Mazda3 Fastback
Prices for the new car start out from around £17,000 and rise to almost £23,000. If you want to contract hire it over three years, you could pay as little as £195 + VAT per month for the entry-level SE model, or as much as £310 + VAT per month for the range-topping Sport Nav trim.
There are only two engines to choose from, a petrol and a diesel power plant. Both are capable enough performers, and both manage to keep running costs respectable. According to Mazda themselves, the diesel should be good for 72.4mpg, but we expect that number to be lower in real life conditions. It costs just £20 per year in tax, and while many of its rivals are free to tax, it isn't exactly a lot of money.
The petrol engine offers a bit more fun on the road, but will bump road tax up by an extra tenner. Again, it's a trivial amount. In terms of fuel economy, the petrol engine can achieve respectable returns of 55mpg off a sensible drive.
All these figures, though, are for the manual 'box variants. If you choose to pair your Mazda3 Fastback up with an automatic transmission, you'll be looking at returns of around 50mpg, which is decidedly less impressive. Moreover, you will be required to pay £110 per year in road tax, a number that is no longer trivial.
When it comes to insuring your car, the entry-level trim sits in insurance group 17, while the range-topping model sits in insurance group 24. As such, the Fastback is more expensive to insure than many of its rivals, including the VW Jetta. A standard 60,000-mile/ three-year warranty is offered.
Pros And Cons Of The Mazda3 Fastback
Classy Exterior
Mazda are very good at creating cars that are easy on the eye, and their Kodo design language has been employed here. As such, the Fastback is a very exciting car to look at. It looks sportier than the Mazda6 saloon, and its aesthetics have also benefited from a smaller size.
The brand has also done well to make sure it doesn't look like the hatchback but with a bigger boot.
Sharp Handling
The Fastback is a good handler, and super agile. It's nimble, and doesn't drive any worse than the hatchback. For a four-door family car, it's impressive.
There is a slight caveat, though; despite its agility, the lack of proper power from the engines means you never really get the absolute best out of this car – which is a real shame.
Real Lack Of Engines
Quite why Mazda held back from offering more engines is a mystery, especially when you consider the wealth of choice available with the Mazda3 hatchback. But refrain they did, and it's something of a disappointment that there are only two units available – a single petrol and a single diesel.
Does it smack of a brand that is only putting half their heart into a type of car that is shifting less and less units in the UK?
Lacks Practicality
Although it's not the least practical saloon in the world, you can't help but get the feeling that Mazda3 have put style before substance here. It's undoubtedly better-looking than the hatch from which it's derived, but it's come at the expense of practicality.
Ordinary Interior
The car looks like a peach from the outside, but things aren't as special inside. Indeed, the interior fails to make good on all that promise offered by the exterior's swoopiness.
It's well put together, and it is spacious, but it lacks a bit of zest, oomph and class. Overall, it's an underwhelming place to be.
Mazda3 Fastback vs. Volkswagen Jetta vs. Audi A3 Saloon
The mid-sized saloon is super competitive in 2016 now that no brand is shifting as many units as they once did. For this reason alone, it's worth taking a look at what else is out there. Let's see how this one measures up against its rivals in the comparison section of our Mazda3 Fastback review.
Mazda3 Fastback vs. Volkswagen Jetta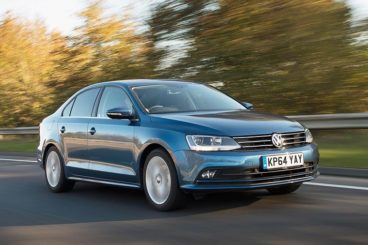 The Volkswagen Jetta has struggled for sales ever since its initial launch, with the brand failing to find the sweet spot of buyers.
One of the Jetta's undeniable strengths is its handling prowess. Agility is right up there with the old VW Golf hatch – as well as the Fastback. The steering is nice and crisp, but like the Mazda, it suffers from a real lack of choice of engines.
The 2.0-litre 148bhp diesel is a good enough performer and produces a solid amount of power, while the only petrol unit in the range needs to be worked hard to extract its true potential.
It's not as entraining to drive as the Focus, but it's on par with the Mazda.
The VW Jetta is cheap to run, thanks to the introduction of the brand's BlueMotion technology. The 2.0-litre diesel can achieve returns of 71mpg while costing £20 per year in road tax, which means there is no difference between the two saloons. The Jetta's sole petrol achieves very similar fuel economy to its counterpart in the Mazda, returning 52mpg off a sensible drive. It will, however, cost you £125 per year in road tax.
One of the Fastback's weaknesses is its interior – and it's the same sort with the Jetta. Based on an old Golf, it looks and feels dated. The quality of the materials is average at best, although interior space has been improved. Head and legroom is good up front and in the rear now, which will please families. The 510-litre boot is bigger than the one in the Mazda, but overall practically suffers a similar fate to the Fastback thanks to the awkward saloon shape.
Price:
Mazda – £17,300 – £22,700
Volkswagen – £19,000 – £25,000
Mazda3 Fastback vs. Audi A3 Saloon
If you're thinking of trying something a bit more premium, the Audi A3 saloon is an excellent choice. Looking for a coupe, it sports a large – and gorgeous – interior.
The A3 Saloon offers precise steering and good handling. It might not be as much fun to drive as a BMW 3 Series, but it comes with a range of engines that are all powerful, performative and quick.
You can configure the car with either a 6-speed manual 'box or a 7-speed automatic transmission.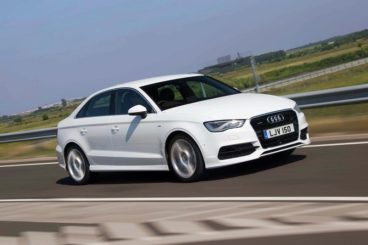 The latter will cost you up to £3,000 more, but offers more speed and smoother gear changes. The petrol engines are among the quickest in this class, with the turbocharged 2.0-litre petrol unit capable of developing 296bhp as it rockets you from rest to 62mph in just 4.9 seconds.
Despite such numbers and performance, fuel economy still manages to be decent. With 3 diesels and 3 petrols to choose from, you're spoilt for choice here. The base-level petrol engine can achieve returns of 60.1mpg and costs as little as £20 per year in road tax, while the most frugal diesel can achieve returns of 72.4mpg and will also cost £20 per year to tax. These are impressive numbers.
It's impossible for the Mazda to compete with the Audi A3 Saloon in terms of the interior. Housing one of the best interiors on the market today, the A3 looks a cut above inside. Everything on the dash is neatly and logically arranged, while the adjustable steering wheel and driver seat ensure maximum comfort. There is a huge list of optional extras that will jazz the cabin up, too, inkling exquisite quilted leather.
The Audi is not hugely practical, however, and won't suit everyone. Legroom is good enough up front and in the back, but headroom is a bit of an issue thanks to a sloping roof. Storage space is decent, while the 425-litre boot is smaller than the one in the Fastback. Moreover, if you opt for 4WD, boot space is trimmed to just 390-litres.
Price:
Mazda – £17,300 – £22,700
Audi – £24,000 – £36,500
Verdict Of Our Mazda3 Fastback Review
Fewer customers than ever before are buying mid-sized saloons, a type of car that is increasingly under threat by the rise of SUV's. As such, it's a bit of a head-scratcher why this one even exists.
But exist it does, and with undeniable good looks, performative engines, sharp handling and relatively low running costs, the Mazda3 Fastback is a fresh faced saloon that offers solid value for money.
Request a call back from one of our Vehicle Experts
When you lease a car with OSV there are no hidden costs, request a call back and we'll find you a finance, lease or purchasing deal designed just for you.