Review of The Audi A3 Saloon
Audi is certainly not the type of premium brand that leaves a niche unfilled, and here they are using the Audi A3 Saloon to replace the outgoing A4 in the mid-range family car sector.   
Although it looks like a bite-sized A4, the new saloon can more than hold its own when it comes to efficiency and practicality. It also brings a measure of cool to the table so that any of you who found the A4 just a little bit too haughty might be a tad more interested this time around.
OSV takes a closer look at what this classy saloon is all about, including pricing, spec's and comparisons with our Audi A3 Saloon review.
Audi A3 Saloon Test Drive
The saloon drives well; it offers exact and secure steering, and gives you every confidence when you're behind the wheel that you're in total control. By that measure, it's a total success. But if you want to have a blast on your jaunts around the country, you might have to look elsewhere because fun and games is at a premium here.
Standard suspension seals a comfortable ride, but the further up the trim levels you go, the firmer things become. For this reason, we recommend talking to your dealer about sticking with the standard setup for maximum comfort. The S-line model's suspension just wasn't designed for Britain's "unique" potholes.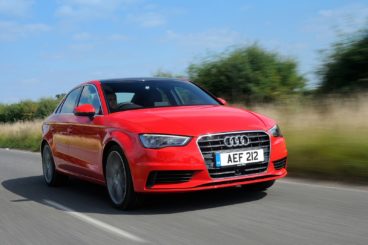 In terms of engines, buyers get to choose between a 1.8-litre TFSI petrol engine and a 1.4-litre TFSI petrol variant that offers 140PS and comes with cylinder on demand (CoD) technology. Both plants come with s-tronic auto transmission, while there is also a 1.6-litre TDI diesel up for grabs and a 2.0-litre TDI diesel that offers 150PS of 184PS. Whichever TDI option you plump for, you have the option of quattro 4WD, too. Meanwhile, the top of the range pick is a 2.0 TFSI 300PS S3 unit that comes with quattro 4W.
Whichever you go for, each Audi A3 saloon comes with a stability control package, as well as an electro-mechanically assisted steering system. Optional is an Audi drive select system which allows you to mix up the steering weighting, throttle response, and transmission shift points.
Interior, Design And Build
Just a quick glance at the new A3 saloon is telling; it looks the spits of the A4 – if the original been scaled down a little, that is. As such, there are no surprises in store in terms of the look and feel that Audi were going for here. And when you consider that Audi's sales are constantly on the up and up, that's surely no bad thing.
So although the A3 scores lowly for originality, it gets top marks as always for deft execution. The overhangs are tight, while the side surfaces benefit from more on-point curves. The wheel arches, meanwhile, have been given a dash of flair that add to the overall aesthetics.
If you're a numbers person, the new car measures up at length of 4,460mm, and has a width of 1,796mm. This means it is longer and wider than the popular A3 SportBack. The wheelbase, meanwhile, is the exact same as the SportBack (2,637mm), which ensures practicality is great. The boot has a max capacity of 425-litres if you leave the seats up, which gives you some 45-litres more room than the SportBack.
Inside, the Saloon is very similar to the A3 hatchback, and shares pretty much the exact same layout. This means you get round air vents, a rotary control wheel, oodles of switches, while the top of the dash is home to a neat pop-up display. You also get to drive in the comfort of Audi's supreme build quality.
Equipment
The saloon is generously equipped, with even the baseline variant coming with 17" alloys, a DAB radio, Bluetooth connectivity, and a 5.8" colour screen. If you opt for the S-line model, you also get a sports steering wheel, xenon headlights and semi-leather upholstery, while the S3 treats you to heated leather seats, quad exhaust pipes, and adjustable suspension (which might not be a good thing!).
Options include sat nav (£495) and the Technology package (£1,495).
Costs, Price & Leasing Rates of the Audi A3 Saloon
Most buyers looking at this saloon will be individuals. Price-wise, you'll be looking to pay somewhere between £24,000 – £35,000, which although definitely not cheap, makes it competitive with premium rivals, such as BMW and Mercedes.
Unless you absolutely must have the 4dr variant and have need for it, we recommend going for the cheaper hatch which still satisfies a lot of needs.
If you're thinking of leasing the car, the base-level model will cost you around £200 + VAT, while the range-topper will require £500 + VAT from you.
Prices are also subject to conditions, such as mileage and deposit.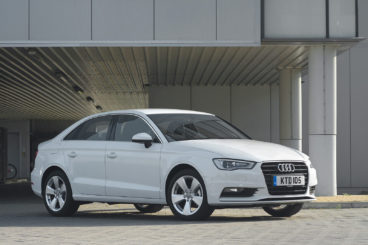 Pros and Cons of the Audi A3 Saloon
Pro: Stylish Design
The new A3 saloon looks like a shortened version of the A4, the vehicle it's replacing. Despite the loss of length and width which now makes it the same size as the A3 hatchback, it continues to look pleasingly sharp.
Pro: Fantastic Cabin Quality
The entire A3 range has been treated to some excellent interiors, but the standout is the one found here inside the saloon. All cars come with standard cloth seats which will be plush enough for a lot of buyers, but if you really want to treat yourself, you can opt for the beautifully quilted leather seats that are otherwise found in the £70K Audi A8.
The dash is great to look at and easy to use, with the controls all logically arranged.
Pro: Smart Range of Engines
There is only really one engine that lets the side down, which is the doleful 1.6-litre TDI that just never really gets going, and which takes more than 10 seconds to get from rest to 62mph – the only unit to do so.
The S3, meanwhile, feels like a rapid sports car that is well worth a look if you want your saloon to send shivers down your spine.
All engines can be wedded to either a 6-speed manual or a 7-speed automatic transmission, with the latter costing upwards of £3,000. It's worth a shot if you've got the money, as switching between gears is silky smooth.
Con: Lacks Practicality
Maybe you like the look of the saloon but would really love the practicality of the hatchback and wish to God Audi had granted your wishes by merging the two together. Sadly, they haven't.
Practicality here is decent, but it can't match the hatchback. Headroom is poor, thanks to a sloping roof, while you'll get an impressive 425-litres of boot space – but only if you don't go for the 4WD variant, which knocks the capacity down to 390-litres.
Worse still, because it's longer than the hatch, parking this saloon is not easy.
Con: Not All That Engaging To Drive
In general, the car handles well enough. It's nicely balanced, the steering is direct, and suspension can be tweaked so that don't feel the burn each time you crash over a pothole.
But it just doesn't offer enough involvement, which could be a deal breaker for some of you. It's quiet, it's refined, but there isn't much engagement to be had here. How you feel about this will come down to what your priorities are.  
Audi A3 Saloon vs BMW 2 Series Coupe vs Mercedes Benz CLA Coupe
Presuming you're looking for a premium saloon, the A3 is up against some ultra stiff competition from the likes of BMW and Mercedes in this market. BMW, as ever, throws down the gauntlet in the handling department, but how do all three cars measure up overall?
Audi A3 Saloon vs BMW 2 Series Coupe
The 2 Series coupe is the old 1 Series variant, and is perhaps the brand's most performance-oriented coupe to date.
The entire A3 range faces some mighty competition from the 2 Series, a model that clings to it like a rash. Here, the saloon faces off against the ultimate driving machine's 2 Series coupe variant. Like its stablemates, the A3 saloon just can't keep up with the untouchable 2 Series when it comes to the offer of an entertaining ride.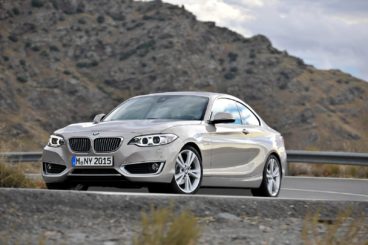 It does give you precise and light steering, and it probably feels a tad safer to drive, but if it's fun you want more than anything else, you might want to take a closer look at the BMW. It's not going to make your skin tingle, however.
Practicality is both these saloons' elephant in the room. Headroom is limited whichever car you opt for, thanks to sloping roofs. BMW offer a decent amount of standard kit with their coupe, but the options range is expensive and absolutely massive. It can be really easy to get carried away and top up your bill with some of the eye-catching features that include M Sport suspension (£750) and the 8-speed automatic transmission (£1,550).
In terms of running costs, the Audi comes out slightly on top, with its 1.6-litre TDI diesel capable or returning 74.3mpg while emitting less than 100g/km of CO2 – which means it's free to tax. The BMW's most economical unit is the 218d diesel which can return 70.6mpg while emitting 113g/km of CO2.
Prices:
Audi: £24,000 – £35,000
BMW: £23,000 – £35,000
Audi A3 Saloon vs Mercedes Benz CLA Saloon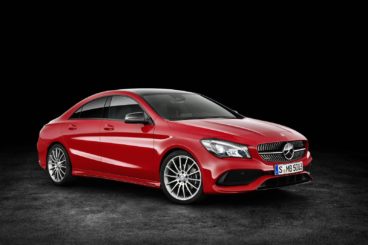 The Mercedes Benz CLA saloon is a 4-door based on the hatch that seeks to fill a gap in the market for consumers who want a more stylish, premium-badged coupe but don't fancy going all the way up to a saloon. It's got the three-pointed star, but it lacks the usual construction of a typical Mercedes.
Despite it being a more imposing saloon, the commanding Audi is a better-looking car than the CLA coupe. While the Mercedes is still what you'd call handsome and even stylish, it can't compete with the A3's understated poise. The Mercedes is sportier, a little bit edgier – but ultimately feels like a rough copy.
Beauty, however, is in the eye of the beholder, and Mercedes are very confident that this car will have a great pull with younger buyers.
But some of the problems that plague both the A3 and the 2 Series coupe also trouble the CLA Class – it doesn't offer a great deal of rear headroom, thanks again to the sloping roof.
In addition to rear space problems, the two cars have other things in common: Like the Audi, the CLA Class is also not much fun to drive. Unlike the Audi, a firm ride is much harder to eliminate; here, it's not as simple as asking your dealer to tweak the suspension. Older buyers might remember the days when a Mercedes offered refinement and comfort, but that's not the order of the day here. When you crash over a pothole, you'll know about it. The CLA 45 trim comes with AMG sports suspension, which makes the ride firmer still. You as a driver might be totally okay, but your passengers might suffer!
It does, though, have better body control than the Audi, but its interior and levels of standard equipment fall short.
Prices:
Audi: £24,000 – £35,000
Mercedes: £25,000 – £43,000
Verdict:
So what can we garner from this Audi A3 saloon review? It's a car that won't turn too many heads, but the brand have done a solid job at transferring everything we love about their sedans into a bite-sized package. Only ever so slightly a risky concept from the start, it's paid off handsomely.
The problem the A3 has is that it can be really easy to overlook its achievements because not much seems to have changed. But the old saying goes that if something isn't broken, we shouldn't fix it. And the German automotive giants have certainly keyed into a formula here that works. Audi, after all, have got a basic appeal that continues to attract buyers.
Few surprises, then? Sure, but there are also no shocks, too. The new Audi A3 saloon is Audi at their most consistent.
Get in touch with a Vehicle Specialists Today!
Fill out the form below with your details, and one of our highly qualified specialists will be in contact within 24 hours.
When you lease a car with OSV there are no hidden costs, request a call back and we'll find you a finance, lease or purchasing deal designed just for you.